AG supports bill to reform pardons and paroles board
Attorney General Steve Marshall is supporting legislation intended to reform the Alabama Board of Pardons and Paroles.
The legislation, proposed by the attorney general's office, is sponsored by Republican Sen. Cam Ward and Republican State Rep. Connie Rowe.
The bill comes after months of controversy surrounding the parole board and its release practices.
In October, Marshall and Gov. Kay Ivey met with the parole board after prosecutors and victims' advocates said the board considered granting too many offenders early parole.
In January 2018, Jimmy O'Neal Spencer, a violent offender sentenced to life imprisonment, was released from prison after "being recklessly and wrongfully paroled" by the Alabama Board of Pardons and Paroles, Marshall said.
He would be charged with another violent offense in July 2018.
"Months later, Spencer brutally murdered two women and a seven-year-old boy in their homes," Marshall said. "This tragic failure of our justice system should have never happened—and cannot ever be allowed to happen again."
Ward and Rowe's bill would change the process by which the governor appoints board members, and it would be made more in line with the governor's standing appointment authority for other boards. A Senate confirmation would be required.
The legislation also creates the position of director of pardons and paroles, who would serve as the agency head, while the board would retain its independent judicial function of granting or denying parole and issuing pardons.
The board's three members currently appoint the director, but this bill would change that so the governor would appoint the board's leader.
The board's existing policies on parole consideration dates would be codified in law, and the measure strengthens the board's duty to provide notice to victims affected by the potential pardonee or parolee's release.
Offenders convicted of certain violent crimes would not be eligible for parole consideration until they serve at least 85 percent of their sentence or 15 years, whichever is less.
That restriction includes the crimes of murder, attempted murder, first-degree rape, first-degree kidnapping, first-degree sodomy, sexual torture, first-degree robbery with serious physical injury, first-degree burglary with serious injury and first-degree arson with serious injury.
" These changes are designed to increase accountability, set clear parameters, and make certain that no prisoner who is a threat to public safety can slip through the cracks," Marshall said.
In October 2018, Ivey and Marshall met with the three members of the Alabama Board of Pardons and Paroles after the board scheduled early parole hearings for 150 violent offenders including dozens of convicted murderers.
She signed Executive Order 716, which imposed a temporary moratorium on early parole hearings and required the submission and implementation of a corrective action plan by the Board of Pardons and Paroles.
The corrective action plan implemented the 85 percent of sentence rule, and the board decided it would no longer consider early parole for inmates convicted of Class A felonies involving serious physical injury to a victim.
"Governor Ivey and I have worked hand in hand to prepare a comprehensive proposal that prioritizes public safety within Alabama's parole system," Marshall said. "Over the course of the last two months, we have had numerous conversations and have exchanged written correspondence with the Alabama Board of Pardons and Paroles related to the Board's proposed corrective action plan.""
Marshall said the "changes to the law are critical to ensuring public safety.
"Alabama crime victims and their families have let it be known that accountability must be restored to the Pardons and Paroles Board in order to protect the public," he said. "This legislation will help accomplish this goal and I look forward to its swift passage this session."
Print this piece
More than 200 people hospitalized with confirmed, suspected COVID-19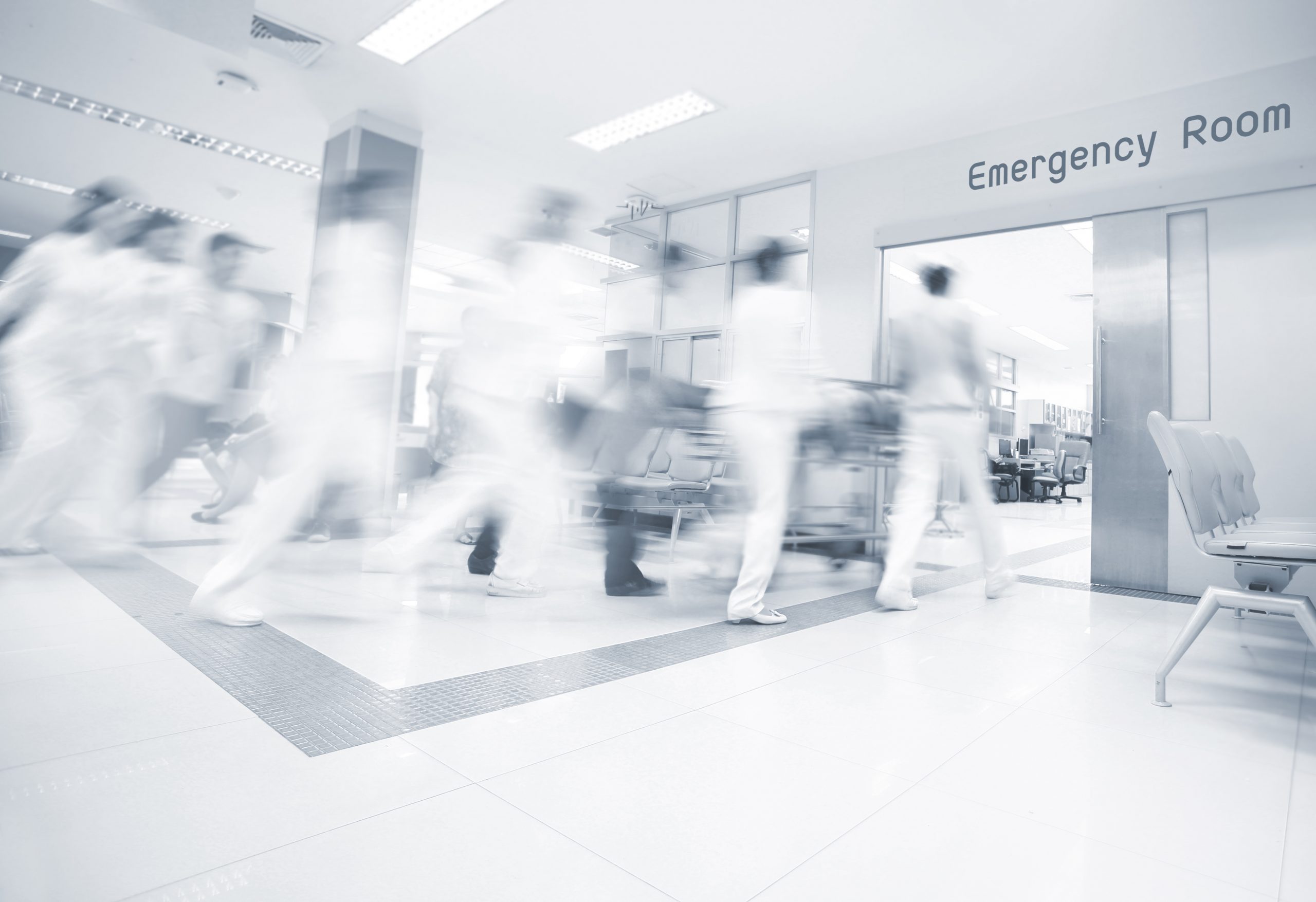 More than 200 people are hospitalized in Alabama with either a lab-confirmed case of the novel coronavirus that causes COVID-19, or a case the hospital suspects to be the virus but testing has not yet confirmed.
At least 120 people with lab-confirmed cases of the virus — about 12 percent of the state's 1,000 confirmed cases, as of Wednesday morning — were hospitalized in ten of the state's largest hospitals at the beginning of this week. The number is likely higher statewide.
The Alabama Department of Public Health has so far not provided regular updates on the number of hospitalizations in the state, but State Health Officer Dr. Scott Harris has said about 8 percent of confirmed cases are hospitalized. Hospitals are reporting their hospitalization numbers to the state using the Alabama Incident Management System.
These ten hospitals who responded, which represent about a third of the state's hospital bed capacity, provided basic hospitalization numbers to APR over the past two days.
More than 200 people were hospitalized in these hospitals when those with suspected cases of the virus are included. From the ten hospitals that provided numbers, more than 85 people are hospitalized with a suspected case of the virus. The number is likely much higher because not all of the ten hospitals shared how many suspected cases they are treating.
If the number of patients who are awaiting test results for unknown respiratory illnesses is included, the number is even higher — more than 300. It's likely hospitals are treating these patients as if they have COVID-19, out of an abundance of caution.
Not all of the suspected cases will turn out to be COVID-19, but over the last week, hospitals have seen many of their suspected cases turn into confirmed cases after receiving lab test results. Lab results from the state's lab are taking more than four days, on average, several of the hospitals said.
The state's largest hospital, UAB in Birmingham, actually saw its inpatient confirmed cases decline since Thursday, March 26. A hospital spokesperson said 52 people were hospitalized with a confirmed case of the virus as of Tuesday at 11 a.m., down from a high of 62 on March 26.
Other hospitals are seeing their cases surge. East Alabama Medical Center in Opelika has seen its COVID-19 patient load more than double since last week. The hospital, as of Monday, was treating 20 people with a confirmed case of the virus and 31 more with a suspected case. At least seven people have died at EAMC since Friday.
Southeast Medical Center in Dothan is also seeing higher numbers of COVID-19 cases. It is treating 14 inpatient confirmed cases — up from four last week —  and 24 more inpatients are awaiting test results. It's possible that some of these patients are not from Alabama.
These numbers are delayed and shouldn't be misconstrued as totally reflective of what hospitals are handling right now. The number of people hospitalized for COVID-19 is likely to be much higher than we are able to report, because of testing result delays, other problems with data reporting and hospitals we weren't able to gather data from.
Our data is limited because it only includes some of the state's largest hospitals, and not all hospitals provided the same type of data to us. Some did not respond to our requests for information. But these estimates do show that the number of people hospitalized with COVID-19 in Alabama is higher than the percentage reported by the Department of Public Health.
The Alabama Department of Public Health is releasing more limited data than neighboring states. The Georgia Department of Public Health regularly releases hospitalization numbers and detailed demographic data on those who have died.
In that state, at least 885 people — about 21.5 percent of its confirmed cases — are hospitalized. Georgia also releases the number of negative test results from commercial labs. In Alabama, it's hard to tell how many people have been tested because commercial labs are not required to report their negative tests.
Louisiana, which is in the midst of a crisis, also releases hospitalization numbers, negative test results, and specific data on how many people are intubated on ventilators. In that state, 1,355 people are hospitalized with the virus, and 5,237 people have tested positive. 239 people have died. More than 38,000 people have been tested in Louisiana for the virus.
In Alabama, the Department of Public Health says 7,774 people have been tested. At least a thousand have tested positive. Twenty-four people have died.
Print this piece