Republicans criticize Jones for voting against Andrew Brasher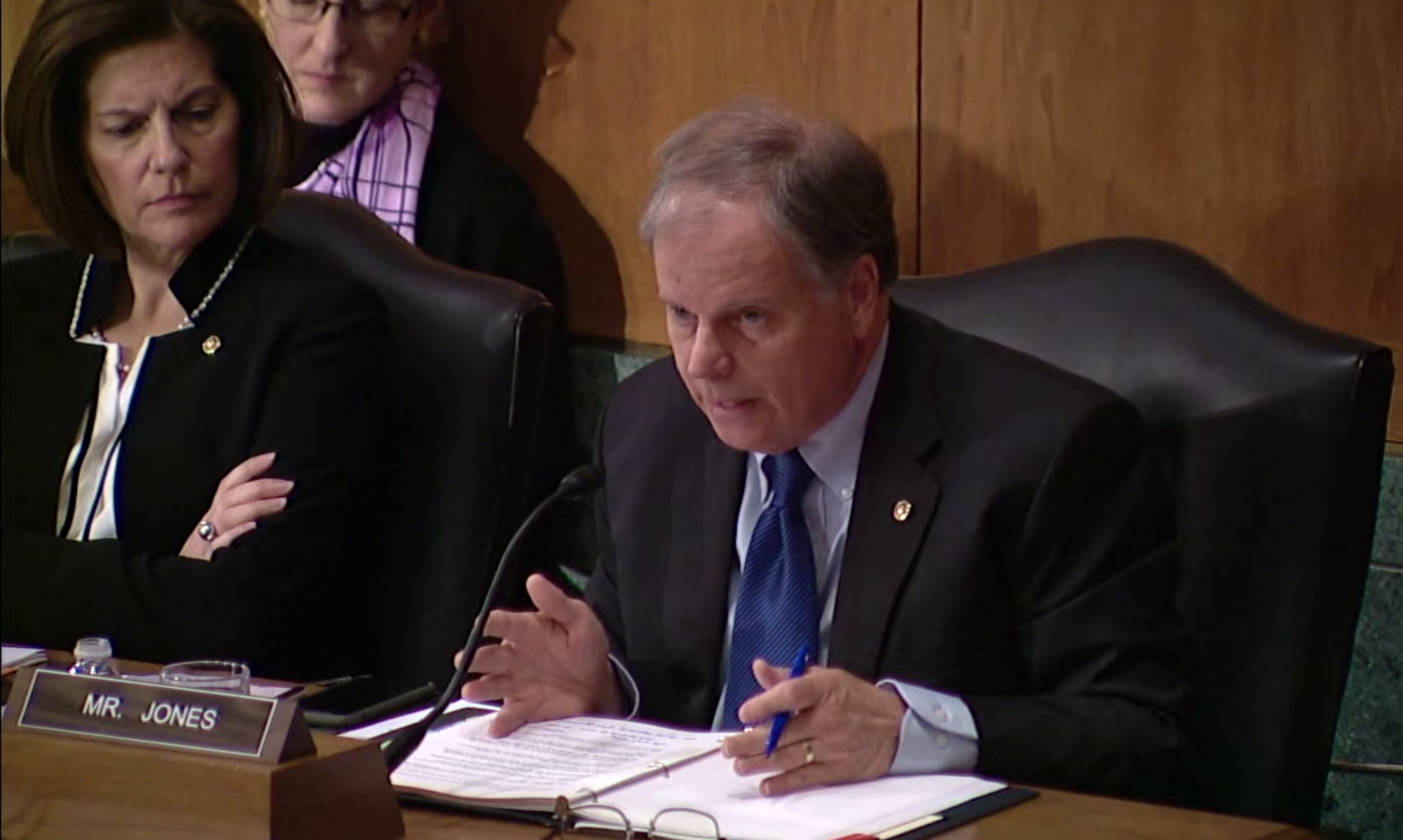 The U.S. Senate voted Thursday to confirm Alabama's solicitor general to the federal judiciary in Alabama's middle district.
The nomination was long delayed because of opposition from Democrats.
When Brasher was finally confirmed, U.S. Senator Richard Shelby, R-Alabama, who championed Brasher's nomination from start to finish, praised the decision by the Senate.
Andrew Brasher confirmed to federal bench; Marshall appoints new state solicitor general
Alabama Attorney General Steve Marshall praised Brasher. Former Alabama Attorney General and former U.S. Sen. Luther Strange, who first hired Brasher as solicitor general, also praised Brasher.
U.S. Sen. Doug Jones, D-Alabama, voted with his party and against Brasher's nomination. Every Democrat in the U.S. Senate voted against Brasher. Republicans were quick to criticize Jones' "no" vote.
Alabama Republican Party Chairman Terry Lathan said, "Once again Senator Jones sides with his good New York buddy Chuck Schumer against Alabama. Solicitor General Brasher has impeccable credentials, with degrees from Samford University and Harvard Law. He has served the state of Alabama with distinction. There is no rhyme or reason for Senator Jones NO vote, other than party politics. Just more reasons to return the favor and vote NO on Doug Jones in 2020."
State Auditor Jim Zeigler has formed an exploratory campaign to look at running for Senate in 2020, challenging Jones.
"Not only would I have voted FOR highly-qualified Alabamian Andrew Brasher, but I would have manuveured his confirmation much sooner," Zeigler said. "Doug Jones does not represent the people of Alabama."
Congressman Bradley Byrne, R-Montrose, has announced his candidacy for U.S. Senate.
"Alabama's Andrew Brasher is yet another excellent choice by President Trump to the federal court, and I'm glad the Senate confirmed him today," Byrne said. "Sadly, Doug Jones fell in line with Chuck Schumer and voted against his nomination. As your Senator, I'll always support judges who will defend the Constitution and respect the law, instead of trying to interpret the law in a way that advances a political agenda."
The National Republican Senate Committee commented on Twitter:
"The Senate just confirmed former AL Solicitor General Andrew Brasher to be U.S. District Judge for the Middle District of AL — the 99th Judge of the Trump [email protected] voted with the Democrats against this qualified Alabamian."
Jones narrowly defeated former Chief Justice Roy Moore in a 2017 special election after the NRSC refused to back Moore following the sudden surfacing of allegations against Moore that he had mistreating young women while a single Etowah County deputy district attorney in the 1970s. Moore has steadfastly denied the sexual abuse allegations.
Republicans are eager to try to take the seat away from Jones, the only Democrat to win a statewide election in Alabama in the last 11 years. Lathan has said that there is a hunger for this seat by Alabama Republicans that she has never seen before.
Former Auburn football coach Tommy Tuberville has also declared he is running for the seat while State Senate President Del Marsh, R-Anniston, has announced that he will not run after exploring a possible run earlier this year.
U.S. Senator Jeff Sessions was re-elected to this seat in 2014 without any opposition, Republican or Democratic.
In January of 2017 he was confirmed as President Donald Trump's attorney general.  Then Gov. Robert Bentley appointed Alabama Attorney General Luther Strange to fill Sessions' vacancy. Republican primary voters preferred Moore over Strange, setting up the Moore versus Jones December 2017 special election that went to Jones.
The Republican party primary is March 3, 2018.
UAB expert: We can't wait until it's too late to act on surging cases
"We still are at a time point when we have an ability to intervene, and do something to reduce that case count, to reduce the eventual mortality," UAB specialist Dr. Jodie Dionne-Odom said.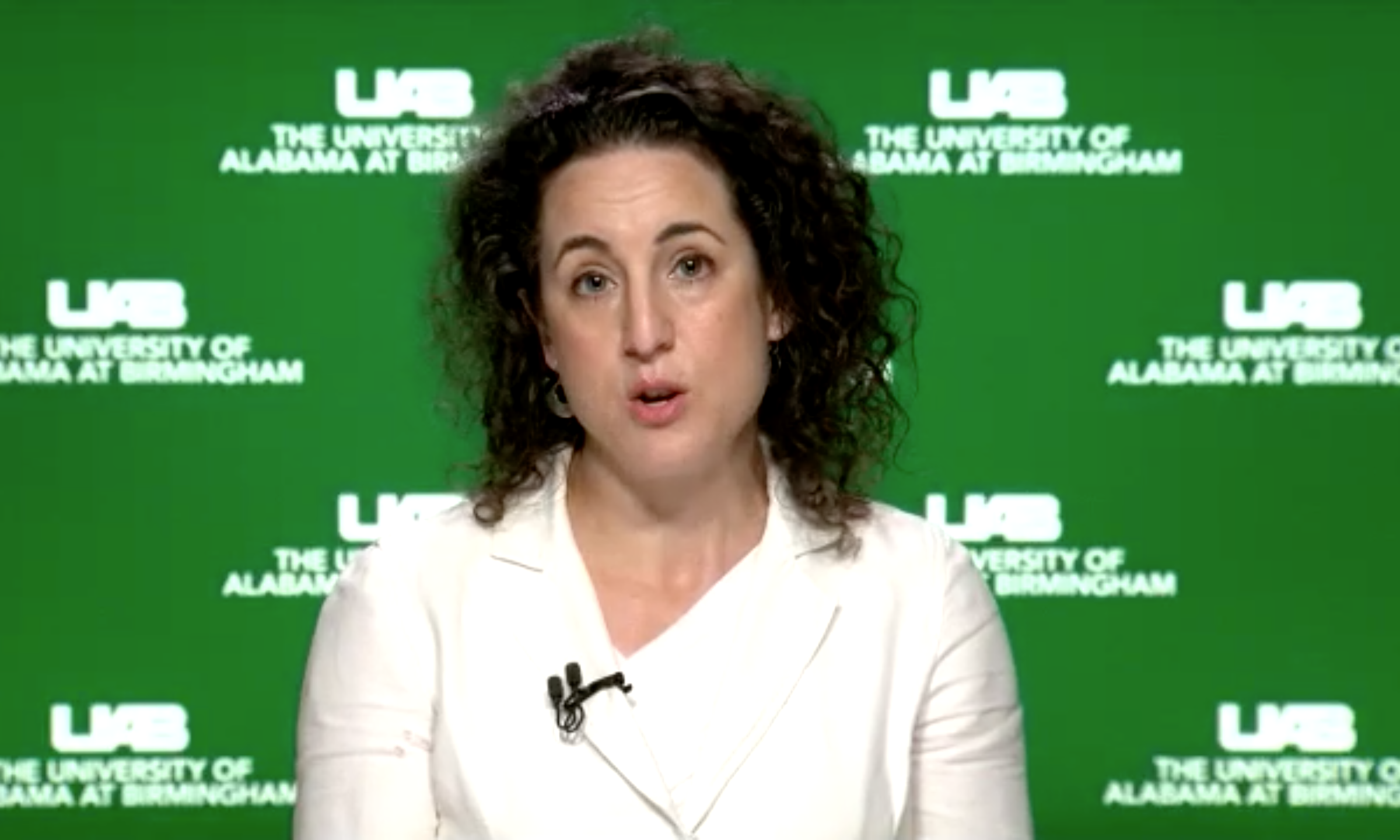 Alabama continues to see record numbers of new COVID-19 cases and hospitalizations, and the best way to turn the trend around is to wear face masks and practice social distancing, a UAB doctor says. 
Dr. Jodie Dionne-Odom, an infectious disease specialist at UAB, told reporters in a press conference Wednesday that the seven-day average of new daily coronavirus cases in Alabama has increased fourfold over the past several weeks. 
"We still are at a time point when we have an ability to intervene, and do something to reduce that case count, to reduce the eventual mortality," she said. "You don't want to wait until things are so bad that it's difficult for us to reverse the trend at all."
Dionne-Odom said she's concerned that the window of time to turn the trend of increasing cases, hospitalizations and the impending deaths that will surely come is limited. Wearing masks in public and practicing social distancing are some of the best tools we have to do so, she said.
On Wednesday, the state added 1,161 new COVID-19 cases and 25 deaths from the virus. It's killed 1,032 people in Alabama, the UAB physician said. At least 1,110 people were being treated in hospitals in the state Wednesday, according to the Alabama Department of Public Health, the most since the pandemic began.
The 14-day average of new daily cases was 1,057 — the highest it's been since the start of the pandemic. 
"The fact that we're seeing these sharp increases and hospitalization in cases over the past week or two is really concerning," Dionne-Odom said. "And we expect, given the lag that we know there is between cases and hospitalization — about a two-week lag, and a three-week lag between cases and deaths — that we're on a part of the curve that we just don't want to be on in our state."
UAB Hospital's COVID-19 intensive care and acute care units were approaching their existing capacity Tuesday, when the hospital was caring for 92 coronavirus patients. The hospital had 91 inpatients who had been diagnosed with COVID-19 on Wednesday.
Of those being treated in UAB's COVID-19 ICU unit Tuesday, less than half were on ventilators, a UAB spokesperson, Bob Shepard, said in a message to APR on Tuesday. Ventilator usage is actually dropping, he said, a positive sign. The hospital has both a COVID ICU and a COVID acute care unit designated to keep patients separated from those who don't have the virus, but it has more space in other non-COVID units.
"If we reach a point where we have more patients needing space in either unit, we will create more space in other areas of the hospital and designate additional beds for COVID patients," Shepard said.
"The issue is that designating more beds for COVID care reduces the number of beds we have for patients with non-COVID illnesses, which can have a profound effect on the overall health of our community," he said.
That flexibility was echoed by Dionne-Odom, who said that it is the type of system where they can create capacity as it's needed. 
"And we have units that we can open and close and take care of patients with COVID and staff who are familiar with the procedures of wearing PPE and gowning and keeping healthcare workers safe," Dionne-Odom said. "So we've used everything that we've learned since March, working really hard to be able to take care of more patients. That said, you have to remember that every bed that we're using today for someone with COVID can potentially be a bed that someone else would need, who's having a stroke or having a heart attack." 
"These problems are continuing to happen, and they need ICU-level care too," she continued. "So we don't want to continue to see an increase in the COVID cases because that has the indirect effect of affecting how we care for all the other patients with serious diseases." 
Dionne-Odom said that they know from experience that some of those being hospitalized for the virus will die in the coming weeks, "so we're all watching the next several weeks very cautiously." 
Testing across the state has increased in recent weeks, but so has the percentage of tests that are positive, a sign that not enough testing is being done, and cases are going undetected. 
Dionne-Odom said many cities across the southeast have high testing positivity rates of between five percent and 15 percent, and in some cases as high as 20 percent.

"And what that number means is when you're getting one of five tests back positive, is that there's a lot of spreading infection in the community that you are not detecting," Dionne-Odom said. 
Alabama's seven-day percent positivity rate was 14.69 on Wednesday. Public health experts say it should be at or below five percent or cases are going undetected. 
In Jefferson County, as of Wednesday, the percentage was roughly 14 percent.
While the majority of hospitalized patients are older, UAB does have COVID-19 patients in their 30s who are very ill and in ICU units, Dionne-Odom said.
"So the message is still true that this disease tends to impact older adults more than younger adults, but if you're 20, 30, 40, especially if you have an underlying condition, but even if you don't, you're not immune from this disease. You're still at risk of having severe outcomes," Dionne-Odom said.