Rep. John Rogers considers run for U.S. Senate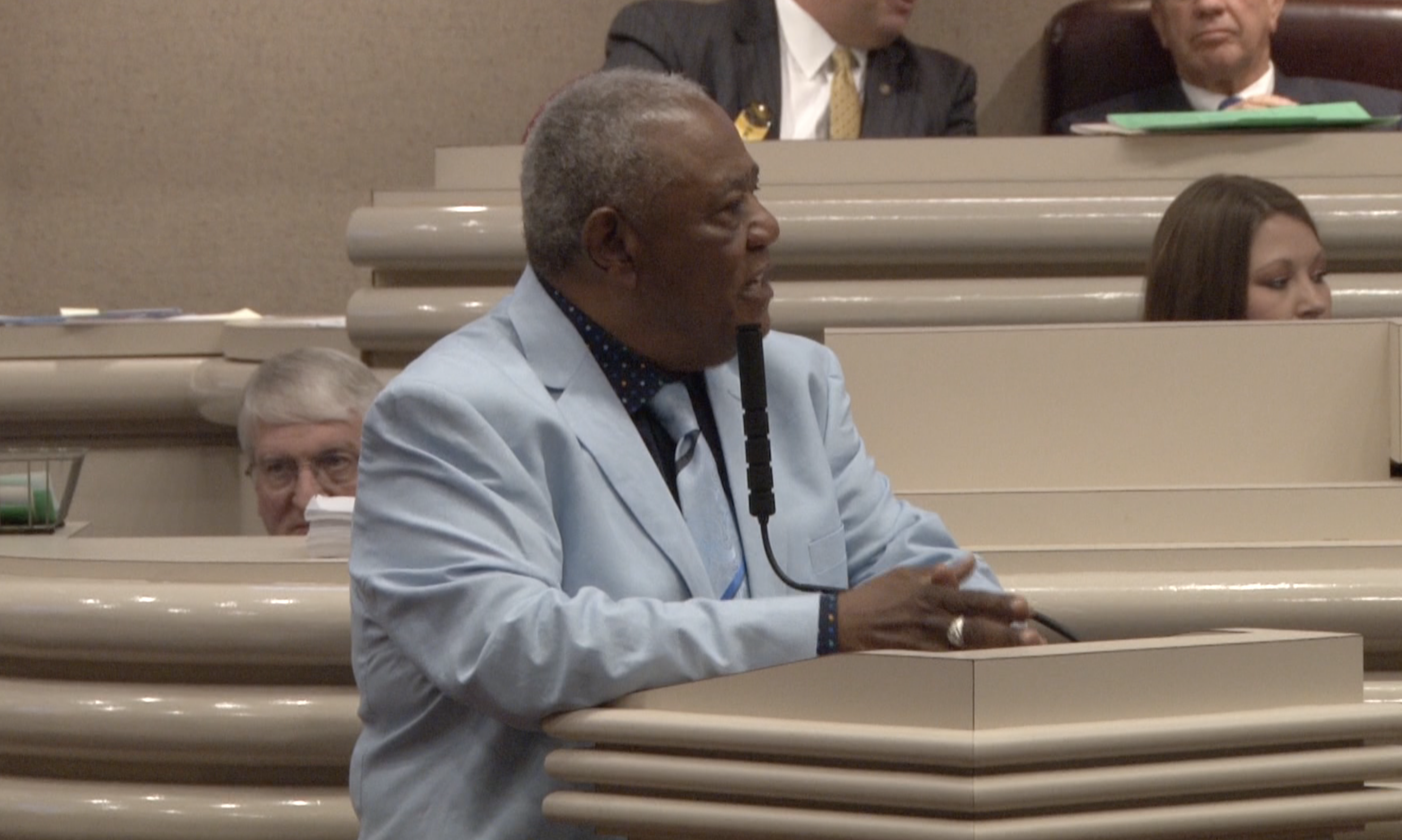 Four Republicans are already challenging Doug Jones for his Senate seat.
Now he may be facing a Democratic challenger as well. On Tuesday, embattled state Rep. John Rogers, D-Birmingham, said that he is considering running for Senate.
Rogers said in the Senate floor that he is seeking $1 million in pledges supporting his campaign and already has $500,000 of that.
"I'm running for real. I'm not backing down," Rogers said. "If I get $500,000 more, I'll be an official candidate."
Rogers told the Alabama Political Reporter when the session ended, "I have to reach a certain threshold. Doug Jones already has over $2 million. It is hard to beat someone who has $3 million."
Rogers has been widely criticized for his remarks last week defending abortion saying that 'we either kill then now (in abortions) or we kill them later in the electric chair,' and for his use of the word 'retarded' in remarks on the House floor as well as used as a pejorative against Donald Trump Jr. who had criticized Rogers for earlier remarks. Rogers also said that Trump Jr. should have been aborted by his mother.
In his floor speech Rogers implied that Senator Doug Jones had called him.
"Nobody calls me on the phone and tells me to be quiet, not the President and not a Senator," Rogers said. "You can take that and put it where the sun don't shine."
Rogers said, "I have not been chastised by anyone since my Mother and Father and I am not going to start now."
Rogers apologized several times for his use of the word "retarded," and said that he has a young intellectually challenged relative that he dearly loves. Rogers says that he stands by the rest of his comments and has been receiving calls from doctors who agree with him, "from all over the world."
Rogers said that when it is over we will hug, but, "While we are fighting I am going to try to knock your eyeballs out." "I am going to put my combat boots on and my combat clothes and get ready for a fight."
The National Republican Senate Committee (NRSC) released a statement,
"Doug Jones and John Rogers share the same views on abortion, but Rogers is at least honest about it," said NRSC spokesperson Nathan Brand. "Even Alabama Democrats are taking note of how dishonest Doug Jones is."
Rogers told Birmingham talk radio host Matt Murphy that Doug Jones called him and agreed with him. "I know you're right, but I got to come out against you," Rogers claimed on the radio program.
Alabama Republican Party Chairman Terry Lathan said in response to the news that there could be a Rogers versus Jones Democratic Primary:
"As Jed Clampett use to say….Wellllll Doggies….," Lathan said on social media.
Jones has asked Rogers to apologize for his comments last week.
"Nobody apologizes for me," Rogers said on the House floor.
Jones has released two statements condemning Rogers remarks last week.
Jones calls on Rogers to apologize. Rogers says Trump Jr.'s mother should have aborted him
Rogers demanded on the floor that the Republican controlled state Senate amend HB314 to include a rape and incest exception to the abortion ban.
Rogers is serving his tenth term in the Alabama House of Representatives. He is 78 years old.
The Alabama party primaries for President, U.S. Senator, Congress and other offices is on March 3, 2020.
Congressman Bradley Byrne, state Auditor Jim Zeigler, state Representative Arnold Mooney, former Auburn football coach Tommy Tuberville, and businessman and former televangelist Stanley Adair are all running for the Republican nomination for Senate.
Former Chief Justice Roy Moore has said that he is "prayerfully considering" a second run for the Senate. Jones defeated Moore in a special election in 2017.
Print this piece
Opinion | It's time for Alabama Democrats to learn from Alabama Republicans
Democrats never seem to learn from Republicans. 
All around the country, and all around the state of Alabama, Democrats are still playing by the rules. Still listening to the cries and outrage from the other side. Still entertaining the idea that compromise and diplomacy are important to Republicans on some level. 
Still watching Lucy jerk that football away at the last moment. 
It's time that stopped. 
It is time — actually, well past time — for Democrats to adopt the attitudes of their GOP colleagues, and just do whatever the hell you want to do. 
Whatever goal you set, go achieve it. Whatever policy is important, implement it. Whatever action you believe is right, take it. 
This is how Republicans have governed now for years. It is how they have wrestled control of the U.S. Supreme Court — just don't hold a hearing for a duly appointed candidate — and how they have stolen elections — keep blocking attempts to secure elections. It is how they control half of Congress — thanks, gerrymandering! — despite representing nearly 20 million fewer people and how they have managed to offset a growing minority vote — put up every roadblock short of a poll tax. 
In Alabama, it has how they adopted the AAA act to funnel tax money to private schools — just completely rewrite the bill in the dead of night — and how they passed the most restrictive abortion ban — just ignore promises and public opinion. It is how they have stopped attempts to pass gambling legislation — by straight up lying about the law — and how they have steadily cut into ethics laws — pretend that no one can understand the laws they wrote themselves — and how a House Speaker convicted on 12 felonies still isn't in prison three years later — just don't send him. 
They don't care. 
About rules. About the law. About public perception. About basic decency. 
And it's time for Democrats, especially in Alabama, to adopt the same attitudes. 
Because if Republicans can behave this way to implement racist bills and roll back ethics laws and protect the income of the elites, then Democrats shouldn't think twice about doing it to protect rural hospitals or new mothers' health or workers' rights or decent public schools. 
Now, this will be a big change for Democrats, so let me explain how this would look in practice, using the ongoing saga of Confederate monuments. 
Republicans shoved through an absurd bill last year that protects the state's monuments to those who fought to enslave other human beings, and they're shocked — shocked and outraged — that African Americans in Alabama might find it offensive to honor the men who enslaved their ancestors. 
The bill they passed last year was a dumb bill, right down to the portion which levied a fine on cities if those cities removed or damaged a monument. The bill completely screwed up the fines portion, failing to penalize cities for moving or damaging monuments over 40 years old and failing to place a per-day fine on those cities. Instead, the Alabama Supreme Court said the cities would be subject to one $25,000 fine. 
Birmingham has a monument that it desperately wants to move. It has already boarded up the monument in Linn Park, and the ALSC, in the same ruling, ordered the boards to come down. 
And this is the first opportunity for Mayor Randall Woodfin to approach this with a new attitude. 
Tear it down. 
Write out one of those big "Price is Right" checks for $25,000, hold a press conference and award that money to Steve Marshall like he just won at Plinko. 
At the same time, workers should be taking that monument apart piece by piece and moving it to the Birmingham Civil Rights Institute, where it can be viewed for its historical significance instead of serving to honor traitors and racists. 
No apologies. No shame. Don't even entertain their complaints. 
A similar approach should be taken by the city of Montgomery in regards to its occupational tax, which Republicans are attempting to stop through legislative action. 
Montgomery is going broke, and it can't put enough cops on the streets. Part of that is because every day about 70,000 people flood into the city to go to work, and then they leave each afternoon and spend their money in — and give their tax dollars to — surrounding cities and counties. 
Montgomery has to do something to offset the costs, so an occupational tax has been proposed. But just as quickly as it was, the ALGOP — the kings of handouts to people who don't need them — passed a bill to block it. 
So, some creativity is required.
Instead of an occupational tax, pass a public safety tax. 
If you work within the city limits of Montgomery, but live outside of those city limits, your paycheck will now be taxed an extra 1 percent to offset the cost of the police and fire services that you might use while in the city every day. 
No apologies. No shame. Don't listen to GOP complaints. 
It's a shame that things have to be like this, but they do. Democrats have tried for decades to force rational debate and to promote the value of compromise. Those pleas have fallen on deaf ears, which have been attached to toddler-like brains that have justified atrociously selfish behaviors and awful governance. 
At this point, it has gone on so long and been so successful for Republicans, the only thing that might break through is a taste of their own medicine. 
Give it to them.
Print this piece