Roby announces a new round of payments to farmers impacted by the trade war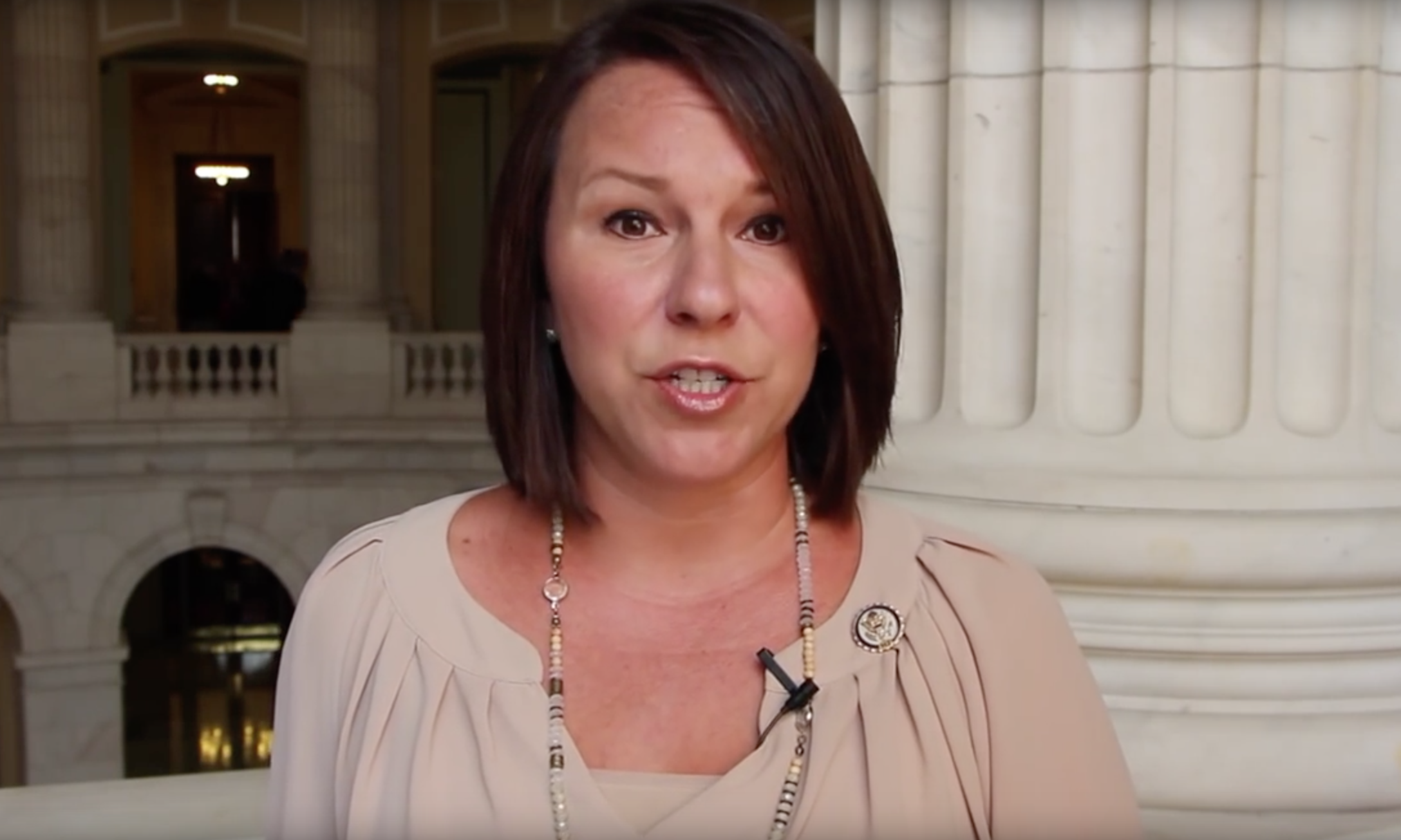 Monday, Congresswoman Martha Roby, R-Montgomery, announced that farmers who have been adversely impacted by foreign retaliatory tariffs are now eligible for a second round of USDA mitigation payments.
"On Monday, the Trump administration opened the second round of applications for the Market Facilitation Program," Roby said. "MFP is designed to aid farmers and ranchers whose commodities have been directly impacted by foreign retaliatory tariffs, and President (Donald) Trump authorized USDA to provide up to $14.5 billion in direct payments through MFP."
"These payments will be made to mitigate the losses for non-specialty crops, specialty crops and animal products," Roby added.
For more information about eligibility and to apply, click here.
On May 23, U.S. Department of Agriculture Secretary Sonny Perdue announced that there would a second round of MFP payments to farmers impacted by retaliatory tariffs.
In May 2018, Trump announced tariffs on goods imported from a number of foreign countries, citing what he felt were unfair trade practices. One of these countries was China. China was the largest purchaser of American agricultural products, particularly soybeans. Prior to 2018, China purchased half of the soybeans grown in this country. China immediately retaliated against American farmers with tariffs and by purchasing fewer American agricultural products
For historical perspective the price of a bushel of soybeans peaked on Aug. 12, 2012, at $17.58. It came back down to more reasonable levels of about $9.88 a bushel. On May 28, 2018, soybeans were trading at $10.21 a bushel. Then the trade war started. By July 19, the soybeans were trading at $8.19. The appearance of some success in trade talks saw soybean prices rise to $9.25 by Jan. 19 of this year. Then the bottom fell out again and price plummeted to $8.09 by May 6. That was the lowest price in 12 years. Soybeans are currently trading at $8.53.
While China is threatening not to buy American agricultural products ever again, on Wednesday experts in the industry said that Brazil and Argentina, China's new suppliers, do not have sufficient supply to satisfy China's needs forcing them to come back to the U.S.
On Monday, U.S. Sen. Doug Jones, D-Alabama, said at a town hall in Hamilton, "I am worried about our agriculture because of tariffs. Soybean farmers and cotton farmers are getting hit hard."
"You can't sell the soybeans," Jones said. "Farmers don't want a handout; they want a market. The Chinese bought half of our soybeans. If something does not change farmers are going to lose that market in China. There are more and more bankruptcies among farmers there are more and more suicides among farmers."
The price of lean hogs also took a hit last year, but there prices have rebounded significantly after the signing of the Mexico, Canada Agreement. Mexico and Canada are the U.S.'s largest purchasers of pork, though China is also huge. Pork producers are hopeful that Congress will ratify the MCA.
There was some good news for farmers on the trade front on Friday when the United States and the European Union have reached an agreement where the E.U. will raise the quota on the amount of high quality U.S. beef they allow into the E.U. The E.U, has agreed to lift the quota from 18,500 metric tons a year to 35,000 metric tons duty free. The beef must be hormone free. Some American ranchers implant sex steroids into their growing calves to increase performance. This is legal in the U.S., but the practice is banned in Europe.
National Cattlemen's Beef Association President Jennifer Houston said in a statement, "This is a good day for American cattlemen and cattlewomen. President Trump and his trade team deserve a lot of credit for standing up for America's cattle industry and securing this market access to Europe."
A similar opening up of the Chinese market to American beef is one of the goals of the Trump trade negotiations.
Roby represents Alabama's Second Congressional District.
(Original reporting by RFD TV's Market Day Watch contributed to this report.)
Today is Thanksgiving
Today is a national and state holiday. Schools, banks, government offices and many private businesses are closed.
Four hundred years ago, on Nov. 11, 1620, after 66 days at sea, a group of English settlers landed near what is today Cape Cod in Massachusetts. Onboard the Mayflower were 102 men, women, and children, including one baby born during the Atlantic crossing, who made up the Pilgrims.
The Mayflower, captained by Christopher Jones, had been bound for the mouth of the Hudson River. The ship took a northerly course to avoid pirates, but the decision to avoid the then widely traveled sea lanes to the New World took the ship into bad weather, which had blown the Mayflower miles off course and left the ship damaged. Off Cape Cod, the adult males in the group made the fateful decision to build an entire colony where none had existed prior. They wrote and signed the Mayflower Compact.
"In the name of God, Amen. We whose names are underwritten, the loyal subjects of our dread Sovereign Lord King James, by the Grace of God of Great Britain, France, and Ireland King, Defender of the Faith, etc. Having undertaken for the Glory of God and advancement of the Christian Faith and Honour of our King and Country, a Voyage to plant the First Colony in the Northern Parts of Virginia, do by these presents solemnly and mutually in the presence of God and one of another, Covenant and Combine ourselves together in a Civil Body Politic, for our better ordering and preservation and furtherance of the ends aforesaid; and by virtue hereof to enact, constitute and frame such just and equal Laws, Ordinances, Acts, Constitutions and Offices from time to time, as shall be thought most meet and convenient for the general good of the Colony, unto which we promise all due submission and obedience. In witness whereof we have hereunder subscribed our names at Cape Cod, the 11th of November, in the year of the reign of our Sovereign Lord King James, of England, France and Ireland the eighteenth, and of Scotland the fifty-fourth. Anno Domini 1620."
After a few weeks off Cape Cod, they sailed up the coast until they reached Plymouth. There they found a Wampanoag Indian village that had been abandoned due to some sort of plague. During the Winter of 1620-1621 they lived aboard the Mayflower and would row to shore each day to build houses. Finally, they had built enough houses to actually move to the colony, but the cold, damp conditions aboard the ship had been costly.
Some 28 men, 13 women (one of them in child birth), and 8 children died in that winter. Governor John Carver would die in April. His widow, Kathrine White Carver, would follow a few weeks later. There is some recent archaeological evidence suggesting that some of the dead were butchered and eaten by the survivors.
The Mayflower and her crew left for England on April 5, 1621, never to return.
About 40 of the Pilgrims were religious Separatists, members of a Puritan sect that had split from the Church of England, in defiance of English law. In 1609, they immigrated to Holland to practice their religion but ran into problems there too. Others in the group had remained part of the Church of England but were sympathetic to their Separatist friends. They did not call themselves Pilgrims, that term was adopted at the bicentennial for the Mayflower voyage. The members of core Separatist sect referred to themselves as "Saints" and people not in their sect as "Strangers."
In March 1621, an English speaking Native American, named Samoset, visited the Plymouth colony and asked for beer. He spent the night talking with the settlers and later introduced them to Squanto, who spoke even better English. Squanto introduced them to the chief of the Wampanoag, Massasoit.
Squanto moved in with the Pilgrims, serving as their advisor and translator. The friendly Wampanoag tribe taught the Pilgrims how to hunt and grow crops. The two groups began trading furs with each other.
William Bradford, a Separatist who helped draft the Mayflower Compact, became the longtime Plymouth Governor. He was also the writer of the first history of the Plymouth Colony and the Mayflower. Bradford's more notable descendants include author, dictionary writer and scholar Noah Webster; TV chef Julia Child; and Supreme Court Chief Justice William Rehnquist.
In the fall of 1621, 399 years ago, the Pilgrims invited their Wampanoag Indian friends to a feast celebrating their first harvest and a year in the New World with a three-day festival. This has become known as the first Thanksgiving.
Today is a national and state holiday. Schools, banks, government offices and many private businesses are closed.