Jones's attempt to fund minority colleges blocked by Tennessee senator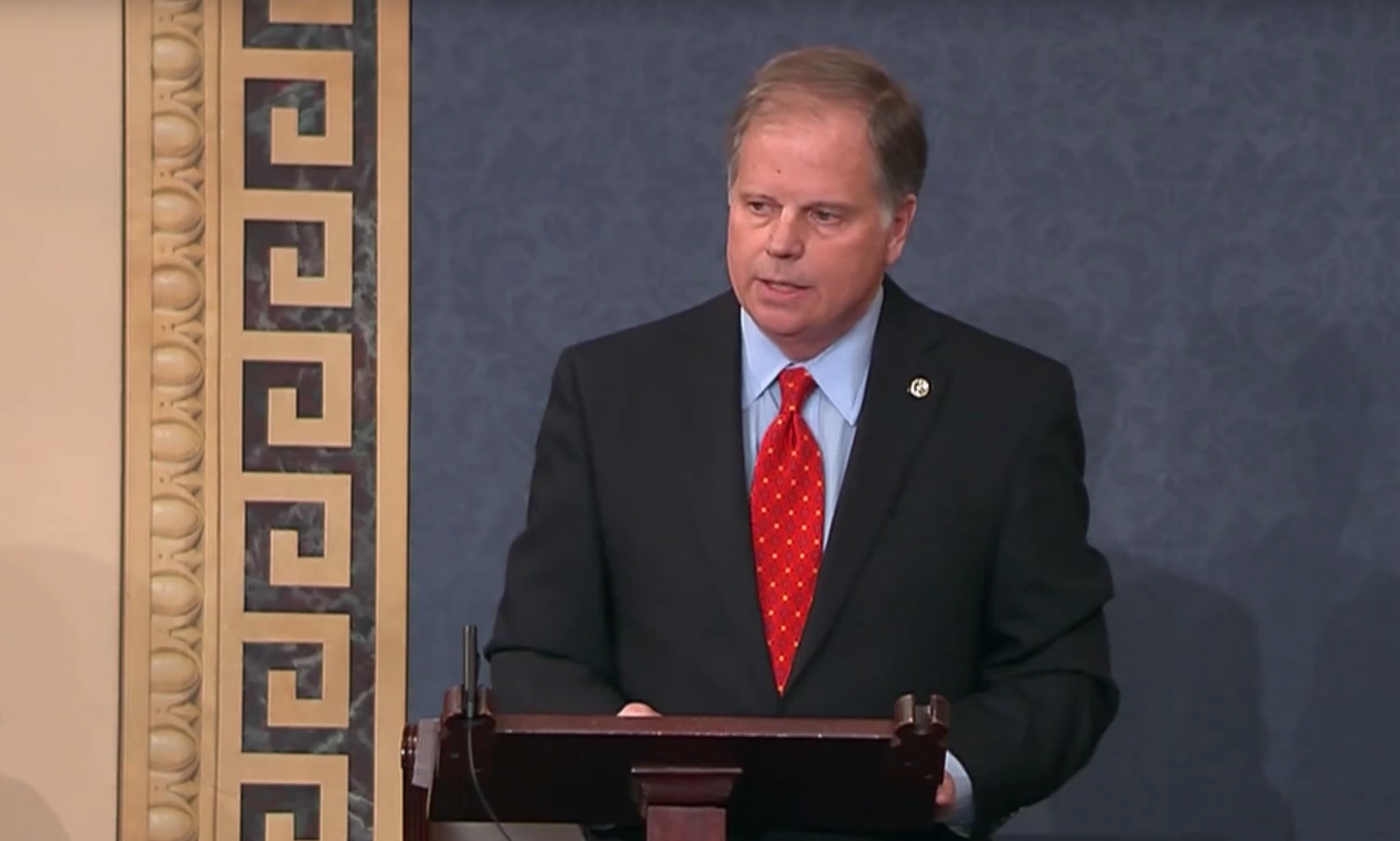 Sen. Doug Jones, D-Alabama,  on Thursday asked for unanimous consent on the floor of the U.S. Senate to pass legislation that would continue funding to minority-serving colleges and universities, but a Tennessee senator objected, putting a halt to its passage, at least for now. 
The FUTURE Act would continue for two more years the $225 million annual payment to minority-serving colleges and universities. That funding, which advocates and those school administrators say is desperately needed to help serve minority students, is set to expire Sept. 30. 
Sen. Jones and Sen. Tim Scott, R-S.C., introduced the bipartisan legislation, which was unanimously approved in the House and which pays for the $225 million by cutting subsidies to guaranty agencies that exist largely to collect student loan debts from the shuttered Federal Family Education Loan program. 
Jones on Tuesday called for Senate Majority Leader Mitch McConnell to bring the act up for a vote in the Senate. 
After Jones called for unanimous consent Thursday Sen. Lamar Alexander, R-Tenn., chair of the Senate Education Committee, objected, saying that he'd prefer a more long-term fix that included a reauthorization of the Higher Education Act. 
Prior to the objection, Jones made his case for continuing the funding and said that Alabama is home to 14 historically black colleges and universities.  
"More than any other state in the country.  They are part of the fabric of our economy in Alabama, part of the fabric of our society and they are a pride of their communities…" Jones said. "They serve an incredibly important function. They educate those from underserved communities more than any college or university, and it is important that we continue to fund them because their challenges with funding are great." 
Historically black colleges and universities (HBCU) don't have the sort of endowments that other universities rely on, Jones said, so they rely on Congress to provide the needed funding. 
"Ensuring that historically black colleges and universities have continued funding is something we all want to do," said Sen. Alexander after making his objection. "However, instead of a short term patch, I favor a long term solution." 
Alexander read a list of several changes he'd like to see approved and included in the reauthorization of the Higher Education Act, including a $255 million permanent mandatory funding for HBCUs, a streamlined FAFSA application and Pell grants for prisoners. He said he plans to bring those recommendations back up next week with Education Committee members. 
"We have the time to do it, because while the language expires at the end of this month the money does it for several more months," Alexander said. 
Ben Miller, vice president of postsecondary education at the liberal think-tank the Center for American Progress, told APR before Jones spoke on the Senate floor Thursday that he's heard from some in Washington who said the problem passing the legislation centers around cuts to those guaranty agencies, while others say they'd rather see a long-term solution than the two year fix provided through the act. 
"Some people said they just don't think these schools should get mandatory money." Miller said. "So I don't exactly know what the objection is." 
Miller also suspected that opposition to the act's passage centers around Sen. Alexander's desire reauthorize the Higher Education Act before Alexander  retires in 2021. 
"The time pressure here is real, and this fix from Senator Jones is bipartisan, bicameral, and it's taken an administrative fee to a loan program that's dead and dying, and giving it to the schools that we've historically underinvested in the most," Miller said.  "I can't imagine a better trade than that." 
Opposition to the FUTURE Act has also come from those guaranty agencies and the trade groups that represent them, such as the National Council of Higher Education Resources (NCHER). 
In a letter to the House Education Committee on June 18, James P. Bergen, president of NCHER, urged lawmakers to continue those subsidies.  
If the revenue is eliminated through the FUTURE Act, Bergen wrote that "fewer families will receive important information that helps open the doors to college, fewer schools will receive basic administrative support, federal taxpayers will receive fewer protections, and guaranty agencies will be unable to perform critical functions that assist borrowers in avoiding default and protect federal taxpayers as the federal legacy program continues to wind‐down its operations."
Miller described put the role of those guaranty agencies in a different light, however. 
"They're not servicing the loans. Private banks that issue the loans are servicing them. Their key function is debt collection," Miller said, adding that many charge students exorbitant collection fees while paying large, mid-six figure salaries to their CEOs. 
Speaking on the floor of the Senate after Sen Alexander's objection Sen. Patty Murray, D-WA. expressed support of the FUTURE Act. 
"What we're seeing today really disappoints me. We have today a straightforward opportunity to prevent a critical part of our higher education system, [historically black colleges and universities] tribal colleges and other minority serving institutions from having to deal with a lapse in funding, and we should take it. This is bipartisan legislation, it has passed the House, there's no reason at all to delay it a minute longer here in the Senate, so I want to thank Senator from Alabama for his leadership on this."
Murray said that while she also wants to see a reauthorized Higher Education Act she believes it should encompass more than Alexander's slimmed-down proposal. 
"As I said before, I believe any reauthorization of the Higher Education Act needs to have real answers to the challenges students are facing today on affordability and access and accountability and campus safety," Murray said. 
In a message to APR  on Thursday afternoon Sen. Jones office wrote that Sen Murray's disappointment reflected his own. 
"I'm glad that Senator Alexander, who I have great respect for and a great working relationship with, is open to doing something more long term on this as a part of a bigger package,' Jones said. "But it's still disappointing that this bipartisan bill, which passed unanimously in the House this week, can't get done this month on its own merit. These schools just want to be able to focus on their mission and we need to give them the certainty they need to be able to do so."
Analysis | There's a better plan for reopening schools — if Alabama leaders will use it
Maybe there will be a plan for reopening schools after all. 
A bipartisan group of lawmakers is set to meet with Gov. Kay Ivey's staff on Tuesday morning to discuss an ambitious and comprehensive plan to reopen Alabama's public schools that would see every school in the state get a new, stand-alone nurses station, a testing machine, a full-time nurse and tools to test and check students' temperatures. 
The plan, known as the Safely Opening Schools Program, or SOS, was put together by the Alabama School Nurses Association and has the backing of several doctors and the Alabama Education Association. It was presented to some lawmakers earlier this month. 
State Sens. Jabo Waggoner, Jim McClendon and Bobby Singleton — two top Republicans and the highest-ranking Democrat — have since submitted requests for funding out of Alabama's portion of CARES Act money to pay for the various components of the plan. 
In a letter sent last week to Ivey, Singleton said he was "excited by the plan," and believes it will "address, to some degree, the inequity (in his local school districts) and allow my constituents to feel that they are receiving the same support to reopen their schools as the more affluent districts of our state."
The SOS program contains, essentially, three pieces: Building 500-square-feet nurses stations/isolation rooms at every school, purchasing testing machines and supplies and hiring approximately 300 nurses for the schools around the state that are currently lacking one. (Every school is technically required to have a school nurse, but the systems have circumvented that requirement by allowing a district nurse to cover multiple schools.)
In total, the plan is projected to cost roughly $150 million — almost all of it (around 90 percent) coming from the nearly $2 billion in CARES Act funds provided to Alabama by the federal government. (The remaining portion is projected to be covered by other grants.) Included in those costs are the nurses' salaries for two years and the construction of more than 1,300 stand-alone nurses stations/isolation rooms — each costing a little less than $50,000. 
In addition, each school would receive its own testing device, which nurses would be trained to use, and testing supplies. If used as the program projects, Alabama schools would turn in more than 500,000 tests in nine months, with blind results being sent to the Centers for Disease Control for data collection purposes. The testing machines can also be modified to test for other ailments, such as the different types of flu.  
To put the total cost in perspective, the state has already spent at least $150 million — it received $115 million in grants from the CDC and received part of the more than $450 million the federal government sent to Alabama earlier this year — to test less than 10 percent of the state's population over the last six months. 
The SOS program could potentially test between 12-15 percent in far less time, and in a setting where early detection could prevent massive hotspots. 
It's a good program, and it would likely be worth the costs if only for the things mentioned. 
But those things are only half of the benefits of this program. Maybe not even half. 
Consider this: Included in the costs, every school in every city in Alabama, regardless of income level or parental involvement or poverty rates, will get a state-of-the-art nurses station and a fulltime school nurse. 
To care for children who rarely see any sort of healthcare professional. To diagnose the early signs of disease or mental health issues. To spot the early warning signs of physical abuse or drug addiction. 
In every school in Alabama. For two full school years. 
"This is extremely important to my communities, as they lack school nurses and other critical health access," Singleton wrote to Ivey. "The opportunity to have testing/screening on-site and nurses to address students' health needs would be of tremendous assistance to the residents in my district."
The same could be said for school districts, and for school children, all over the state. 
The simple fact is there is no better plan offered for reopening Alabama's schools. The others, including the "roadmap" presented by state superintendent Eric Mackey last week, mostly fail to account for known shortages in teachers, staff and nurses, and they offer no assurances for worried parents. 
The SOS plan would take the burden of monitoring and quarantining sick students off the staff and faculty, would establish a clear protocol for dealing with the virus in our schools and would assist the state and federal government with accurate, real-time data. In addition, it could be a health lifeline for kids in rural and impoverished areas. 
There is no better plan.