Ivey appoints Taylor Hicks to board of Alabama Music Hall of Fame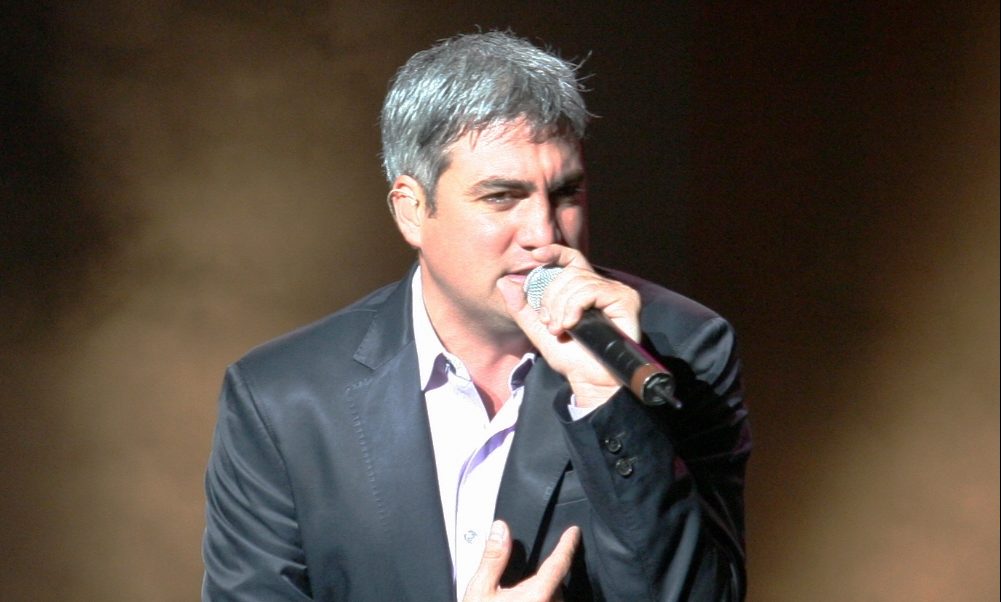 Alabama Gov. Kay Ivey on Monday appointed former American Idol winner Taylor Hicks to the board of the Alabama Music Hall of Fame.
"I have no doubt that Taylor will do a great job as a board member of the Alabama Music Hall of Fame," Ivey said in a statement. "As a successful musician, he has always represented the state of Alabama well. I know he will continue to make his home state proud."
"As I have always said, the people of Alabama will let you know if you can do three things: cook, sing, or throw a football," Hicks said in a statement. "I am honored to have been invited to join the Alabama Music Hall of Fame Board and look forward to the work that we will do together to recognize and honor our state's rich musical history."
The Board selects who will be inducted into the Music Hall of Fame among other duties.
The 12,500 foot Alabama Music Hall of Fame building is in Tuscumbia.
Hicks, age 43, became nationally famous when he won the American Idol competition. He performs an eclectic mix of country, rock, and soul music and has appeared in a number of musical and theatrical performances and roles across both Alabama and the country including runs in Los Vegas and the Grand Ole Opry. Hicks, a Hoover native, currently lives in Nashville.
"I was thrilled when I heard that Taylor had accepted an appointment to the Alabama Music Hall of Fame Board," Perry O. Hooper Jr. said in a statement. "Many people in his position would not be willing to take the time necessary to serve on the board. He is a Super Star but more importantly, he will inspire young Alabama artist to work towards fulfilling their dreams of becoming a Super Star too! I have met him on several occasions and I know that he loves Alabama as much as he loves music. I would also like thank Lynn Robinson for her dedicated years of service on the board as she rotates off. Without her service the Alabama Music Hall of Fame would not be what it is today."
Hooper is a former State Representative, holds a seat on the Trump National Finance Committee, is a Hicks fan, and is an Alabama Music Hall of Fame Board member.
Since "American Idol's" record-breaking season five finale, Hicks has gone on to achieve RIAA-certified Platinum status, win a GRAMMY® and secure a prestigious Las Vegas residency. Hicks' theatrical and television roles include touring as Teen Angel in the popular Broadway musical "Grease," starring as Charlie Anderson in the Serenbe Playhouse production of "Shenandoah." Hicks has made guest appearances on "Law & Order: SVU" and hosted the INSP series "State Plate."
As host of "State Plate," Hicks takes viewers on culinary and cultural experiences throughout the country. During the show's Alabama episode, the singer-songwriter stopped by the restaurant he owns in his hometown, SAW's Juke Joint, which was crowned one of the "25 Best Barbecue Spots in America" by Men's Journal. Hicks also regularly returns to Birmingham to perform for sold-out crowds at the historic Lyric Theatre.
Hicks is set to release his highly-anticipated, third album next year. The deeply personal, roots-inspired collection was recorded at Zac Brown's Southern Ground studio in Nashville with contributions from GRAMMY®-winning musician Keb' Mo as well as Robert Randolph.
The album is produced by Hicks along with GRAMMY®-winning guitarist Bryan Sutton, the project will bring Hicks back on the road for extensive touring.
(Original reporting by the Alabama Media Group contributed to this report.)
Print this piece
Police deploy tear gas, rubber bullets on peaceful protesters in Huntsville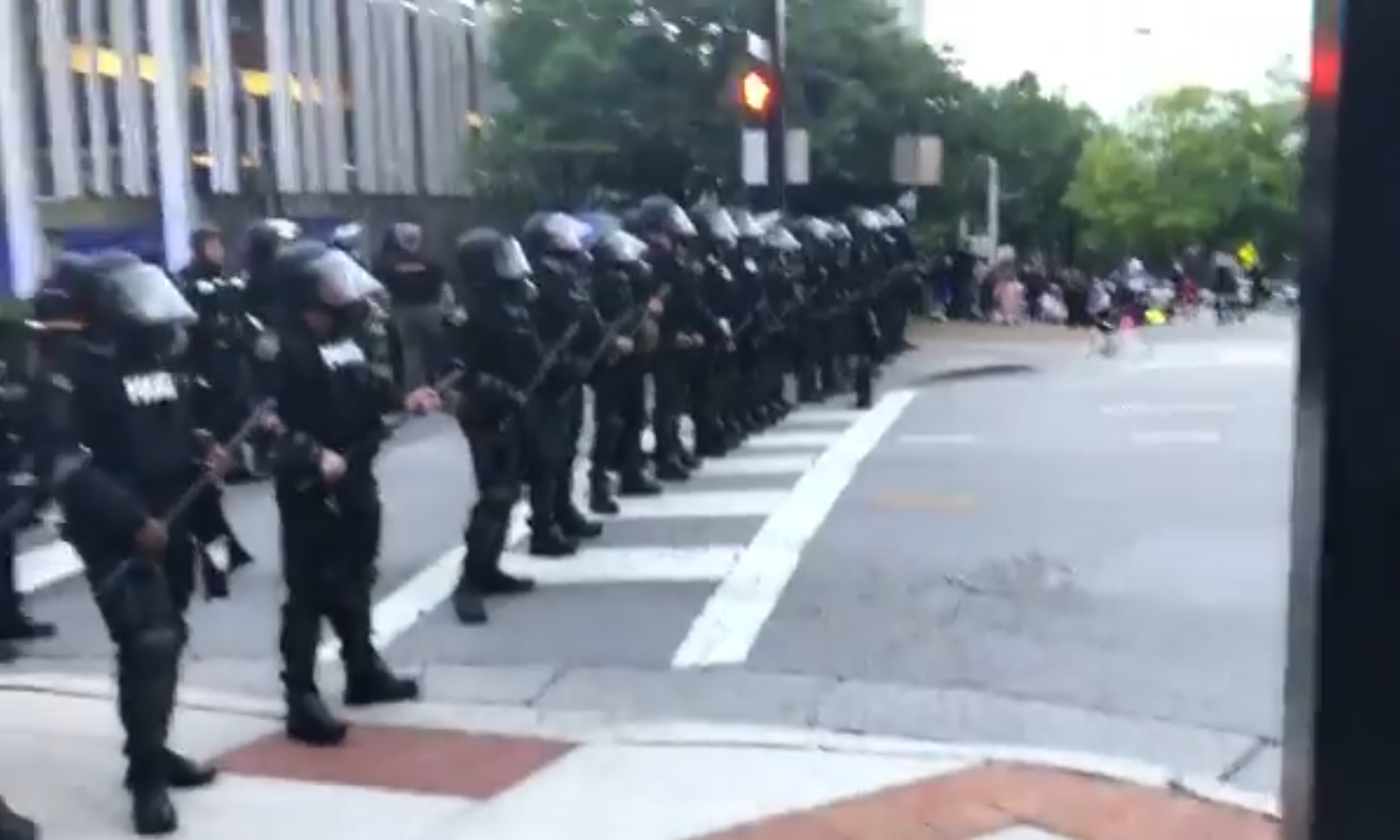 Huntsville police and state troopers with the Alabama Law Enforcement Agency deployed tear gas and fired rubber bullets at peaceful protesters and demonstrators chanting "I can't breathe" in downtown Huntsville Wednesday evening, injuring several people, including a small child.
Video from the scene shows demonstrators at the aftermath of an Alabama NAACP rally peppered with rubber bullets and tear gas as law enforcement helicopters hovered overhead.
One reporter on the ground described it as a "war zone."
State Rep. Anthony Daniels, D-Huntsville, the minority leader in the Alabama House, said the scene was reminiscent of Bloody Sunday in Selma as at least 35 state troopers were called in to forcefully disperse a peaceful crowd.
"Unnecessarily Using Force Against Peaceful Protesters in Downtown Hunstville," Daniels said on his Facebook page. "Who called the State Troopers? I am so disappointed in our local and county leadership. This is not Bloody Sunday. Why the hell were the State Troopers called."
In an interview with APR Wednesday evening, Daniels said it was very disappointing that it got to this point and he is demanding answers from local and state officials about why such a show of force and violence on the part of law enforcement was necessary.
"Thirty-five state troopers," Daniels said. "This is the type of presence that was at Bloody Sunday."
Daniels said there were several thousand people present at the formal demonstration, and several hundred stayed after the permit expired, but none of it appeared violent or disruptive.
"Peaceful protesters and concerned citizens — where there is no evidence of any type of disruption, in my mind," Daniels said. "I don't understand why local, county and state law enforcement — to the sum of 35 state troopers being present with full gear. It's just ridiculous to me and very disappointing. I'm waiting for answers."
Daniels and another state representative spoke at the rally earlier in the evening. He said he wondered if there was a threat posed or intelligence, which would be the only justification for such a deployment of force, and, if so, why he wasn't notified.
"It leads me to believe that it was an effort to justify the actual number of law enforcement there," Daniels said. "It looks to me like they were looking to justify the number of law enforcement that was there."
Audio dispersement attempt. pic.twitter.com/Yv1SaBcvLZ

— Ian Hoppe (@IanHoppe) June 4, 2020
Police began clearing the courthouse square in downtown Huntsville, where a Confederate memorial stands, after 8 p.m. Wednesday, according to AL.com. A protest permit expired at 6:30 p.m., leading armed riot police to disperse the crowd with pepper gas and rubber bullets.
The first sign of any offensive action by protesters came after police deployed smoke and after trooper cars sped through the area. The protesters threw water bottles at state trooper cars.
Pretty shocking scene of what appears to be peaceful protesters shot at by police with rubber bullets and sprayed with tear gas. pic.twitter.com/2RF0NgN752

— Chip Brownlee (@ByChipBrownlee) June 4, 2020
Protesters moved to Big Spring Park near Huntsville's Von Braun Center before they were again dosed with a "heavy" dose of tear gas, which carried across to a media staging area and obscured a Marriott hotel in smoke.
AL.com's Paul Gattis and Ian Hoppe report that a small child — less than four years old — was caught in the tear gas and began screaming.
A small girl, maybe three years old , was just enveloped in a cloud of tear gas. She screamed while her dad ran away with her.

— Ian Hoppe (@IanHoppe) June 4, 2020
Huntsville police said there had been no property damage or violence during the protest.
Lt. Michael Johnson with the Huntsville Police Department told Huntsville's WHNT that the police department ended what they thought was "a pretty peaceful protest."
"Once that permit expired, we still waited a good amount of time," Johnson said.
It appears law enforcement waited about an hour before beginning attempts to disperse the demonstrators with forceful means like tear gas and rubber bullets.
"It started to get a little hostile. A couple of things were thrown at us," Johnson said. "The verbiage, some of the threats, the hostility, blocking the road — we just cannot have that."
Johnson said police were not "going to roll the dice" to see if the protest turned out to be violent.
"We're not going to let this city go through what other cities go through," Johnson said, justifying using a "chemical agent" on peaceful protesters.
Before riot police sprayed them with tear gas and rubber bullets, protesters chanted "we are peaceful."
Daniels said people concerned about police brutality and what he called an inappropriate use of force Wednesday should show up at the ballot box and demand answers.
Print this piece