Will Dismukes endorses Jessica Taylor
Tuesday, State Representative Will Dismukes (R-Prattville), a former Republican candidate for Alabama's Second congressional district, endorsed businesswoman Jessica Taylor at a press conference in Prattville, Alabama.
"Our country desperately needs a new generation of conservatives to take on radical socialists like AOC, Ilhan Omar and their 'squad,'" Dismukes told reporters and Taylor supporters gathered in Prattville's Heritage Park. "That's why, today, I'm endorsing conservative Jessica Taylor for Congress. Socialism is a major threat to our democracy and I believe in my heart that Jessica is the right leader for the job – to take on these radical leftists, protect the right to life, the second amendment, and help President Trump drain the swamp!"
"It is an honor to receive the endorsement of such a strong conservative voice," Jessica said. "As conservatives we must push back against our generation's rapid descent toward socialism. In a recent poll, over 70 percent of millennials said they support socialism! That's why I'm running – to be a new, bold, voice for conservatism. As the only conservative remaining in this race, my message is simple: our government remains broken, bloated, and out of control. As your congresswoman, I will make it my mission to protect life, defend the Second Amendment, and uphold our Alabama conservative values."
Rep. Dismukes said that he recently withdrew his candidacy. "After thoughtful prayer I decided it was not my time."
"Today I am endorsing Jessica Taylor for Congress because she will fight socialism," Dismukes said. "She has the courage, the principles, and the hook shot to take on the leftists."
If elected Taylor promised, "To protect life, the Second Amendment and defend President Trump."
Reporters asked what about the retiring Congresswoman Martha Roby, R-Montgomery, was not conservative enough for the Second Congressional District.
"Congresswoman Roby did a fabulous job fighting for life and I want to continue that effort," Taylor said. 'That is a fight we must not back down on."
"We need to help President Trump drain the swamp," said Taylor.
Reporters asked about the ongoing impeachment inquiry in Washington.
"They have been talking about impeaching President Trump since the day he was elected," Taylor answered. "This is nothing short of a coup."
The Alabama Political Reporter asked Troy King has run three statewide campaigns, is he the frontrunner in this race?
"He has run three statewide races, but he lost the last two," Taylor said. "Our message is what people are responding to. I think I am the frontrunner in this race."
Jessica Taylor is married to former State Senator Bryan Taylor, R-Prattville.
APR asked: Friday, your husband was a late qualifier for Supreme Court Justice. How hard is it going to be for him to be campaigning statewide while you are campaigning around the Second Congressional District.
"He qualified as a placeholder," Taylor said. We are still praying about whether he should run. Incumbent Justice Greg Shaw and State Senator Cam Ward, R-Alabaster, have both also qualified in the Republican primary for that Supreme Court seat.
Jessica Taylor faces a crowded Republican primary field that includes: Thomas W. Brown, Jr., Dothan businessman Jeff Coleman, Terri Hasdorff, former Attorney General Troy King, Bob Rogers, and former State Representative Barry Moore, R-Enterprise.
The winner of the Republican primary will face the winner of the Democratic primary in the general election. Phyllis Harvey-Hall and Nathan Mathis are both running for the Democratic nomination in U.S. House District two.
Both the Republican and Democratic primaries will be on March 3.
Tuberville, Sessions campaign together
The two former Republican primary opponents participated in a series of campaign events across the Tennessee Valley area.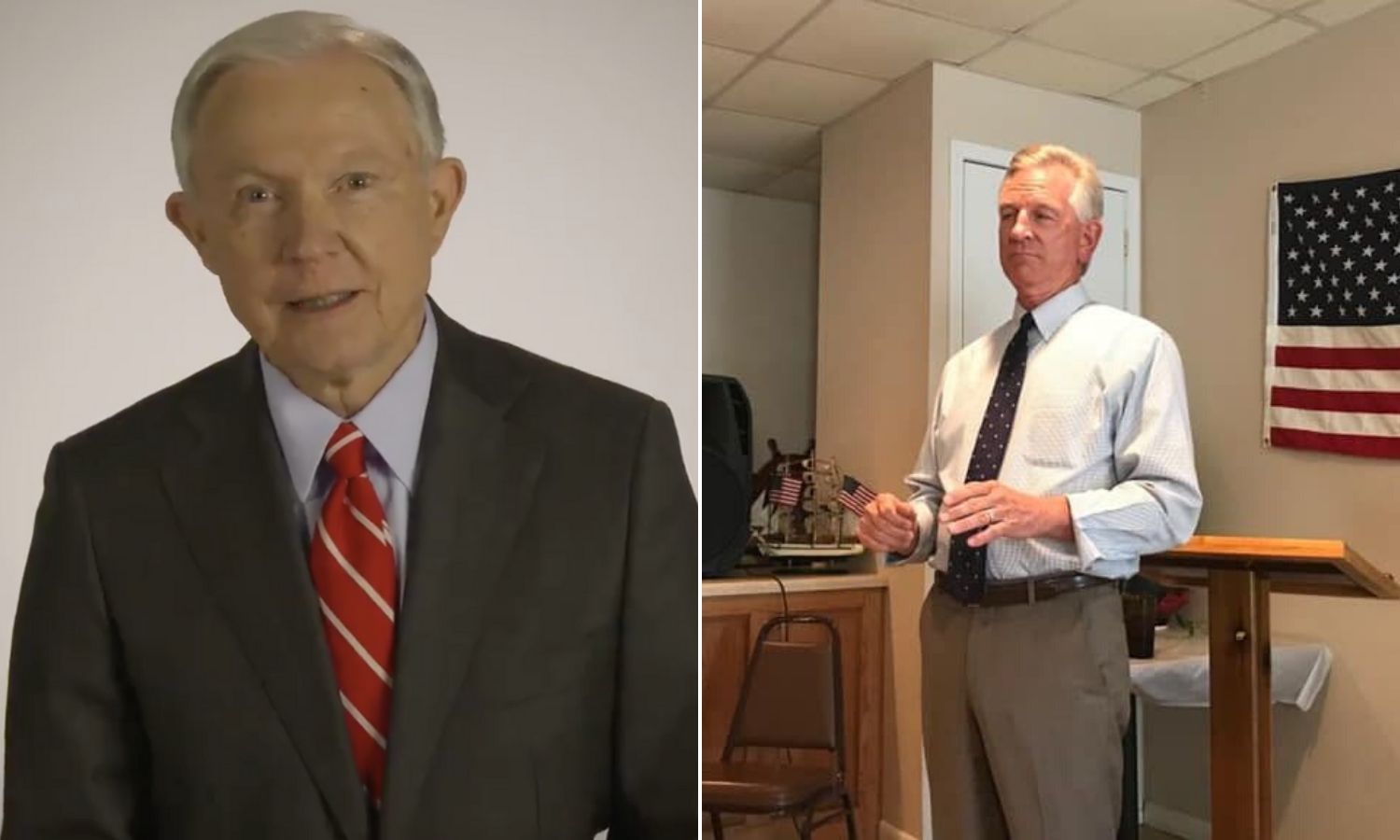 The Tommy Tuberville for U.S. Senate campaign released a social media video Thursday featuring Tuberville alongside former U.S. Sen. and Attorney General Jeff Sessions. The two former Republican primary opponents had participated in a series of campaign events across the Tennessee Valley area.
Tuberville and Sessions on Wednesday met with representatives of Huntsville's defense and technology sectors, participated in an event sponsored by the Republican Women of Huntsville and headlined multiple campaign fundraising events.
Sessions said, "Tommy, I support you 100 percent. Alabama must send you to represent us in the Senate. We cannot allow a Chuck Schumer acolyte – Doug Jones – to represent Alabama in the Senate."
"You see it on his vote on the judges and Kavanaugh and the way he's behaved about the new nominee, so I think … it would be shocking that Alabama would reelect a Doug Jones," Sessions continued. "I know you're going to win. I feel really good about it, and I'm glad that you're traveling the state hard and that you're here in this important community."
The night after Tuberville won the Republican primary runoff election, Sessions committed to doing his part to help defeat Jones and reclaim the Senate seat for the ALGOP.
"After we won the runoff, Jeff Sessions called and told me, 'Coach, I'm all in,' and today's joint events certainly demonstrate that he is a man of his word," Tuberville said following the video shoot. "Jeff Sessions understands that it's time we once again had a U.S. senator whose votes reflect our conservative Alabama values, not the ultra-liberal Hollywood and New York values of Doug Jones's high-dollar, out-of-state campaign donors."
Tuberville faces a determined Jones, who is flooding the airwaves with ads. Democrats are desperate to hold on to Jones' seat, believing that his seat could tip control of the Senate to the Democrats.
Democrats hope to hold onto their control the U.S. House of Representatives and a recent poll by Rasmussen shows Democratic presidential nominee Joe Biden with a five point lead over incumbent Donald Trump.
Sessions left the U.S. Senate to accept an appointment as Trump's first attorney general.
Jones defeated former Chief Justice Roy Moore to win the seat in the special election.
Sessions was fired by Trump in 2018 and announced his candidacy for Senate the day before qualifying ended. Tuberville had already spent ten months on the campaign trail at that point.
Tuberville defeated Sessions, Moore, Congressman Bradley Byrne, State Rep. Arnold Mooney and businessman Stanley Adair in the crowded Republican primary. Tuberville is a former Auburn University head football coach. He also coached Texas Tech, Cincinnati and Ole Miss. Tuberville won a national championship as the defensive coordinator at the University of Miami. Tuberville lives in Auburn.
The general election is Nov. 3.