Will Dismukes endorses Jessica Taylor
Tuesday, State Representative Will Dismukes (R-Prattville), a former Republican candidate for Alabama's Second congressional district, endorsed businesswoman Jessica Taylor at a press conference in Prattville, Alabama.
"Our country desperately needs a new generation of conservatives to take on radical socialists like AOC, Ilhan Omar and their 'squad,'" Dismukes told reporters and Taylor supporters gathered in Prattville's Heritage Park. "That's why, today, I'm endorsing conservative Jessica Taylor for Congress. Socialism is a major threat to our democracy and I believe in my heart that Jessica is the right leader for the job – to take on these radical leftists, protect the right to life, the second amendment, and help President Trump drain the swamp!"
"It is an honor to receive the endorsement of such a strong conservative voice," Jessica said. "As conservatives we must push back against our generation's rapid descent toward socialism. In a recent poll, over 70 percent of millennials said they support socialism! That's why I'm running – to be a new, bold, voice for conservatism. As the only conservative remaining in this race, my message is simple: our government remains broken, bloated, and out of control. As your congresswoman, I will make it my mission to protect life, defend the Second Amendment, and uphold our Alabama conservative values."
Rep. Dismukes said that he recently withdrew his candidacy. "After thoughtful prayer I decided it was not my time."
"Today I am endorsing Jessica Taylor for Congress because she will fight socialism," Dismukes said. "She has the courage, the principles, and the hook shot to take on the leftists."
If elected Taylor promised, "To protect life, the Second Amendment and defend President Trump."
Reporters asked what about the retiring Congresswoman Martha Roby, R-Montgomery, was not conservative enough for the Second Congressional District.
"Congresswoman Roby did a fabulous job fighting for life and I want to continue that effort," Taylor said. 'That is a fight we must not back down on."
"We need to help President Trump drain the swamp," said Taylor.
Reporters asked about the ongoing impeachment inquiry in Washington.
"They have been talking about impeaching President Trump since the day he was elected," Taylor answered. "This is nothing short of a coup."
The Alabama Political Reporter asked Troy King has run three statewide campaigns, is he the frontrunner in this race?
"He has run three statewide races, but he lost the last two," Taylor said. "Our message is what people are responding to. I think I am the frontrunner in this race."
Jessica Taylor is married to former State Senator Bryan Taylor, R-Prattville.
APR asked: Friday, your husband was a late qualifier for Supreme Court Justice. How hard is it going to be for him to be campaigning statewide while you are campaigning around the Second Congressional District.
"He qualified as a placeholder," Taylor said. We are still praying about whether he should run. Incumbent Justice Greg Shaw and State Senator Cam Ward, R-Alabaster, have both also qualified in the Republican primary for that Supreme Court seat.
Jessica Taylor faces a crowded Republican primary field that includes: Thomas W. Brown, Jr., Dothan businessman Jeff Coleman, Terri Hasdorff, former Attorney General Troy King, Bob Rogers, and former State Representative Barry Moore, R-Enterprise.
The winner of the Republican primary will face the winner of the Democratic primary in the general election. Phyllis Harvey-Hall and Nathan Mathis are both running for the Democratic nomination in U.S. House District two.
Both the Republican and Democratic primaries will be on March 3.
Print this piece
Sessions: FFRF's demands that Ivey stop praying is ridiculous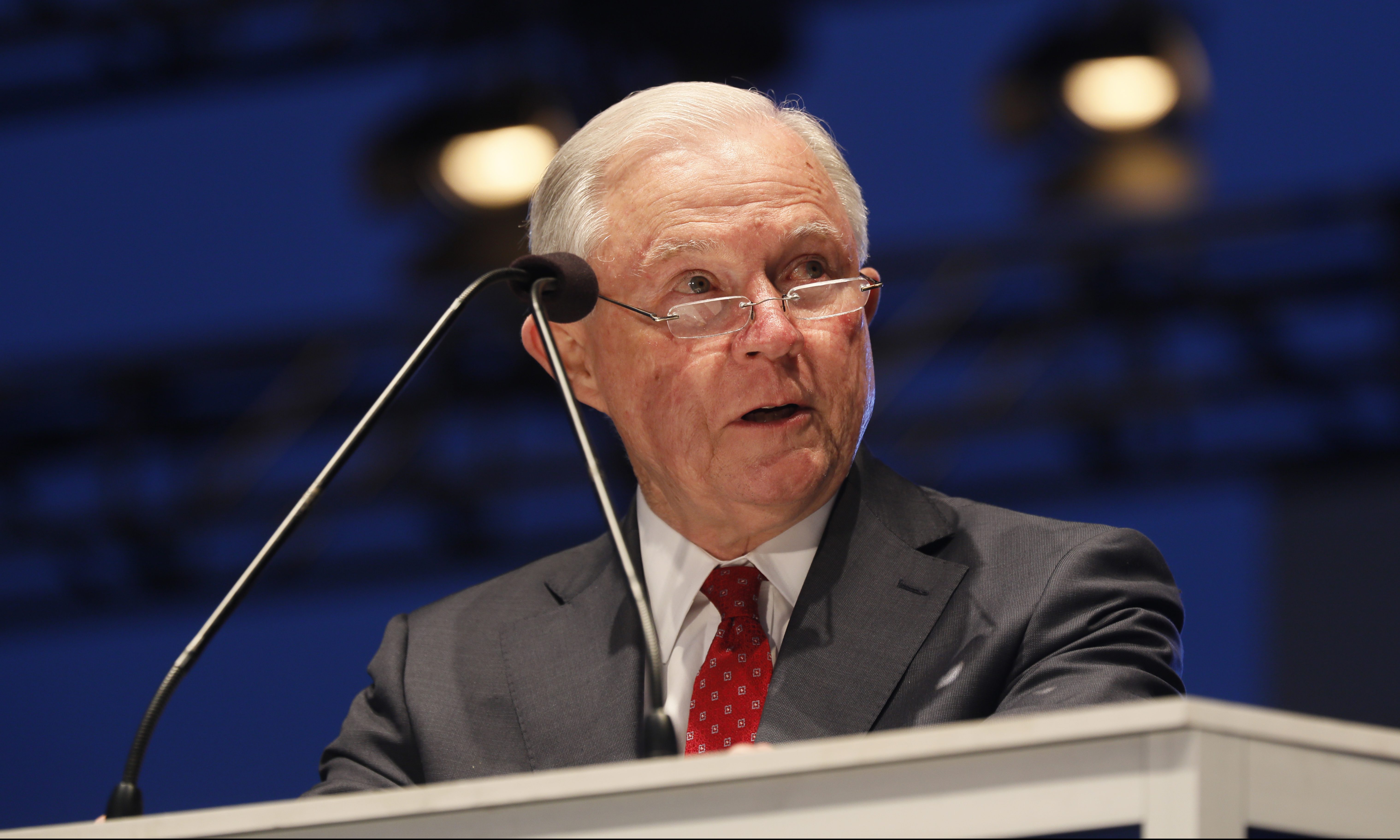 Wednesday, former Senator and GOP Senate candidate Jeff Sessions, R-Alabama, said that Alabamians will not be intimidated by the Freedom From Religion Foundation. Sessions was responding to a letter that the FFRF sent to Alabama Governor Kay Ivey (R) demanding that she stop praying at press conferences and citing scriptures.
"This is RIDICULOUS," Sessions said. "Alabamians will NOT be intimidated by Freedom From Religion Foundation atheists spouting constitutional heresies in their war on religion. My friend Governor Kay Ivey is completely within her God-given and constitutional rights to pray for Alabama, and I stand with her!"
"The FRFF atheists want to force Governor Ivey and all public officials to hide their deeply-held convictions," Sessions continued. "THEY are trying to impose their views AGAINST religion on US! Gov. Ivey calling for prayer for our great state & country is NOT her forcing Christianity on anyone."
"The Constitution guarantees EVERY American, even public officials, the right to freely exercise their religion," Sessions stated. "It's time this country REJECT the FRFF's extreme and unconstitutional view of religious liberty in America."
On Monday, the Wisconsin based Foundation chastised Gov. Ivey for, "Your use of your office to promote Christianity. FFRF's purposes are to protect the constitutional principle of separation between state and church and to educate the public on matters relating to non-theism."
The FFRF objected to Gov. Ivey's speech during Friday's press conference announcing that she was issuing a stay-at-home order for the State of Alabama to fight COVID-19.
"Multiple concerned Alabama residents reported that you used this official government event to promote your personal religious beliefs," the FFRF wrote. "In the middle of your speech you suddenly started preaching,"
"The good Lord reminds us in Isaiah 43:1-3, and I quote, "Do not fear for I am with you. Do not be dismayed for I am your God," Ivey said drawing the ire of the FFRF. "I will strengthen you and help you. I will uphold you with my righteous hand."
They also objected to Ivey's inviting Reverend Cromwell Handy from the Dexter Avenue King Memorial Baptist Church to speak at this official state-sponsored event."
"Reverend Handy delivered a 9-minute long sermon, during which he recited many different bible verses and referred to the pandemic as an opportunity given by God "to pause and reflect on His glory."" The FFRF continued. "To end the press conference, you asked Reverend Handy "to lead a prayer to God Almighty asking for his blessings.. Reverend Handy then led all of the government officials present in a lengthy formal prayer "in Jesus' name.""
The FFRF claimed that, "These actions amount to an endorsement of religion, specifically Christianity, in contravention of the Establishment Clause of the First Amendment."
"We urge you in the future to refrain from promoting religion in your official capacity as governor of Alabama," the FFRF stated.e
Sessions faces former Auburn head football Coach Tommy Tuberville in the Republican primary runoff on July 14. The winner of the runoff will face U.S. Senator Doug Jones (D-Alabama) in the November general election.
Sessions served in the Senate from 1997 to 2017. He left the Senate after he was confirmed as President Donald J. Trump's Attorney General and served in that role through November 2018. He was a late entry into the race for the Republican nomination for U.S. Senate.
Print this piece