Byrne says that Pelosi has moved the goalposts on impeachment again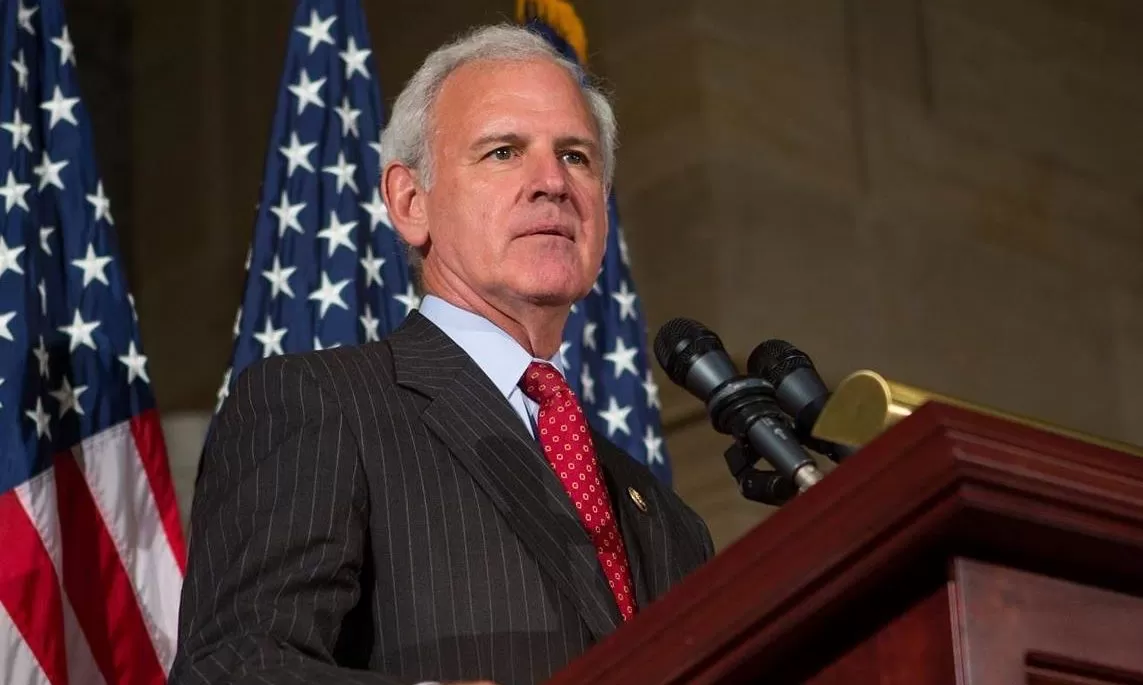 Tuesday, U.S. Senate candidate, Congressman Bradley Byrne (R-Montrose) accused Speaker of the House Nancy Pelosi (D-California) of moving the impeachment goalposts again with a poll-tested 'Bribery' charge.
Rep. Byrne made these comments in a speech on the floor of the House of Representatives condemning the Democrats' latest allegation against President Donald J. Trump (R).
"Unfortunately, I must rise again because – like so many times before – the goalposts for impeaching President Trump have moved," Byrne said. "At this rate, Nancy Pelosi must be any field goal kicker's worst nightmare."
"Since day one – literally day one – it has been abundantly clear that the far-left members of the so-called 'Squad' have been moving this Democratic majority closer to impeaching the President," Byrne charged. "They don't care why or how. They don't care what evidence, real or imagined, is used. They only care about the end result – impeaching President Trump so he will not win reelection. As this radical faction gains dominance in the Democrat party, Speaker Pelosi has tried every justification in the book to impeach this President."
"We were told for years we'd get to impeachment from the Mueller report," Byrne concluded. "They said, just wait, wait till the report! It's going to show Russian Collusion! Well, two years and millions of dollars down the drain, Mueller showed no collusion. The Democrat narrative quickly turned towards 'obstruction of justice,' but that too fell flat. But then, Mr. Speaker, the majority got a new gift – the whistleblower! Never mind he had no firsthand knowledge of what he blew the whistle on, never mind he's a partisan Democrat, never mind he worked with Adam Schiff on his new allegations against President Trump. It was campaign finance violations! Well, that didn't work. So, then it was quid pro quo! For weeks, that's all the majority has talked about."
"Not anymore. Apparently, Mr. Speaker, some highly-paid political consultants warned Speaker Pelosi that quid pro quo did not resonate with the American people," Byrne said. "So now, it seems they've moved on to another version of impeachment that tested best in their focus groups – the nefarious-sounding 'bribery.' It's bribery! That's what we will impeach President Trump on!"
"Bribery occurs when an individual 'corruptly' links receiving something of value in exchange for an official government action," Byrne explained. "Show me how asking Ukraine to look into the 2016 election and into the sketchy dealings of Hunter Biden is acting corruptly! Because I'll tell you what, I'll show you evidence that Ukrainian officials were working to boost Secretary Clinton, and I'll show you evidence that the Obama Administration was itself concerned about Hunter Biden's deals."
"President Trump's phone call with Ukraine President Zelensky, you know, the one that the whistleblower blew the whistle on, is on the internet!" Byrne added. "Everyone can read it. And I hope they will. Because nowhere in that call did President Trump ever link any aid to Ukraine in exchange for anything. The President did not one time, not one time, even mention any kind of hold on the aid. Not once! This is not bribery. This is not impeachable conduct. Yet here we are, trying to remove the President of the United States, the leader of this country, the man chosen by the voters, over these newest allegations."
Former Vice President Joe Biden (R) has been accused of threatening to withhold aid to Ukraine unless a prosecutor investigating corruption by the gas company that was paying his son Hunter. This alleged conflict of interest is not being investigated by the House of Representatives. Joe Biden is a leading contender for the Democratic nomination. Democrats are suggesting that the President may have committed an impeachable offense by asking Ukraine to investigate the Biden's dealings in the country. The Trump administration has been providing $hundreds of millions of lethal military aid to Ukraine, which is fighting Russia backed separatist in the eastern portion of their country.
Pelosi's claim that the Ukraine scandal amounted to "bribery" on the part of the President, follows recent polling that increasingly trouble national Democrats. A recent Rasmussen poll found the forty-five percent of Americans still believe that President Trump will be reelected in 2020, basically unchanged in surveys over the past year despite the impeachment hearings. Only twenty-six percent say that they believe he will be defeated by the Democratic nominee. This number has plummeted from a high of 33 percent in late July and 28 percent two months ago, before House Democrats implemented their impeachment political strategy.
Worse news for House Democrats is that it appears that the Republican strategy of hammering Joe Biden appears to be working.
46 percent of voters think the House hearing should be expanded to look at the involvement of Biden and his son Hunter in Ukrainian political affairs. Only forty-three percent disagree, while 11 percent are undecided.
68 percent of Republicans surveyed support investigating the Bidens. 48 percent of unaffiliated voters think the impeachment hearings should include the Bidens, with only 39 percent opposed. 25 percent of self-identified Democrats support expanding the investigation to include the Bidens.
Trump's overall voter approval has been tracking up since last Wednesday, the first day of the House impeachment hearings. It was at 46 percent on Wednesday morning, then rose to 48 percent Thursday and to 50 percent by Friday. The president's approval was at 50 percent on Monday. Seventy-six percent of Republicans and 53 percent of all voters said that they think most reporters are trying to help impeach Trump when they write or talk about the impeachment effort.
The survey of 1,000 Likely Voters was conducted November 14 and 17, 2019 by Rasmussen Reports. The margin of sampling error is +/- 3 percentage points/
The impeachment has also has the unintended effect of helping drive Republican fundraising efforts.
In a recent email to Democratic donors, the Democratic National Committee wrote: "Donald Trump and the RNC have raised over $300 million this year alone. Trump has been campaigning since day one of his presidency, and his incumbency comes with a massive fundraising advantage and head start."
Byrne is running for the Senate seat currently held by Doug Jones (D).
Several other Republicans have qualified for the GOP Senate nomination including: Ruth Page Nelson, former Chief Justice Roy Moore, former Attorney General Jeff Sessions, Secretary of State John H. Merrill, State Representative Arnold Mooney, former Auburn head football Coach Tommy Tuberville, and businessman Stanley Adair.
The Republican primary will be on March 3.
Print this piece
Police deploy tear gas, rubber bullets on peaceful protesters in Huntsville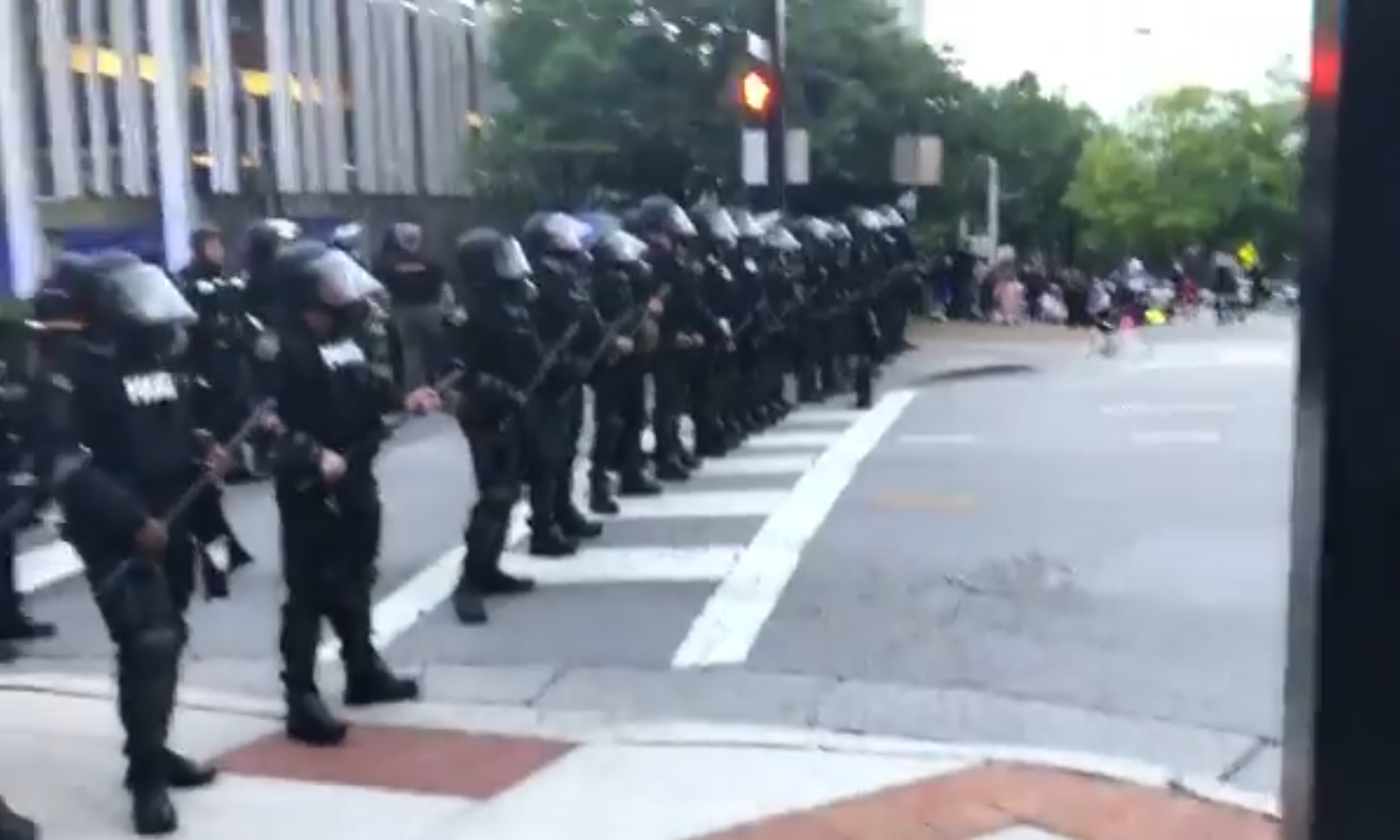 Huntsville police and state troopers with the Alabama Law Enforcement Agency deployed tear gas and fired rubber bullets at peaceful protesters and demonstrators chanting "I can't breathe" in downtown Huntsville Wednesday evening, injuring several people, including a small child.
Video from the scene shows demonstrators at the aftermath of an Alabama NAACP rally peppered with rubber bullets and tear gas as law enforcement helicopters hovered overhead.
One reporter on the ground described it as a "war zone."
State Rep. Anthony Daniels, D-Huntsville, the minority leader in the Alabama House, said the scene was reminiscent of Bloody Sunday in Selma as at least 35 state troopers were called in to forcefully disperse a peaceful crowd.
"Unnecessarily Using Force Against Peaceful Protesters in Downtown Hunstville," Daniels said on his Facebook page. "Who called the State Troopers? I am so disappointed in our local and county leadership. This is not Bloody Sunday. Why the hell were the State Troopers called."
In an interview with APR Wednesday evening, Daniels said it was very disappointing that it got to this point and he is demanding answers from local and state officials about why such a show of force and violence on the part of law enforcement was necessary.
"Thirty-five state troopers," Daniels said. "This is the type of presence that was at Bloody Sunday."
Daniels said there were several thousand people present at the formal demonstration, and several hundred stayed after the permit expired, but none of it appeared violent or disruptive.
"Peaceful protesters and concerned citizens — where there is no evidence of any type of disruption, in my mind," Daniels said. "I don't understand why local, county and state law enforcement — to the sum of 35 state troopers being present with full gear. It's just ridiculous to me and very disappointing. I'm waiting for answers."
Daniels and another state representative spoke at the rally earlier in the evening. He said he wondered if there was a threat posed or intelligence, which would be the only justification for such a deployment of force, and, if so, why he wasn't notified.
"It leads me to believe that it was an effort to justify the actual number of law enforcement there," Daniels said. "It looks to me like they were looking to justify the number of law enforcement that was there."
Audio dispersement attempt. pic.twitter.com/Yv1SaBcvLZ

— Ian Hoppe (@IanHoppe) June 4, 2020
Police began clearing the courthouse square in downtown Huntsville, where a Confederate memorial stands, after 8 p.m. Wednesday, according to AL.com. A protest permit expired at 6:30 p.m., leading armed riot police to disperse the crowd with pepper gas and rubber bullets.
The first sign of any offensive action by protesters came after police deployed smoke and after trooper cars sped through the area. The protesters threw water bottles at state trooper cars.
Pretty shocking scene of what appears to be peaceful protesters shot at by police with rubber bullets and sprayed with tear gas. pic.twitter.com/2RF0NgN752

— Chip Brownlee (@ByChipBrownlee) June 4, 2020
Protesters moved to Big Spring Park near Huntsville's Von Braun Center before they were again dosed with a "heavy" dose of tear gas, which carried across to a media staging area and obscured a Marriott hotel in smoke.
AL.com's Paul Gattis and Ian Hoppe report that a small child — less than four years old — was caught in the tear gas and began screaming.
A small girl, maybe three years old , was just enveloped in a cloud of tear gas. She screamed while her dad ran away with her.

— Ian Hoppe (@IanHoppe) June 4, 2020
Huntsville police said there had been no property damage or violence during the protest.
Lt. Michael Johnson with the Huntsville Police Department told Huntsville's WHNT that the police department ended what they thought was "a pretty peaceful protest."
"Once that permit expired, we still waited a good amount of time," Johnson said.
It appears law enforcement waited about an hour before beginning attempts to disperse the demonstrators with forceful means like tear gas and rubber bullets.
"It started to get a little hostile. A couple of things were thrown at us," Johnson said. "The verbiage, some of the threats, the hostility, blocking the road — we just cannot have that."
Johnson said police were not "going to roll the dice" to see if the protest turned out to be violent.
"We're not going to let this city go through what other cities go through," Johnson said, justifying using a "chemical agent" on peaceful protesters.
Before riot police sprayed them with tear gas and rubber bullets, protesters chanted "we are peaceful."
Daniels said people concerned about police brutality and what he called an inappropriate use of force Wednesday should show up at the ballot box and demand answers.
Print this piece