Jones applauds Senate passage of HBCU funding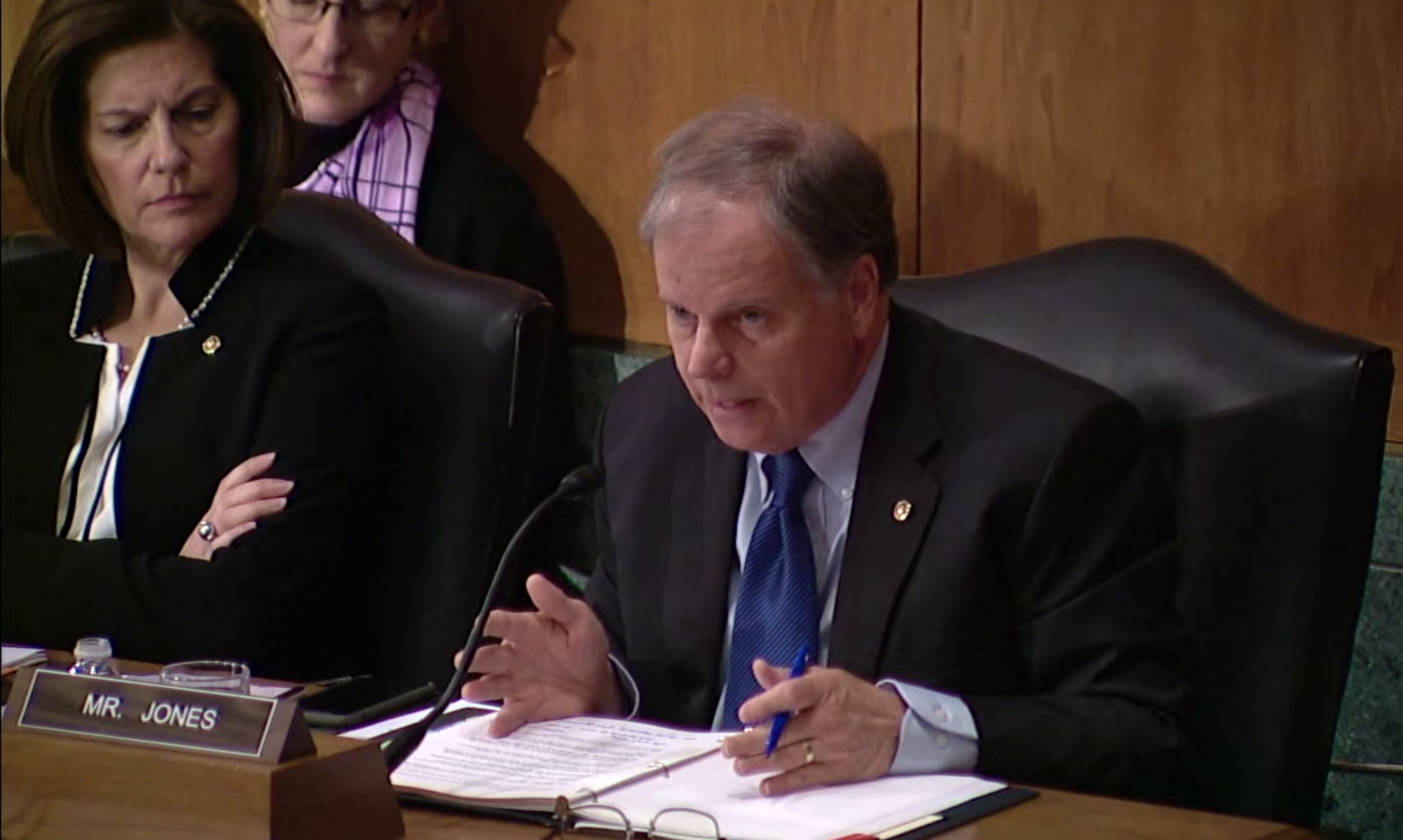 The U.S. House is set to take up a bipartisan bill approved by the Senate last week that would permanently restore funding for historically black colleges and universities and minority serving schools, but it's less certain if the House will approve the bill in current form. 
Sen. Doug Jones, D-Alabama, spent months urging his colleagues to pass the bill, and led the push to solve the annual funding crisis for Historically black colleges and universities (HBCU's). 
"This is wonderful news for students and faculty at minority-serving institutions across the country, including the 13 schools in Alabama that receive this annual funding. After their funding expired in September this year, they can finally breathe a sigh of relief now that the Senate has passed a permanent renewal that will allow them to plan for the future for years to come," Jones said in a statement. "Importantly, this legislation will also take a long-overdue first step toward simplifying the FAFSA application and removing barriers for students across the country who want to achieve their dream of a college education. This is an example of the kinds of important goals we can achieve when both sides reach across the aisle to find common ground."
Sen. Patty Murray, D-Wash., said on the Senate floor after passage of the bill that funding for HBCU's "should never be up for debate, and now, because of this, it will not be." 
The bill's passage in the Senate last week came after that annual funding had expired on Sept. 30 following blockage of the bill's approval by Sen. Lamar Alexander, R-Tenn., chair of the Senate Education Committee. 
Alexander had previously objected to a unanimous consent to approve the bill, saying that he'd prefer a more long-term fix that included a reauthorization of the Higher Education Act. 
Senate Democrats and Republicans compromised, reaching a deal that included some of Alexander's suggestions, including streamlining the federal financial aid application process, a move that would that lawmakers say would offset the cost of funding the schools by generating nearly $3 billion over a decade. 
Some House Ways and Means Committee members are concerned, however, that the streamlining process, which calls for the Education Department to more easily share taxpayer information for students applying for aid or for loan paybacks, could be risky, according to Politico. Such personal information would be accessible by thousands of third-party contractors, according to a Democratic aide, who spoke to the news outlet. 
"We've been working with leaders in the House to make sure that our bill is something they can accept and pass," Alexander said on the floor of the Senate on Dec. 5. "We hope that will happen in the next couple of weeks."
Print this piece
South Alabama medical residents work alongside Orange Beach first responders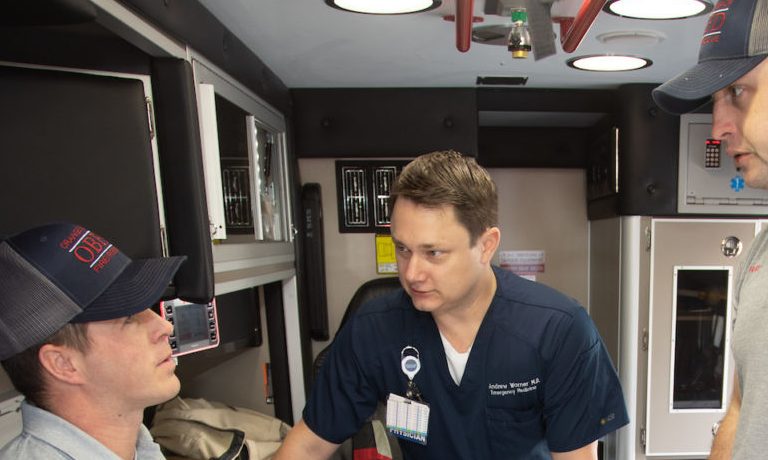 Residents in USA Health's Emergency Medicine Residency Program are given the opportunity to rotate with emergency medical services (EMS) in Orange Beach. The residents are stationed at the Orange Beach Fire Department giving resident physicians the experience of responding to emergency calls alongside paramedics and firefighters.
Paul Henning, M.D. is the associate program director of the Emergency Medicine Residency Program at USA Health and medical director of Orange Beach Fire/Rescue.
"The expertise that a patient gets in the field can determine outcomes," Henning explained. "It bridges the gap between the physician and the paramedic. Seldom, if ever, do physicians have this kind of exposure to prehospital emergency services. It also gives the physician more perspective of what the paramedics are doing in the field. If we have an opportunity to improve the prehospital scope of practice, then we have accomplished our goals."
Henning also serves as an associate professor of emergency medicine at the University of South Alabama College of Medicine.
He said that it is vital that physicians understand what happens in the prehospital stage of care.
The innovative program was established in July 2019.
Andrew Warner, M.D., took a nonlinear path to emergency medicine. Dr. Warner is a former Green Beret, who served with the U.S. Army 5thSpecial Forces Group on tours in Iraq and Afghanistan.
Following his military service, he went on to earn his medical degree from the University of Cincinnati College of Medicine. He completed his residency training in family medicine at USA Health and started in the emergency medicine program as a second-year resident.
Warner expressed his great respect for the Orange Beach first responders, who "epitomize true dedication to patient care and outcomes."
"I have further learned to appreciate just how critical those precious seconds in the prehospital setting are for patient survivability," Warner added.
Justin Thomas, M.D. is a second-year emergency medicine resident and was the first USA Health resident to rotate in Orange Beach. Thomas said that the experience opened his eyes to the constraints paramedics endure while working in the field, particularly when responding to calls in rural areas of the county.
"There are locations they respond to that may be in the middle of the woods, or down a dirt road someone only goes down once every couple of weeks," Thomas said. "They have to lug their supplies and the stretcher to the house, assess and care for the patient, and then bring them to the ambulance."
The medics are limited by the supplies and tools they have with them, Thomas said. "It's much different being at a hospital with all the resources at your disposal versus working from an ambulance with limited capabilities."
Thomas earned his medical degree from the American University of the Caribbean. He took a nontraditional route to emergency medicine. As a resident in USA Health's Family Medicine Residency Program, he rotated in the emergency department at University Hospital and was attracted to the field.
After graduating from his family medicine residency in June 2019, Thomas was offered a spot in the new Emergency Medicine Residency Program. Dr. Thomas was given approval from the American Board of Emergency Medicine to start as a second-year because of his months of training in emergency medicine during his family medicine residency.
Economic developer Dr Nicole Jones told the Alabama Political Reporter, "Response time is critical, especially in rural areas and areas that have longer distances to medical facilities than urban counterparts. The partnership between USA Health emergency medicine residency program and Orange Beach paramedics and fire rescue is a win-win situation. Both parties learn from one another and gain a deeper understanding of the pre-hospital setting, and most importantly, having professionals available in emergency situations with unique skill sets can ultimately save more patients' lives."
The partnership is mutually beneficial for USA Health's emergency medicine residency program and Orange Beach's paramedical and fire-rescue services. By adding the resident physicians the paramedics are able to provide a higher level of care to patients.
"I love to hear the interaction between our staff and the residents," said Orange Beach Fire Chief Mike Kimmerling. "Even when they're not running calls, there is a tremendous amount of knowledge being transferred in their conversations."
The residents gain more diversity of exposure in Orange Beach than in a larger city like Mobile, Henning said. "Most fire and rescues in large cities are close to hospitals, so the transport time is usually 10 minutes or less, whereas in Orange Beach the time could be significantly longer. When they are able to render care for a longer period of time, they have the chance to sharpen their skills and have more patient exposure."
Dr. Henning said that Orange Beach also gives the residents the unique experiences of working on fire and rescue boats.
Henning said that before starting the EMS rotation, the residents are required to be fully licensed by the state and to have completed an online medical direction course. If any questions or concerns arise, Henning and other emergency medicine attending physicians with USA Health are always available to provide their medical direction. Residents cannot start the EMS rotation until their second year. As the first class of residents graduate to their second year, six residents will rotate throughout the academic year. Third-years have the option to do an additional EMS rotation.
(Based on original reporting by USA Health's Lindsay Lyle.)
Print this piece