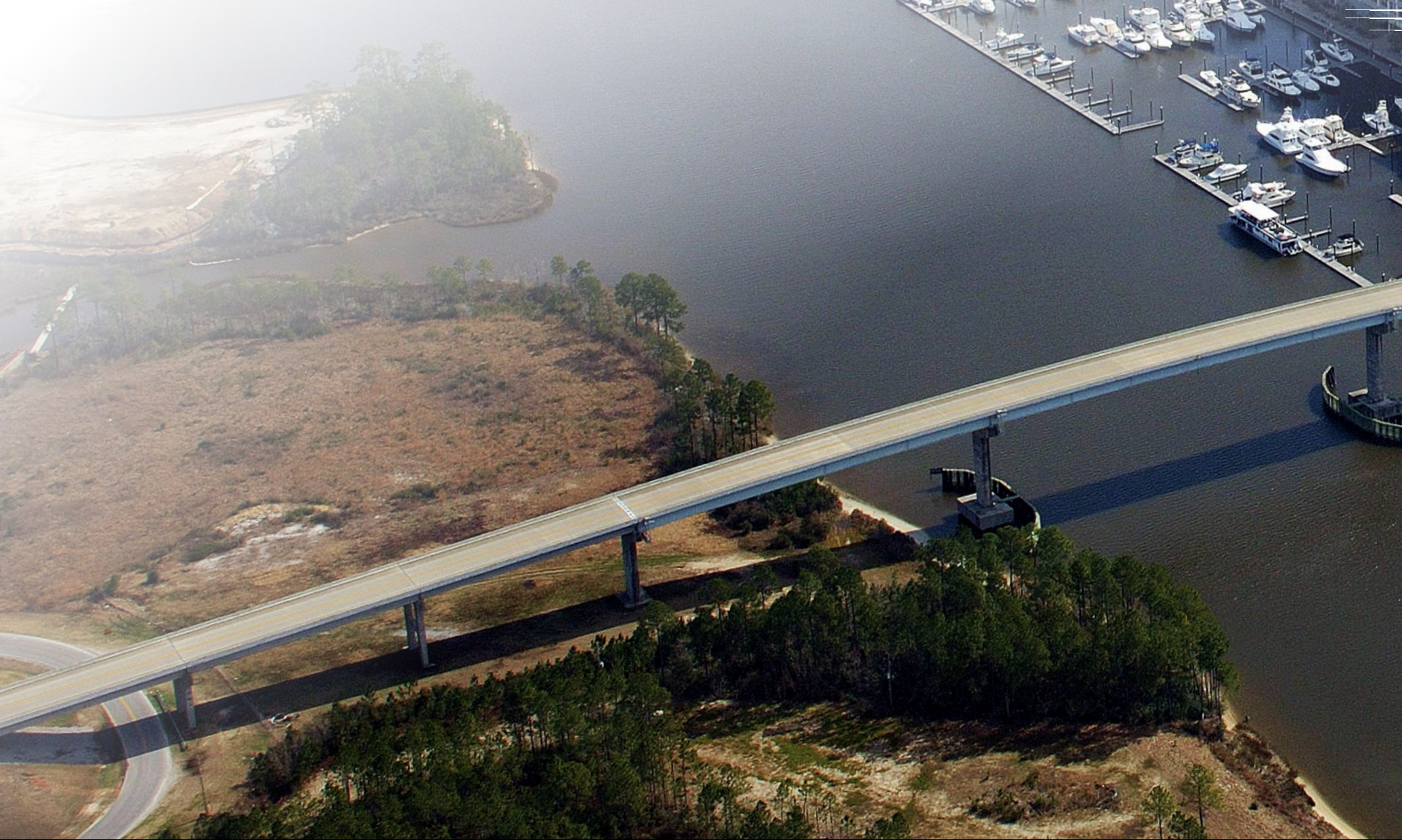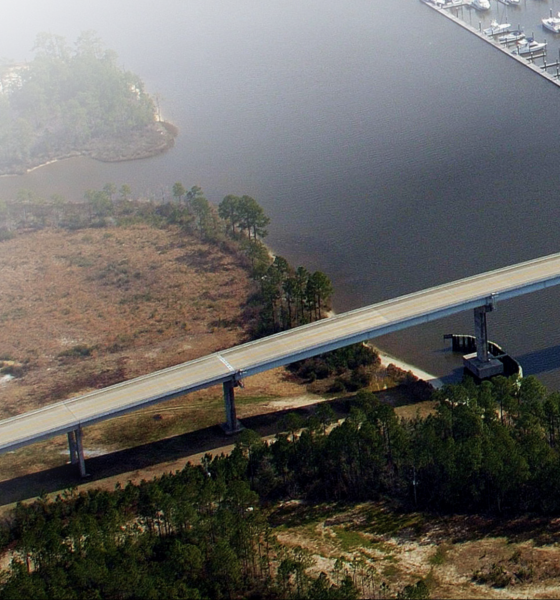 Developer Tim James proposes privately-funded toll road as "catalyst for economic growth"
A proposed privately-fund toll road connecting U.S. 280 in Sylacauga to I-65 in Calera will open miles of new highway, giving travelers and businesses much needed access for east-to-west traffic in both counties, according to the company behind the project.
"Imagine faster trips west and south while avoiding U.S. Highway 280 traffic to Birmingham," writes Lee Perryman for the Sylacauga News "A 36-minute drive from Sylacauga to Interstate 65. New residential and industrial development and increasing property values."
If approved, the Coosa River Express will be a privately-funded toll bridge developed, owned and operated by Tim James, Inc., a family-run business. James, the son of legendary Alabama governor Fob James, is an experienced developer having built the Foley Beach Express in the 1990s. He is joined in the project by his son and son-in-laws.
His latest project, the Coosa River Express, according to James, will "support driving growth in Shelby and Talladega counties connecting communities, increasing access, reducing commute times and enhancing safety for thousands of drivers each day."
"The Coosa River Express, if built, is a transportation corridor that will modify travel patterns for generations, positively impacting South Shelby and West Talladega County," James said in an interview with APR. "It will be the catalyst for economic growth in these areas; in fact, this road project begins at the Shelby County Mega Site along I-65, and goes east through the only qualified opportunity zone in Shelby County."
No federal or state funds are used to construct the bridge; in fact, Shelby and Talladega Counties can expect to receive miles of new highway and miles of improvements to existing roads that will be paid for by James' company.
Of the approximate 33 total miles, 27 miles of new and improved roadways constructed will be given to Shelby and Talladega Counties after the project's completion. The toll bridge over the Coosa River at approximately 1,600 feet in length, which will consist of two 12-foot-wide lanes and 8-foot-wide shoulders, will remain the property of the privately held company.
Unlike taxpayer-funded roads, the Coosa River Express is a for-profit venture. "We take on a tremendous workload and risk to bring a project like this to fruition and hopefully make money from our efforts," said James.
The project is estimated to cost around $40 million with two-thirds going to improve county roads.
The corridor creates a triangle starting at the Mega site in Shelby County, then tracks east to Pursell Farms, where it goes south to the proposed Alfa Farm Center a few miles into Chilton County.
The Westervelt Calera Megasite is a 1,540-acre property in the southern part of Shelby County, off Interstate 65, in one of Alabama's fastest-growing and most affluent counties, according to facts provided the site developers. Its location puts it within the automotive triangle created by Hyundai to the south, Honda to the northeast, and Mercedes-Benz to the northwest.
The Coosa River Express will also impact the opportunity zone created in Shelby County. An Opportunity Zone is a new alternative economic development program established by Congress in the Tax Cuts and Jobs Act of 2017 to foster private-sector investments in low-income rural and urban areas.
"One important thing that seems to be overlooked in the press is that our project passes through an area of Shelby County where lower-income families live; well over 50 percent of the children in the area qualify for free or reduced lunch," said James.
The Alabama Farm Center at Alfa Centennial Park calls for a four-building complex on a 500-acres on the east side of Interstate 65 at Exit 212 between Alabama 145 and County Road 43. "The Alabama Farm Center will include a 5,000-seat air-conditioned arena, 150,000 square foot exhibition building, 400-stall horse barn, 400 recreational vehicle hookups and a variety of other barns and arenas," according to a report by Alabama News Center.
The expressway will make it faster and cheaper to transport goods and livestock to the new farmer's market.
"Besides the fact that this project will set the travel patterns south of Birmingham for generations, it also creates a badly needed economic shot in the arm to south Shelby and north Chilton Counties," James noted.
Talladega and Shelby counties in partnership owned and operated a ferry across the Coosa River from mid-1960 until it was abandoned in 1977.
"For decades, leaders have agreed that raising a bridge at the former ferry location and the more direct southern access to Interstate 65 would significantly improve regional traffic flow, help recreational and commercial drivers avoid Birmingham area bottlenecks, and stimulate economic development in the two counties," writes Perryman.
"My family and I believe the Coosa River Express is part of the dynamic new growth that is sweeping our state," said James. "There's one thing I'm sure of, growth occurs because of traffic and is absent where none exist."
Tim James, Inc. received its first of two required licenses to build the Coosa River Express from the Talladega County Commission on January 13, 2020. The Shelby County Commission is expected to vote on its license in the future.
Print this piece
South Alabama medical residents work alongside Orange Beach first responders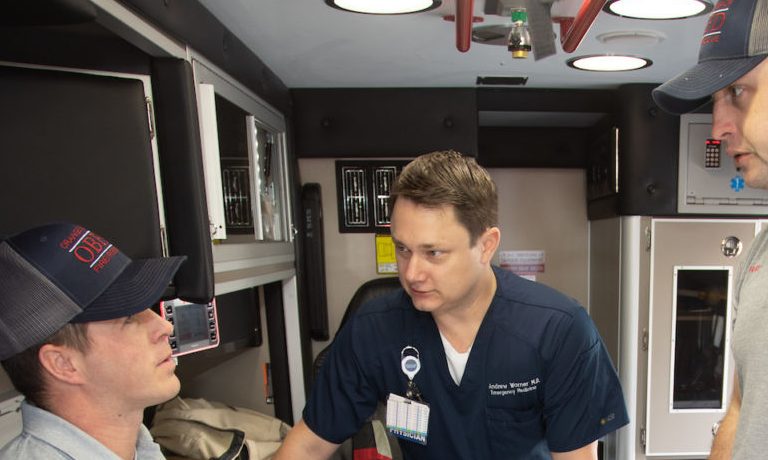 Residents in USA Health's Emergency Medicine Residency Program are given the opportunity to rotate with emergency medical services (EMS) in Orange Beach. The residents are stationed at the Orange Beach Fire Department giving resident physicians the experience of responding to emergency calls alongside paramedics and firefighters.
Paul Henning, M.D. is the associate program director of the Emergency Medicine Residency Program at USA Health and medical director of Orange Beach Fire/Rescue.
"The expertise that a patient gets in the field can determine outcomes," Henning explained. "It bridges the gap between the physician and the paramedic. Seldom, if ever, do physicians have this kind of exposure to prehospital emergency services. It also gives the physician more perspective of what the paramedics are doing in the field. If we have an opportunity to improve the prehospital scope of practice, then we have accomplished our goals."
Henning also serves as an associate professor of emergency medicine at the University of South Alabama College of Medicine.
He said that it is vital that physicians understand what happens in the prehospital stage of care.
The innovative program was established in July 2019.
Andrew Warner, M.D., took a nonlinear path to emergency medicine. Dr. Warner is a former Green Beret, who served with the U.S. Army 5thSpecial Forces Group on tours in Iraq and Afghanistan.
Following his military service, he went on to earn his medical degree from the University of Cincinnati College of Medicine. He completed his residency training in family medicine at USA Health and started in the emergency medicine program as a second-year resident.
Warner expressed his great respect for the Orange Beach first responders, who "epitomize true dedication to patient care and outcomes."
"I have further learned to appreciate just how critical those precious seconds in the prehospital setting are for patient survivability," Warner added.
Justin Thomas, M.D. is a second-year emergency medicine resident and was the first USA Health resident to rotate in Orange Beach. Thomas said that the experience opened his eyes to the constraints paramedics endure while working in the field, particularly when responding to calls in rural areas of the county.
"There are locations they respond to that may be in the middle of the woods, or down a dirt road someone only goes down once every couple of weeks," Thomas said. "They have to lug their supplies and the stretcher to the house, assess and care for the patient, and then bring them to the ambulance."
The medics are limited by the supplies and tools they have with them, Thomas said. "It's much different being at a hospital with all the resources at your disposal versus working from an ambulance with limited capabilities."
Thomas earned his medical degree from the American University of the Caribbean. He took a nontraditional route to emergency medicine. As a resident in USA Health's Family Medicine Residency Program, he rotated in the emergency department at University Hospital and was attracted to the field.
After graduating from his family medicine residency in June 2019, Thomas was offered a spot in the new Emergency Medicine Residency Program. Dr. Thomas was given approval from the American Board of Emergency Medicine to start as a second-year because of his months of training in emergency medicine during his family medicine residency.
Economic developer Dr Nicole Jones told the Alabama Political Reporter, "Response time is critical, especially in rural areas and areas that have longer distances to medical facilities than urban counterparts. The partnership between USA Health emergency medicine residency program and Orange Beach paramedics and fire rescue is a win-win situation. Both parties learn from one another and gain a deeper understanding of the pre-hospital setting, and most importantly, having professionals available in emergency situations with unique skill sets can ultimately save more patients' lives."
The partnership is mutually beneficial for USA Health's emergency medicine residency program and Orange Beach's paramedical and fire-rescue services. By adding the resident physicians the paramedics are able to provide a higher level of care to patients.
"I love to hear the interaction between our staff and the residents," said Orange Beach Fire Chief Mike Kimmerling. "Even when they're not running calls, there is a tremendous amount of knowledge being transferred in their conversations."
The residents gain more diversity of exposure in Orange Beach than in a larger city like Mobile, Henning said. "Most fire and rescues in large cities are close to hospitals, so the transport time is usually 10 minutes or less, whereas in Orange Beach the time could be significantly longer. When they are able to render care for a longer period of time, they have the chance to sharpen their skills and have more patient exposure."
Dr. Henning said that Orange Beach also gives the residents the unique experiences of working on fire and rescue boats.
Henning said that before starting the EMS rotation, the residents are required to be fully licensed by the state and to have completed an online medical direction course. If any questions or concerns arise, Henning and other emergency medicine attending physicians with USA Health are always available to provide their medical direction. Residents cannot start the EMS rotation until their second year. As the first class of residents graduate to their second year, six residents will rotate throughout the academic year. Third-years have the option to do an additional EMS rotation.
(Based on original reporting by USA Health's Lindsay Lyle.)
Print this piece