New marshal installed at Alabama Supreme Court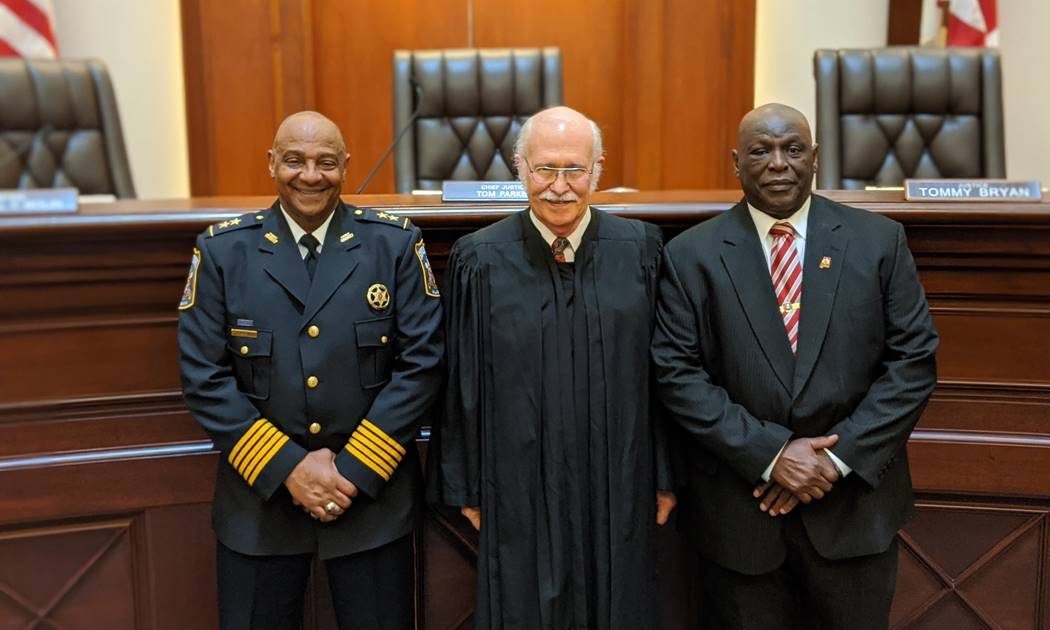 In a packed Courtroom at the Supreme Court of Alabama on Wednesday, February 12, 2020, a historic "passing of the torch" ceremony was held to swear-in the Thirteenth Marshal of the Appellate Courts of Alabama, Earl Marsh, Jr., and to honor his beloved predecessor, Willie L. James, who retired January 1, 2020.  James was appointed in 2001 as the first African-American Marshall of the appellate courts, and Marsh served as Chief Deputy Marshal since 2017. 
Chief Justice Tom Parker welcomed Marsh's recent promotion to Marshal: "Marshal Marsh has been a blessing to our whole building from when he first joined our Marshal's Office in 2017. When our beloved Marshal Willie James retired at the first of this year, we turned to Marsh as the natural successor. Marsh brings the professionalism and dedication that we need for the essential duties of keeping the Heflin-Torbert Judicial Building safe and secure for our Courts, employees, and the public."  
Marshal Marsh was sworn in by Chief Justice Parker on January 27, but the Supreme Court of Alabama, members of the Court of Criminal Appeals and the Court of Civil Appeals, along with many friends and family of Marshal Marsh, and employees from throughout the Heflin-Torbert Judicial Building, gathered to witness the February 12 ceremony honoring both the new Marshal, Marsh, and the retired Marshal, James.
First, retired Marshal James was recognized by Senior Associate Justice Mike Bolin for his years of faithful and loyal service to the Courts and members of the judicial building, and for being "one of the best men I've ever known." Marshal James, with many of his family members in attendance, was presented with two framed commendations — one from the Supreme Court Justices and one from Governor Kay Ivey — for his years of service in law enforcement, including his days with the Montgomery Police Department and his decades of service in the Marshal's office.
Next, Marshal Marsh was sworn in with his wife Jennifer holding a Bible by his side. In brief remarks, Marsh thanked God, his family, and those in attendance for their support and for entrusting him to provide a "blanket of protection" around the Courts and personnel under his care.
Marshal Marsh, a native of Greenville, Alabama, served his country twice in the United States Army, and has served his state in various law enforcement roles.  Marsh served in the Department of Corrections at Holman Prison, graduated from the Montgomery Police Academy, and served as a deputy in the Lowndes County Sheriff's department.  
Marshal Marsh and his wife, Jennifer, reside in Deatsville, Alabama.  They are active members of their church, Big Union Christian Church in Lowndes County.
For more information about Marshal Marsh, see his bio on the Supreme Court's website here.
Print this piece
Legislation would limit death penalty appeals
Alabama Lt. Gov. Will Ainsworth on Tuesday discussed legislation that would reduce the length of some death penalty appeals. 
"Over the last 13 month, seven Alabama law enforcement officers have been killed in the line of duty by violent criminals, which is a new record and obviously not one the state of Alabama is proud of," Ainsworth said during the press conference at the Alabama State House on Tuesday. "Back the blue has got to be more than just a slogan. Actions must follow words." 
Ainsworth said that death row inmates in Alabama serve approximately 14 years on average before executions are carried out, and that there needs to be a "fair but expedited process in Alabama." 
The proposed legislation would prevent the Alabama Supreme Court from hearing death row appeals in capital murder cases, and would stop all such appeals at the state Court of Criminal Appeals level. 
The bills would also require the criminal appeals court to expedite death row appeals when possible, and would reduce the amount of time a person has to appeal such convictions to the U.S. Supreme Court, Ainsworth said. 
"This legislation still affords a thorough appeals process, and all the protections guaranteed to them under the U.S. Constitution," Ainsworth said. "It has been designed to provide both equal justice to inmates, and swifter justice to their victims." 
State Sen. Cam Ward, R-Alabaster, a candidate for a seat on the state Supreme Court and sponsor of the senate's version of the bill, said during the press conference that while overall crime rates have been declining, murders in Alabama have increased 25 percent over the last three years. 
"I've always been an advocate for criminal justice reform, but let me tell you something, public safety is first and foremost, Ward said. "…I think this is a reasonable bill. It still provides for due process." 
State Rep. Connie Row,R-Jasper, is sponsoring the bill in the House and said that as a former police chief she recognizes the value of the lives of those who serve the public. She also worked with crime victims in capital cases, she said, and in "capital cases it's seeing if you can live long enough to see justice served in a death penalty case." 
The bills also add language that would allow the Alabama Department of Corrections to conduct executions at facilities other than the Holman Correctional Facility near Atmore, where the state's death chamber is currently located. 
ADOC commissioner Jeff Dunn said in January that all death row inmates were being moved to Holman, while the majority of the prison's areas for other incarcerated men was being closed due to concerns over maintenance problems in a tunnel that carries utilities to those portions of the prison. The death row section of Holman was to remain open, Dunn said. 
There are 175 people serving on the state's death row, according to Alabama Department of Corrections statistics. 
Attempts Tuesday to reach staff at the Equal Justice Initiative for comment on the legislation were unsuccessful. The Montgomery legal aid nonprofit works to exonerate death row inmates, among its other initiatives. 
According to the Washington D.C.-based nonprofit Death Penalty Information Center 167 incarcerated people on death row in the U.S. have been exonerated and released from prison since 1973. Among those formerly on death row, six were scheduled to die by execution in Alabama. 
The last Alabama death row inmate exonerated was Anthony Hinton, freed in April 2015 after spending 30 years on death row for the 1985 murders of two fast food supervisors in Birmingham. 
The only evidence presented at Hinton's trial was ballistics testing state prosecutors said proved the bullets that killed the two men came from a gun Hinton's mother owned. 
Hinton lost appeals for a decade before the Equal Justice Initiative took up his case. Subsequent ballistics testing by the nonprofit in 2002 proved that the bullets weren't a match for the firearm, but the state declined to re-examine the case. 
It took another 12 years for Hinton's appeal to reach the U.S. Supreme Court, which reversed the lower court's ruling and granted a new trial. 
The judge in his new trial dismissed the charges after the state's prosecutors determined through additional testing that the bullets could not have come from Hinton's mother's gun. 
A 2009 study by professors at the University of Colorado and published in the Journal of Criminal Law and Criminology found that 88 percent of the leading criminologists in the U.S. polled did not believe the death penalty effectively deters crime.
Of the leading criminologists polled in the study, 87 percent said that speeding up executions would not add a deterrent effect on crime.
Print this piece