Public records law remains a controversial subject in Montgomery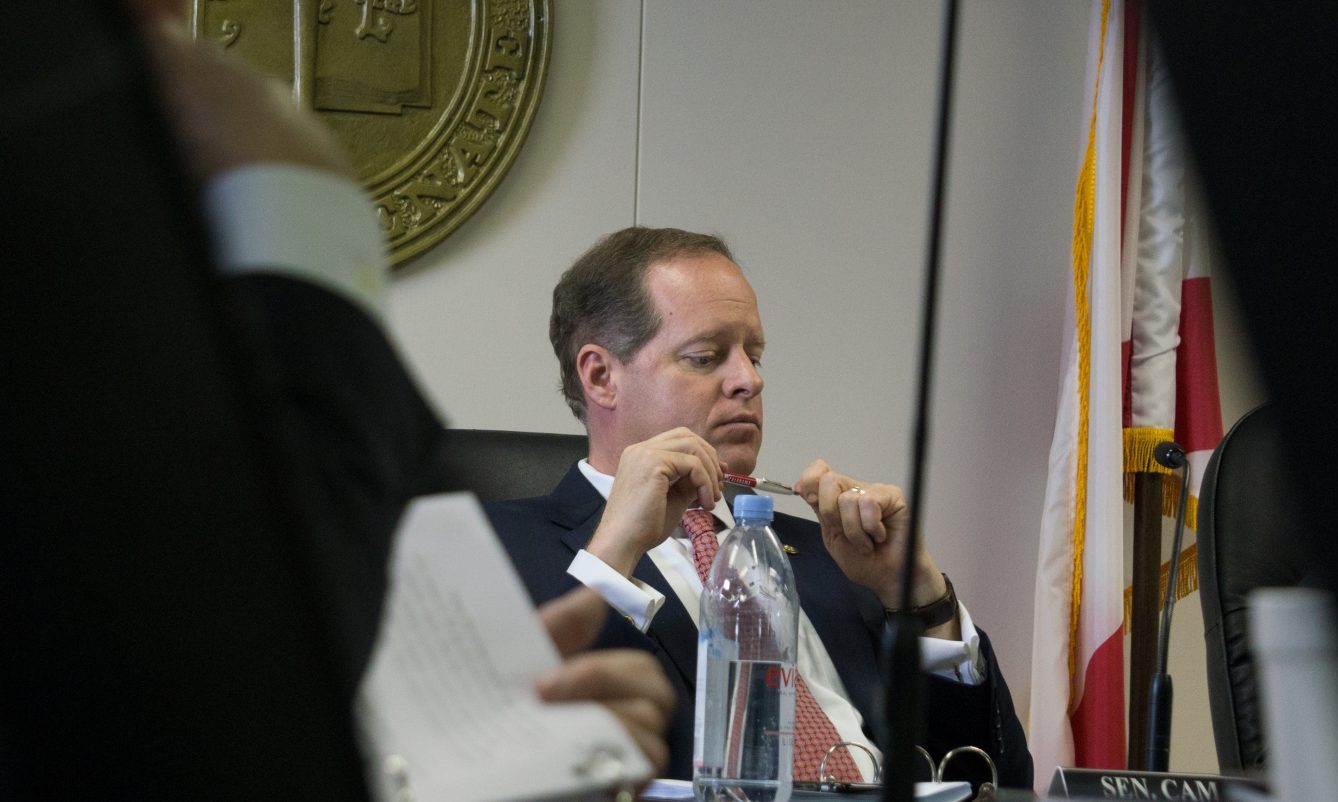 A bill to reform and modernize Alabama's dated open records law was met with a wide array of opponents in a public hearing in Montgomery.
Alabama does have an open records law on the books but newsgathering organizations find it very difficult to use and enforce.
SB57 is sponsored by State Sen. Cam Ward, R-Alabaster, who has said it is one of his top priorities this year.
"My goal is to bring this bill into the 21st century and the technology we deal with today," Ward said. "I do feel passionately about this."
SB57 has been assigned to the Senate Governmental Affairs Committee, chaired by Sen. Jimmy Holley, R-Elba.
"I do a lot of records requests," said Leah Nelson, the research director of Alabama Appleseed. "I recently prepared a study on civil asset forfeiture in Alabama, where people are deprived of their property often without ever being charged with a crime. I did over 138 open records requests for information for that, only 38 replied. One said it would cost $100,000. Another denied it saying that it would be too dangerous."
Nelson said that SB57 creates a mechanism for having agencies comply with freedom of information requests without having to go to court to sue them.
Sonny Brasfield is the executive director of the Association of County Commissions of Alabama and an opponent of the bill.
"Counties are not for government secrecy," Brasfield said but warned that the Senate should look very carefully at this bill. It "repeals the existing law with our 40 years of case law and AG's opinions."
Brasfield warned that the new law would be difficult to administer.
"The existing law is restricted to just current lawful citizens of Alabama. This would allow anyone in the country to" make a freedom of information request of an agency in Alabama.
"This would require all counties and entities to respond to requests from anyone" and would require research and time of employees. Brasfield also warned about turning over documents in digital format because they "could be altered after it left."
Brasfield said that he attended a meeting with the Alabama Press Association in December about this bill.
Ward said that he has prepared a substitute bill to address concerns from the Alabama Department of Revenue, State Department of Education and others who have come to him with concerns.
"What I will not do is negotiate with myself," Ward said. "I know how this building works and I will not let them run the clock out on this. Somebody told me that there are sixty groups who oppose this. Only six groups have said anything to me. I want to see the opposition come to the table."
"I will negotiate," Ward said, however, he was concerned that the opposition would "continue to hide behind bureaucracy and the rules of the Senate so they don't have to vote on this."
"Thank you for bringing this bill," said Sen. Linda Coleman-Madison, D-Birmingham. "We are a governmental entity and we should be transparent."
"I come from a municipal environment and there are some things here that we will have to strike," said Sen. Garlan Gudger, R-Huntsville.
"I will gladly work with you," Ward replied.
Sen. Sam Givhan, R-Huntsville, said, "Smaller municipalities articulate that they cannot do it."
"I don't want the citizen who comes in and takes ten pictures on their camera phones and then the clerk says you owe me $10," Ward said. "I will not say that the status quo works."
Frank Dilman of Macon County spoke on behalf of the Alabama Libertarians Party.
"I respectfully ask in the strongest possible terms for your favorable vote for SB57," Dilman said. In dealing with getting public records from the Macon County Commission, "I have been forced to file a lawsuit so far costing me $15,000 and I have yet to be in court."
"I have waited 40 months and still have not seen the 2018 and 2019 budgets," Dilman explained. "This bill is one of the best I have seen in the legislature in many years. It addresses every obstacle put in front of me and is well thought out."
Jayne Williams is the General Counsel & Director of Legal Advocacy for the Alabama Association of school boards.
"We agree that we need a better law," Williams said, but warned. "The definition of governmental records is too broad" and the bill's "short response time takes away our ability to operate."
Williams warned that law firms will request mountains of information and then when the government entity fails to deliver them all will be entitled to judgements against the government entity. It "Will become a cottage industry."
Williams warned of the "Abusive tactics used by" law firms in other states.
"We are not in a panic about the media or the citizens, we are in a panic about the lawyers," Williams said. "Please oppose" this bill.
Shannon Maze is the News director of WBRC channel 6 TV in Birmingham.
"There is no concern about the citizens or the media," Maze said. When we file freedom of information requests under the current law, "They are often ignored. They are often denied.
We filed a record request in 2017 to get the contract for the Shot Spotter contract for the City of Birmingham. We also asked for the data." "We were denied and told it was a safety issue. If we sue them, my attorneys tell me that it would cost $50 grand. That is a reporter."
"I hope that you will vote yes for this bill, it is the right things for the state of Alabama," Maze said.
"I represent your local tax officials," said Charles Luggard with the Alabama Association of Assessing Officials. This may be above their ability. We already give away more copies of deeds and maps.
"Every county office has to withstand an audit of the Examiner of Public Accounts," Luggard said. " Every audits goes before a grand jury,"
"From our perspective, there is not a problem," Luggard continued. "Don't add any more bureaucracy to a simple matter."
Scott Doff is the News Director at WSFA News Channel 12 in Montgomery.
"Senate Bill 57 would be a great first step," Doff said. Under the current law, "If the agency does not want to respond you have to take legal action in many cases."
"There is no clear practice short of filing a suit," Doff added. "In many cases media wins the lawsuit. We are not requesting documents that we are not allowed to get. These are open records."
"Open records laws are the lifeblood of our Democracy," Doff said. Many government entities charge a fee and "a $50 an hour research fee to be paid in advance."
David Dorton is the Director of Public Affairs for the City of Auburn.
"We recognize that there is need for change," Dorton said. "Cities are saying that we do not have the time to deal with this."
Dorton expressed concerns over "The time limits that we face and the worry that this would create more requests that take even more time."
Dorton warned that corporations from out of state would use this law for data mining.
Dennis Bailey with the Alabama Press Association said that in Georgia they are able to respond to a freedom on information request in three business days, in Mississippi seven days, in Tennessee it is fourteen days. It is fourteen days in this bill and if they need more time they can ask for an additional seven days.
Lorelei (Lori) Lein is the General Counsel for the Alabama League of Municipalities.
Lein warned that somebody outside of Alabama could use this law for "data mining flooding all of our municipalities and the counties" with freedom of information requests.
"Most of who I represent are small municipalities," Lein said. Someone mentioned cities of less than five thousand people, Most are less than one thousand people and they have one city employee usually a woman. She would have to drop everything she is doing to deal with a request."
"I think this is a good start; but there are some things that we would like to work with," Lein said.
Chairman Holley told Ward, "I assume in the next two weeks you are going to be a busy man. I look forward to dealing with this bill after we come back from spring break."
The committee did not vote to give the bill a favorable report and did not adopt a substitute.
The committee will meet again after spring break for the legislators.
Alabama lawmaker faces sharp criticism over celebration of former KKK leader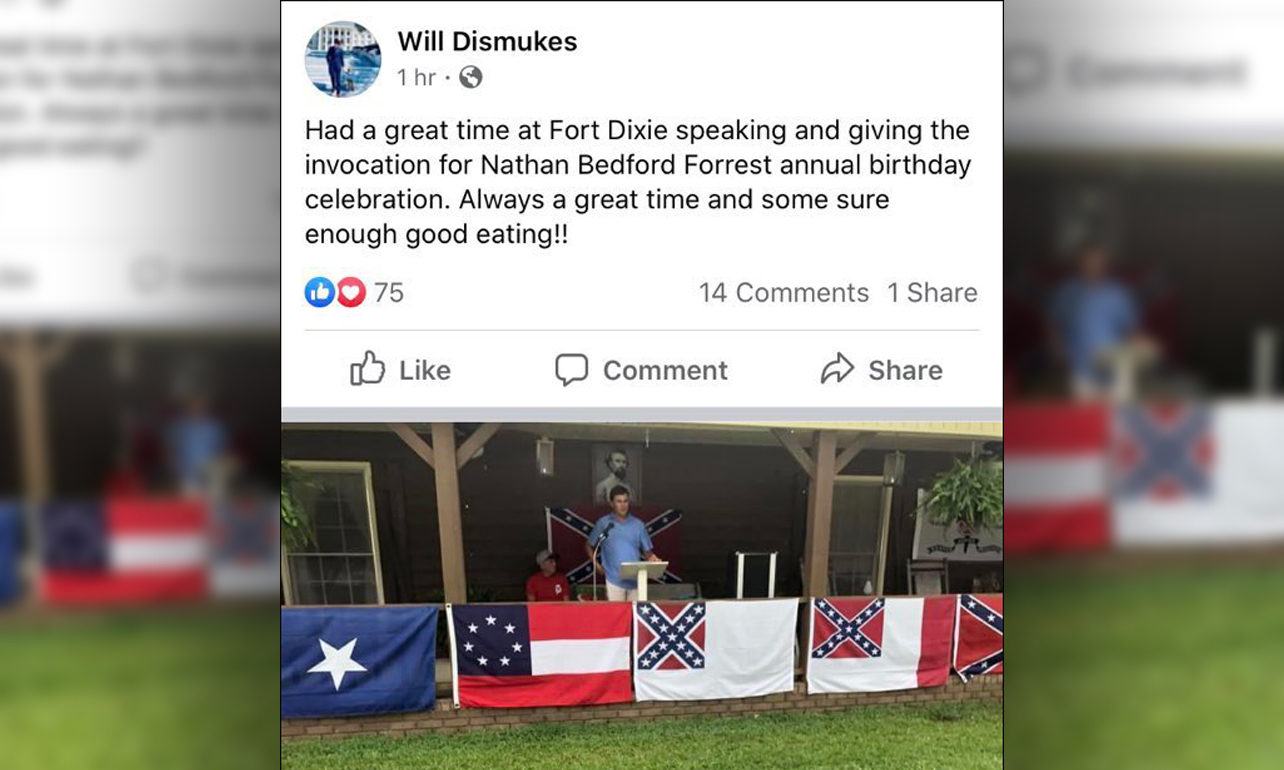 State Rep. Will Dismukes, R-Prattville, is again facing calls to resign over a social media post he made about his participation in an event honoring Confederate heritage.
Dismukes posted a photo of himself on Sunday speaking at Fort Dixie the day before, where a yearly event was held celebrating the birthday of Nathan Bedford Forrest, a Confederate general and first Grand Wizard of the Ku Klux Klan.
"Had a great time at Fort Dixie speaking and giving the invocation for Nathan Bedford Forrest annual birthday celebration. Always a great time and some sure enough good eating!!" Dismukes wrote above a photo of himself speaking on a porch adorned with a portrait of Forrest and several Confederate flags. The post is no longer visible.
Criticism was swift on social media as word spread that Dismukes attended the celebration on the same weekend that the late Congressman and Civil Rights hero, Rep. John Lewis, was honored in Selma, where Lewis was nearly beaten to death in 1965, during the march for voting rights that crossed the Edmund Pettus Bridge.
Alabama Democratic Party Executive Director Wade Perry called for Dismukes to resign.
"Will Dismukes has demonstrated yet again why he is unfit to hold public office," Perry said in a statement. "Americans don't celebrate racists or traitors. Nathan Bedford Forrest was both. And a founder of the Klan. The Alabama Democratic Party renews our call for Dismukes to resign. It's 2020 and it's time for racial extremists like Will Dismukes to go away."
Dismukes posted a statement on Monday addressing the criticism: "First and foremost, my post yesterday was in no way related to disrespecting the passing of Rep. John Lewis. That wasn't even a thought in my mind. That is not who I am as a person.
"I am a transparent person. To the point that as a public official I lay it all there for the people to see for better or for worse at times. My post yesterday was as usual me sharing a previous days events. The post was in no way intended to seem as if I was glorifying the Klan or any party thereof. The very atrocities and actions they committed are a disgrace to our country.
"Also, we are all individual members that make up our legislature. I made a post independent of my colleagues. My regret is that I have allowed them to be put in a negative light. If you disagree with me and my beliefs do not hold them under the same umbrella. I can live with a dislike for me, but not fellow members, or members of my own personal family. Our body as a whole is made up of some of the finest people I have ever had the honor of knowing and working with, both Democrat and Republican.
"I close by reiterating that my post was in no way glorifying the Klan or disrespecting the late Rep. John Lewis."
Alabama Republican Party Chairman Terry Lathan issued a statement addressing the post:
"While Rep. Dismukes has released a statement attempting to clarify his actions as a private citizen attending a celebration of the first Grand Wizard of the Klu Klux Klan, Alabamians hold their elected officials to a high standard of actions. So does the Republican Party.
"Rep. Dismukes offered no explanation for why he participated in a birthday celebration of Nathan Bedford Forrest. Additionally, I find his statement to be shallow in understanding why his activities are deeply offensive to so many Alabamians. His constituents will be the final decision-makers of his political future.
"The Alabama of today was on full, honorable display as we paid humble tribute this weekend to the life of Congressman John Lewis. That is the Alabama that we are proud of – showing the nation and world that we are one in the common goals of equality for all of our citizens.
"It is one thing to honor one's Southern heritage, however, it is completely another issue to specifically commemorate the leader of an organization with an indisputable history of unconscionable actions and atrocities toward African-Americans. I strongly urge his constituents to contact Rep. Dismukes to articulate and share with him their thoughts on his personal actions."
House Majority Leader Nathaniel Ledbetter, R-Rainsville, issued a statement saying that the beliefs of one member don't reflect the beliefs of all, and that several Republican Caucus members expressed concern to him about the content and timing of Dismukes' post.
"We live in a nation that guarantees each citizen the right to express the ideas they wish to share, and in the case of a public official, voters will ultimately decide if they agree with those ideas."
Speaker of the House Mac McCutcheon, R-Monrovia, on Monday issued his own statement:
"The Alabama House cannot police the beliefs, statements, and activities of its members outside the Legislature as that is a job best assigned to voters in each House district across the state.  
"It is important to note, however, that I and many other members of the House devoted our weekend toward honoring an Alabama native and civil rights icon who dedicated his life to securing freedom, liberty, and equality for all Americans."
Rep. Danny Garrett, R-Trussville, tweeted a stern rebuke on Sunday: "I cannot fathom why anyone in 2020 celebrates the birthday of the 1st KKK Grand Wizard. And while the body of a civil rights icon beaten by the Klan lies at state Capitol being honored by GOP/Dem leaders from all over the state. This mentality does not rep my party or my faith."
Another GOP colleague, Rep. Allen Farley, R-McCalla, responded to a constituent about the matter in a tweet: 
"Scott, As a Christian, Conservative, member of the Republican Party, I was proud of the comments of my colleague Rep. Danny Garrett. Rep Will Dismukes' actions were also unfathomable to me. I believe it will take the voters in House Dist. 88 to remove Rep. Dismukes from office," Farley said.
While fellow Republican officials said that Dismukes' constituents should decide if he remains in office, the College Republican Federation of Alabama issued a statement on Monday calling for him to resign.
"Representative Dismukes's Facebook post of him at an event that celebrated former KKK Grand Wizard Nathan Bedford Forrest is unacceptable and has no place in the State Legislature or the Republican Party," the statement said.