Senate delays vote on bill that would reallocate judges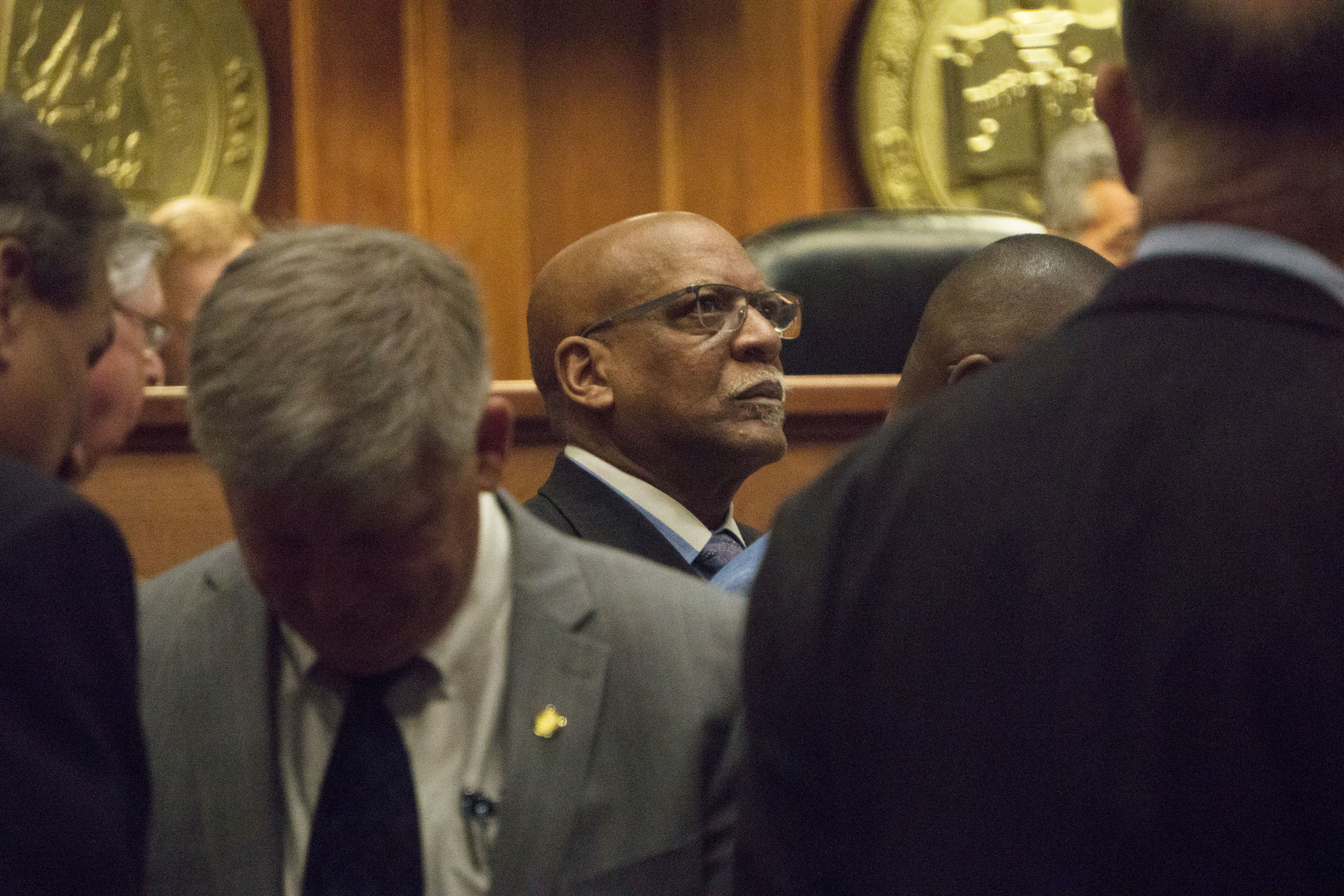 The Alabama Senate delayed a vote on a bill Tuesday that would reallocate judges from areas in decline to areas of the state that are experiencing growth.
Senate Bill 255 is sponsored by Sen. Greg Albritton, R-Atmore.
"Why is this needed? Some counties in South Alabama and North Alabama have grown rapidly," and need judges, but the state does not have money to hire new judges, Albritton explained. In 2017 there was a deal made in the Legislature that as people retired the reallocation could be done gradually two years later, but what is happening is that people are running for the vacancies. This narrows the time frame to within 30 days of a vacancy.
"We need to reallocate," Albritton said.
State Sen. Rodger Smitherman, D-Birmingham, was angry that Jefferson County would lose judges under the plan. A couple of women get elected and you want to take them away,
"That is racism," Smitherman said.
"We could use more judges in the state," said Sen. Bobby Singleton, R-Greensboro. "We need to create a mental health court in this state. We need to create a court to deal with pretrial diversion."
"With the large population of Jefferson County they need judges," Singleton said. "Crime is rising. Each and every one of those judges are needed."
Albritton, Smitherman and Senate Pro Tem Del Marsh, R-Anniston, stepped off of the floor to negotiate a compromise.
While they talked, Senate Majority Leader Greg Reed, R-Jasper, and Singleton engaged in an hour-long discussion on judges, courts, new prisons, prison staffing, rehabilitation of prisoners, and even fishing for catfish in flooded ditches in Greene County.
Sen. Sam Givhan, R-Huntsville, said, "Madison County is growing rapidly. It has half the population of Jefferson County, but Jefferson County has 27 circuit judges; while Madison has just seven."
Givhan claimed that Madison County needs three or four more judges.
"Montgomery is a smaller county than we are and they have two more judges than we have; though in their defense they get all the lawsuits against the state of Alabama," Givhan said. "Senator Barfoot, Price, and I are in counties that need an additional judge."
Givhan said that the Alabama Supreme Court is looking into the need to reallocate.
"Senator Barfoot and I have a friendly discussion on which county has the most need," Givhan said. "We will never reach perfect, but we need to move towards a fair balance."
Marsh returned to the floor and said, "we have had a very productive discussion."
Albritton asked that SB255 be carried over at the call of the chair.
The Senate will resume on Thursday. Tuesday was the eleventh of a maximum thirty legislative days in the 2020 legislative session.
Today Alabama has 4.888 million people. In 1960 Alabama had 3.274 million people. Today Jefferson County has a population of 659,197 people. In 1960, Jefferson County had a population of 634,864. In 1960, 19.4 percent of the people in Alabama lived in Jefferson County. Today less than 13.5 percent of the state lives in Jefferson County, still the state's largest county.
Print this piece
Ward says new revenue is needed to reduce the court backlog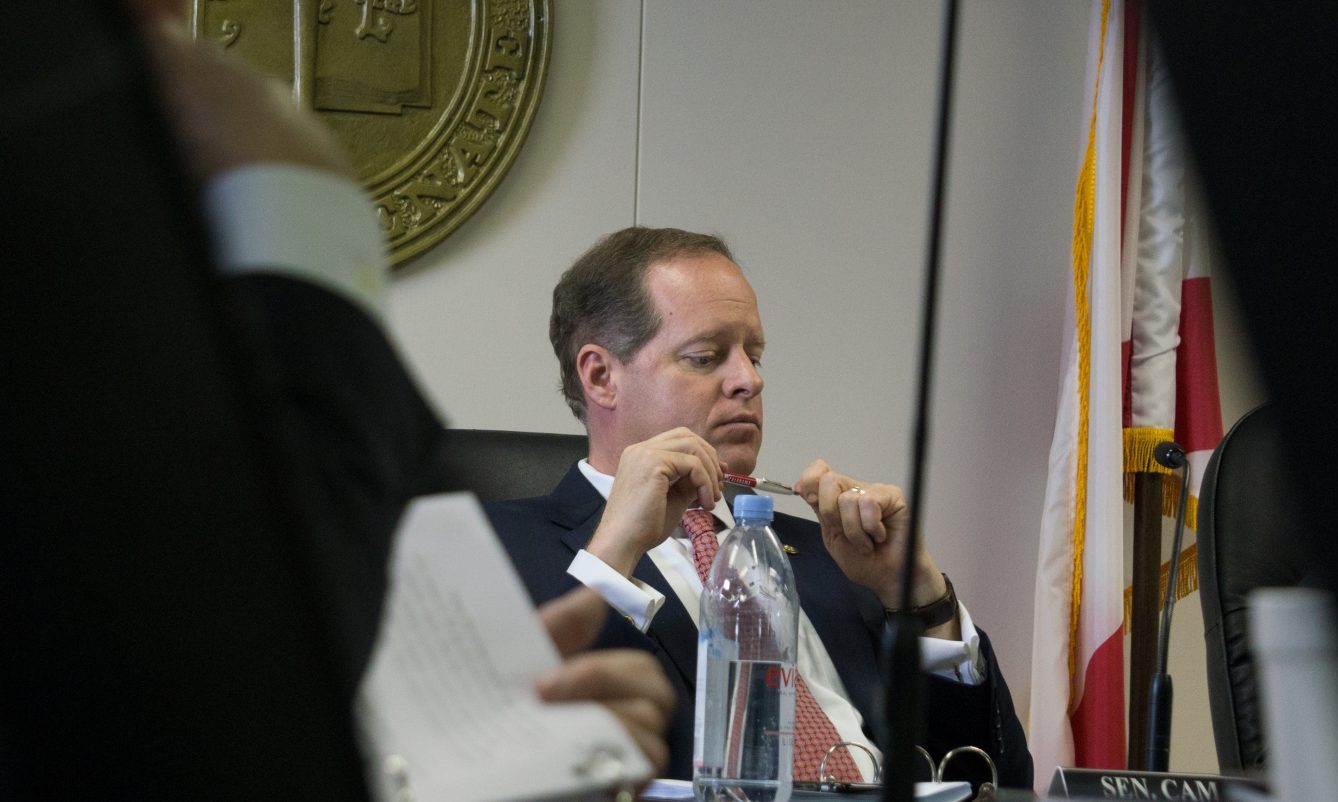 The Alabama Political Reporter on Thursday spoke with Senate Judiciary Committee Chairman Cam Ward, R-Alabaster, about how the state can address the backlog of judicial cases in the Alabama court system.
Ward said that the backlog for the courts is due to legislators being unwilling to find sufficient revenue for the state general fund.
Anybody familiar with the Alabama court system knows that criminal matters can take a long time to move through the court system and civil matters — whether a lawsuit or a contested divorce — can take considerable time due to the backlog of cases on many judicial dockets. There is a general consensus that more judges would alleviate this problem, but there is little consensus on where that money would come from.
APR asked Ward: How much does it cost to add a full-time judge (plus the cost of the courtroom, bailiff, clerk, reporter, etc.)?
"It varies but generally about $300,000 annually," Ward replied. "That can vary though depending on the judge and jurisdiction."
APR: There was legislation to allow more retired judges introduced during the session. How many do we have now and what can they do? Are they still subject to the 70 years mandatory retirement?
"Using retired judges would help some with the problem," Ward replied. "I don't exactly how many we have, but, if they consented, they could be brought back to help alleviate caseloads on a temporary basis. This would be cheaper than creating an entirely new judgeship; but some circuits do need new judgeships as their caseloads continue to grow."
APR: Some district judges are empowered to hear circuit cases. How many of those do we have? Should we just give all district court judges circuit court powers?
Ward: "Maybe. One problem you have is that the District Judges are overloaded too. It's not that we are just short of Circuit Judges, both the Circuit and District courts are overwhelmed. Also, we elect Circuit Judges by circuits that can sometime cover multiple counties and District Judges are elected by one from every county so that creates a logistical issue."
APR: Could we just hire 7 itinerant judges chosen by the Chief Justice and send them all over the state to help out where there was a need?
Ward: "The Chief Justice right now can shift some judges temporarily in between circuits. The problem with just hiring people to be judges is that then they are no longer accountable to the public because they are not elected. There has always been an ongoing debate in Alabama regarding whether we should elect judges or not; but that is probably for another story."
APR: Has the COVID-19 crisis exposed flaws in our system of making court fees pay for the cost of DAs, courts, circuit clerks, etc.?
Ward: "Yes, because we pay a large part of courts, DAs, and courthouses through fees assessed and collected in the civil and criminal justice process. So, when the economy goes south and less people can pay the courts costs, fines, and fees the budgets of these agencies falls dramatically. It is a broken system for sure. The reason for it is because no one ever wants to raise taxes for the general fund to finance the court system so instead of adequately funding them out of the general fund, we continue to just fee our way into funding it. Typically, until someone needs their day in court, the public just doesn't speak out on the need for more court funding despite the fact that they do."
APR: Alabama already has 148 circuit court judges in 41 circuits and 98 district court judges in 67 districts. Do we need more circuits? Circuit court judges? Or district court judges?
Ward: "You need to do two things which have been tried, but never passed into law. First, you need to be able to reallocate judges as population trends change. Example- Jefferson County has shrunk in population in the last thirty years and Shelby County has grown dramatically, yet we keep the same number of judges in place for each county despite the change in workload. So, it's not creating new circuits, it's just reallocating the judges we have in a fashion that fits where the demand is. Second, you are going to need more judges in Alabama if you have to alleviate the current backlog in our court system. I don't see any way around it; but I also don't see anyone outside of the courts speaking out on the need for new revenue to pay for it."
Ward represents Senate District 14, which includes parts of Shelby, Bibb, and Chilton Counties.
On Monday, Alabama Gov. Kay Ivey signed the 2021 State General Fund budget, which begins on October 1.
The 2021 budget appropriated $176,094,674 to the judicial branch. The courts received a $3,056,383 increase over fiscal year 2020. The 2021 SGF is $2,393,272,863, not including conditional appropriations. This is a $170,926,954 increase over FY 2020. The court system receives 7.36 percent of the general fund. The state's largest source of income, income taxes, are all earmarked for the education trust fund budget (ETF).
Print this piece