Jones sponsors bill for insurance plans to cover COVID-19 vaccines when they're available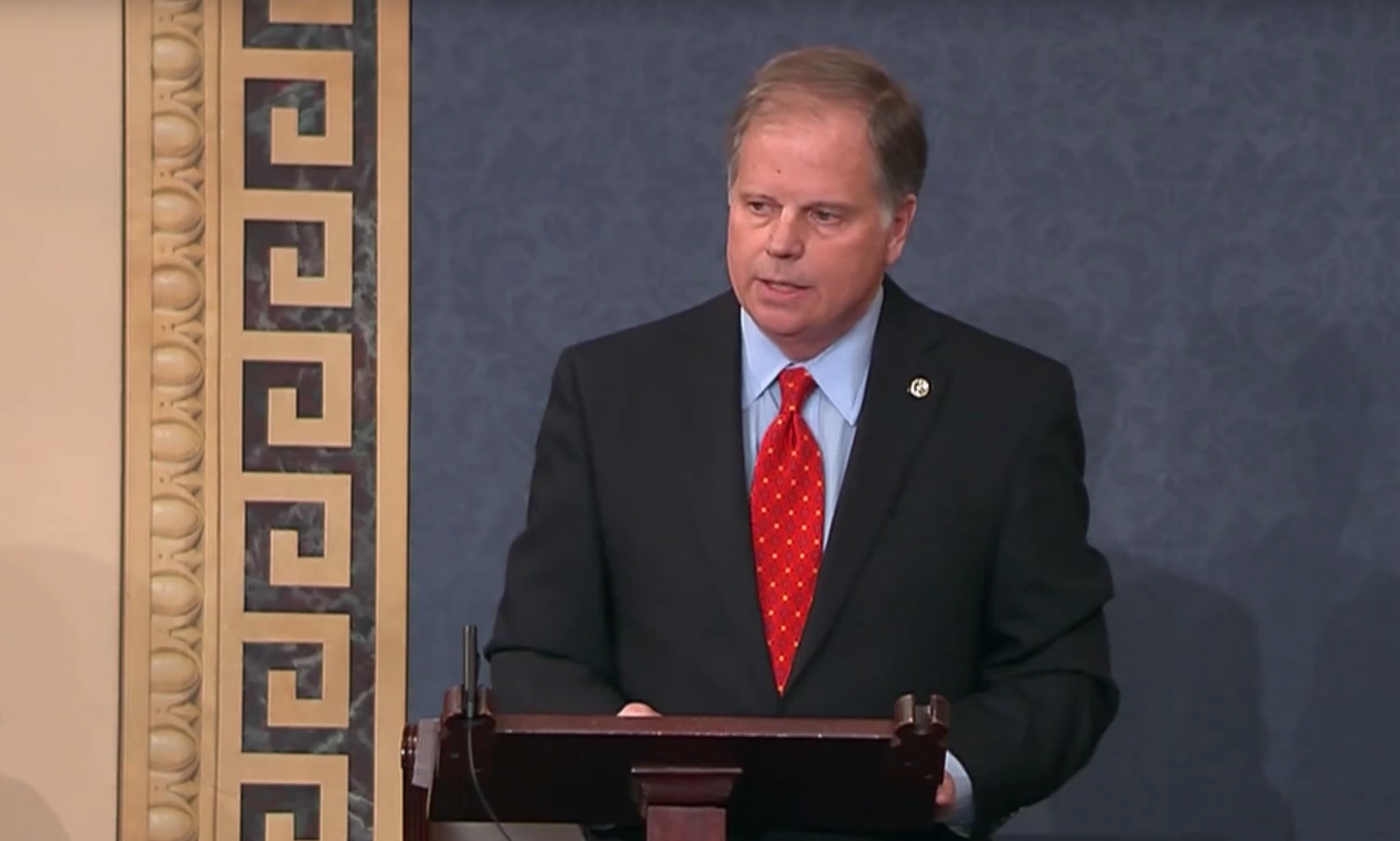 U.S. Sen. Doug Jones, D-Alabama, on Tuesday announced bipartisan legislation that would require health insurance plans to cover treatments and vaccines for COVID-19 whenever they should become available.

There are currently no vaccines or medicines that treat or prevent infection. It could take a year to 18 months for a vaccine to be developed.
"We have to do everything we can to mitigate the spread of COVID-19. This bill will allow Americans to rapidly access vaccines for this novel coronavirus as soon as they are available. Congress should immediately pass the Rapid Coverage for Coronavirus Vaccines and Treatments Act as part of a robust response to this virus," Jones said in a statement.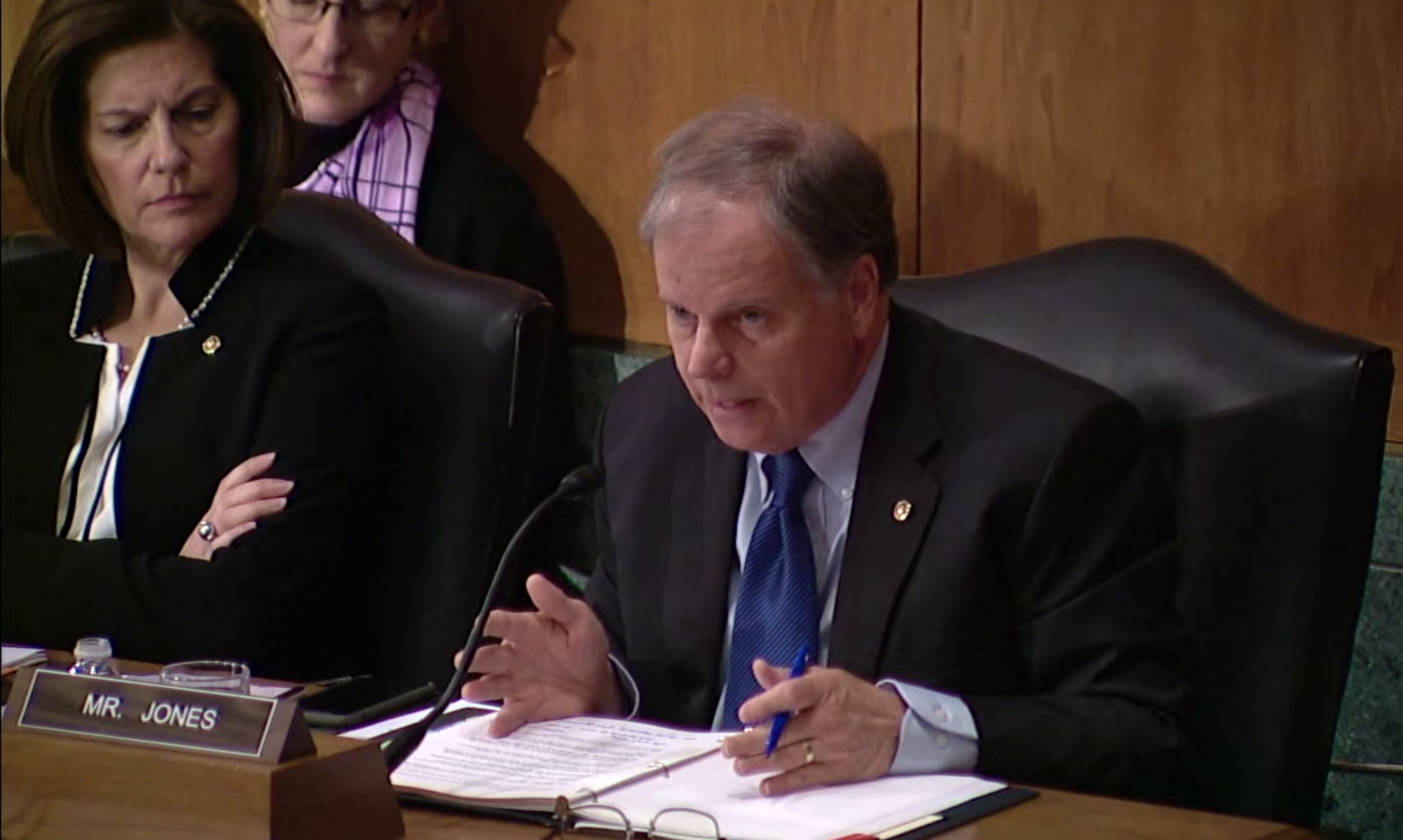 Sen. Doug Jones says "anything is on the table" including direct financial assistance
U.S. Sen. Doug Jones on Tuesday said "anything is on the table" as the country reels from the spread of COVID-19.
The Rapid Coverage for Coronavirus Vaccines Act is co-sponored by Senators Bill Cassidy, R-La., Tina Smith, D-Minn, and Steve Daines, R-Mont, and would require private insurance plans to cover, with no cost sharing, any coronavirus treatment or vaccine that gets an A or B rating by the United States Preventive Health Services Task Force. 
"When a vaccine is released for coronavirus, it needs to be available for all Americans as soon as possible. Vaccine coverage by insurance companies is key to this. This bill ensures that coverage," Sen. Cassidy said in a statement. 
"Amid this public health emergency, it's critical that we prepare to protect the health and safety of people in Minnesota and across the country in every possible way," Sen. Smith said in the statement. "One of the many steps we should take is to expedite the process requiring insurers to cover the cost of a COVID-19 vaccine when it becomes available. This coverage could help more folks access treatment and offer some economic relief to families. I'm glad to help introduce this bipartisan effort and will work to move it forward."
 "This bipartisan bill mitigates the coronavirus outbreak by ensuring that folks have access to testing and vaccines without costs," Sen. Daines said. "Montana families need access to these important preventive services, and financial barriers should not stand in the way during this national emergency."
Jones urges public to heed surging COVID-19 cases, hospitalizations
U.S. Sen. Doug Jones, D-Alabama, on Thursday pleaded with the public to take COVID-19 seriously, especially now, as reopening of schools and Fourth of July celebrations near. Meanwhile, the state continues to see record numbers of new cases and hospitalizations. 
Alabama on Thursday saw a fourth straight day for record-high COVID-19 hospitalizations — and a record number of newly reported COVID-19 cases, when taking into account data collection problems that inflated Monday's total.
As of Thursday afternoon, 843 people were being treated in Alabama hospitals for COVID-19, according to the state health department. That number is an increase of nearly 22 percent over this time last week, and a near 40 percent increase compared to the beginning of June.
At least "961 of our neighbors and family members have lost their lives to COVID-19, and we need to be cognizant of that as well, as those numbers continue to grow," Jones said during a press briefing Thursday, also noting that over the last 14 days Alabama has seen 11,091 new cases of the virus, which is 28 percent of all the state's COVID-19 cases. 
Jones said that while we're testing more people in recent weeks, The Alabama Department of Public Health's statistics show that a greater percentage of the tests are coming back positive.
Based on a seven-day average, roughly 14 percent of the tests conducted in the state are now coming back positive. Public health experts believe that such a high percentage of positives is a sign that there continues to be community spread of the virus, and that there still isn't enough testing being done. 
Jones said he's concerned, too, about the timing of the surge in new cases, coming in the weeks after Gov. Kay Ivey lifted her more rigorous restrictions and after Memorial Day celebrations.  
"People did not seem to get the message about social distancing and wearing masks, and we are seeing these numbers increase and increase and increase," Jones said. 
Jones noted the state's long lines for people seeking help with their unemployment applications, some even camping out overnight to get that help, and said he's written a letter to Senate leadership asking for federal funding to state departments of labor to better service those in need. 
The senator also discussed Oklahoma's recent expansion of Medicaid, and said that the action made clear state leaders there understand that during the pandemic they needed to get all the help they can to their fellow citizens. 
"It is my hope that Alabama will also do likewise. We continue to see a rise in the number of people that could benefit from expanded Medicaid," Jones said, adding that he's still working to get another round of incentives to states to encourage expansion of Medicaid. 
Asked if there would be another round of stimulus checks sent to individuals, Jones said "maybe." 
Jones said the next round of COVID-19 legislation is being drafted behind closed doors by Sen. Mitch McConnell, the Republican Senate majority leader from Kentucky, and that it's uncertain whether more direct payments to individuals will be included in the final bills. 
"I've heard mixed messages coming out of the administration and Senator McConnell's office," Jones said, adding that he's for the additional payments and thinks it will be needed going forward. 
Montgomery Mayor Steven Reed, speaking during the press conference, said the Montgomery City Council could take up at the next council meeting a measure that would place guidelines on businesses within the city to be held accountable for helping enforce the city's mask ordinance for the public. 
In the absence of a statewide mask order, local governments have been instituting their own in recent weeks. Wearing masks, staying home when at all possible and maintaining social distancing when one can't are the best ways to reduce spread of the virus, public health experts say.
Montgomery currently has a mask order in place, which carries the possibility of a $25 fine for individuals not following the order. 
Reed said at the next meeting, council members may deliberate on a measure to require businesses help ensure the public adheres to the mask order or face possible suspension of their business license "for a couple of weeks, so that is yet to be voted on, and we will look at that." 
Reed said that the point of the city's mask order isn't to fine people, however, but to encourage them to wear masks and help save lives. He noted that Montgomery's mask order has been followed by similar orders in Mobile and Selma, as local municipalities make independent decisions to protect their fellow citizens.