Trump signs coronavirus response legislation supported by Shelby, Jones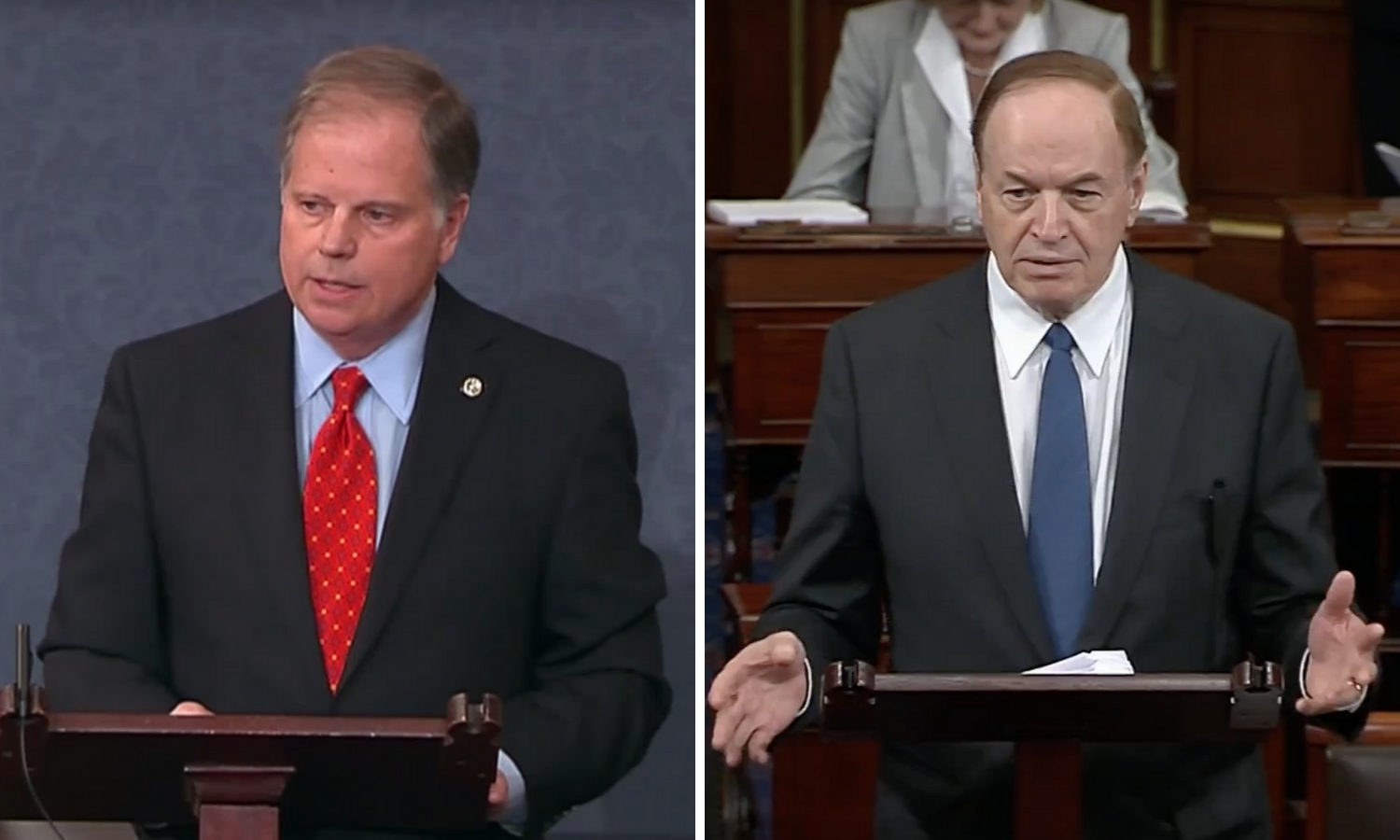 The U.S. Senate passed H.R. 6201, the Families First Coronavirus Response Act, Wednesday.
President Donald Trump promptly signed the bipartisan legislation.
The legislative package unlocks billions of dollars in funding to combat the Coronavirus and provides further relief for families, businesses and industries negatively impacted by the COVID-19 outbreak.
Both U.S. Senators, Richard Shelby and Doug Jones, both voted in favor of the bill.
"During this unprecedented time, the Senate has been able to advance another agreement to help combat this deadly disease," Sen. Shelby, R-Alabama, said. "Although my colleagues and I still have urgent work to do, this is a step in the right direction. It is my hope that in the coming days, we can pass an additional package that will contain comprehensive funding and protections to mitigate this virus and safeguard small businesses and others that make up the economic foundation of our nation."
"This second round of assistance is an important step to help mitigate the severe impacts of COVID-19 – but it certainly won't be the last step we take," said Sen. Jones, D-Alabama. "I know that many folks have already lost their jobs or are in danger of doing so because of this crisis. In the third legislative aid package, which is already being negotiated, I am going to advocate for priorities like direct assistance payments to Americans, expanded unemployment benefits, incentives for companies to retain and pay their workers, grace periods on mortgage and rent payments, and prohibitions on foreclosures so that people are not losing their homes because of the virus. I know these are difficult times, but I remain very optimistic that we can rise to the occasion, and we need to act quickly and decisively. The best thing we can do for our economy right now is to stop the spread of the virus, and we each need to continue to do our part as individuals to protect everyone in our communities."
This package passed the Senator on a vote of 90 to 8. It establishes an emergency paid family and medical leave for those affected by the COVID-19 outbreak and increases to unemployment benefits and food aid programs. The bill also provides additional flexibility to the Departments of Treasury and Labor to assist small businesses.
The Senate will soon move to another stimulus package to protect the economy and provide further relief.
The Senate had previously passed an emergency supplemental funding package on March 5, which provided $8.3 billion in total resources to prevent, prepare for, and respond to the Coronavirus.
"The Families First Coronavirus Response Act makes emergency supplemental appropriations and other changes to law to help the Nation respond to the coronavirus outbreak," Pres. Trump said in a statement Wednesday night after he signed the bill.
The bipartisan bill began in the Democratic-controlled U.S. House of Representatives. IT is the product of days of negotiations last week between Treasury Secretary Steven Mnuchin and House Speaker Nancy Pelosi (D-California).
There was considerable Republican ideological opposition to the bill; but Trump endorsed the legislation, ensuring overwhelming Republican support when it passed the House.
The Trump administration is negotiating with Senate Republicans on an economic stimulus package to assist small businesses, American workers and specific sectors such as the airline industry impacted by the coronavirus. The White House has proposed a $1 trillion stimulus package, which would include sending direct cash payments to Americans.
As of press time, 9,654 Americans have been diagnosed with COVID-19, including 51 Alabamians. Two members of Congress have now tested positive for COVID-19. They are Rep. Ben McAdams (D-Utah) age 45 and Rep. Mario Diaz-Balart (R-Fla.), age 58. 155 Americans have died from this in 22 states. No deaths have occurred yet in Alabama, but Louisiana has lost 8, Florida has lost 8, Georgia 8, Texas 3, and South Carolina has 3 deaths.
(Original reporting by the Hill contributed to this report.)
Sewell votes in favor of National Apprenticeship Act
The bill would invest more than $3.5 billion to create nearly one million new apprenticeship opportunities.
Congresswoman Terri Sewell, D-Alabama, last week voted in favor of the National Apprenticeship Act, legislation to reauthorize the National Apprenticeship Act for the first time since its enactment in 1937.
The new National Apprenticeship Act will create one million new apprenticeship opportunities over the next five years. Registered apprenticeships provide workers with paid, on-the-job training, and are the nation's most successful federal workforce training program.
"As a long-time supporter of expanding registered apprenticeships, I am thrilled to support today's legislation to provide 1 million new apprenticeship opportunities over five years," Sewell said. "Our Nation is facing the worst economic downturn since the Great Depression and estimates show that more than 7 million of the pandemic's job losses will be permanent. We need bold investments like those in the National Apprenticeship Act to accelerate the economy and help get the American people back to work in stable, good-paying jobs of the future."
The bill invests more than $3.5 billion over the next five years.
The act establishes a $400 million grant program to support the expansion of apprenticeship opportunities, including pre-apprenticeships and youth apprenticeships, which will increase $100 million annually to reach $800 million by 2025.
The legislation also codifies and streamlines standards for registered apprenticeship, youth apprenticeship and pre-apprenticeship programs to make it easier for both apprentices and employers to participate in high-quality apprenticeships and codifies the Department of Labor's Office of Apprenticeship.
It directs the office to convene industry leaders, labor organizations, educators and others to expand apprenticeships into new occupations and sectors.
Supporters say the bill could yield $10.6 billion in net benefits to U.S. taxpayers in the form of increased tax revenue and decreased spending on public-assistance programs and unemployment insurance, and that nothing is more effective at breaking the cycle of poverty than a well-paying full-time job.
Sewell is about to enter her sixth term representing Alabama's 7th Congressional District.