Trump signs coronavirus response legislation supported by Shelby, Jones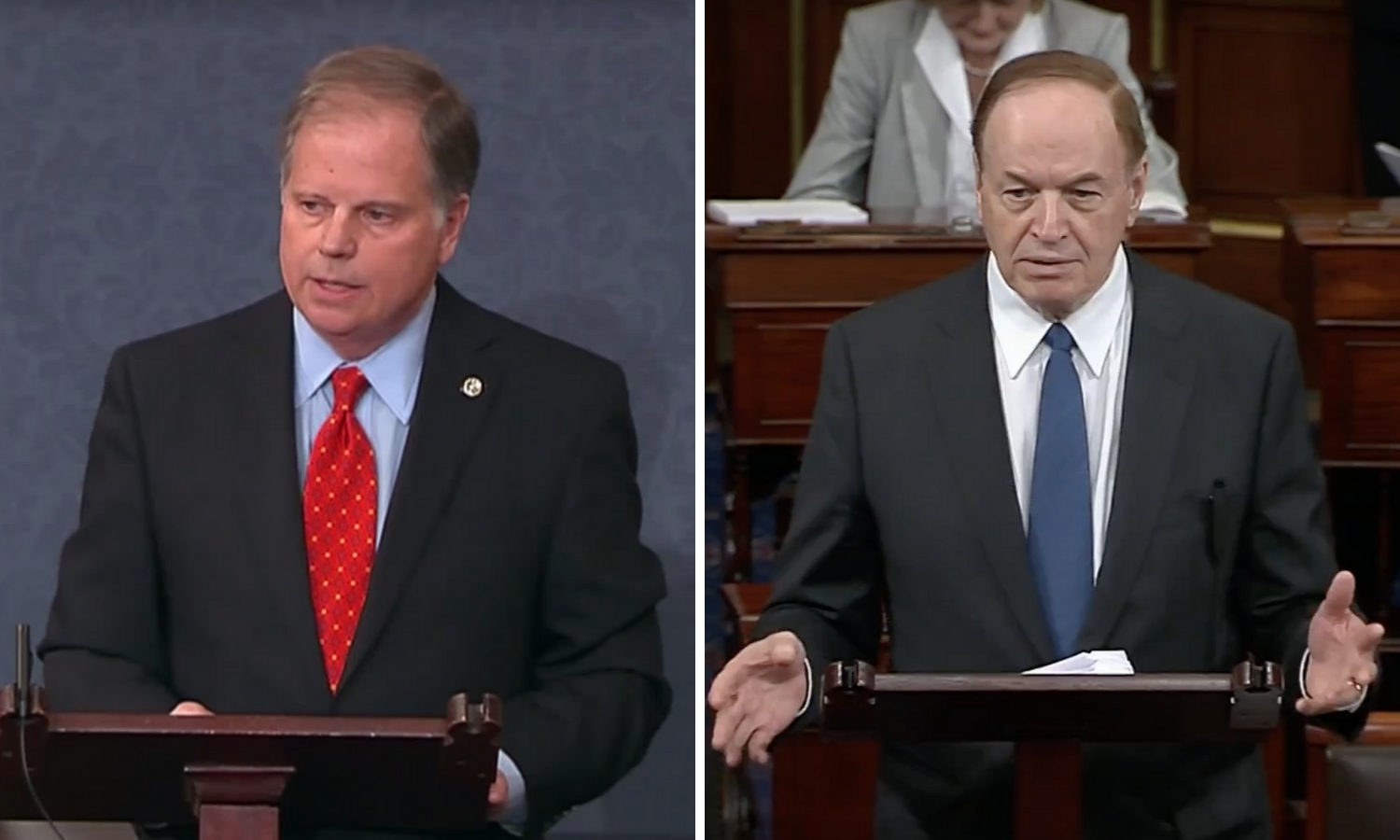 The U.S. Senate passed H.R. 6201, the Families First Coronavirus Response Act, Wednesday.
President Donald Trump promptly signed the bipartisan legislation.
The legislative package unlocks billions of dollars in funding to combat the Coronavirus and provides further relief for families, businesses and industries negatively impacted by the COVID-19 outbreak.
Both U.S. Senators, Richard Shelby and Doug Jones, both voted in favor of the bill.
"During this unprecedented time, the Senate has been able to advance another agreement to help combat this deadly disease," Sen. Shelby, R-Alabama, said. "Although my colleagues and I still have urgent work to do, this is a step in the right direction. It is my hope that in the coming days, we can pass an additional package that will contain comprehensive funding and protections to mitigate this virus and safeguard small businesses and others that make up the economic foundation of our nation."
"This second round of assistance is an important step to help mitigate the severe impacts of COVID-19 – but it certainly won't be the last step we take," said Sen. Jones, D-Alabama. "I know that many folks have already lost their jobs or are in danger of doing so because of this crisis. In the third legislative aid package, which is already being negotiated, I am going to advocate for priorities like direct assistance payments to Americans, expanded unemployment benefits, incentives for companies to retain and pay their workers, grace periods on mortgage and rent payments, and prohibitions on foreclosures so that people are not losing their homes because of the virus. I know these are difficult times, but I remain very optimistic that we can rise to the occasion, and we need to act quickly and decisively. The best thing we can do for our economy right now is to stop the spread of the virus, and we each need to continue to do our part as individuals to protect everyone in our communities."
This package passed the Senator on a vote of 90 to 8. It establishes an emergency paid family and medical leave for those affected by the COVID-19 outbreak and increases to unemployment benefits and food aid programs. The bill also provides additional flexibility to the Departments of Treasury and Labor to assist small businesses.
The Senate will soon move to another stimulus package to protect the economy and provide further relief.
The Senate had previously passed an emergency supplemental funding package on March 5, which provided $8.3 billion in total resources to prevent, prepare for, and respond to the Coronavirus.
"The Families First Coronavirus Response Act makes emergency supplemental appropriations and other changes to law to help the Nation respond to the coronavirus outbreak," Pres. Trump said in a statement Wednesday night after he signed the bill.
The bipartisan bill began in the Democratic-controlled U.S. House of Representatives. IT is the product of days of negotiations last week between Treasury Secretary Steven Mnuchin and House Speaker Nancy Pelosi (D-California).
There was considerable Republican ideological opposition to the bill; but Trump endorsed the legislation, ensuring overwhelming Republican support when it passed the House.
The Trump administration is negotiating with Senate Republicans on an economic stimulus package to assist small businesses, American workers and specific sectors such as the airline industry impacted by the coronavirus. The White House has proposed a $1 trillion stimulus package, which would include sending direct cash payments to Americans.
As of press time, 9,654 Americans have been diagnosed with COVID-19, including 51 Alabamians. Two members of Congress have now tested positive for COVID-19. They are Rep. Ben McAdams (D-Utah) age 45 and Rep. Mario Diaz-Balart (R-Fla.), age 58. 155 Americans have died from this in 22 states. No deaths have occurred yet in Alabama, but Louisiana has lost 8, Florida has lost 8, Georgia 8, Texas 3, and South Carolina has 3 deaths.
(Original reporting by the Hill contributed to this report.)
Print this piece
Jones calls for investigation of potential price fixing by meatpackers
U.S. Senator Doug Jones, D-Alabama, has joined other U.S. senators in calling for an investigation into potential price-fixing by the nation's four largest meatpackers.
Many farmers and ranchers claim what they get paid to produce beef has no relation to what consumers are getting charged in the stores and that the big four beef packers are pocketing the profits, while farmers suffer and consumers struggle to pay for the meat on the table.
"I am once again calling on the DOJ to investigate potential price-fixing in the meat-packing industry," Jones said on social media. "In this time of uncertainty, we need to protect our nation's food producers and make sure we can maintain our food supply."
In April, Alabama Department of Agriculture and Industries Commissioner Rick Pate asked Jones and Sen. Richard Shelby to ask for an investigation.
Jones and the other Senators sent a letter to U.S. Attorney General William Barr.
"We have heard growing concerns from cattle producers and feeders in our states about troubling practices in the cattle industry that the COVID-19 national emergency has intensified, including allegations of market manipulation and coordinated behavior harmful to competition," the Senators wrote.
"These serious claims have been relayed in a request for further inquiry by the United States Department of Justice (DOJ) from eleven state attorneys general this past week, in addition to a number of letters from Senators on the matter," the letter states. "We support these calls to action and request that the DOJ investigate suspected price manipulation and anticompetitive behavior in the highly concentrated cattle industry, in order to identify more clearly the factors contributing to a dire situation for producers."
Four meatpackers — Tyson Foods, Cargill/Excel, JBS Swift, and National Beef — process over half of the cattle that are butchered in this country and there are a number of regulatory barriers that make entering the industry both expensive and time-consuming.
"The lack of competition in the meatpacking industry has resulted in a vulnerable beef supply chain, which the current national emergency has destabilized further," the senators wrote. "Recent pricing discrepancies between fed cattle and boxed beef are pushing cattle producers and feeders to the brink, adding to the longstanding concerns stemming from the state of competition among beef packers. Since February, we have seen live cattle prices slump by more than 18 percent, while wholesale beef prices have increased by as much as 115 percent during the same period."
With warm weather and more people spending much more time at home rather than at restaurants, the demand for beef and other meat should be at all-time highs.
Unfortunately, COVID-19 outbreaks at slaughter plants have meant that fewer cattle and hogs have been butchered. This has led to a decrease in the prices that farmers and ranchers receive for their animals while the price of boxed beef that the packers sell to the grocery stores has increased substantially.
Most Alabama cattlemen own acreage of grassland and a herd of mature cows. The cows and the bull do what they do naturally and most years each cow has one calf.
The cow cares for the calf to weaning at 180 to 290 days (205 is average) and the rancher sells the calves, usually at an Alabama livestock auction.
Buyers from the plains states come to purchase the 450- to 650-pound calves, which are called "feeder calves." They go west to be stockered and finished, usually at a feedlot. Finished, also called fat, cattle are then processed — more than 80 percent of the time by one of the big four packers.
Sunday afternoon, the Alabama Political Reporter spoke with Callahan Parrish, a fourth-generation Cattle Farmer. Callahan also owns the Cullman Stockyard and is emerging as an industry advocate.
"The pandemic has unmasked many fundamental problems associated with the current beef production model," Parrish said. "Industry infrastructure, competitive market access for our producers and food security issues top this list."
In 2009, the average retail price of boneless sirloin steak was $5.68 per pound. In 2010, it climbed to $6.07 per pound. By 2015, it was $8.29. In 2019, it was $8.48.
The cattle market is much more volatile from week to week, but in 2009 the average liveweight price for a feeder calf was approximately $.94 a pound. It has risen to only $1.43 by 2019.
In the last 12 months the feeder calf price has traded at a high of $1.49 on October 28 all the way down to a low of $1.08 on March 31 at the height of the COVID-19 panic, the lowest the feeder calf price has been on the exchange since October 2010.
Feeder cattle have rebounded somewhat in May and they closed on Tuesday at $1.33. There was a brief two year period from late 2013 to late 2015 where feeder calf prices soared.
When prices crashed in the winter of 2015 — and never came back — the retail price of beef stayed high even though ranchers have gotten less than $1.61 per pound in these last five and a half years.
Those are the Chicago Mercantile Exchange prices. Most Alabama cattlemen do not get those prices. The big packers are located out west in Texas, Kansas, South Dakota, Nebraska as are most of the feedlots so they tend to buy southern cattle at a discount.
Using last week's USDA feeder calf market report, last week in Alabama steers, medium and large frame thick steers, weighting 550 to 600 pounds, were trading at between $1.20 per pound and $1.37 per pound, depending on what day and what stockyard.
At the same time in Oklahoma the same weight and classification of OK steer calves were trading at $1.4764. Advantage Oklahoma rancher $110.63 per calf.
The same week medium and large frame average heifers weighing 550 to 600 pounds were selling for $1.01 to $1.18 per pound in Alabama. In Oklahoma they were trading at $1.248. Advantage Oklahoma rancher.
The spread might not be this great every week, but in this example a rancher who sold 100 calves, 50 of them heifers and 50 of them steers, would have made $9,953 more if he were the typical Oklahoma rancher versus the typical Alabama rancher.
According to the same USDA report, there were some loads of 600 to 700 pound Alabama heifers trading at below $.90 a pound and we are off of the bottoms that farmers and ranchers experienced in March and April, where prices were disastrously low in many instances.
"We are seeing a lot of our local producers hurting right now due to extreme and unprecedented market volatility," Parrish said.
This is because our cattle are not processed or fed out in Alabama, but instead are bought by order buyers and shipped out west at a profit. Some ranchers speculate that the Big Four packers are cooperating to set the spot or cash market price for cattle as low as they can, while selling beef at an artificially high price to American consumers.
Some cattlemen have asked for the DOJ to investigate. Last year, the producer group R-CALF filed suit against the Big Four packers alleging unfair trade practices. Southern cattle face continued price discrimination versus plains, Midwest, Texas, and western cattle.
The Big Four packers process all the cattle out west, mix it with Mexican and Canadian calves, another move some cattlemen suggest is to drive down the spot price, and then ship all of that processed beef back to Alabama and the rest of the country. Some cattlemen have suggested that Alabama needs its own packing plants and feedlots to keep the beef closer to consumers.
"Lack of state infrastructure and increasing import issues are adding insult to this injury," Parrish said. "Alabama Cattle Farmers, retailers and consumers are feeling the heat. As the temperature continues to rise . . . the conversations are getting louder. Not only are the conversations getting louder . . . they are getting exciting."
We have spent a lot of time talking about agriculture & the importance of protecting our food supply, but the reality is that the farming industry is being left behind & they stand a lot to lose during this pandemic. We must prioritize our farmers & protect our food supply chain.
(Original writing and research by Montgomery area writer Amy McGhee contributed to this report. McGhee's parents own and operate an Angus beef cattle farm in Tennessee.)
Print this piece