U.S. government report predicts 18 months of COVID-19 outbreak in America
A recent report by the federal government, backed by another in the UK, estimates the COVID-19 pandemic in the U.S. "will last 18 months or longer and could include multiple waves of illness." 
The 100-page unclassified COVID-19 response plan drafted by the  U.S. Department of Health and Human Services and obtained by The New York Times predicts the viral outbreak will strain the country's health care system and local governments, disrupt supply chains and require a massive response from multiple agencies. 
It's a stark forecast for a disease that's still in its relative infancy in the U.S. but is already taking lives in greater numbers, closing bars and restaurants to regular business, shuttering schools and beaches, and keeping people at home. 
The 18-month prediction isn't reflected, however, in predictions by President Donald Trump, some members of his administration or public health officials in Alabama, many of whom say the crisis will largely be over within 4 months or so. 
Efforts to mitigate COVID-19 through social distancing works, health experts say, but the virus is new, and researchers are just getting a handle on what it can do and how to save lives. 
As Americans hunker down, or at least those who heed pleas to do so, many wonder how long before it's over, and just what "over" really means. 
The federal government's assumption of 18 months and multiple outbreaks is shared by researchers at the Imperial College London, which released a report Tuesday that warns of many, many months of periodic disruptions to public life in the U.K. and the U.S. The Imperial College London's models are considered the gold standard in epidemiological research and often influence government responses to pandemics.

"We conclude that the effectiveness of any one intervention in isolation is likely to be limited, requiring multiple interventions to be combined to have a substantial impact on transmission," researchers state in the UK  report. 
What those researchers found is that social distancing does reduce the number of new cases and deaths, but that its practice needs to be sustained to prevent further outbreaks. Researchers defined social distancing as "All households reduce contact outside household, school or workplace by 75%." 
If we practice social distancing, and add to that school closures and home isolation of confirmed cases, for approximately two-thirds of the outbreak, we would save the most lives and bring it to an end as quickly as researchers believe possible, but even so, it wouldn't happen fast. 
"To avoid a rebound in transmission, these policies will need to be maintained until large stocks of vaccine are available to immunize the population – which could be 18 months or more," the researchers found. 
But what if we decide to do nothing?  
Without changes in social habits researchers predict "81% of the GB and US populations would be infected over the course of the epidemic" which could mean 2.2. millions lives lost in the U.S. and 510,000 in Britain. 
And it wouldn't take long to start feeling that pain. Do nothing and the report predicts by the second week of April critical care bed capacity in the U.S. would be exceeded, and eventually peak at 30 times capacity. 
And as APR reported on Wednesday, Alabama's hospitals are at great risk of being overburdened if the public doesn't adhere to social distancing policies. 
Alabamians are also at greater risk for serious complications and death from COVID-19,  health experts say, because of high rates of obesity, diabetes, and heart disease. 
And there remain problems with shortages of testing supplies and access to critical life-saving equipment such as ventilators and ICU beds, in Alabama and across the country. That might get worse before it gets better, those researchers found. 
"Supply chain and transportation impacts due to ongoing COVID – 19 outbreak will likely result in significant shortages for government , private sector, and individual U. S. consumers," the HHS report reads. 
Ask others in charge, however, and the picture is much rosier. 
Alabama's state health officer Dr. Scott Harris predicted Tuesday a much shorter lifespan for the outbreak, a message also shared by Trump earlier this week. 
Asked how long state officials expect the virus could last, Harris told reporters "So I think with respiratory infections, a three or four month course is a reasonable place to start guessing how long it's gonna last."
Trump, speaking Monday of how long the crisis might last, said "people are talking about July, August." 
Dr. Anthony Fauci, the head of the National Institute of Allergy and Infectious Diseases, whose become the face of the Trump administration's medical response to COVID-19, said Sunday that "it's going to be a matter of a few weeks to a few months, for sure." 
And what about China, where COVID-19 was first discovered in December 2019? On Thursday, China reported no new cases of COVID-19, a major milestone for a country that's lost more than 3,200 people to the disease. 
But experts warn that China's statistics on the number of infections may not be accurate – officials there initially tried to conceal the virus – and the country's harsh crackdowns on the movements of millions of its citizens, who face dire consequences if they disobey, isn't likely to be replicated in the U.S.
Maciej Boni, PhD, of the Center for Infectious Disease Dynamics at Pennsylvania State University, told the CIDRAP News that the 18-month prediction is the most likely scenario based on the current pandemic.
"This has been trickling out to the public since [the] last week of February," Boni told CIDRAP News. "Now the public is ready to hear that 1 to 2 million people could die, which is what we [epidemiologists] have said for 3 weeks."
Gov. Kay Ivey extends statewide mask order, allows limited nursing home visitations
"This mask ordinance is working. It works, and we have evidence of that," State Health Officer Scott Harris said.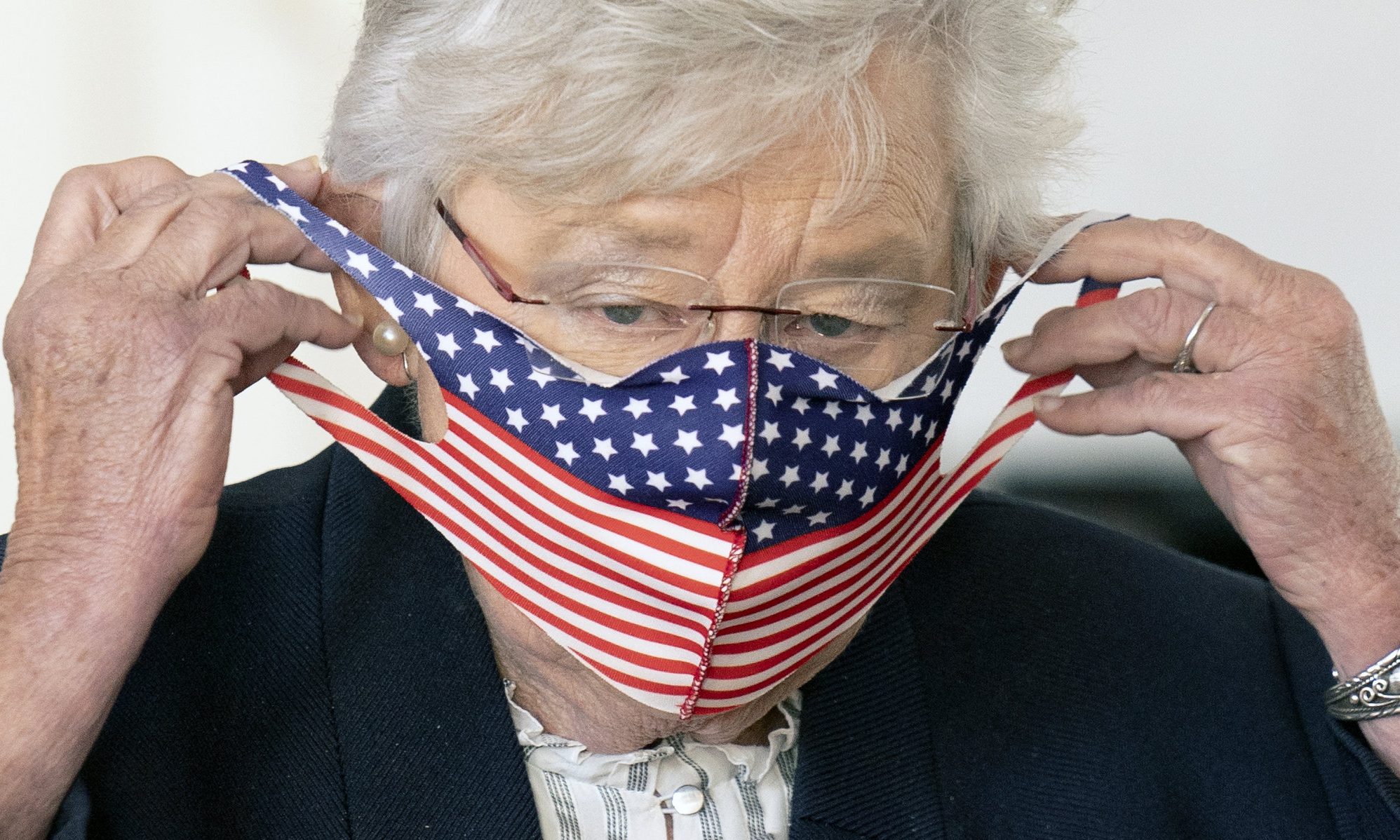 Gov. Kay Ivey on Wednesday extended Alabama's statewide mask order, citing the upcoming general election and a reduction in the spread of the virus since her order went into effect in July. Ivey's new order also allows for limited visitations in state nursing homes, and keeps all other previous social distancing restrictions in place.
"I'd hate to see us pull back too quickly and negate the progress that we've made in our daily positive numbers and our hospitalization rates by risking another spike due to a false sense of security, the upcoming winter months, the flu season and a host of other reasons," Ivey said during a press conference Wednesday. 
Ivey said that with the Nov. 3 Election Day nearing "it's important to have a safe environment where our poll workers poll watchers, and those of us who would like to vote in person." 
Ivey said that voters aren't required to wear a mask to vote in person, "I'm certainly going to wear my mask because I want to protect the poll workers and others that are going into the polls as well." 
Alabama State Health Officer Dr. Scott Harris said state hospitals are caring for about half the number of COVID-19 patients than were hospitalized in late July, during a surge in cases, hospitalizations and deaths, and just before the mask order was issued. 
"This mask ordinance is working. It works, and we have evidence of that," Harris said. "There have not been any additional restrictions imposed on our state since this Stay at Home order at the end of April." 
Harris noted an August study released by the South Carolina Department of Health and Environmental Control that looked at that state's jurisdictional mask orders, and found that in the 40 percent of jurisdictions that have mask orders COVID-19 cases were reduced by nearly half, compared to an increase in cases by 30 percent in jurisdictions without mask orders.  
White House Coronavirus Task Force Member Dr. Deborah Birx during a visit to Alabama last week urged Ivey to extend the mask order. Birx had praised Ivey's statewide mask mandate during a previous visit to the state in July, when nine of the first 13 days of that month saw daily case increases in COVID-19 cases statewide of more than 1,000. 
Ivey's amended "safer-at-home" order also states that beginning Friday, hospitals and nursing homes shall ensure that each patient or resident can have one caregiver or visitor at a time, with some exceptions. 
Ivey's order states that the changes are "subject to reasonable restrictions imposed on the entrance of persons because of the COVID-19 county positivity rate, the facility's COVID-19 status, a patient's or resident's COVID-19 status, caregiver/visitor symptoms, lack of adherence to proper infection control practices, or other relevant factors related to the COVID-19 pandemic, consistent with the following guidance from the federal government," and goes on to list links to Centers for Medicaid and Medicaid Services guidance for the different facilities. 
Ivey said during the Wednesday press conference that none of her previous statewide orders prevented anyone from accompanying a loved one into a hospital, and said despite that, there has been some confusion on the matter. She said her amended order made that fact clear.  
Dr. Don Williamson, president of the Alabama Hospital Association, told The Montgomery Advertiser in June that hospitals have control over visitations. Hospitals statewide have enacted individual varying rules on visitations since the start of the COVID-19 pandemic. 
Harris also discussed the work being done to ready the state for disbursement of a vaccine, if and when one becomes available. Harris said a plan for doing so must be given to the U.S. Department of Health and Human Services by mid-October. 
"Obviously, we're following very closely the safety data and efficacy data so that we are sure that we have a vaccine product that's going to be safe and effective," Harris said. "And I'm confident that information will be available for us, and then we can make a really good decision on that as we start to receive this vaccine." 
Harris said the supply of a vaccine will initially be limited, and state health officials will have to prioritize disbursement for high-risk people, including health care workers, but that the state will release its plan to do so to ensure openness in the process.