Academic libraries play essential role during coronavirus pandemic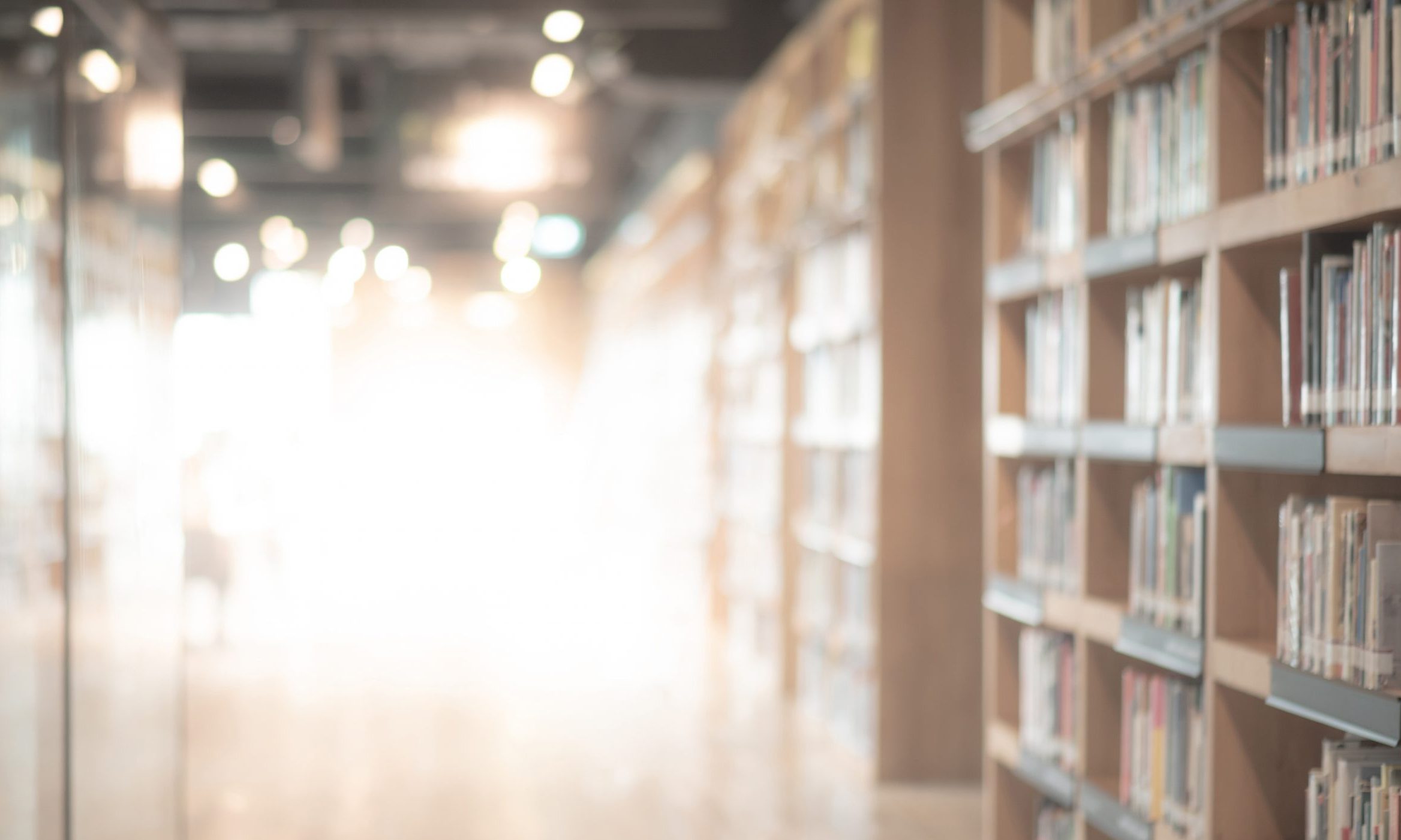 The Network of Alabama Academic Libraries (NAAL) is successfully working with content providers to offer new and expanded access to resources, focusing on the single goal of making sure users have real-time availability to what they need.
This is crucial during the coronavirus pandemic that has forced campuses to quickly transition to online classes. Not only have library staff and faculty moved to their own new virtual reality, they have simultaneously helped others on campus do the same.
Derek Malone, University of North Alabama library director, says from the beginning they were flooded with emails asking, "What do I do now?" That question has been answered numerous times through academic library instruction and research consultations. Online chats have become successful substitutes for face-to-face reference interviews and assistance. Dr. Annie Payton, Director of Library Services at Alabama A&M, explains that their LibChat services help them maintain an "Availability" posture. At Troy University, Library Services Dean Christopher Shaffer notes they have librarians embedded in 79 online classes.
Providing material and computer resources to students at home.
Higher education institutions across the state have tasked their library departments with distributing laptops and tablets to students who have transitioned to at-home classrooms. Without the library's physical space and shared computers, it is crucial for students to have access to these electronic devices.
While some libraries continue to lend physical items via curbside pickup, the bulk of interlibrary loan is for e-resources to meet social distancing guidelines. This can be problematic for some students, as many areas of the country are still without Internet access, "an issue that has been around for years," according to Eric Kidwell, director of the Houghton Memorial Library at Huntingdon College.
LibGuides and Wiki pages have been created to help users navigate the sea of new resources. Samford University Library Director Kimmetha Herndon says they are managing access to some 178,328 new resources. All are working closely with the Alabama Virtual Library (AVL) an original NAAL program, to provide even more access to additional online educational resources for free during this public health crisis. Links to the AVL's new resources are available on their "All Resources" page (avl.lib.al.us/resources/all).
Academic libraries are compiling useful medical information and creative delivery for students
The University of Montevallo and Troy University libraries are using their 3D printers to make protective gear for healthcare providers, and UAB is investigating using theirs to make nasopharyngeal swabs for COVID-19 testing. At the University of Alabama at Birmingham (UAB), Library Dean Kasia Gonnerman notes that clinical and health sciences librarians are providing highly specialized resource guides to help medical school residents, and a Wiki site for graduate medical education developed by their anesthesiology librarian "has quickly become a hub for vital information in the UAB Anesthesiology Department. The goal is to help our health care providers have the most useful information possible before we see a surge of COVID-19 patients in our Alabama hospitals."
At the University of Alabama in Huntsville (UAH), services have been expanded to create an archive of personal histories related to COVID-19 and its impact. "We are helping student groups develop informative materials (bookmarks, pamphlets, flyers) to share with other students. We are also addressing information literacy aspects associated with this large-scale news event," said UAH Library Director David Moore. He added that cybersecurity guidance is of utmost importance and they are maintaining a focus on online safety. Alabama State University has been innovative in its response to the pandemic, shooting campus video without students and faculty and collecting stories from library users about how they are reacting in order to preserve and archive this history, per Janice Franklin, Dean of the Levi Watkins Learning Resource Center and current Chair of NAAL's Executive Council.
Alabama academic libraries are hard at work proving their essential nature on college campuses whether the setting be physical or virtual. Jacksonville State University's Library Director John-Bauer Graham sums it up by noting that, "librarians continue to be consumed by the task of helping others."

NAAL is an unincorporated consortium of the Alabama Commission on Higher Education and Alabama's public and private four-year colleges and universities. Our primary purpose is to foster communication and cooperation between member libraries with a focus on purchasing and sharing collections, products, and services that foster teaching, learning, and research.
Alabama reports record-breaking 2,164 new COVID-19 cases
Thursday's number of new cases hit 2,164 and blew past the previous daily record set on July 3 by 406 cases.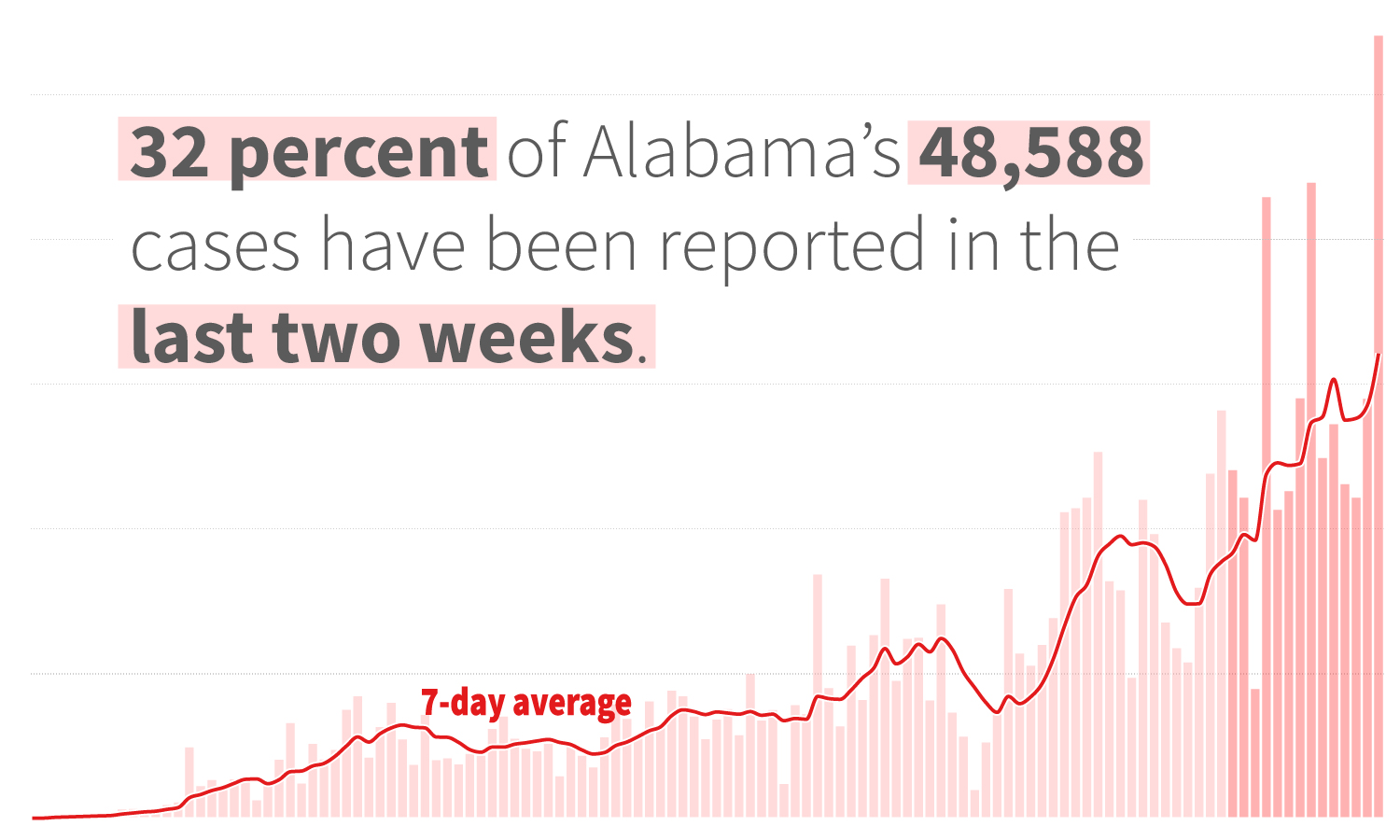 New COVID-19 cases in Alabama on Thursday jumped by nearly double from the day before, and for the first time broke 2,000 in a single day, according to the latest data from the Alabama Department of Public Health.

Thursday's number of new cases hit 2,164 and blew past the previous daily record set on July 3 by 406 cases. Both the seven-day and 14-day rolling average of new daily cases in Alabama were also at record highs Thursday. 
Thirty-two percent of the state's 48,588 cumulative confirmed cases have been added within the last two weeks. 
The Alabama Department of Public Health did not publish Wednesday an update to the total number of tests performed, which throws off the day's figures for the percentage of tests that are positive, but on average, over the last week, the state's seven-day rolling average of percent positivity has roughly 15 percent. 
Public health experts say the percent positivity should be at or below 5 percent — otherwise there isn't enough testing being done and cases are going undetected. 
Along with surging new cases, the number of COVID-19 patients hospitalized on Wednesday was higher than it's been since the beginning of the pandemic. On Wednesday 1,110 coronavirus patients were being treated in state hospitals, which was the fourth straight day of record current hospitalizations. 
UAB Hospital's COVID-19 Intensive care units were nearing their existing capacity Tuesday. The hospital has both a COVID ICU and a COVID acute care unit designated to keep patients separated from those who don't have the virus, but it has more space in other non-COVID units should it need to add additional bed space.

Hospitals in Madison County this week are also seeing a surge of COVID-19 patients. Paul Finley, the mayor of the city of Madison, told reporters Wednesday that local hospitals were reporting record numbers.

Hospitals there were at 80 to 90 percent capacity.
"Our ambulances yesterday had their greatest number of runs since this started," said Crestwood Hospital CEO Dr. Pam Hudson on Wednesday, adding that in about 20 percent of calls staff is having to wear full personal protective equipment. "That indicates that they are working with patients who have symptoms that could be compatible with COVID."
Meanwhile, Madison County set a new daily record, adding 286 cases Thursday, the first time the county has surpassed 200 cases a day. The county was largely spared early on in the pandemic, with low case counts and low death rates, but roughly 42 percent of Madison County's total case count since March has been reported in the last week as 803 new cases have been added.
Jefferson County and Madison County, over the last week, have accounted for 26 percent of the state's new cases.
Jefferson County led the state in the most new cases Thursday with 343 and has added 1,498 cases in the last week. The county's total cases increased by 33 percent from last week, and stood at 6,030 confirmed COVID-19 cases Thursday.
While Jefferson County and Madison County are seeing the state's most intense increases, other large counties including Shelby County, Baldwin County and Tuscaloosa County have also seen record increases and rising percent positive rates.
At least 81 people have died from COVID-19 in the last week, and 162 people have died in the last two weeks.
At least 1,042 people have died from COVID-19 since March, and at least 26 other deaths are listed as "probable" COVID-19 deaths.