East Alabama Medical Center is continuing to urge residents to stay at home as the number of patients it is treating in the hospital for COVID-19 has been rising again after a brief decline before Easter. The hospital in Opelika, Alabama, has been near the epicenter of a major COVID-19 outbreak in Lee, Chambers and Tallapoosa counties near the Georgia border.
The hospital says it is treating 62 patients with confirmed or pending cases of COVID-19. Of those, seven are on ventilators. It has successfully treated and discharged at least 78 patients who have tested positive for COVID-19.
EAMC has asked the community to social distance since the last week of February, almost two months ago, before Lee and Chambers county saw significant outbreaks begin in mid-March. Since confirmed cases began to rise rapidly in late March, Chambers County has had the highest number of cases per capita in the state.
At least 52 people have died from COVID-19 in Lee, Chambers and Tallapoosa counties since the outbreak began.
EAMC admitted its first patient with COVID-19 on March 16. By April 9, the hospital had 84 positive or pending cases.  The number of COVID-19 patients the hospital saw in early April required the hospital to move critically ill COVID-19 patients into a second dedicated intensive care unit.
"At the time, we did not know how much worse it was going to get, but now we believe that the week of April 5-12 was our peak for COVID-19 hospitalizations," said Dr. Michael Roberts, EAMC's chief of staff. "Unfortunately, COVID-19 does not leave a community the same way it enters. The number of COVID-19 patients at EAMC is expected to ebb and flow over the next few months. Temporary increases in patients may follow events like Easter, when people gather in larger numbers. We expect to have COVID-19 cases at EAMC for some time, and though we hope to see those numbers gradually decline, it will not be as fast as any of us wish."
After a five-day decline in cases just before Easter, EAMC said Friday that it has seen eight straight days where the number of hospitalized cases have been above that low mark on April 15.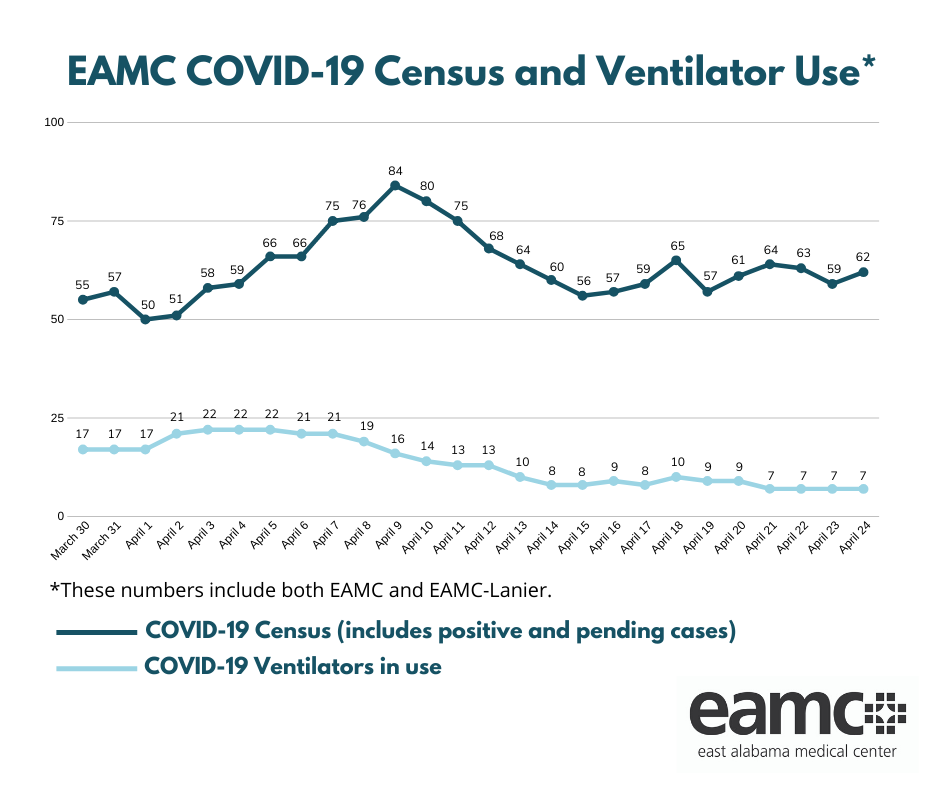 "With talk of 're-opening' in Alabama, the concern is there a risk of a second wave, and perhaps even a new peak, if the social distancing and hand hygiene guidelines are not followed closely," the hospital said in a statement.
Speaking to APR earlier this week, Alabama Hospital Association President Donald Williamson and UAB infectious diseases expert Jodie Dionne-Odom urged caution and restraint as discussions abound about lifting the state's stay-at-home order and relaxing other restrictions on the economy in the days and weeks ahead.
Gov. Kay Ivey has said she plans to keep her shelter-in-place order in effect until at least April 30.
"Social distancing has helped tremendously, and at our peak, we were very close to surpassing our capacity," said Dr. Ricardo Maldonado, EAMC's infectious disease specialist. "Doing the wrong things like church services or other mass gatherings will bring the number of cases up again. COVID-19 does not appear to cause serious infections in most healthy and young individuals, but if the young and healthy begin to stop social distancing, they can pass it on to those at risk for serious infections. It is critical to remember that this is not people as individuals, but about our community, especially the ones who are vulnerable."
There has been a lot of good news out of East Alabama, though. EAMC reported Friday that it has seen a dramatic increase in the number of patients on ventilators, partly because doctors there have learned how to intervene earlier.
"As this pandemic has evolved, we have become more accustomed to recognizing the early symptoms of COVID-19, and we have more of an opportunity to make adjustments which may head off severe respiratory failure," Roberts said. "You have to remember that 6 weeks ago, no physician on our staff (or in our state, for that matter) had ever cared for a patient with COVID-19. We are all highly motivated and we are learning every day. We have continued to make adjustments to our management strategies for COVID-19 patients based on our experiences here as well as information we receive from our colleagues around the country. This has also allowed more patients to recover from COVID-19 without requiring ventilators."
Amy Brandon, director of the Emergency Department at EAMC, explained that the virus is still circulating in the community even with social-distancing and stay-at-home orders in effect. It has not gone away.
"We have certainly seen more surges of COVID-19 symptoms in the ED since Easter," Brandon said. "This is an indication that the virus continues to spread in our community, despite precautionary measures in place by government leaders and healthcare officials. I urge everyone to not underestimate the seriousness of this illness and the devastating effects we have seen among the patients and families we care for."
"The most important things for community members to do is obey Governor Kay Ivey's stay-at-home order until April 30," said Dr. Steven Presley, another doctor at EAMC. "We will see another spike in cases if people don't obey these guidelines. If we want this to end soon, we must comply now."
Guidelines that will save lives are simple, according to EAMC:
Shelter in place at home. That means staying at home with immediate family members only and not leaving your home except for essential activities such as food, medical care, or work.
Maintain at least a 6-foot distance from other people at all times, even when outdoors.
Be vigilant about washing your hands. Wash them frequently throughout the day and for at least 20 seconds each time.
Disinfect high-touch surfaces, including cell phones, frequently
If you leave your house, wear a cloth mask to protect yourself and protect others.
Governor establishes Prison Repurposing Commission
Gov. Kay Ivey and Alabama Department of Corrections Commissioner Jeff Dunn have said that as many as 11 of the state's 13 existing men's prisons could close.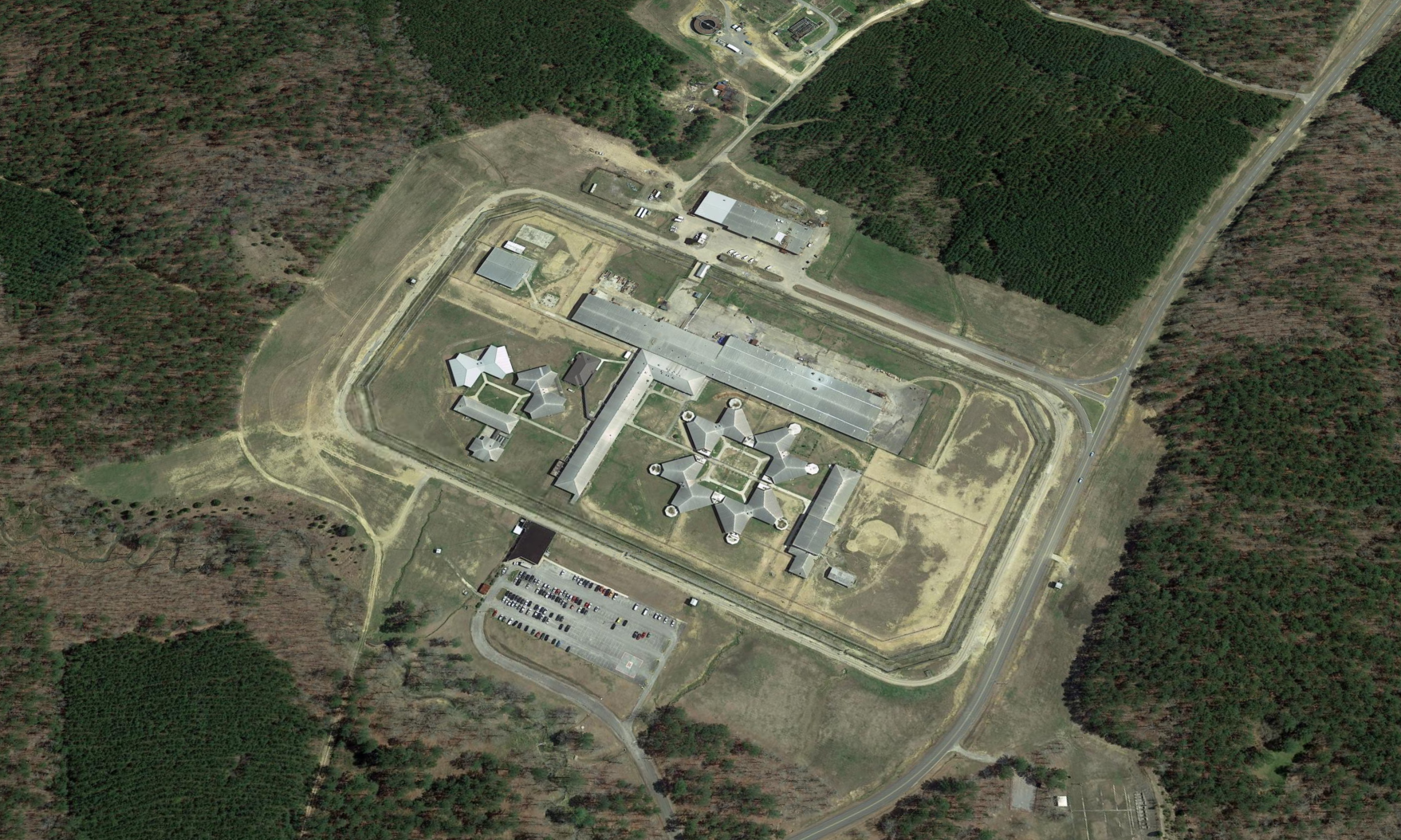 Gov. Kay Ivey on Tuesday signed an executive order establishing the commission that will be tasked with deciding what to do with the state's existing men's prisons, once three new prisons are constructed, at a cost that's been estimated to be more than $2 billion. 
According to the order, the 15-member Alabama Prison Repurposing Commission will have until Sept. 1, 2023, "or 90 days after the Commissioner certifies to the Commission that construction on the final prison is complete" to submit a report detailing their recommendations for the state's prisons. 
Ivey and Alabama Department of Corrections Commissioner Jeff Dunn have said that as many as 11 of the state's 13 existing men's prisons could close. Ivey's order Tuesday states that the commission is to determine which prisons could be renovated and used as prisons, which could be renovated for other purposes for ADOC and "which should be repurposed to serve a new function, whether by another public entity or the private sector." 
"The Alabama Prison Repurposing Commission will provide recommendations based on in-depth facility analysis considering both the impact on the state and local community as well the financial ramifications to potentially repurpose or decommission some of our current prison infrastructures," Ivey said in a statement. 
"As our Alabama Prison Program moves forward in building three new prisons to provide additional safety for correctional staff and inmates, we will simultaneously need to smartly and safely repurpose or decommission these outdated, aging prisons, many of which were never designed or constructed to be correctional facilities for their current use or capacity," Ivey continued. "I'm confident this commission, which is comprised of a broad, experienced and diverse group of individuals who represent all regions of our state, will accomplish its mission effectively on behalf of the people of Alabama. This process will allow both public officials as well as members of the general public to have a meaningful voice in the future of our existing prison infrastructure."
Ivey's order states that the commission should hold at least one public meeting "in a local community near each existing male prison" but that "other meetings of the Commission shall be open to the extent practicable but shall, in all events, be closed to the extent necessary to protect information related to the Department's ongoing or anticipated security operations and other confidential information."
Ivey on Sept. 3 announced the two developer teams that are to build the state's three new mega prisons, and said those prisons are to be located in Bibb, Elmore County and Escambia counties.
The private prison company CoreCivic is to build and lease back to the state two of the three prisons, according to Ivey's office; one in Elmore County, where several locations are under review, and the other to be located near Bell Fork Road in Escambia County.
The prison to be located near AL-139 and County Road CR-2 in Bibb County is to be built by a group called Alabama Prison Transformation Partners, made up of Star America, BL Harbert International, Butler-Cohen, Arrington Watkins Architects and Johnson Controls Inc.
ADOC has said the department won't release financial details of the more than $2 billion prison build-lease plan with the private companies until after the deals are signed. Once those leases have run their course, the state won't own the three prisons, Dunn told state legislators in June. 
The Alabama Prison Repurposing Commission members include:
Neal Wade (Chair) is the former director of the Alabama Development Office, the precursor to the Alabama Department of Commerce, and currently serves as the Managing Partner of Advanced Economic Development Leadership for the National Economic Development Education Program.
Sen. Greg Albritton is Chairman of the Senate Finance and Taxation General Fund Committee and was elected to represent District 22 in the Alabama Senate, which includes Baldwin, Clarke, Escambia, Monroe, and Washington counties. Senator Albritton previously served in the House of Representatives and is a retired Commander in the U.S. Navy.  He is an attorney and a graduate of the Thomas B. Goode Jones School of Law.
Ben Baxley currently serves as Chief of the Opinions Division in the Alabama Attorney General's Office. He previously served as the Deputy Chief of the Criminal Division in the office of the United States Attorney for the Middle District of Alabama. After graduating from the University of Alabama School of Law, Baxley began his legal career with the Tuscaloosa County District Attorney's Office and worked as Chief Deputy District Attorney for Dekalb and Cherokee counties.
Ted Clem is the Director of Business Development for the Alabama Department of Commerce.Clem joined Commerce in February 2014 as a senior project manager and played a key role in two projects in Opelika that involved $340 million in capital investment and nearly 400 new jobs. Clem began his career in Evergreen, as the first Executive Director of the Conecuh County Economic Development Authority. He later served with the Covington County Economic Development Commission before moving on to a business development post at the Pensacola Chamber of Commerce, followed by a stint the Bay County Economic Development Alliance in Panama City. Clem holds the Certified Economic Developer certification and earned a Bachelor's degree in Journalism from Troy University, and received a Master's degree in Economic Development from the University of Southern Mississippi.
Sen. Linda Coleman-Madison was elected to represent District 20 of the Alabama Senate, which includes Jefferson County. She previously served one term in the Alabama House of Representatives and three terms on the Birmingham City Council. She recently retired from the City of Birmingham as the Americans with Disabilities Compliance Administrator. Sen. Coleman-Madison received her Bachelor of Science degree from Alabama A&M University, and her Master of Arts degree from the University of Alabama at Birmingham.  She serves as the Ranking Minority Member of both the Senate Finance and Taxation General Fund and Governmental Affairs Committees.
Harold Crouch is currently the mayor of Chatom where he has served for 24 years. He was previously on the City Council for two terms. He has also taught government, history, and economics.
Darius Foster is the CEO & Co-Founder of H2T Digital. He received a BS in Business Administration from Miles College and a GC in Business Strategies for Social Impact from The Wharton School. He is a current member of the Board of Directors for the Business Council of Alabama as well as a former Commissioner of the Alabama Commission of Higher Education.
Annette Funderburk is the President of Ingram State Technical College which serves a 100 percent incarcerated adult population that delivers career technical, GED and job skills training at six locations across Alabama. She previously served nearly 10 years within the Alabama Community College System where her most recent role was Director of External Affairs. Before working within the two-year college System, Funderburk served in several roles related to local government including a Municipal Consultant, responsible for securing grant funds for infrastructure and development projects, as well as a County Administrator for the Tallapoosa County Commission. Funderburk has a Bachelor of Business Administration from the University of Montevallo and a Master's in Public Administration from Troy University.
Rep. Kelvin Lawrence was elected to represent District 69 of the Alabama House of Representatives which includes Autauga, Lowndes, Montgomery and Wilcox counties. He previously served as the Mayor of Hayneville and worked as a home builder as well as owning several Subway sandwich shop franchises.  He serves on the Ways and Means General Fund and State Government Committees in the House of Representatives.
Merceria Ludgood currently serves as a Mobile County Commissioner, District One, attorney and civic leader. She earned her Bachelor of Science degree from the University of Alabama, followed by a Master of Arts degree. She earned her law degree from the Antioch School of Law An avid supporter of higher education, Ludgood also earned a Master of Divinity degree from the Alabama Interdenominational Seminary in 1990.Ludgood is the recipient of numerous honors and awards, including being selected for Leadership Mobile, Leadership Alabama and the prestigious Kellogg National Leadership Fellowship. The commissioner has distinguished herself as a member of the inaugural class of "Herstory of Mobile," a Museum of Mobile project recognizing the outstanding contributions of women to the social, economic and cultural heritage of the Gulf Coast region.
Walter Givhan, Maj. Gen., USAF (Retired) currently serves as Senior Vice Chancellor for Advancement and Economic Development at Troy University. He is also the Commander of the Curtis E. LeMay Center for Doctrine Development and Education and Vice Commander of Air University at Maxwell Air Force Base. The center is responsible for the research, development, and production of Air Force doctrine and input for joint and multinational doctrine development activities. The center is also responsible for advocating the proper doctrinal representation of airpower in exercise scenarios, war games, models and simulations, and providing policy and guidance of Air Force doctrine through education and focused outreach. Air University is responsible for Air Force enlisted and officer professional military education, professional continuing education and graduate education, as well as officer commissioning through Officer Training School and the Reserve Officer Training Corps. General Givhan, a native of Safford, Ala., graduated from Morgan Academy in Selma, Ala., and the University of the South in Sewanee, Tenn., where he was a National Merit Scholar. 
Allen G. Peck, Lt. Gen., USAF (Retired) is an Assistant Professor in the Department of Airpower and General George Kenney Chair at the United States Air Force's Air Command and Staff College (ACSC). In addition to instructing the Airpower Studies courses, Peck has taught the Joint Warfighting and Leadership Development core curriculum courses at ACSC. He also serves as co-facilitator for the joint Air War College/ Air Command and Staff College Airpower Vistas Research Task Force joint elective. Peck served for 36 years on active duty in the USAF, flying the air-to-air and air-to-surface variants of the F-15. He was a key planner for NATO's Kosovo operation, and later served as Deputy Combined Force Air Component Commander at Al Udeid Airbase, Qatar. Peck holds an MS in Operations Research from the Air Force Institute of Technology, an MA in International Relations from Salve Regina University, and is currently a Ph.D. candidate at Embry-Riddle Aeronautical University.
Rep. Connie Rowe is the Vice Chair of the Majority Caucus in the House of Representatives.  She also serves as Vice Chair of both the Rules Committee and Military and Veterans Affairs Committee. Representative Rowe was elected to represent District 13 of the Alabama House of Representatives, which includes Blount and Walker counties. She previously served as Police Chief for the City of Jasper as well as a criminal investigator for the Walker County District Attorney's Office.
Kyes Stevens is the Founder and Director of the Alabama Prison Arts + Education Project at Auburn University.  Starting in 2001, she has worked to design and build an innovative and sustainable outreach program that works with the underserved adult prison population in Alabama. Stevens oversees all aspects of APAEP programming. She has served as a grants reviewer for the National Endowment for the Arts and the Alabama State Council on the Arts, was an inaugural member of an emerging arts administrators organization in Alabama, and works in advisory capacities nationally for individuals and programs seeking to develop arts and education programming within prisons. She is the fourth generation of her family to work in Outreach at Auburn University and was awarded an Auburn University Young Alumni Award for her efforts building APAEP. She was also an inaugural recipient of the Lillian E. Smith Writer in Service Award and continues to publish poems.
Willie Williams, Lt. Gen., USMC (Retired) is a senior consultant and Owner/President of Williams Consulting, LLC based in Huntsville assisting the Department of Defense-supporting contractors and industries in strategic business development. Williams previously served as the Chief of the Marine Corps Staff, Headquarters Marine Corps, Washington, DC, where he was responsible for day-to-day operations at headquarters, coordinating decision-making association activities across internal and external staffs of, in addition to the Marin Corps, principal assistant and adviser to the Commandant and the Assistant Commandant of the Marine Corps as they led and managed its 200,000 members, and their military readiness effectiveness. Willie was commissioned into the officer ranks after earning his Bachelor of Arts (Cum Laude) in Business Administration from Stillman College. He also holds a MBA from National University and a MS in Strategic Resources Management from Industrial College of the Armed Forces at National Defense University.