Daniels: Alabama Democrats won't participate in legislative session
When the Alabama Legislature returns for the end of the 2020 Legislative Session next week, Alabama Democrats won't be there. 
House minority leader Anthony Daniels told the "Alabama Politics This Week" podcast on Thursday that he and "99 percent" of Democratic lawmakers plan to stay home and not participate in a session, in the middle of a global pandemic, that they believe to be unnecessary and dangerous. 
"My luck and my chances (for not contracting COVID-19) are going to be better, because Anthony Daniels is going to be at home," Daniels said. "I think you'll see 99 percent of (Democrats) joining me in this effort." 
Democrats have been extremely critical of Republican leadership's call to return the legislature to session this week — a move that Republicans claim will allow lawmakers to pass budgets and give state departments guidance on spending and finances. 
Listen anywhere you get your podcasts.
However, Democrats say that contention is ridiculous since no one knows at this point just how damaging the two-month shutdown of state businesses will be on tax revenue. And they are concerned that passing budgets that don't reflect the reality of the state's economic situation will only lead to one or more costly special sessions in the future. 
"It doesn't make any sense for us to try to build a budget blindly," Daniels said. "Look at the sales tax. That's what feeds the education trust fund. There's no way to predict what consumer behavior is going to be in light of this pandemic. We don't have the answers we need at this point."
Daniels said that forcing a session now, and then having to return later this summer or fall for a special session, would cost state taxpayers about $400,000 at a time when the state is desperate for revenue. 
Because of those reasons — and the danger that contracting the virus poses to so many over-60 lawmakers — Daniels said he and his fellow Democrats are staying home, where they'll do actual work in their districts to help their constituents. 
"Serving your constituents is more than going to Montgomery and voting," Daniels said. "Democrats work every day in their districts, helping the folks in their communities get PPEs, getting meals and resources to people who need them. That's real work."
What effect the Democrats' absence on the Legislature will have is unclear. Under normal circumstances, Republicans, which hold a super-majority in both houses, should have enough members to get a quorum and conduct business. 
However, many Republican lawmakers, particularly those with medical issues, have privately expressed reservations about returning for the session. Several have made plans to miss all or parts of the session if their votes weren't necessary. The Democrats' absence would cause problems. 
Additionally, it would be less than ideal optics for a legislative session that will already ban the public and severely limit press access, and ostensibly leave Republicans passing legislation alone and without oversight, public input or bipartisan negotiation of any sort. 
"They have the numbers to reach a quorum without us, but they have some members with underlying health conditions," Daniels said. "I'm told they might have a quorum, but looking at where we are, it doesn't make any sense to try and build a budget blindly. Continuing this session at this point sends a terrible message."
Alabama lawmaker pre-files legislation to allow removal of Confederate monuments
If passed, the measure would permit counties and cities to relocate historic monuments currently located on public property.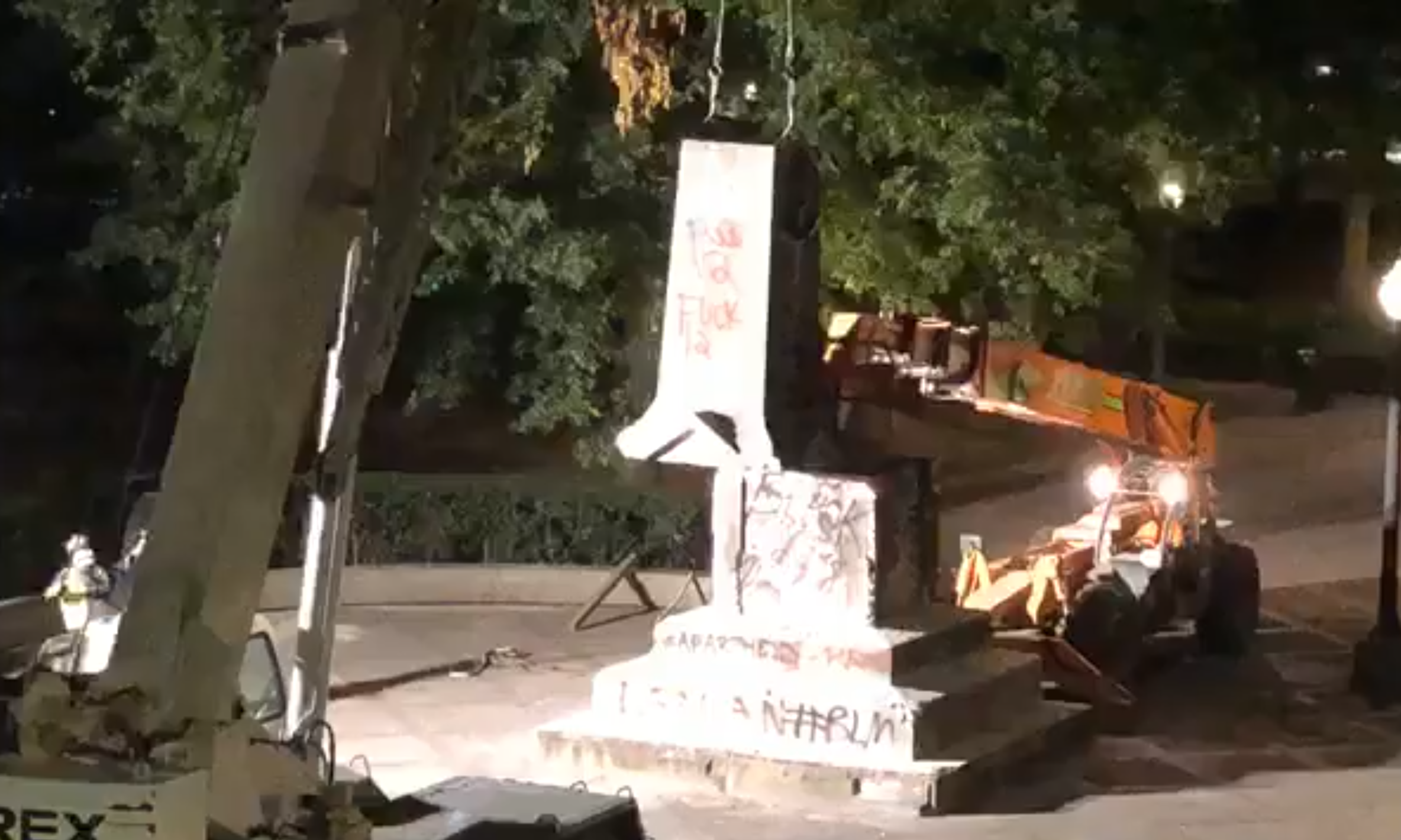 Alabama State Rep. Juandalynn Givan, D-Birmingham, introduced legislation this week in advance of the 2021 legislative session that, if passed, would permit counties and cities to relocate historic monuments currently located on public property. Givan's bill, HB8, would also provide for the relocation of historic memorials to sites appropriate for public display.
"Across the state of Alabama, citizens are calling for the removal of prominently placed statues and monuments that are insensitive or offensive to the communities that surround them," Givan said. "City and county governments must be able to address the demands of their citizens. This legislation provides a tool for local governments to safely remove these artifacts so that they can be moved to a site more appropriate for preserving or displaying the historical monument."
Removing the monuments and historical markers is currently illegal under Alabama's Memorial Preservation Act, which the state Legislature passed in 2017. Givan has been an outspoken opponent of that Republican-sponsored legislation. In 2018, Givan introduced a measure to repeal the bill that barred the removal of monuments.
"I believe HB8 can achieve bipartisan support," Givan said. "My bill seeks to balance the wishes of the people. It respects the will of communities that want the monuments removed. It also respects those who wish to preserve history. With this legislation, Confederate monuments could be relocated to a public site, like Confederate Memorial Park, whose purpose and mission is to interpret and tell these stories. When the Legislature convenes, I hope to have the support of both the House of Representatives and the Senate."
If enacted, HB8 would permit county and municipal governments to remove memorial monuments, including permanent statues, portraits and markers, located on public property in their jurisdictions. It would require a transfer of ownership of the removed monuments to the Alabama Department of Archives and History or the Alabama Historical Commission. Finally, the bill would instruct Archives and History or the Historical Commission to maintain and display monuments removed by local authorities in a location accessible for public display.
The Southern Poverty Law Center, which keeps track of Confederate monuments and memorials across the country, released an update to its Whose Heritage report, which tracks symbols of the Confederacy on public land across the United States. They report at least 30 Confederate symbols have been removed or relocated since George Floyd's death on May 25, 2020.
These include 24 monuments removed, 5 monuments relocated and the Mississippi state flag replaced. Since the Charleston church shooting in 2015, 115 total symbols have been removed from public spaces. These include 87 monuments that have been removed or relocated from public spaces. At least 78 monuments were removed and nine were relocated.
SPLC says there are still nearly 1,800 Confederate symbols on public land, and 739 of those symbols are monuments. The SPLC has prepared an "action guide" to help community activists target Confederate historical markers and memorials for removal.
President Donald Trump has denounced what he calls "cancel culture" that seeks to remove historical monuments and statutes.
"There is a growing danger that threatens every blessing our ancestors fought so hard for, struggled, they bled to secure," Trump said. "Our nation is witnessing a merciless campaign to wipe out our history, defame our heroes, erase our values, and indoctrinate our children."