The COVID-19 model that has been widely cited by officials in Alabama and the White House's coronavirus task force has been updated again, delivering a dire new projection that Alabama could see an eight-fold increase to its death toll by August and a new peak by late June or early July.
But for Alabama, in particular, the model has a wide range of uncertainty.
Previous iterations of the modeling from the University of Washington's Institute for Health Metrics and Evaluation have projected a total death toll for Alabama as high as 7,500 before being revised downward several times to as low as 294 in the model's April 29 revision. Every model has had a wide range of uncertainty.
Alabama, and the United States, have blown past the model's most recent average projections. Alabama reached 298 deaths Monday, a death toll not projected to be reached until August, according to the model. IHME now estimates that Alabama could see 2,308 deaths by August, which is nearly eight times the previous estimate.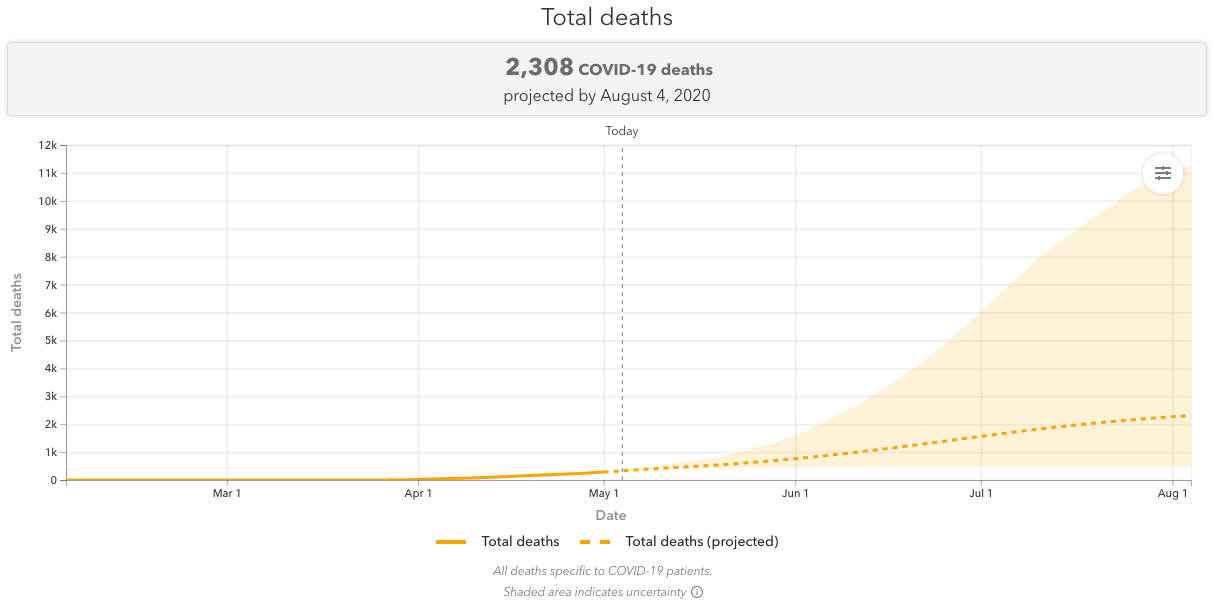 "The revised projections reflect rising mobility in most US states as well as the easing of social distancing measures expected in 31 states by May 11, indicating that growing contacts among people will promote transmission of the coronavirus," the institute said in a statement. "Increases in testing and contact tracing, along with warming seasonal temperatures – factors that could help slow transmission – do not offset rising mobility, thereby fueling a significant increase in projected deaths."
The White House frequently cited the IHME model, and officials in Alabama have said the model has been helpful in determining when the state could see peak resource usage and hospitalizations.
The national death toll has also surpassed the death toll projected by the iteration of model released on April 17, when it estimated 60,308 deaths by August. Nationwide, more than 60,000 people have already died from COVID-19, according to The New York Times and Johns Hopkins University. The model now estimates a death toll twice that of its previous version — 135,000 deaths in the United States by August.
IHME, in documentation explaining the changes to the model, lists Alabama as one of twelve states with significant changes to the average projected total death toll. Alabama doesn't have the largest absolute adjustment but relative to previous projections, Alabama has one of the most significant increases.
Other states with significant adjustments include Georgia, Florida, Indiana, Illinois, California and Texas.
"This new model is the basis for the sobering new estimate of U.S. deaths," said Dr. Chris Murray, the director of IHME. "The model will allow for regular updating as new data are released on cases, hospitalizations, deaths, testing, and mobility. It can also be used to identify what may be the trajectory to progressively relax social distancing while still limiting the risk of large-scale resurgence."
IHME cites Alabama as one of twelve states with really significant changes to the (average) projected total death toll.

Alabama doesn't have the largest absolute adjustment, but the new projected death toll is about 8x that of the April 29 projection. pic.twitter.com/GZ0v8CW99y

— Chip Brownlee (@ByChipBrownlee) May 5, 2020
The model's projections for Alabama have varied wildly over the past month and a half, and the uncertainty in the model for Alabama's projected death toll is still massive and is one of the larger ranges of uncertainty for any state.
Based on this update to the model, Alabama could have as few as 479 or as many as 11,264 deaths by August 1, but the model's average projection is 2,308. But it is not the only model that projects a worsening crisis.

An internal Trump administration model — developed by the Federal Emergency Management Agency and obtained by the New York Times — also projects a steady rise in the number of deaths over the next months. President Donald Trump has also revised his own personal estimate of the death toll, saying Sunday that the U.S. could reach 100,000 deaths, twice as many as he forecast two weeks ago.

What led to the change in the IHME model? The updated modeling now takes into account cell phone mobility data and easing of social distancing measures — as well as the observed death toll, which has exceeded previous projections. The other is an update to the model that now estimates longer projected peaks and slower downward trajectories.
"Based on the latest available data and updated models, most of these states are currently experiencing or have yet to experience their epidemic peaks – all of which appear to be lasting longer and declining more slowly after their peaks," the modelers wrote in their update notes. "Further, for a subset of states, the easing of social distancing policies has begun and mobility patterns are on the rise (or even started increasing before easing actions occurred)."
Alabama is listed as one of the states that has seen a marked increase in travel based on cell phone location data from Google, Facebook and other sources — even before Gov. Kay Ivey lifted her stay-at-home order last week.
"At the same time, many states are seeing mobility rise now – and these increases appear to have begun even before policies were eased," the modelers wrote. "These patterns have been observed in Alabama, Florida, Georgia, Idaho, Louisiana, Minnesota, Montana, and Texas, among others."
Ivey's new "safer-at-home" is a more measured and conservative reopening than the reopening plans announced in neighboring Georgia and Tennessee, where restaurants have been allowed to reopen. But public health experts have warned that any easing of social-distancing restrictions is sure to lead to increased rates of transmission of the virus. Dramatic increases in testing and contact-tracing, public health experts have told APR, are needed to stave off a worsening situation.
State Health Officer Scott Harris and Gov. Kay Ivey, when announcing their decision to lift some restrictions last week, said Alabama had not met the White House's gating criteria of two weeks of declining new cases but that a modest reopening was still in order.
"We are just bouncing on either side of this kind of fairly flat baseline," Harris said in an interview with APR the day before announcing the new safer-at-home order. "So I would say we're kind of stable, at this point."
Harris told APR last week and NBC's Meet the Press Sunday that Alabama could "dial back" easing of restrictions if the situation worsens.
"So there are different levels of response, and I think we just try to do it gradually and respond," Harris said. "And then if we have to dial back, we dial back. And if we are doing okay, we continue gradually easing restrictions."
On average, Alabama has reported 10 new deaths per day for the past seven days. As of May 4, 298 people in Alabama have died from COVID-19. That's an increase of 70 new deaths since April 27. At least 8,112 people have tested positive. On average, 225 new cases per day have been reported over the last seven days.
We are tracking all of the latest data and trends on our data and mapping dashboard.