Jones calls for continued social distancing, wearing masks amid partial reopening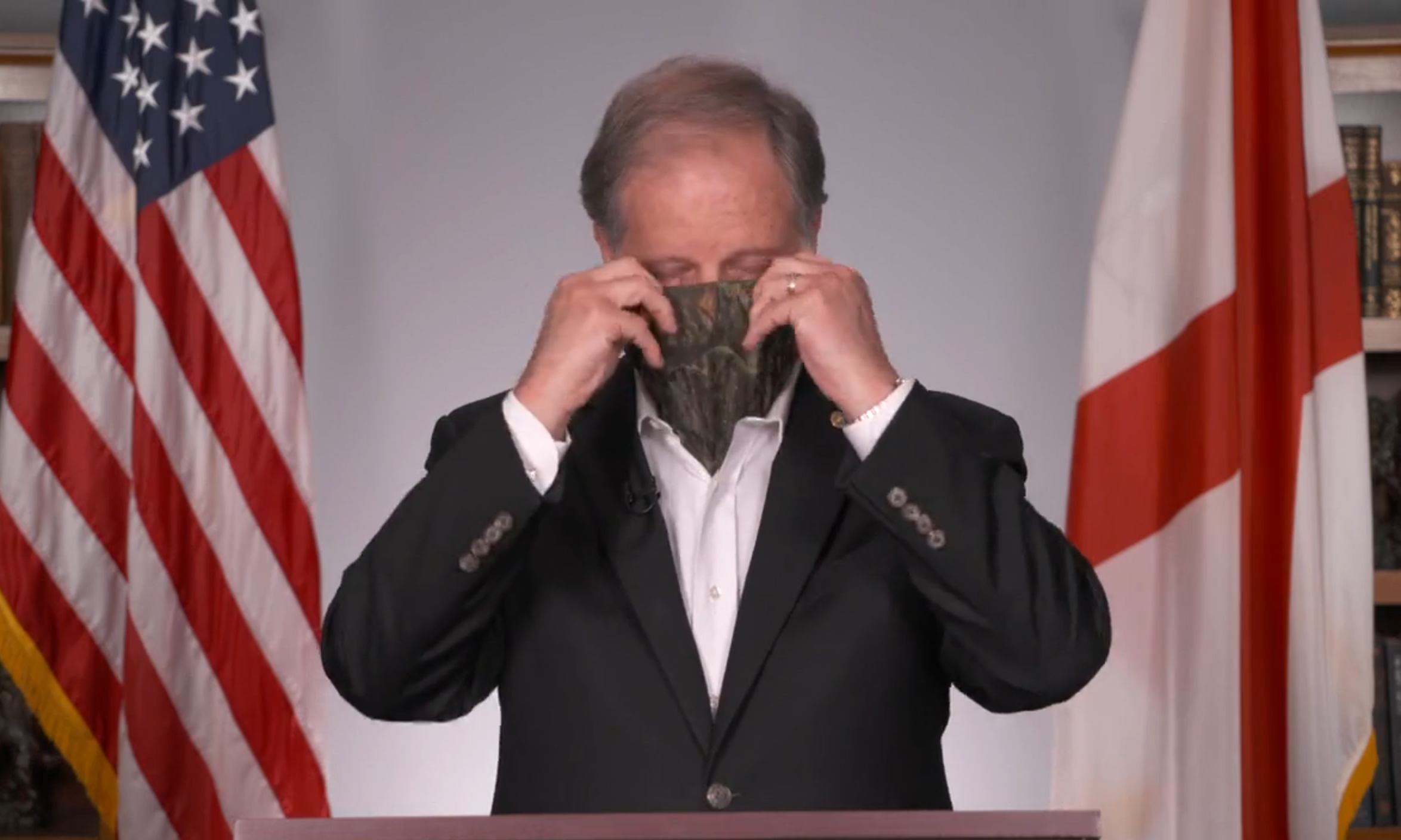 Sen. Doug Jones, D-Alabama, on Friday urged Alabamians to heed Gov. Kay Ivey's warning that, despite her decision announced earlier on Friday to relax more of the provisions of her "safer-at-home" order, COVID-19 is still with us, and still deadly. 
"I appreciate the fact that the Governor is doing all she can to walk a fine line between trying to get our economy open, trying to get folks out and going while at the same time following the advice of health care professionals," Jones said in a press conference Friday, moments after Ivey's own, in which she discussed the changes. "It's a difficult balance I think she's trying to thread here." 
Ivey's announced earlier on Friday that beginning at 5 p.m. on Monday restaurants, bars, gyms, barbershops and salons could reopen with social-distancing restrictions. 
The amended public health order also allows non-work-related gatherings of any size, so long as people can maintain at least 6 feet of physical distancing, a change from the previous order, which limited such gatherings to 10.
"But the key is really not the governor," Jones said. "The key is really each of us." 
Jones called for Alabamians to continue to practice social distancing, wear masks in public and to recognize that what they do today will impact what they'll be able to do in the coming weeks and months. A vaccine for coronavirus may be a long way away, he said. 
As of Friday, there were 9,188 confirmed COVID-19 cases and 374 deaths in Alabama caused by the virus, and 114,649 Alabamians had been tested for COVID-19.
Jones cited APR reporter Chip Brownlee's data analysis that uses Alabama Department of Public Health data to show that Alabama reported on Thursday nearly 2,000 new COVID-19 cases over the previous seven days. 
Those recorded cases were the highest number of new reported cases over a seven-day period since the outbreak began, and Thursday's 355 new cases was the largest single-day increase in newly reported cases.
"What we're seeing here is not just an aberration or a blip. This is a relatively-sustained increase," Jones said, adding that it may be in part because we're testing more, but that "that really shouldn't really give people any comfort." 
The more Alabama tests, the more cases the state finds, Jones said, which is a sign of continued community spread of the virus.  
Jones said he hoped the public wouldn't focus on what's going to be opened up starting Monday under the new public health order, but rather what Ivey said at the start of her press conference earlier on Friday. 
"Let me be crystal clear to the people of Alabama. The threat of this disease continues to be active, and it is deadly," Ivey said before discussing changes to the state's order. 
Jones did take exception to Ivey's statements earlier in the day, however, that she believes Alabamains are following existing distancing guidelines and staying home when at all possible. 
"That's not been what I've seen," Jones said, citing a University of Maryland study that showed that Alabamians aren't heeding the pleas to stay at home. 
According to the university's study of cell phone location data as of May 1, the percentage of people in Alabama who are staying at home was the lowest its been since March 16.
"Right now if you go out you're going to see a smaller percentage of folks wearing masks. You're going to see more people out, and they're not doing the social distancing," Jones said. 
Speaking of his work on legislation to aid in the recovery efforts, Jones said his Paycheck Security Act, if passed, would save American workers' paychecks and existing healthcare, and keep the businesses that hire them going amid the COVID-19 crisis, without the pressure to reopen too soon. 
"By doing that, we save lives and we save businesses," Jones said. 
Jones also said that next week he'll introduce a bill that would give businesses tax incentives to produce personal protective equipment – masks, gloves and gowns – and ventilators in the U.S., to free the country from dependence on international manufacturers of the live-saving products. 
Jones also suggested repurposing closed plants in Alabama to produce those items, bringing new jobs to the state and helping to save lives in the process. 
"We can make Alabama a healthcare-manufacturing hub," Jones said. 
Jones said in state-after-state, black Americans are contracting and dying from COVID-19 in greater numbers, and that President Donald Trump's administration's problems with testing and distribution of testing plays a role in that. 
Asked by APR whether, with the U.S. Bureau of Labor Statistics putting the national unemployment rate at nearly 15 percent on Friday, what more he thinks should be done to expand or shore up unemployment insurance, Jones said he thinks that "it is a given" that Congress will need to put more money into the program. 
"I think that the Payroll Protection Program that's in place now, we're going to have to look at that. We're going to have to extend deadlines," Jones said. 
But Jones said his bipartisan Paycheck Security Act legislation "is the only way that we can save these businesses. It's the only way we can save these individuals." 
Jones said that he doesn't foresee another emergency stimulus payment to individual U.S. citizens. 
"If we do the things that I think we should do, and that is to keep people on payrolls," Jones said, adding that he believes people would rather keep their jobs and the benefits that come with them, and to stay on the payrolls rather than get another one-time check. 
Gov. Ivey on Thursday sent a tersely-worded statement to the Republican-controlled state Legislature threatening to call off a likely special session later in the year if the lawmakers didn't give her a detailed plan for how they wanted to spend nearly $1.8 billion in federal COVID-19 aid money through the CARES Act. 
"I have already seen one 'wish list' that includes a new $200 million statehouse for the Legislature," Ivey said in the statement. "To me, that is totally unacceptable and not how President Trump and Congress intended for this money to be spent." 
Asked about the dispute between Ivey and the legislature over the federal aid, Jones said the nearly $1.8 billion to Alabama was intended to be spent on CARES Act-related expenses. 
"Certainly not on a new statehouse building to build a new Taj Mahal for legislators," Jones said. 
Jones said that he believes Ivey's response was strong, and sent state legislators a clear message, but that he may have done it differently. 
"I'd have probably just said 'to heck with you' and, you know, 'sue me'," Jones said. 
"It was a mess down there," he said. "But I hope, quite frankly, if the Legislature is going to do this they look very carefully at how this legislation was crafted and what it was intended to do, and that they follow Congress's intent, because we're going to try like crazy to get more money for state and local governments." 
"And if they start doing things like building $200 million statehouses then they will probably see that there will be very little appetite to give state governments any money and we will direct as much as we possibly can to cities and counties," Jones said. "Which is frankly where I want to see a lot of it directed anyway." 
Jones near the end of his press conference Friday also asked those in the public who've recovered from COVID-19 and who have and been tested and shown to have antibodies, to donate blood to help save others with the virus. 
"That is going to be so, so important going forward," Jones said. "As folks recover, please consider doing that."
Sewell votes to keep government open, extend programs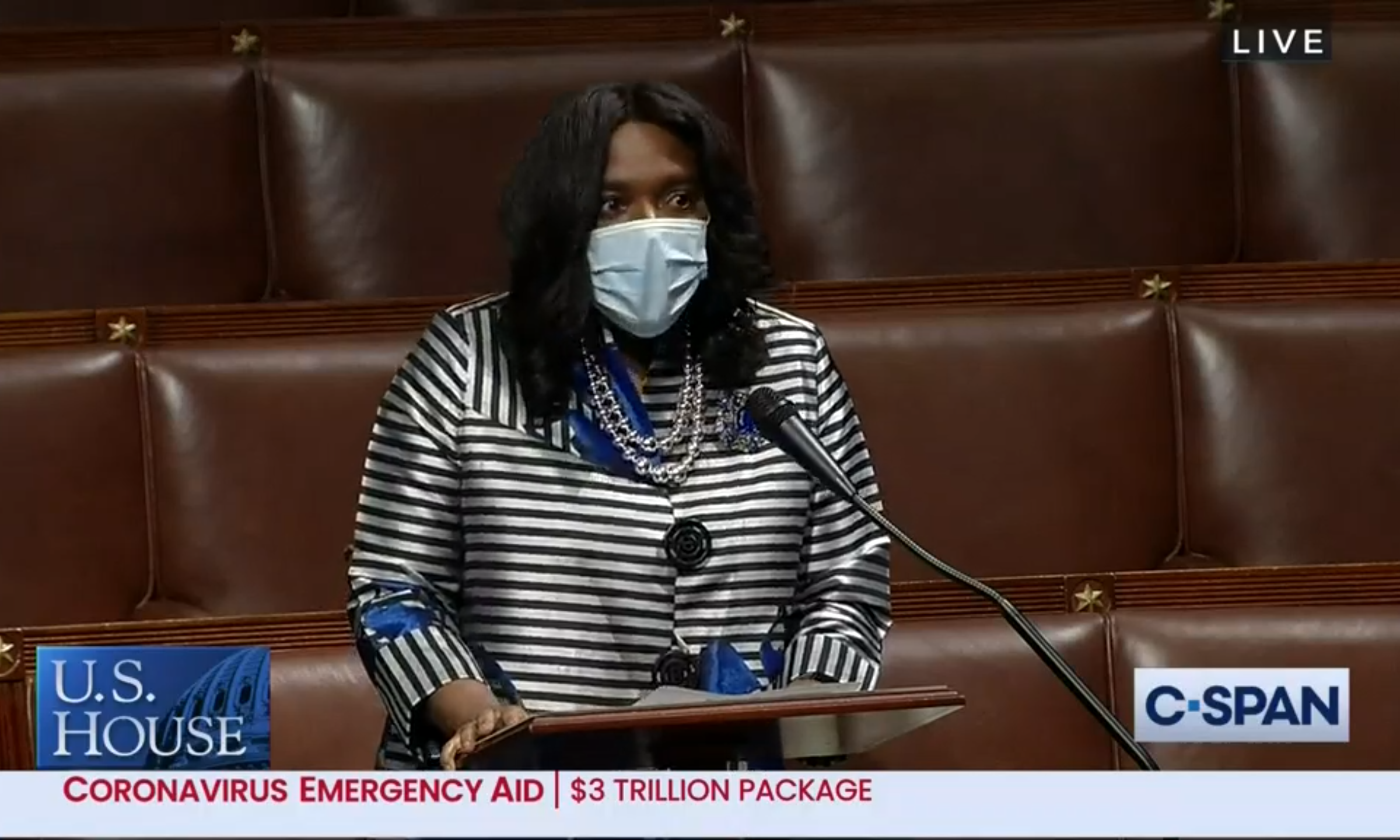 Congresswoman Terri Sewell, D-Alabama, this week voted for a measure to continue funding for the programs contained in the 12 annual appropriation acts for FY2020. The bill, HR8337, passed the House in a final vote of 359 to 57 and 1.
"I voted for today's legislation to avert a catastrophic government shutdown and fund the critical programs that my constituents depend on," Sewell said.
"At a time when our country is in the middle of a pandemic and millions of Americans are losing their homes and livelihoods to natural disasters, including hurricanes on the Gulf Coast, our government needs to be fully funded and operational so that the American people can get the resources they need," Sewell said. "I am particularly proud of the provisions Democrats secured to save our seniors from a Medicare Part B premium hike, protect health, housing, and other programs for Veterans, and to provide repayment relief for our health care providers at the frontlines of the COVID-19 pandemic."
The resolution provides funding for critical government programs through Dec. 11 and extends vital health, surface transportation and veterans' programs.
"While I'm disappointed that Senate Republicans and White House didn't come to the table to agree to pass the long-term FY2021 funding bills that the House passed earlier this year, I look forward to working with my colleagues to make sure a long-term funding bill is passed before this CR expires in December," Sewell said. "Additionally, an agreement on further Coronavirus relief legislation is desperately needed. Millions of Americans have lost their jobs and as the pandemic continues, municipalities, health care providers, essential workers, and small businesses are running out of resources from the CARES Act and relief is needed now."
HR8337 included a list of programs that Sewell worked directly with House appropriators to secure in the FY2020 funding bill, which are extended in Tuesday's continuing resolution. These include:
Rural Water and Waste Disposal Program Loans
Summer Electronic Benefits Transfer for Children (Summer EBT) program
Commodity Supplemental Food program
Temporary Assistance for Needy Families (TANF) program
2020 Decennial Census Program
Community Health Centers
Teaching Health Centers Graduate Medical Education Program
Special Diabetes Program
Grants for transportation to VA medical facilities for Veterans living in "highly rural" areas
Childcare assistance for Veterans while they receive health care at a VA facility
An initiative to assess the feasibility of paying for veterans in highly rural areas to travel to the nearest Vet Center, a community-based facility that provides readjustment counseling and other services
The bill also funded the Department of Labor's homeless veteran reintegration programs, such as job training, counseling and placement services.
Additionally, the legislation:
Ensures USDA can fully meet the demand for Direct and Guaranteed Farm Ownership loans, especially for beginning and socially disadvantaged farmers
Allows increased flexibility for the Small Business Administration to process certain small business loans and SBA Disaster Loans
Provides a one-year extension for surface transportation programs, including federal highway, transit, and road safety programs
Reauthorizes the Appalachian Regional Commission for one year
Delays a scheduled $4 billion reduction in funding for disproportionate share hospital (DSH), which are hospitals that serve large numbers of low-income and uninsured patients
Protects Medicare beneficiaries from the expected increase in Part B premiums for 2021 that is likely to result from the COVID-19 public health emergency
Provides repayment relief to health care providers by extending the time in which they must repay advances and reducing the interest rate under the Medicare Accelerated and Advance Payment program until the end of the COVID-19 pandemic
Allows Federal Emergency Management Agency (FEMA) to use the full amount available in the Disaster Relief Fund to respond to declared disasters
Increases accountability in the Commodity Credit Corporation, preventing funds for farmers from being misused for large oil companies
Ensures schoolchildren receive meals despite the pandemic's disruption of their usual schedules, whether virtual or in-person, and expands Pandemic EBT access for young children in childcare
It has been 20 years since Congress has passed a balanced budget.
Sewell is running for her sixth term representing Alabama's 7th Congressional District. Sewell has no Republican opponent in the Nov. 3 General Election.