Sessions and Tuberville spar over Sessions' role in the hiring of Robert Mueller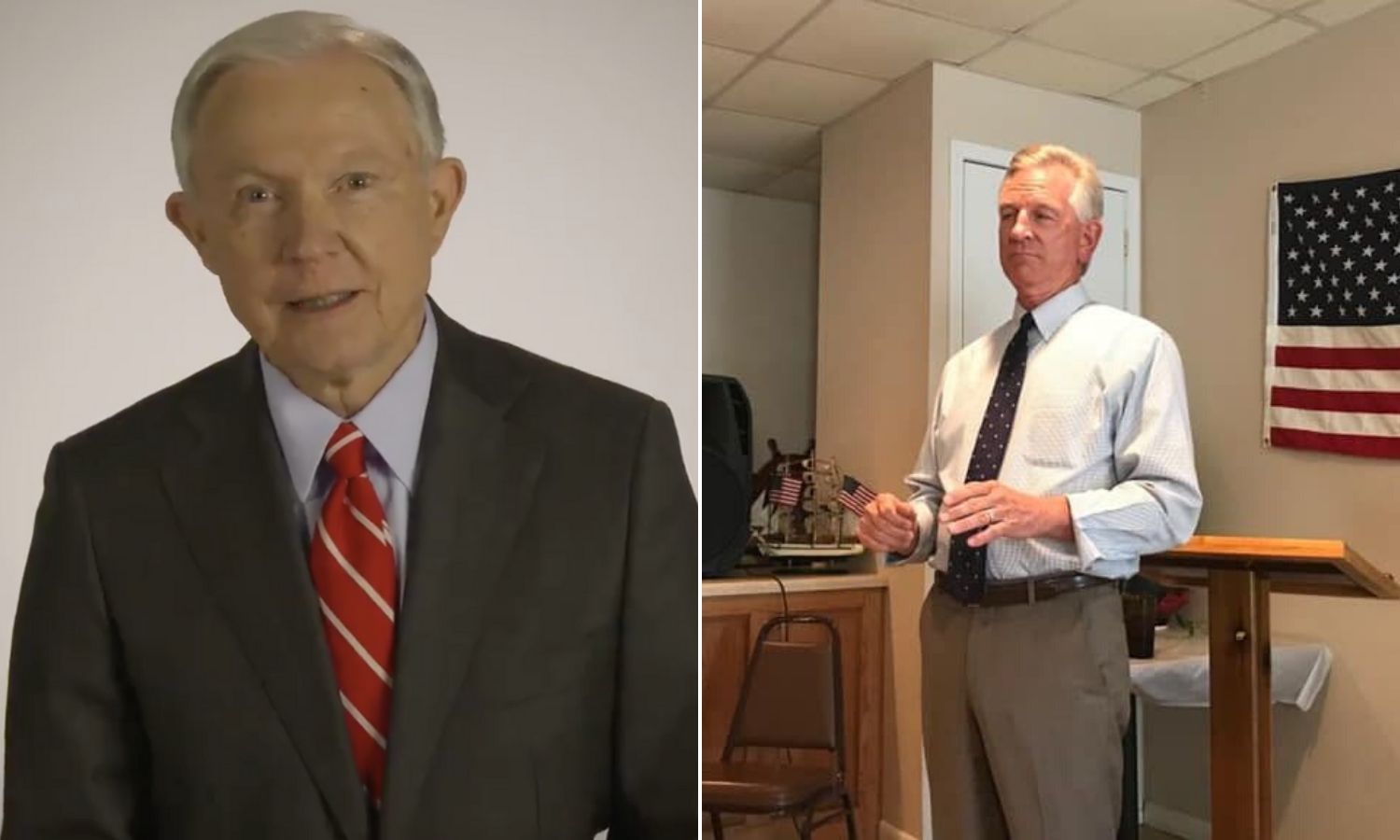 Monday, former Auburn head football Coach Tommy Tuberville's campaign used the third anniversary of the Robert Mueller appointment in the Russia collusion investigation to began airing a television ad that features President Donald Trump's pointed criticisms of Jeff Sessions as attorney general. Mueller was not appointed by Sessions; but rather by his Deputy Attorney General Rod Rosenstein, a Trump appointee, after Sessions' decision to recuse himself from the investigation after it was discovered that Sessions had had two meetings with the Russian ambassador during the 2016 campaign for President/
"Jeff Sessions' decision to recuse gave birth to Robert Mueller's appointment, so this third anniversary week was a perfect time to air this commercial," Tuberville campaign manager Paul Shashy said. "And because Jeff Sessions failed Donald Trump when he chose to turn tail and run as attorney general, our ad uses the president's own words to tell the story."
The 30-second Tuberville commercial is airing on televisions channels across the state as well as on social media.
The campaign highlights an interview in which President Donald J Trump (R) told NBC's Chuck Todd that if he could have one do-over as president he "Would not have appointed Jeff Sessions to be attorney general."
Tuberville said, "Jeff Sessions quit on the president, and he failed Alabama. I'll always have President Trump's back."
Sessions defends his record and his decision to recuse himself in the Russian collusion investigation.
"I have remained faithful to the President and his agenda," Session wrote. "I have always stood up for him, and I never backed down, not even for one moment. My convictions are immovable, built on rock, not sand. As the world knows, the President disagreed with me on recusal, but I did what the law required me to do. I was a central figure in the campaign and was also a subject of and witness in the investigation and could obviously not legally be involved in investigating myself. If I had ignored and broken the law, the Democrats would have used that to severely damage the President."
"Throughout this campaign, Sessions has claimed that nameless, faceless Justice Department bureaucrats demanded that recuse himself from the investigation, and he had no other choice than stepping down," Tuberville responded. "So, without even a courtesy call to the man who appointed him, Sessions abandoned his president and fed him to the wolves, and he almost bought down the entire Trump presidency in the process."
Sessions said that he offered Trump his resignation when he recused himself; but the President refused it.
"The investigation was a disruptive and prolonged fiasco for America and especially for President Trump, and a massive waste of money chasing the deep-state myth of Russian collusion," Sessions wrote. "Recently disclosed documents also reveal the extent of former FBI Director James Comey's underhanded efforts to undermine our President. One thing you may not know is that I advised from the beginning of the administration that Comey should be removed and the FBI given a fresh start. I concluded that Comey was driven by ego, lacked self-discipline, and lacked the judgement necessary to lead an agency as critical as the FBI, as was evidenced by the completely improper way he declined to prosecute Hillary Clinton. The end result of the Mueller investigation is that the President (and I) were fully exonerated, so much so that the subsequent Ukraine impeachment witch hunt did not even mention the phony Russian collusion idea."
"On-going revelations about inappropriate actions by entrenched liberals at the Justice Department and the FBI indicate that many of those who advised Sessions were likely working against President Trump and pushing for him to fail from the first day he took office," Tuberville wrote. "He could have remained loyal to the president, watched his back against the Democrats' fake news sneak attacks, and helped him fulfill the promise of making American great again."
"I believe President Trump is a great President who is steadily making progress for America, despite relentless opposition," Sessions wrote. "My support for his agenda is not about me, or even about him. It's about doing the right thing for the country I so love. I have given my entire life to the support of our conservative ideals and to stopping the radical left from their attempts to redefine, and thereby destroy, America. I always have, I always will."
"President Donald Trump knows that he can depend upon Tommy Tuberville to remain loyal to him come Hell or high water, and that is why my campaign proudly carries his full endorsement and support," Tuberville wrote.
The two will face off in the Republican party primary runoff on July 14. The winner will face incumbent Senator Doug Jones (D-Alabama) in November.
Aderholt supports the Republican Commitment to America plan
Congressman Robert Aderholt, R-Alabama, released a statement this week in support of the Republican Commitment to America, a plan put forth by House Republicans if the voters will give them control of the U.S. House of Representatives in the upcoming elections.
"The future of our country will be determined in the next few months," Aderholt said, "Make no mistake about it, what we do right now will have a ripple effect for many years to come. That's why I fully support and endorse the Commitment to America, because the clear path toward a bright future is paved with a restoration of our way of life, the rebuilding of the greatest economy in history, and a renewal of the American Dream."
"First and foremost, we need to restore our way of life," Aderholt said. "We are well on the way to defeating the virus and deploying a vaccine. This also means we need to stop the rioting, defend the police, and help people feel safe again. Second, we must restore what was once the greatest economy the world has ever seen. We will support local businesses and spur activities to create new jobs. And it's time for us to bring manufacturing back to America and hold China accountable for their unfair trade practices, their theft of intellectual property, and their crackdown on human rights. Finally, we must renew the American Dream and ensure it returns to the pedestal it belongs on. This starts by giving every family a choice in where to send their kids to school, taking care of and hiring our veterans, and promoting opportunities for workforce development."
"This Commitment to America is the right path to take as a country, and I would encourage my colleagues across the aisle to work with us as we enter the final stretch of 2020," Aderholt said. "Restoring, rebuilding, and renewing our country is critically important right now, so let's get to work."
"We are announcing our Commitment to America with three specific objectives: restore our way of life, rebuild the greatest economy in history, and renew the American dream," said House Minority Leader Kevin McCarthy, R-California.
"To rebuild our economy, we will commit to get America working again and add 10 million new jobs through proven, pro-growth policies," McCarthy said. "That starts with $200 billion in forgivable loans to local businesses through the Paycheck Protection Program. This program, which I call our Marshall Plan for Main Street, has already saved 51 million jobs and can still save more. Democrats' continued refusal to pass more relief over politics will only take our economy backward."
"Without question, we must and we will defeat COVID-19 and keep America healthy," McCarthy said. "To restore our way of life, we will work to triple rapid testing nationwide, deliver a vaccine that is safe, effective, and available by the end of the year, protect individuals with pre-existing conditions, and invest in therapeutics while lowering drug prices across the board."
"Following the recommendations of the China Task Force that House Republicans established last spring, we will increase U.S. manufacturing and build supply chain resiliency through full expensing on a permanent basis for all U.S. investment and restoration of domestic production tax credits," McCarthy said. "While Democrats ignore the threat from China, Republicans will take it head on."
After the COVID-19 crisis is over "many communities will still be gripped by unrest that continues to lead to violence," McCarthy wrote. "Without respect for public safety, all the pro-growth policies in the world won't put America back on her feet. We must ensure the security and safety of all communities. That means improving our police forces, not defunding them. We will increase funding for law enforcement by $1.75 billion for better police training, community policing, and equipment, including 500,000 more body cameras on the streets."
"To renew the American Dream, we will ensure every child in every neighborhood can go to the school that is best for them, while directing millions towards high-quality STEM education to prepare our kids for the jobs of tomorrow," McCarthy said in support of expanding school choice. "At the same time, we will promote opportunities for career and technical education and workforce development for any American looking to earn a promotion or pursue a meaningful new career, especially our nation's veterans."
Aderholt is in his 12th term representing Alabama's 4th Congressional District. He faces a challenge this year from Democratic nominee Rick Neighbors.