Opinion | Gov. Kay Ivey moved the football again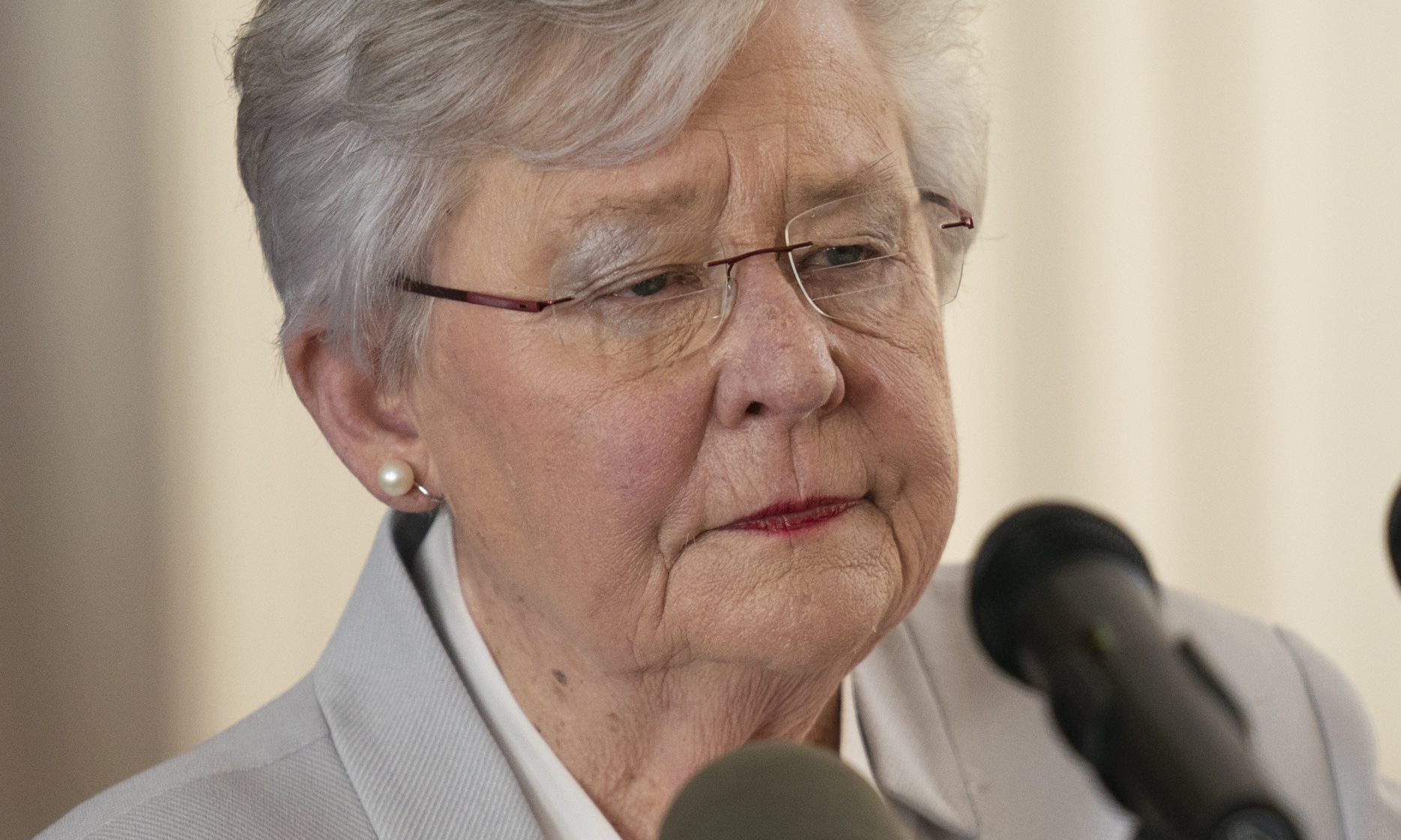 I understand how Charlie Brown must have felt. 
The disappointment and surprise when Lucy moved that football one more time. The betrayal. The embarrassment. The anger. 
I know those feelings, because far too often I've experienced them with Alabama politicians. I want so badly to believe that our elected lawmakers are good and smart people who care about the citizens of the state. That they're not money-grubbing, selfish dolts who will sell us all out for a nickel and new socks. That they will lean on science and facts when crafting policy and ignore the noise from the ignorant minority screaming the loudest. 
And so, far too often, I believe in someone who I know, deep down, is just going to let me down. Who's going to move that football at the last minute. 
On Thursday, it was Gov. Kay Ivey moving the football. 
It seems like only last month that I was writing a column praising Ivey for her sound judgment and decision-making. That's because it was last month when Ivey ignored the screaming crazies calling for a "reopening" of Alabama in the midst of a global pandemic that is, quite clearly, getting worse in this state. 
Ivey listened to real doctors. She leaned on facts. She had a cute comeback — "data over dates" — to shoot down any notion that a calendar day would carry more weight than the data showing infection and hospitalization rates. 
We had a governor making sound decisions rooted in public safety and health. She refused to budge on the matter and refused to let money outweigh the value of human life. 
It was a great time to be alive in Alabama. 
And then, Kay Ivey moved the football. 
A week ago, after telling people that it would be data that determined when Alabama reopens, and that she would follow the White House guidelines for reopening, she did neither. Instead, she did exactly what she said she wouldn't do — used a date to determine that it was time to lift restrictions. 
The lockdown had gone on too long, Ivey said, and it was time to lift it. 
She did so as positive cases were on the rise. And with absolutely no plan for comprehensive testing and tracing — the one thing that Ivey and all medical experts said we HAD to have before we could safely lift restrictions. 
Then, on Thursday, Ivey was back again to lift more restrictions — the day after the mayor of Montgomery told the world that his town and the surrounding three counties are out of ICU beds because of a massive outbreak of new cases. Hospitals in Montgomery are now transporting ICU patients to Birmingham. 
Still, there went Ivey, lifting restrictions to allow strip clubs and concert venues and casinos to reopen. Just in time for the Memorial Day weekend rush — a coincidence, no doubt. 
The reason for all of this is easy to understand. 
There is no plan to save people. 
The testing and tracing we were supposed to have — that would have allowed us to more safely reopen and go about our lives while the carriers of the virus and those exposed to those people are sequestered — have never materialized. And it is painfully obvious at this point that we will never have it. 
In addition, there is no true guidance from the White House, and what little has come from there, we've mostly ignored. We're supposed to have at least seven straight days of reduced positive cases. We don't have one day. 
There's also the Idiot Factor — the groups of crazy people screaming about tyranny and government overreach because they have to put on a mask to shop at Publix. These are the same people who think strapping a bulletproof backpack on their kids to go to school instead of expanding background checks is simply the price of freedom. 
Add it all up, and it's pretty easy to see what Ivey did: Tossed up her hands and said to hell with it, y'all be careful out there. 
And that's disappointing. Because I believe the majority of Alabamians — and there are polls to back this up — were grateful for her measured approach and data-driven decisions. And I think most understand that there are ways to both reopen the economy and still keep in place restrictions that both limit the spread of the virus and impress upon people the danger it still poses. 
But we're not doing that. Not anymore. 
Instead, we're back to taking the easy way, back to catering to big business and rightwing crazies, back to ignoring science and data. 
The football was moved again.
Print this piece
Opinion | Alabama's long-overdue prison bill
Although scientists haven't yet confirmed it, there is a cure for COVID-19: Incarceration in an Alabama prison. 
It's amazing, really. 
If you work in the prisons or visit an Alabama prison, you get the coronavirus. If you're an inmate who leaves an Alabama prison for a short period of time, you also get the virus. 
But inside those walls … you're as safe as a baby. 
According to APR's Eddie Burkhalter, who has covered Alabama's atrocious prisons better than anyone in the state over the last several months, Alabama Department of Corrections officials contend that there is just one — ONE! — prisoner in the entire ADOC prison population who currently has COVID-19. 
Out of more than 22,000 prisoners. 
There have been nine prisoners to test positive for the virus over the last few months. All of them tested positive at medical facilities outside of the prisons while they were undergoing other treatments. 
There are 36 confirmed cases of prison workers testing positive. 
But still just the one inmate. 
A major medical miracle. We should alert Fauci and Birx.
On the other hand, maybe it's simply one more case of Alabama treating its prison population as though the men and women inside those walls are something less than human. Hell, something less than mammals. 
Actually, there's no maybe about it. That's definitely what's happening. 
We're not testing inmates, so, tah-dah, no inmates are sick. Even when we know from inmates and guards and prison staff that inmates are most definitely sick. And that many of our prisons have now established quarantine areas where dozens of prisoners are being housed, away from the general populations. 
But we're not testing them. Or providing them much treatment. 
A few days ago, a woman at a Birmingham-area prison work facility was essentially left to die in a stairwell, according to another prisoner, because guards and staff were too afraid to help her get to the medical clinic upstairs. The reason they were afraid was because the prisoner, Colony Wilson, had exhibited symptoms of COVID-19. 
She died gasping for air. As several people stood over her and around her, doing nothing. 
It is the latest in an ongoing string of horrible, terrifying, unconscionable incidents within Alabama's prisons, most of which have resulted in the deaths of dozens of inmates over the last few years. 
Because Alabama prisons are hell on earth. 
And that is not an opinion. It is a fact confirmed by anyone who has ever spent time in, worked in, toured or investigated incidents that have occurred in those prisons. Justice Department investigators agree. A federal judge agrees. 
Our prisons are poorly staffed, poorly funded and poorly maintained, and our inmates are poorly guarded, poorly fed and poorly treated for ailments. And no one cares. 
But you will. 
Mark my words, we will pay for our treatment of Alabama prisoners — all of us will. I know this because it is one of the few guarantees of life: You cannot dismiss and mistreat groups of human beings for decades on end and not pay a price for your sins. 
We have a big bill coming due. 
And I guarantee you one other thing: That bill would have been much smaller, much more easily managed had we simply done the right things from the start. 
Had we properly staffed the prisons with guards who weren't paid so little that smuggling contraband was the only way to pay their bills. Had we provided inmates with actual tools to rehabilitate themselves. Had we treated their medical ailments properly. Had we shown a genuine interest in their contributions to society. 
We had an opportunity to show a group of mostly young men that the love and direction most of their early lives did exist. We could have proven to them that there are people who care about them, who understand that every life — even the ones outside of the womb and encased in non-white skin — are precious. 
But we didn't. And those people found refuge with other wayward men and women — in violent gangs and prison cliques. They found an income selling drugs and selling humans and doing all the bad things that people buy all those guns to stop. 
And we pretended like it didn't exist. Like they didn't exist. 
So, maybe it shouldn't be a surprise that we're just not testing inmates for a deadly virus. It would fit the pattern of ADOC and this state in dealing with our prisoners. 
But know this: the manner in which a state houses and cares for its worst people is the truest measure of the heart of the people leading that state.
Alabama's heart stopped beating long ago.
Print this piece