Mimi Penhale is running as a Republican in State House District 49
Tuesday, Miriam "Mimi" Penhale announced today that she is seeking the Republican nomination for District 49 of the Alabama House of Representatives.
District 49 is vacant due to former Rep. April Weaver's leaving to accept a position with the Trump administration. A special primary election scheduled for August 4, 2020, if needed.
"I'm excited for the opportunity to serve House District 49 in Montgomery," Penhale stated. "In my role as Legislative Director of Shelby County, I've spent the last nine years working with Representative April Weaver and Senator Cam Ward, helping local governments, schools, businesses, and the people of our community to navigate the complexities of state government. I have been blessed to get to know and serve the people of this district."
"I've talked to people all over Bibb, Chilton and Shelby counties," Penhale said. "They want a representative in Montgomery who will promote conservative Republican principles. These hard-working families want better access to healthcare, quality schools for their children, and improved infrastructure to support our growing communities. I'll fight to make sure we protect the high quality of life we already enjoy across central Alabama, and I'll work with Legislative leaders to deliver on issues where we fall short."
Penhale has a bachelor's degree in Biology, and a Master's in Public Health from UAB, with a focus on Healthcare Organization and Policy. Penhale serves as the Vice Chair of the Shelby County Chamber of Commerce's Governmental Affairs Work Group. She is a member of Shelby County's Women's Business Council, where she serves as a member of the Outreach Committee.
Penhale is a native of Troy, AL, where she was raised on her family's bison ranch. She is married to Matt Penhale, of Alabaster. They have two daughters and are members of Kingwood Church.
Rep. Weaver was appointed by President Donald J. Trump (R) as the region IV director of the Department of Health and Human Services.
House District 49 consists of portions of Bibb, Shelby and Chilton Counties.
The special primary election for House District 49 will be held on Tuesday, August 4, 2020. If a runoff election is needed, it will be held on Tuesday, September 1, 2020. The general election will be held on Tuesday, November 3, 2020.
Alabamians request more than 101,000 absentee ballots with 30 days left to apply
So far, 35,184 absentee ballots have been successfully returned for the general election.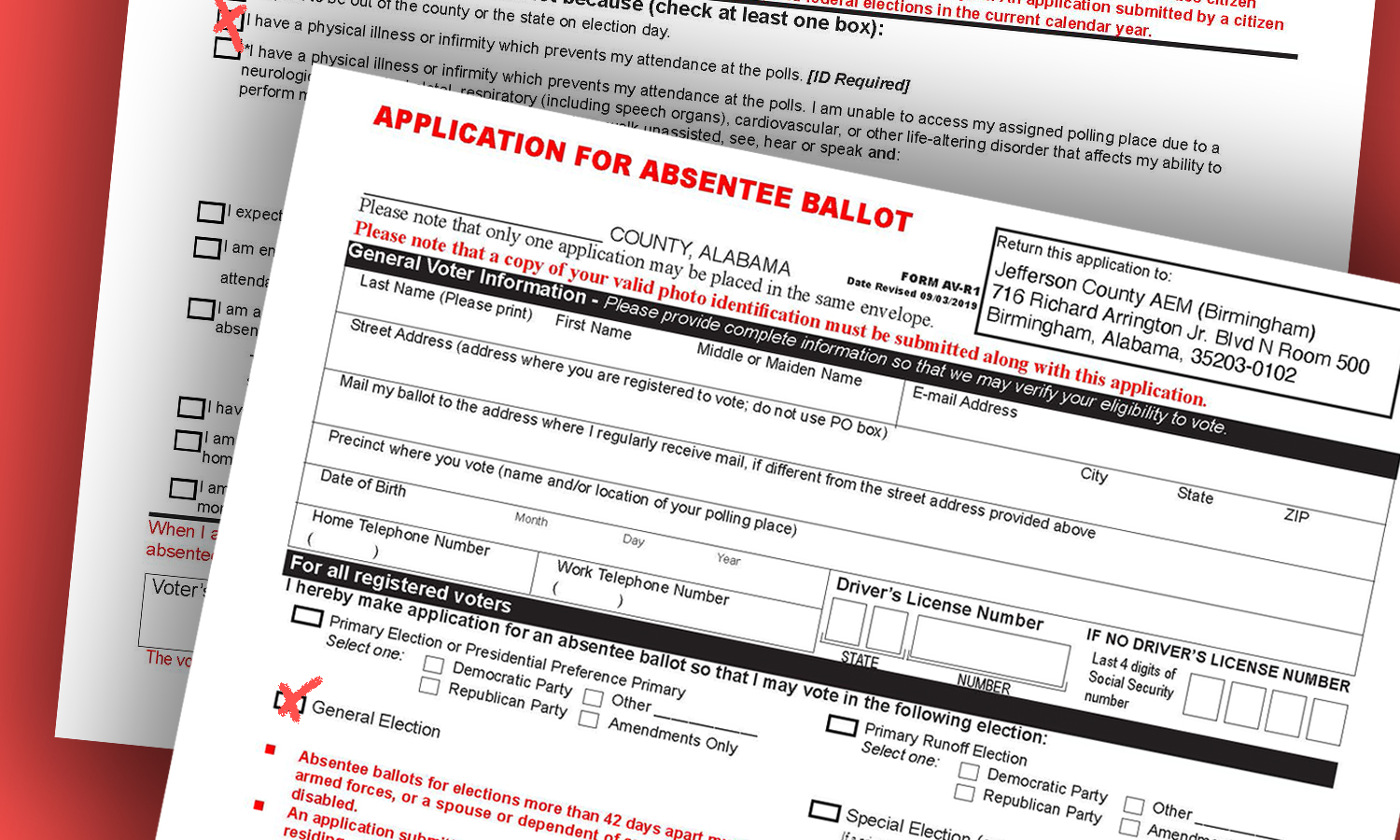 At least 101,092 absentee ballots have been requested so far in Alabama according to Secretary of State John Merrill, with just 30 days left to apply for an absentee ballot for the Nov. 3 General Election. So far, 35,184 absentee ballots have been successfully returned for the general election.
In order to protect the safety and well-being of voters, Merrill is encouraging those who are concerned about contracting or spreading the coronavirus to apply for and cast an absentee ballot.
Absentee ballot applications can be downloaded online or requested by visiting or calling your local absentee election manager's office.
Voters may also contact the Secretary of State's office at 334-242-7210 to request an absentee ballot application.
Due to the declared states of emergency, any qualified voter who determines it is impossible or unreasonable to vote at their polling place shall be eligible to check the box on the absentee ballot application that is most applicable to that individual. In the case none of the boxes are appropriate, voters can check the box which reads, "I have a physical illness or infirmity which prevents my attendance at the polls. [ID REQUIRED]"
For the Nov. 3 General Election, the deadline to register to vote is Monday, Oct. 19, the deadline to submit an absentee ballot application is Thursday, Oct. 29, the deadline to return an absentee ballot to the absentee election manager is the close of business Monday, Nov. 2, and the last day to postmark an absentee ballot is Monday, Nov. 2.
Voters who are eligible to vote pursuant to the Uniformed and Overseas Absentee Voting Act will have until Tuesday, Nov. 3 to postmark an absentee ballot.
Voters concerned about COVID-19 are encouraged to select the box on the affidavit, which accompanies the absentee ballot, which reads as follows: "I am physically incapacitated and will not be able to vote in person on election day."
Due to recently witnessed delays with the U.S. Postal Service, Merrill encourages voters interested in returning their ballot by mail to go ahead and make application for their absentee ballot. As a reminder, Merrill worked with the Legislature last year to pass Act 2019-507, allowing voters the opportunity to return their absentee ballot by commercial carrier in addition to U.S. mail.