COVID-19 hospitalizations in Alabama set new record high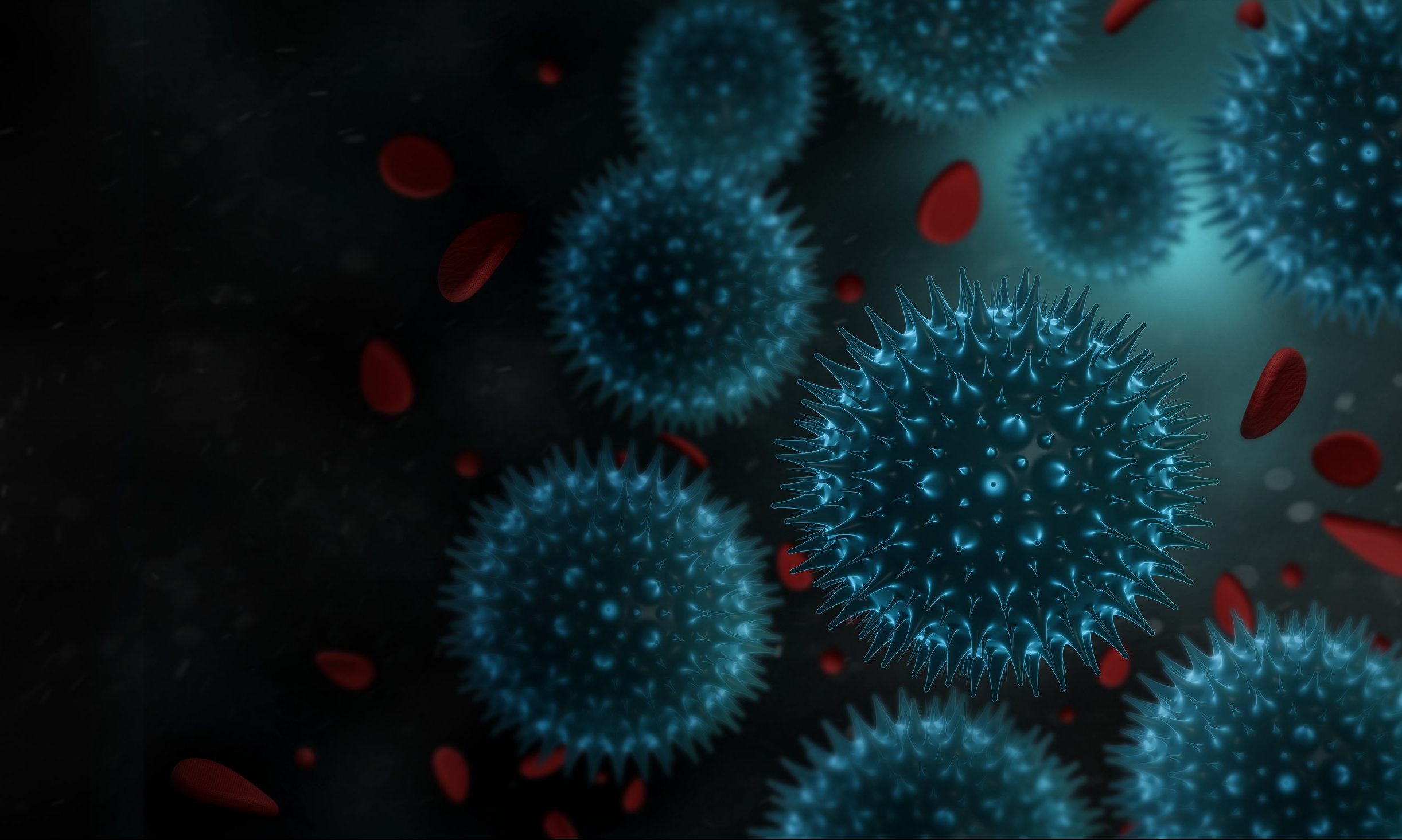 Alabama on Monday saw a new record number of patients in hospitals with COVID-19, and while the hospitals are managing well now, that could change if the trends of rising cases and hospitalizations continue.
"Please wear masks," said Dr. Don Williamson, president of the Alabama Hospital Association, speaking to APR on Monday. 
Alabama's hospitals were caring for 715 COVID-19 patients on Monday, more than any other time during the pandemic, and follows a previous high of 694 on June 25. 
UAB hospital was caring for 74 coronavirus patients on Monday, the highest number of patients that hospital has seen since the pandemic began. 
UAB Hospital went 70 days — from April 4 to June 13 — without seeing a new in-house high in COVID-19 patients, but since a new high on June 13 the hospital has seen four additional record highs in hospitalizations, including three in the last five days.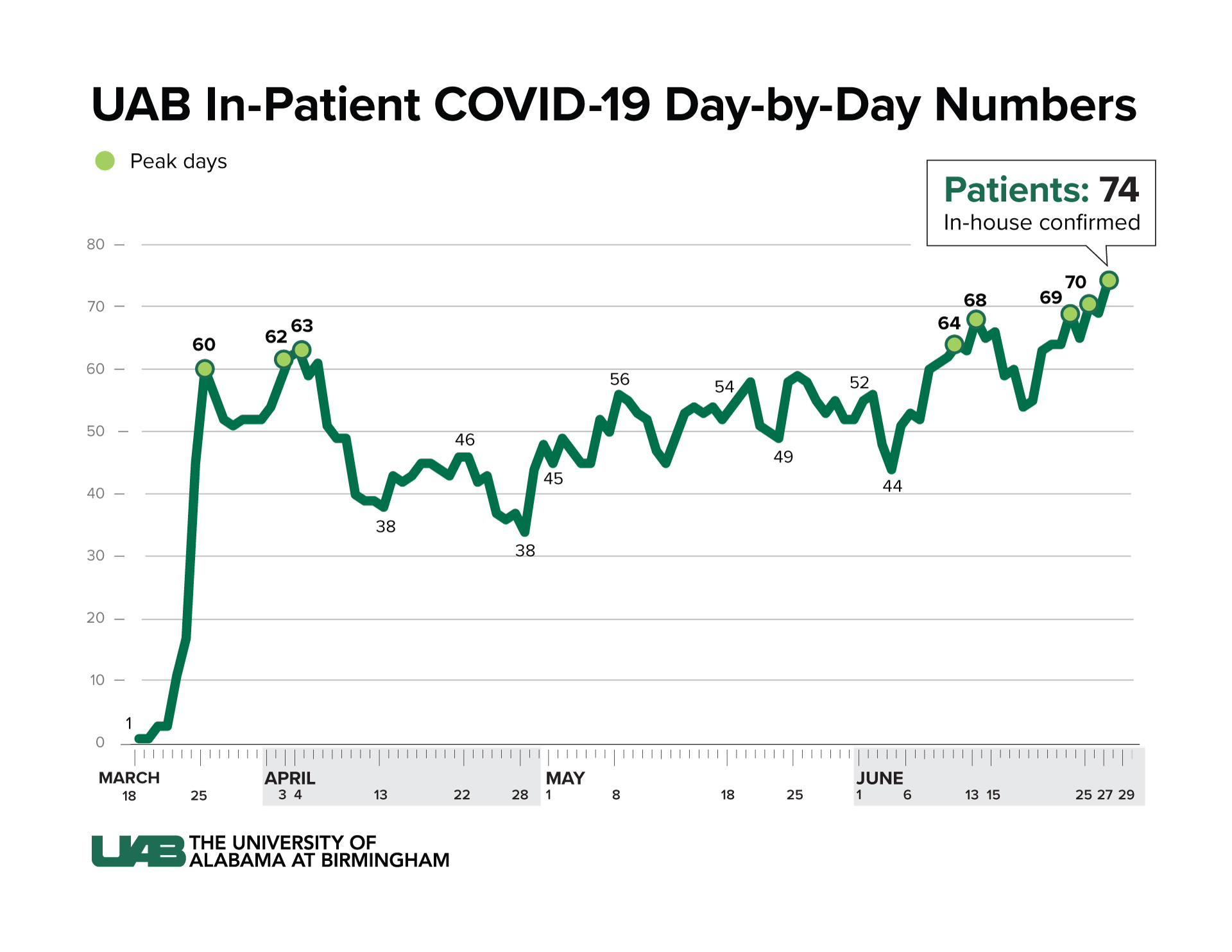 "The general numbers do show that we have a real problem now with COVID in the state, and a real problem with community transmission," Williamson said.  
Due to delays in data collection, Monday's COVID-19 numbers included figures from Saturday and Sunday, so the daily new case count is skewed and shows the state added 1,718 cases Monday. 
Because of the inflated numbers Monday, a better indicator would be the seven-day and 14-day rolling averages of new cases, both of which were still at record highs Monday despite correcting for the day-to-day variability of case counts.
The 14-day average of new daily cases was at 771 Monday, while the seven-day average was 951. 
Also troubling is the percentage of COVID-19 tests that are positive, a sign of continued community spread.
On Monday, the seven-day rolling average of percent positivity was just over 15 percent, a record high when taking into account incomplete data in April that artificially inflated numbers during that time. The 14-day average of the percent positive was also at a record high Monday at 11.9 percent.
Public health officials and experts believe the percentage of tests that are positive should be at, or preferably below, 5 percent. Any higher, and the data suggests that the state is not performing enough tests and many cases are still being missed.

There have been 36,682 coronavirus cases in Alabama and 905 deaths, according to the Alabama Department of Public Health. Of those cases, 18,886 people are presumed to have recovered.
A week before Memorial Day, the state's hospitals were averaging around 500 COVID-19 patients a day, and the number has steadily risen since, Williamson said, and he worries about what may happen in the weeks after Fourth of July celebrations. 
"If the trend holds and if we pick up 150 cases after a holiday, we can very easily be at 800 cases by some time in July," Williamson said, adding that if any substantive portion of those patients need intensive care beds it could dramatically reduce the amount of available ICU beds for everyone. 
"This is community spread, but if you add a point source outbreak of a big nursing home in a community on top of that, that could overwhelm the system," Williamson said. 
The state's supply of available ventilators Monday was roughly 900, Williamson said, and there were roughly 345 open intensive care beds across the state, but with schools set to reopen in August, there's a concern over new outbreaks. That's what makes getting cases under control now so important, he said. 
"If we're having 600 people in the hospital, 700 people in the hospital, and we're still having a significant number of deaths from COVID, having 100,000 people in a football stadium sounds very, very unlikely, even though it's outside," Williamson said. 
Williamson noted that a larger percentage of new cases are among younger people — according to the Alabama Department of Public Health those aged 25-45 make up 41 percent of all the state's cases — and while younger people typically fare better with the virus, they can transmit the virus to others. 
"They carry the disease to their parents. They carry their disease to their grandparents. They carry their disease to someone who has some other underlying conditions," Williamson said. Despite their age, many younger people, particularly in Alabama, also suffer from underlying health conditions like asthma, obesity or heart conditions that make them susceptible to complications from the virus.

Williamson pleaded with the public to wear a mask and practice social distancing, and to spend their Fourth of July safely — with the knowledge that reducing large gatherings, keeping that distance and wearing a mask can save lives. 
"It's absolutely essential that we try together to get this under control," Williamson said. 
As ADPH continues to fight the spread of the virus, the department announced Friday that officials from the Centers for Disease Control and Prevention are in Alabama helping in that effort. 
The five-member team from the CDC will be in Alabama until July 3. The team is helping ADPH streamline COVID-19 reporting, develop county-level indicators and study the state's response to offer ways to improve, according to a press release from the department. 
"The expertise of these public health professionals will further our staff's abilities to assess our processes and will help guide us in our efforts to protect the public during this pandemic," said state Health Officer Dr. Scott Harris in a statement. "We are grateful for the partnerships we have with CDC and other authorities at the local, state and federal levels."
Alabama reports record-breaking 2,164 new COVID-19 cases
Thursday's number of new cases hit 2,164 and blew past the previous daily record set on July 3 by 406 cases.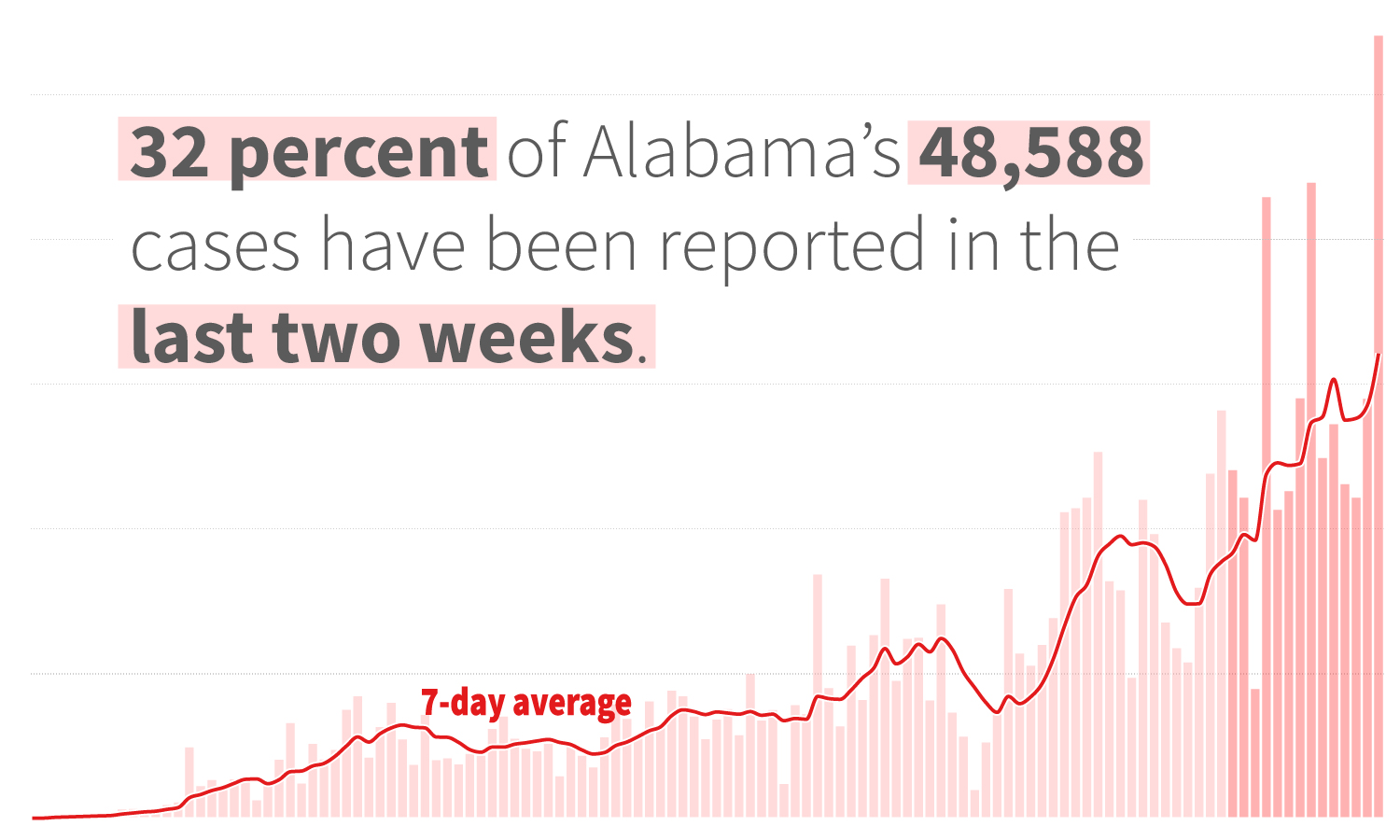 New COVID-19 cases in Alabama on Thursday jumped by nearly double from the day before, and for the first time broke 2,000 in a single day, according to the latest data from the Alabama Department of Public Health.

Thursday's number of new cases hit 2,164 and blew past the previous daily record set on July 3 by 406 cases. Both the seven-day and 14-day rolling average of new daily cases in Alabama were also at record highs Thursday. 
Thirty-two percent of the state's 48,588 cumulative confirmed cases have been added within the last two weeks. 
The Alabama Department of Public Health did not publish Wednesday an update to the total number of tests performed, which throws off the day's figures for the percentage of tests that are positive, but on average, over the last week, the state's seven-day rolling average of percent positivity has roughly 15 percent. 
Public health experts say the percent positivity should be at or below 5 percent — otherwise there isn't enough testing being done and cases are going undetected. 
Along with surging new cases, the number of COVID-19 patients hospitalized on Wednesday was higher than it's been since the beginning of the pandemic. On Wednesday 1,110 coronavirus patients were being treated in state hospitals, which was the fourth straight day of record current hospitalizations. 
UAB Hospital's COVID-19 Intensive care units were nearing their existing capacity Tuesday. The hospital has both a COVID ICU and a COVID acute care unit designated to keep patients separated from those who don't have the virus, but it has more space in other non-COVID units should it need to add additional bed space.

Hospitals in Madison County this week are also seeing a surge of COVID-19 patients. Paul Finley, the mayor of the city of Madison, told reporters Wednesday that local hospitals were reporting record numbers.

Hospitals there were at 80 to 90 percent capacity.
"Our ambulances yesterday had their greatest number of runs since this started," said Crestwood Hospital CEO Dr. Pam Hudson on Wednesday, adding that in about 20 percent of calls staff is having to wear full personal protective equipment. "That indicates that they are working with patients who have symptoms that could be compatible with COVID."
Meanwhile, Madison County set a new daily record, adding 286 cases Thursday, the first time the county has surpassed 200 cases a day. The county was largely spared early on in the pandemic, with low case counts and low death rates, but roughly 42 percent of Madison County's total case count since March has been reported in the last week as 803 new cases have been added.
Jefferson County and Madison County, over the last week, have accounted for 26 percent of the state's new cases.
Jefferson County led the state in the most new cases Thursday with 343 and has added 1,498 cases in the last week. The county's total cases increased by 33 percent from last week, and stood at 6,030 confirmed COVID-19 cases Thursday.
While Jefferson County and Madison County are seeing the state's most intense increases, other large counties including Shelby County, Baldwin County and Tuscaloosa County have also seen record increases and rising percent positive rates.
At least 81 people have died from COVID-19 in the last week, and 162 people have died in the last two weeks.
At least 1,042 people have died from COVID-19 since March, and at least 26 other deaths are listed as "probable" COVID-19 deaths.