Gov. Kay Ivey on Tuesday held her first press conference in more than a month to discuss COVID-19, during which she announced an extension of her "safer-at-home" order until July 31 but no new restrictions amid a surge in cases and hospitalizations. 
Ivey's amended safer-at-home order, which went into effect May 22 and allowed more businesses, athletic activities, trade schools and child care facilities to reopen with restrictions, was to expire at 5 p.m. on Friday. The extension makes no additions to the order, but extends it to run until July 31. 
Ivey said while cases continue to rise, she doesn't believe a statewide requirement for the public to wear masks would be enforceable. 
"You know Dr. Harris and I could order you to wear a mask, but it would be next to impossible to enforce," Ivey said, referring to state Health Officer Dr. Scott Harris. 
Without a statewide mandate from Ivey, local city governments have been issuing mask orders of their own to slow the spread of coronavirus. Such requirements for the public to wear masks are active in Jefferson County, Montgomery and Selma, and leaders in Huntsville and Tuscaloosa have said they may bring similar measures up for a vote this week. 
Alabama on Monday saw a new record number of patients in hospitals with COVID-19, with 715 patients being cared for, and UAB Hospital was caring for 74 coronavirus patients on Monday, the highest number of patients that hospital has seen since the pandemic began. 
The seven-day and 14-day rolling averages of new cases on Monday were also at record highs, as were the seven-day and 14-day rolling average of the percentage of COVID-19 tests that are positive, a sign that public health officials say means the state isn't conducting enough tests and cases are going undetected.
State Health Officer Dr. Scott Harris said at the press conference that the state has well over 30,000 COVID-19 cases, and even though we're testing more, the percentage of tests that are positive is as high as it's ever been, which is a sign of increased transmission in the community. 
"Our hospitals today are actually reporting more confirmed COVID-19 in-patients than they have seen so far during the outbreak," Harris said, adding that more than 130,000 Americans and more than 900 Alabamians have died from the virus. 
"Please continue to take this seriously," Harris said. "Our state has opened up in many ways, but this is not the time to let our guard down.' 
Harris encouraged anyone who is sick to stay at home, those who aren't should wear face masks in public and to wash your hands frequently.
Asked why she isn't following other states, including Arizona, Florida and Texas, which are also seeing spikes in cases and which have enacted new restrictions to slow the spread, Ivey said it's because of the public's response to her previous order. 
"Well. Folks are not following the restrictions we've offered," Ivey said. 
Asked if it is fair to think the public will follow voluntary guidelines to wear masks in public and to social distance now, when those same voluntary guidelines have been in place since mid-May and cases have tripled since, Ivey declined to answer and asked Harris to respond. 
Harris said the state needs to have "local buy-in" and for "people to be in favor of what we are doing" so the state is trying to give good information to the public "and hopefully they're going to make the right decision." 
"I think there's, even nationally, not an appetite for a lot more restrictions being put in place," Harris said. 
Asked why it's been almost six weeks since she's held a press conference, Ivey told the reporter, "If you want to come, I'll be glad to meet with ya." 
Rep. Dexter Grimsley, D-Abbeville, lost his sister, 58-year-old Lorianne Grimsley Shakespear, to COVID-19 in April. Speaking during the press conference Grimsley said he can't force anyone to wear a mask, but he knows it's what his sister, who was a nurse, would ask of them. 
"And if she was alive today that's exactly what she'd be calling me, telling me each and every day," Grimsley said. "Protect yourself and protect others."
Gina Maiola, Ivey's press secretary, made Ivey available for questions for just more than 5 minutes and took six questions, two of which Harris answered, before telling journalists that Ivey had a previous engagement to attend — a rotary club meeting — and closed the press conference.
Jefferson County GOP pens letter to governor complaining of Democrat appointed as probate judge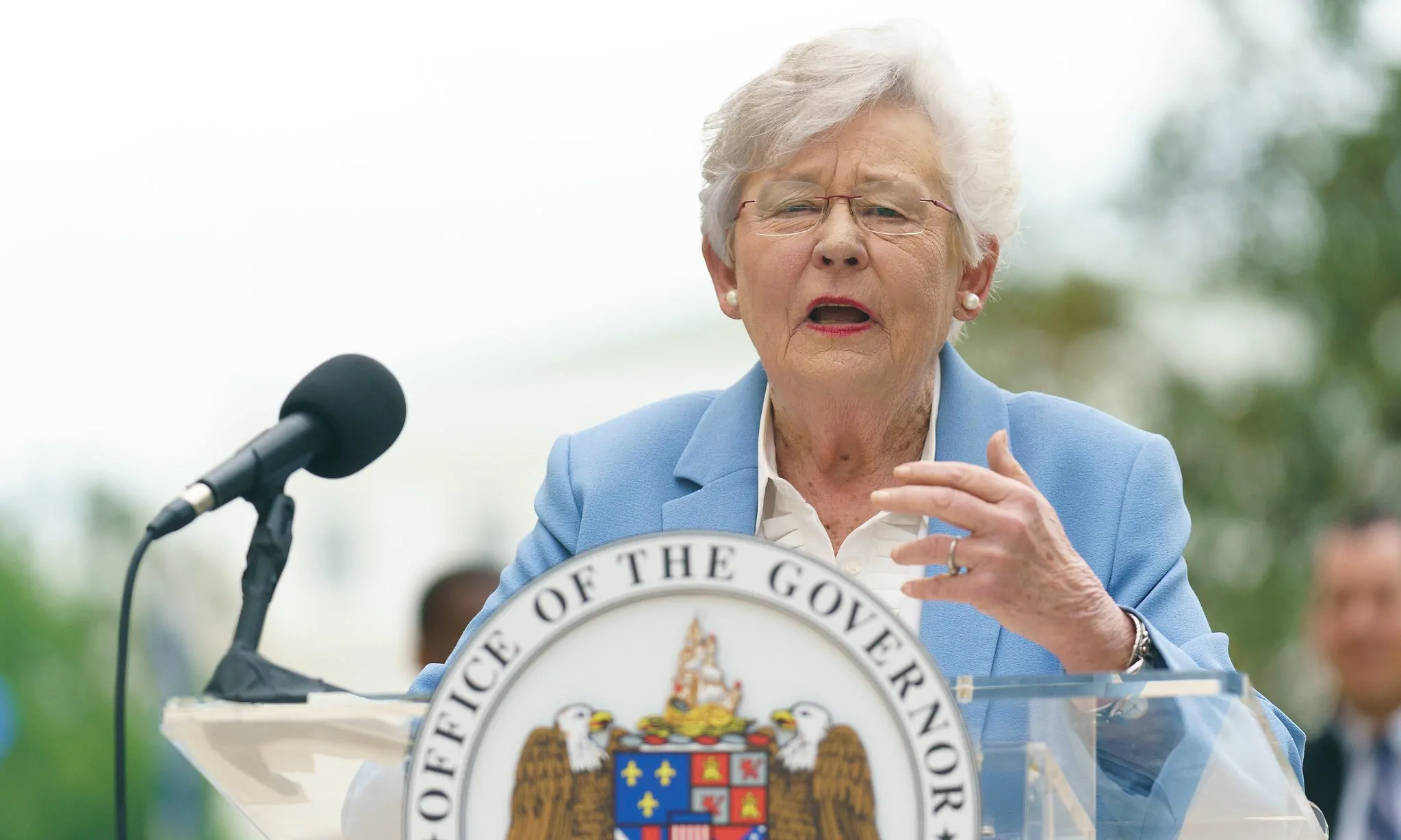 The members of Jefferson County Republican Party Steering Committee last week sent a letter to Alabama Gov. Kay Ivey bitterly complaining about her recent appointment of Jim Naftel, a Democrat, as a Jefferson County probate judge.
"We, both as elected officials and leaders of the Jefferson County Republican Party Steering Committee, on behalf of the entire Jefferson County Republican Executive Committee wish to express our displeasure in your appointment to Jefferson County Probate Judge, Place 1," the letter reads.
"Our main objection is we had one request and that was one request only – the appointment of qualified Republican to this post," the Jefferson County GOP continued. "In recent history, your pick for this position was given the opportunity to participate in the Republican Primary, he chose to vote as a Democrat. In 2018, when you were running for Governor in the Republican Primary, he chose to vote a Democrat ballot. Even this past March of 2020, when he had a chance to cast his vote for President Donald Trump, he again chose to vote in the Democrat primary."
"Secondly, this position runs all elections for Jefferson County," the Steering Committee added. "On June 30th, Secretary of State John Merrill was quoted in Alabama Today as stating, 'The probate judge has a significant level of influence. I cannot emphasize how important it is that this person is involved, interested, and informed on all things related to elections.' We have no knowledge of your appointee's experience in this area. We are not aware of his previous expertise in the election process at the county level or having been involved with any level of ballot security activities in our County."
In the letter, the members said all of the Republican legislators and commissioners recommended a specific qualified Republican to be appointed to this post.
"This Republican had been recommended and mentored by a former ALGOP General Counsel who you personally hired to be your legal counsel during your last campaign," the letter reads. "This choice was clearly experienced in the elections area of the Probate position and was best prepared to serve as our chief elections officer. Rarely, if ever, do all of these people agree on one thing and they agreed on this. These above stated reasons are why we, both as elected leaders in Jefferson County and members of the Jefferson County Republican Party, would like you to be aware of our displeasure for your selection of Probate Judge, we request a clear explanation of why this choice was selected despite the request as outlined above, and we hope you will listen to our counsel on future appointments in Jefferson County."
The letter was signed by Jefferson County Republican Party Chairman Paul DeMarco and the other officers and members of the steering committee.
Naftel was appointed to fill the position previously held by Judge Alan King, who has retired after 19 years of service.
"As one of my appointees, you will be making important decisions that directly affect the citizens of Alabama," Ivey wrote to Naftel. "I have made honesty and integrity a priority in my Administration, and I know that you will embody these two virtues while serving the people of Alabama. Please plan to be a good steward of the taxpayers' money and work in your position to instill trust in state government. The responsibility that comes with this appointment is not to be taken lightly. I trust that you will rise to the occasion and set a standard for others to follow."
Naftel was an attorney with Maynard, Coooper & Gale, where he has worked since 1998.
"Jim is a shareholder and member of the Firm's Estate, Trust and Business Planning Practice, Fiduciary Advisory Services Practice, and the Fiduciary, Trust and Estate Litigation Practice groups," the firm wrote in his bio on their website. "In his Fiduciary Litigation practice, Jim advises and represents both individuals and corporate fiduciaries in their capacity as trustees and executors, including pre-litigation, mediation, trial and appellate proceedings. Jim also represents beneficiaries of estates and trusts. In addition, Jim represents clients in proceedings related to financial abuse of the elderly, conservatorships, guardianships and other protective proceedings."
Naftel is a Fellow of the American College of Trust and Estate Counsel, has been recognized as one of The Best Lawyers in America in the areas of Trust and Estates and Litigation: Trusts and Estates. He earned a law degree from the University of Alabama law school in 1998. He has a bachelor's degree from the University of Mississippi in 1994.
"It is an honor to be appointed and I look forward to serving Jefferson County in this role," Naftel told AL.com.
Republicans, including Alabama Republican Party Chairman Terry Lathan, had been urging the governor to appoint a Republican to the position.
Former Alabama Republican Party Chairman Bill Armistead wrote hours ahead of the appointment, "For the life of me, I cannot understand why we are even having a conversation about our Republican governor appointing a Democrat as the top election official in Jefferson County. If we have to lobby our Republican governor to appoint a Republican to this important position we have a real problem!"
While Republicans continue to dominate Alabama politics, the party has grown increasingly uncompetitive in Jefferson County, where Republican Sheriff Mike Hale was defeated in 2018 and the last two Republican district attorneys were both defeated in general elections.
While Hillary Clinton was trounced statewide in 2016, she carried Jefferson County, as did Barack Obama in 2012 and 2008.
The last time that a Republican presidential nominee carried Jefferson County was incumbent President George W. Bush back in 2004. Naftel's appointment could perhaps be interpreted as meaning that the governor's office believes that Jefferson County is a lost cause for Republicans moving forward given recent demographic changes and that the best a Republican governor can hope for is to pick the best Democrat for countywide office as a Republican would lose reelection.