Gov. Kay Ivey on Tuesday held her first press conference in more than a month to discuss COVID-19, during which she announced an extension of her "safer-at-home" order until July 31 but no new restrictions amid a surge in cases and hospitalizations. 
Ivey's amended safer-at-home order, which went into effect May 22 and allowed more businesses, athletic activities, trade schools and child care facilities to reopen with restrictions, was to expire at 5 p.m. on Friday. The extension makes no additions to the order, but extends it to run until July 31. 
Ivey said while cases continue to rise, she doesn't believe a statewide requirement for the public to wear masks would be enforceable. 
"You know Dr. Harris and I could order you to wear a mask, but it would be next to impossible to enforce," Ivey said, referring to state Health Officer Dr. Scott Harris. 
Without a statewide mandate from Ivey, local city governments have been issuing mask orders of their own to slow the spread of coronavirus. Such requirements for the public to wear masks are active in Jefferson County, Montgomery and Selma, and leaders in Huntsville and Tuscaloosa have said they may bring similar measures up for a vote this week. 
Alabama on Monday saw a new record number of patients in hospitals with COVID-19, with 715 patients being cared for, and UAB Hospital was caring for 74 coronavirus patients on Monday, the highest number of patients that hospital has seen since the pandemic began. 
The seven-day and 14-day rolling averages of new cases on Monday were also at record highs, as were the seven-day and 14-day rolling average of the percentage of COVID-19 tests that are positive, a sign that public health officials say means the state isn't conducting enough tests and cases are going undetected.
State Health Officer Dr. Scott Harris said at the press conference that the state has well over 30,000 COVID-19 cases, and even though we're testing more, the percentage of tests that are positive is as high as it's ever been, which is a sign of increased transmission in the community. 
"Our hospitals today are actually reporting more confirmed COVID-19 in-patients than they have seen so far during the outbreak," Harris said, adding that more than 130,000 Americans and more than 900 Alabamians have died from the virus. 
"Please continue to take this seriously," Harris said. "Our state has opened up in many ways, but this is not the time to let our guard down.' 
Harris encouraged anyone who is sick to stay at home, those who aren't should wear face masks in public and to wash your hands frequently.
Asked why she isn't following other states, including Arizona, Florida and Texas, which are also seeing spikes in cases and which have enacted new restrictions to slow the spread, Ivey said it's because of the public's response to her previous order. 
"Well. Folks are not following the restrictions we've offered," Ivey said. 
Asked if it is fair to think the public will follow voluntary guidelines to wear masks in public and to social distance now, when those same voluntary guidelines have been in place since mid-May and cases have tripled since, Ivey declined to answer and asked Harris to respond. 
Harris said the state needs to have "local buy-in" and for "people to be in favor of what we are doing" so the state is trying to give good information to the public "and hopefully they're going to make the right decision." 
"I think there's, even nationally, not an appetite for a lot more restrictions being put in place," Harris said. 
Asked why it's been almost six weeks since she's held a press conference, Ivey told the reporter, "If you want to come, I'll be glad to meet with ya." 
Rep. Dexter Grimsley, D-Abbeville, lost his sister, 58-year-old Lorianne Grimsley Shakespear, to COVID-19 in April. Speaking during the press conference Grimsley said he can't force anyone to wear a mask, but he knows it's what his sister, who was a nurse, would ask of them. 
"And if she was alive today that's exactly what she'd be calling me, telling me each and every day," Grimsley said. "Protect yourself and protect others."
Gina Maiola, Ivey's press secretary, made Ivey available for questions for just more than 5 minutes and took six questions, two of which Harris answered, before telling journalists that Ivey had a previous engagement to attend — a rotary club meeting — and closed the press conference.
Governor announces $200 million "Revive Plus" small business grant program
Revive Plus is the second wave of funding for organizations with 50 or fewer employees and will award grants of up to $20,000 for expenses.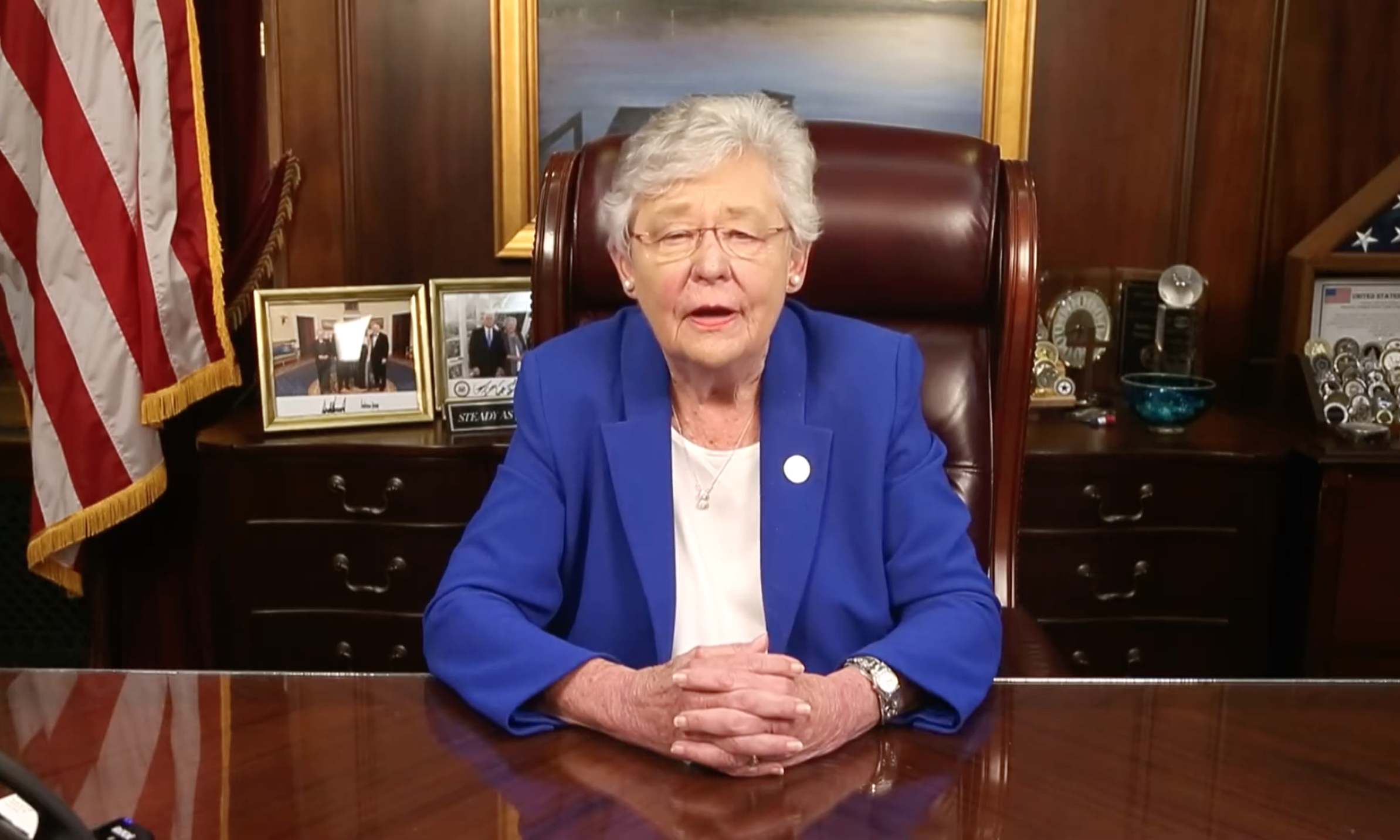 Gov. Kay Ivey on Wednesday announced Revive Plus, a $200 million grant program to support small businesses, non-profits and faith-based organizations in Alabama that have been impacted by COVID-19. Revive Plus is the second wave of funding for these organizations with 50 or fewer employees and will award grants of up to $20,000 for expenses they have incurred due to operational interruptions caused by the pandemic and related business closures.
"As the state has rolled out over $1 billion of the CARES Act monies to the individuals and businesses affected by COVID-19, it became evident the group most overwhelmingly hurt during the pandemic were the small 'mom and pop' shops," Ivey said. "A second round of assistance through Revive Plus will ensure that the small business owners who have borne the brunt of the downed economy can be made as whole as possible. As we head into the holiday season, my hope is that this will be welcome news for our businesses and help ease their burdens from what has been a very hard year."
Entities may receive up to $20,000 to reimburse qualifying expenses if they have not received federal assistance for the corresponding item they are claiming with the state of Alabama. The Revive Plus grant is in addition to any state of Alabama Coronavirus Relief Fund grant previously received, including the Revive Alabama Small Business, Non-Profit, Faith-Based, and Health Care Provider grants. There is no set cap on the number of entities that may be awarded a Revive Plus Grant. Grants will be awarded to qualifying applicants on a first-come, first-served basis until the funds are exhausted.
"The Revive Plus program is much needed in our small business economy," said Senate General Fund Chairman Greg Albritton, R-Atmore. "I commend Governor Ivey for taking this action, recapturing unspent dollars and using a proven program to bring economic relief to our small business owners."
Alabama received approximately $1.9 billion of CARES Act funding to respond to and mitigate the coronavirus pandemic. Alabama Act 2020-199 initially designated up to $300 million of the Coronavirus Relief Fund for individuals, businesses, non-profit and faith-based organizations directly impacted by the coronavirus pandemic. After the initial $100 million for small business that was reimbursed starting in July 2020, legislative leadership approved a second round of $200 million from allocations made to reimburse state government and from other grant programs that have ended with the full allocation unspent.
"This second round of funding for Alabama entities will provide much needed resources for our state's economy," said Senate Minority Leader Bobby Singleton, D-Greensboro. "I appreciate the governor and the Finance Department's work to ensure we utilize these funds to the benefit of our citizens."
Entities may access grant information and the grant application through the Coronavirus Relief Fund website. The application period for the Revive Plus Grant Program will open at noon, Nov. 23, 2020 and run through noon, Dec. 4, 2020.
"This is welcome news for small businesses, non-profits and faith-based organizations that are continuing to feel the adverse effects of the Covid-19 virus," said House General Fund Chairman Steve Clouse, R-Ozark. "Time is of the essence and I urge all qualified entities to apply as soon as possible beginning Monday, November 23rd."
A coalition of the Business Council of Alabama, the National Federation of Independent Business of Alabama (NFIB Alabama) and the Alabama Restaurant Association worked closely with the governor's office to revisit the grant program after the initial round of Revive Alabama reached the $100 million cap.
"Businesses throughout the state are working diligently to keep their employees and customers safe, all while ensuring commerce throughout Alabama continues to move," said Business Council of Alabama President and CEO Katie Britt. "Revive Plus will be essential in giving Alabama businesses access to the necessary and needed funding to keep their doors open and keep hard working Alabamians employed. Our broad coalition of businesses, associations and chambers commend Governor Ivey and her administration for putting these critical funds into the hands of businesses who need it most."
Qualifying entities must have been in business March 1, 2020, are currently in business and have a valid W-9 to apply for a Revive Plus Grant.