Commissioner praises prison employees for putting lives on the line during pandemic
Alabama Department of Corrections Commissioner Jeff Dunn on Thursday praised the department's employees for "literally putting their lives on the line" coming into work during the COVID-19 crisis. Dunn was speaking to the Alabama State Senate Finance and Taxation General Fund Committee, which is holding budget hearings in Montgomery.
"I cannot praise them enough," Dunn said. "They are going into the facility knowing that it (the coronavirus) is there. Not just our corrections officers but also our healthcare workers."
"Many of our workers are single moms," Dunn said. "We have several families where both the husband and wife work for the department and they have children and they are coming to work each day."
"188 of our staff have self-reported" being coronavirus positive, Dunn said. "109 of them have already been able to return to work. That is a tribute to the dedication of our staff. Unfortunately, we have had two employee deaths."
"We are working on an expanded testing protocol, so we can eventually test the entire inmate population and can offer testing to our staff," Dunn said. Employees also have the option of going to their doctor for testing.
"To this point we have tested 523 inmates, 2 percent of our population, and that number will continue to expand," Dunn assured legislators.
Dunn said COVID-19 has negatively impacted ADOC's efforts to hire more corrections officers. They have had to cancel job fairs and some new officer trainings due to the coronavirus shutdown. Dunn assured the senators that there has been progress in addressing the staffing issues that have been cited in a lawsuit in federal court.
Dunn said that to this point in 2020, ADOC has had a net increase of 150 corrections officers. The Department has made 455 new hires, but has lost 305 due to attrition for a net gain of 150.
Dunn showed a graph to the state Senators showing that the number of corrections officers working at ADOC peaked at around 2,000 in 2011. Since then the number of officers has declined precipitously dropping to as low as 1100, before beginning to rise in the last year.
"Our hiring efforts have been slowed down by COVID-19," Dunn explained
Dunn said that they are talking with many candidates who are interested once their unemployment runs out. "We have a whole pool of folks who are waiting and seeing."
"We always understood that this was going to be a process," Dunn told Senators.
"Our personnel budget next year is $300 million," Dunn said. "We have reduced our overtime over $300,000 this year. We have a much tighter management control over that. Part of that reduction is due to the increase in staffing.
Committee Chairman Greg Albritton, R-Atmore, told Dunn, "The over is a very sensitive matter."
Dunn said that any savings from reducing overtime is being used to pay for the new hires.
Dunn said that the prisons are currently operating at 155 percent capacity. Dunn predicted that once the state builds the three new mega-prisons currently in the bid process that ADOC will be operating at 120 to 125 percent capacity. Dunn said that the state has determined from the California case that 137 percent capacity is right at about the line where the federal courts would intervene. ADOC has set the capacity goal at 120 to 125 percent to have a buffer percentage.
ADOC is funded in the State General Fund (SGF) budget. Alabama has an arcane budgeting system where over 90 percent of state funds are earmarked and there are two separate budgets: the SGF and the state education trust fund budget (ETF). Alabama historically has underfunded its prisons and has long neglected its aging prison infrastructure.
COVID-19 remains a very serious problem in Alabama. 2,064 Alabamians were reported positive on Thursday and another ten died, taking Alabama's death toll to 1,042.
At least 248 COVID deaths reported in Alabama in October
The cumulative death toll in Alabama has risen by 248 to 2,788 in October and by 124 in the last week alone.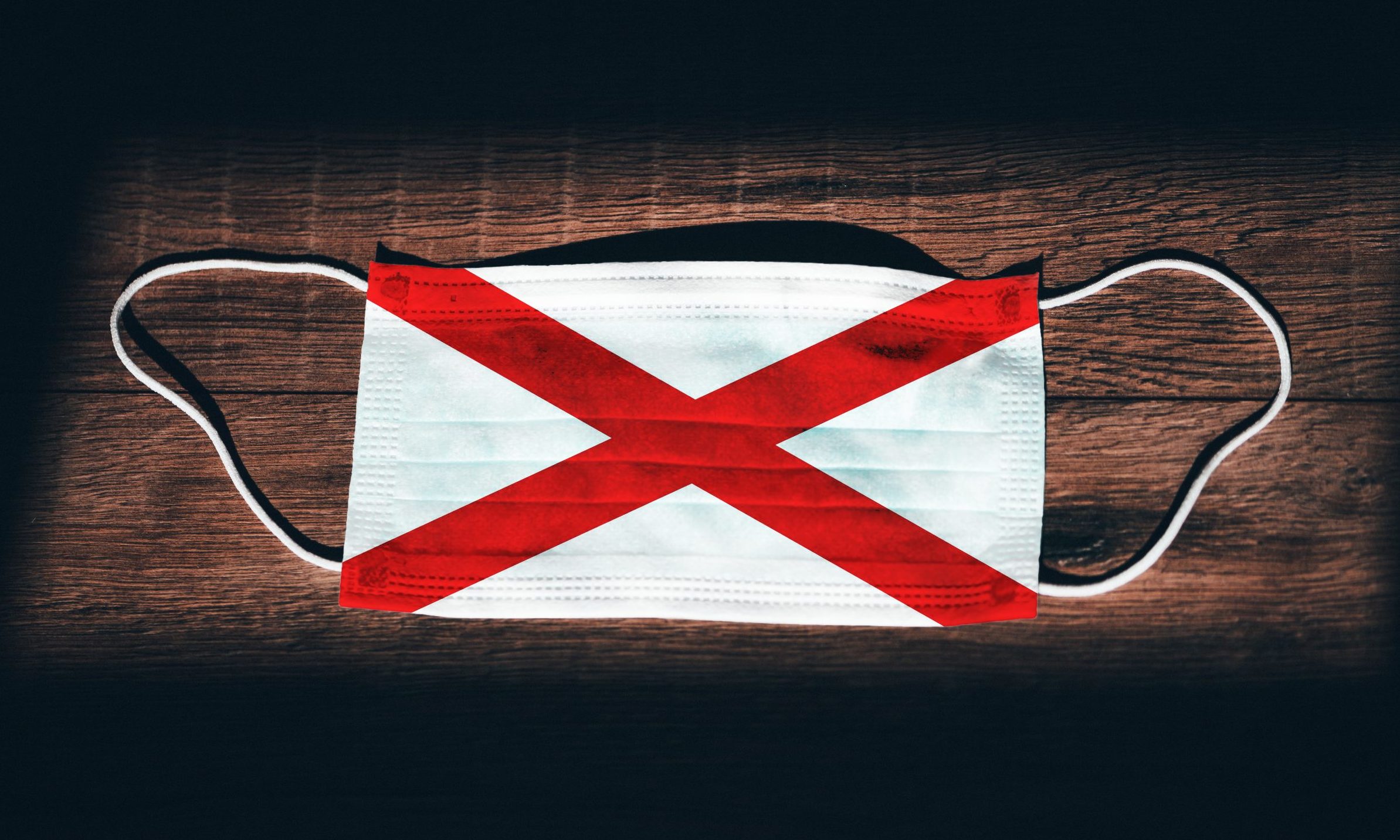 We're a little more than halfway through the month of October and the Alabama Department of Public Health has already reported at least 248 deaths from COVID-19.
The cumulative death toll in Alabama has risen by 248 to 2,788 in October and by 124 in the last week alone.
At least 378 deaths were reported in the month of September, a rate of 12.6 deaths per day over the month. In the first 17 days of October, the rate has been 14.6 deaths per day, a 15.9 percent increase from September.
Deaths were higher in July and August. The cumulative death toll increased by 582 in August and 630 in July, the worst month of the pandemic for the state.
On Saturday, ADPH reported that 1,288 more people in the state were confirmed positive with the coronavirus, and on Sunday the count increased by 964. The number of confirmed cases in Alabama has risen to 172,626.
There have been 17,925 new cases Alabama in October alone. The state is averaging almost 996 cases per day in October, which is up from September.
The state had 28,643 new coronavirus cases in September, 38,335 cases new cases in August, and 49,678 cases in July. Public health officials credit Alabama Governor Kay Ivey's statewide mask order on July 15 with slowing the spread of the virus in the state, but the virus has not gone away.
ADPH reported 823 hospitalizations for COVID-19 on October 17, the most recent day for which we have data. While hospitalizations for COVID-19 are down from the peaks in early August in Alabama have risen from Oct. 1 when 748 Alabamians were hospitalized, a 10 percent increase from the first of the month.
The state of Alabama is continuing to struggle to protect its most vulnerable citizens. At least 6,497 residents of long term care facilities in Alabama have been diagnosed with the coronavirus, 247 of them in October.
There have also been 3,362 cases among long term care workers in Alabama, including 197 in the month of October. Some 9,819 Alabama health care workers have also contracted the coronavirus.
Most people who test positive for the novel strain of the coronavirus, SARS-CoV-2, are asymptomatic or have only minor symptoms, but in about one out of five cases it can become much more severe.
For older people or people with underlying medical conditions like obesity, heart disease, asthma, cancer, diabetes or HIV, COVID-19 can turn deadly. COVID-19 is the abbreviated name for the medical condition caused by the SARS-CoV-2 virus.
Some 1,115,600 people worldwide have died from COVID-19 worldwide, including 224,284 Americans. There are 8,972,704 known active cases in the world today.
Public health officials warn citizens that coronavirus remains a present danger in our community. Social distancing is the best way to avoid spreading the virus. Avoid venues with large groups. Don't shake hands or hug persons not living in your household.
Avoid leaving your home as much as possible and wear a mask or cloth face covering when you do go out. Avoid touching your face and wash your hands with soap frequently. Hand sanitizer is recommended.
A coronavirus vaccine may be available in the coming months, but we don't yet know when or how effective it will be.