Sewell applauds House vote to remove Confederate statues from Capitol Hill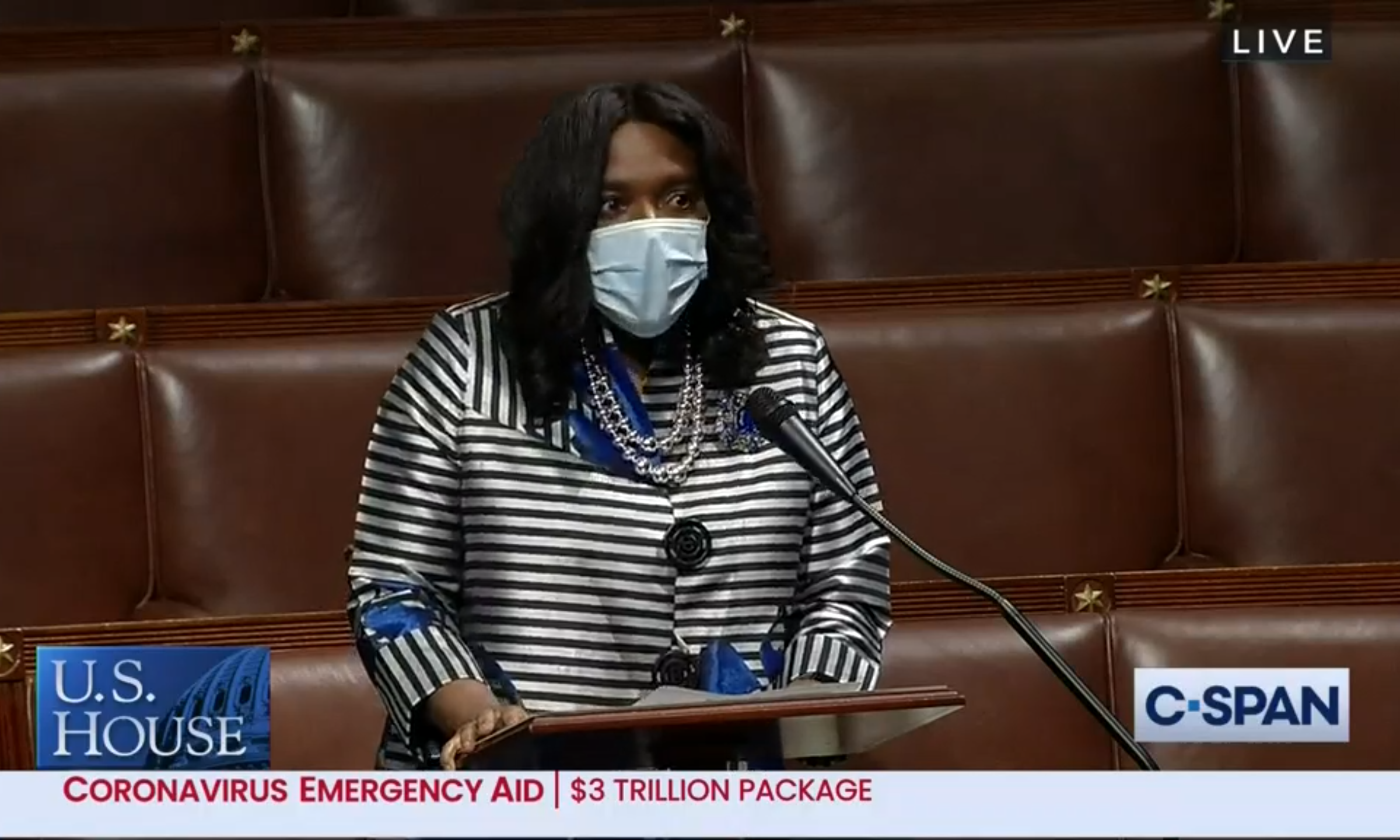 The U.S. House of Representatives on Wednesday voted in favor of H.R. 7573, a bill to remove several Confederate statues from places of prominence on Capitol Hill in Washington, by a margin of 305 to 113. Alabama Congresswoman Terri Sewell applauded passage of the bill.
The bill replaces the bust in the Old Supreme Court Chamber of Chief Justice Roger B. Taney, the author of the Dred Scott ruling in 1857 that upheld slavery, with that of Justice Thurgood Marshall, the first Black Justice on the Supreme Court and the attorney for the Civil Rights Movement.
The bill would also require states to reclaim and replace any statues in the National Statuary Hall Collection of individuals who volunteered for the armed services of the Confederacy during the Civil War. The bill also specifically removes three statues — John C. Calhoun, Charles B. Aycock and John C. Clarke — from the collection because of their roles in defending slavery, segregation and white supremacy.
"Statues honoring white supremacists and segregationists stand contrary to the values upon which our nation were founded – that all men are created equal," Sewell said. "Removing these statues is an important acknowledgment of the pain and repression caused by those who have defended slavery, segregation and white supremacy, but it is critical that we keep our eye on the prize and continue fighting for substantive policy change and cultural shifts that address our nation's longstanding inequities and institutional racism."
Republican Alabama Congressman Mo Brooks had earlier written comments explaining his opposition to the legislation.
"I reject cancel culture, historical revisionism, socialism, and fascism," Brooks said. "I support freedom and liberty. I support federalism and a state's right to decide for itself who it should honor. As such, I will proudly vote 'No' on H.R. 7573. Alabama, not New Yorkers, Californians, or anyone else, should decide who we wish to honor in Alabama's contribution to the National Statuary Collection. Socialist Democrat states should butt out."
Alabama will be one of the states directly affected if H.R. 7573 were to become law. The statue of Gen. Joe Wheeler, who fought for the Confederacy and the United States in the Spanish-American War, would be one of those statues that would be rejected.
The two Alabama statues remaining would be Civil Rights movement heroine Rosa Parks and Helen Keller, who was deaf and blind, but overcame her disabilities to learn anyway.
H.R. 7573 now heads to the Senate for its consideration.
Sewell represents Alabama's 7th Congressional District. Brooks represents Alabama's 5th Congressional District. Neither of the two five-term incumbents have a general election opponent.
Alabama Democratic Party: Mitch McConnell, Senate GOP are playing politics at the expense of families
The Alabama Democratic Party this week released a statement blaming Senate Majority Leader Mitch McConnell, R-Kentucky, and Senate Republicans for the inability of the two parties to come together to pass a bipartisan coronavirus aid bill before adjourning for the August recess.
"We are furious. You should be too. Mitch McConnell and Senate Republicans are once again playing politics at the expense of Alabama families," the Alabama Democratic Party wrote in an email to its donors and supporters. "Mitch McConnell waited over two months after the House of Representatives passed the HEROES Act to begin negotiations on a new relief package. He knew full well that many of the programs that Americans have relied on during this crisis would expire at the end of July. Now, many Alabama families are in dire straits and facing evictions. As Senator Doug Jones said, 'this is completely inexcusable.'"
Negotiations on a deal failed Thursday night, and Trump responded to the impasse by passing a series of executive orders to extend benefits for the unemployed and provide a break from payroll taxes.
"The President's executive order is a thinly veiled attempt to fulfill his promise of cutting Medicaid and privatizing Social Security," the Alabama Democrats responded to the President's actions. "His payroll tax collection moratorium also leaves open the possibility that the taxes may need to be paid in a lump sum next year. We need a bipartisan solution from the Senate, not political stunts, and hollow executive orders."
House Democrats wanted a $3.4 trillion stimulus while the Republicans want to limit it to just $1 trillion.
"Tell Senate Republicans to extend unemployment benefits to 600 dollars weekly by signing our petition," the Alabama Democratic Party wrote. "Alabama workers, displaced by the pandemic, should be able to provide for their families and pay their bills. Tell Mitch McConnell to quit playing games and act now."