UAB doctor says next two weeks critical for COVID-19 hospitalizations
Dr. Jeanne Marrazzo, director of UAB's division of infectious diseases, said during a press briefing with reporters Wednesday that Alabama is at a "precariously stable point."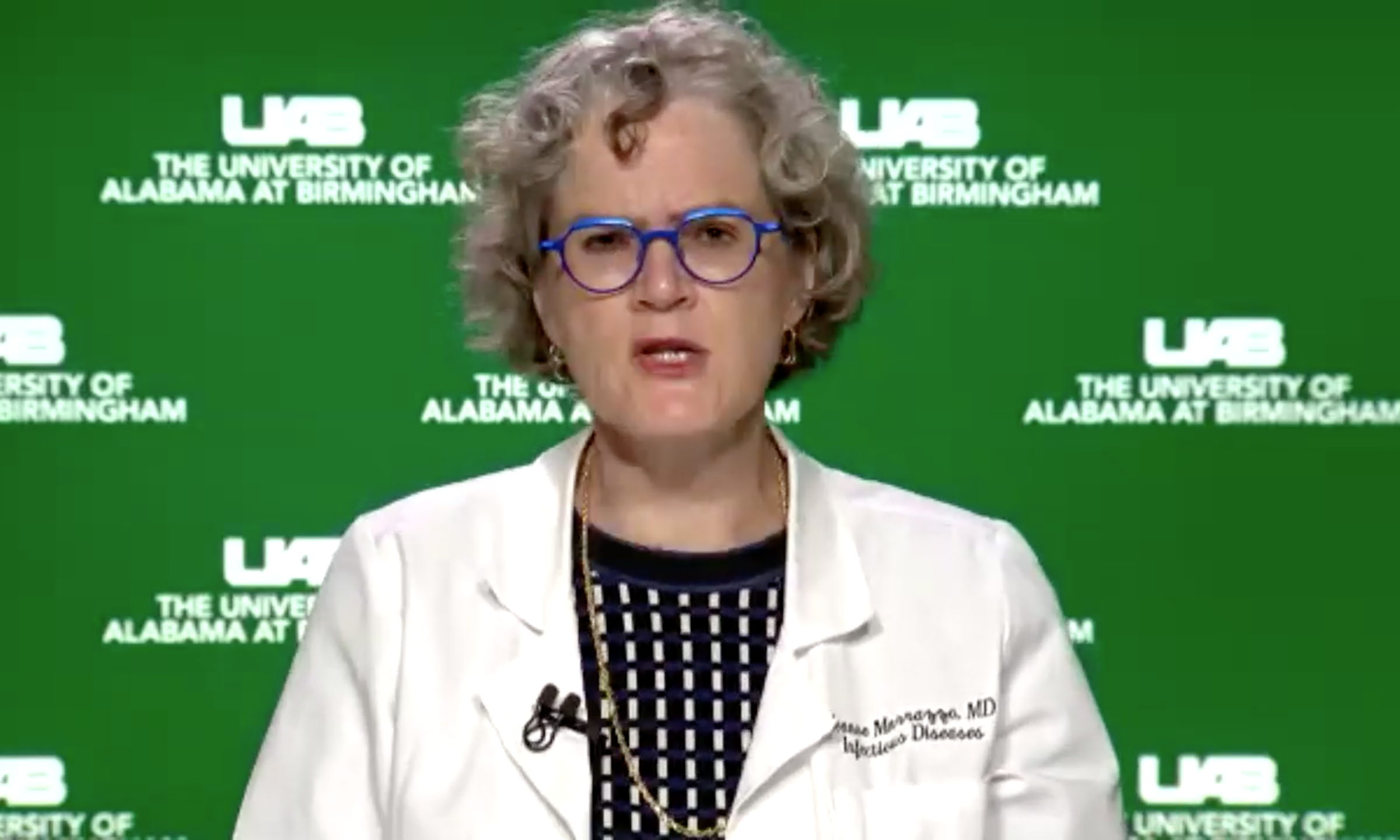 A UAB infectious disease expert thinks the next two weeks will determine whether pop-up hospitals will be needed to help handle COVID-19 patients, and plans are being dusted off to do just that if hospitalizations continue to rise.
Dr. Jeanne Marrazzo, director of UAB's division of infectious diseases, said during a press briefing with reporters Wednesday that Alabama is at a "precariously stable point" and that for now, the extra space outside of the state's existing hospitals isn't needed, but if hospitalizations continue to rise, and discharges remain flat, the extra room could be needed.
State Health Officer Dr. Scott Harris said at a press briefing earlier on Wednesday said that a group is working with the Alabama National Guard to assess sites for those pop-up hospitals.
Marrazzo said earlier in the pandemic, UAB administrators began planning for just such a scenario, and had identified sites outside the hospital where additional space for care could be located. Those plans are being dusted off, she said.
Alabama hospitals on Tuesday had the fewest intensive care beds available since the start of the pandemic, with just 10 percent not being used, said Dr. Don Williamson, president of the Alabama Hospital Association, speaking to APR on Tuesday.
It was the first day during the pandemic that available ICU beds in Alabama dipped below 200. Tuesday also saw the most COVID-19 patients in ICUs across the state.
On Wednesday, there were 1,598 hospitalized COVID-19 patients in Alabama, and the state set a record-high number of hospitalized coronavirus patients on Monday, at 1,599.
UAB Hospital was caring for 115 COVID-19 inpatients on Wednesday, down just slightly from the hospital's record high of 119 on Tuesday.
"I think my sense is that more people are wearing masks," Marrazzo said. She said the hope is that the practice of wearing masks in public continues, hospitalizations could begin to decline, but what complicates things are the numbers of new daily cases.
The last day Alabama saw fewer than 1,000 new COVID-19 cases confirmed in a single day was on July 7. The 14-day rolling average of new daily cases was 1,668 on Wednesday.
"The only thing is that with more people being infected, the closer it's going to get to everybody personally," Marrazzo said.
Additionally, Marrazzo said she's very concerned with how many tests performed are positive, which is a sign public health experts say means there isn't enough testing and cases are going undetected.
"Our positivity percentage has remained at about 18 to 19 percent across the state for the last 10 days or so, so that is very, very, very high," Marrazzo said. Public health experts say the percent positivity should be at or below five percent.
"We are also seeing, unfortunately, highs in daily death rates, particularly last week," Marrazzo said.
For three straight days last week, Alabama's daily COVID-19 deaths didn't drop below 32, with a high on Wednesday of 57 deaths.
Speaking on the drug Remdesivir, which has proven effective in shortening recovery times for coronavirus patients not sick enough to be put on ventilators, Marrazzo said the status of the drug is "tenuous."
"It is allocated based on the number of cases and hospitalizations you have, through the federal government, in a process that has been called not particularly transparent," Marrazzo said. "So we don't really know week to week what number of doses we're going to get, so it's a bit of a scramble and it's very nerve-wracking for our providers and our physicians and our nurses and our staff to really not know exactly what's going to happen with Remdesivir."
Marrazzo said she's especially worried if other states don't start to see a turnaround in the number of hospitalized COVID-19 patients and the demand for Remdesivir spikes.
Earlier on Wednesday, Gov. Kay Ivey announced the extension of her "safer-at-home" order and statewide face mask mandate, with the addition of a requirement for school staff and students from 2nd grade through college to wear masks in classrooms.
"Which I think is terrific. I strongly applaud it. I think it's the responsible thing to do," Marrazzo said.
Numerous studies have proven that wearing masks cuts transmission of coronavirus, and it's one of the few tools we have to fight the deadly disease, Marrazzo said. She said she realizes masks are uncomfortable to wear, and people are tired of wearing them, but urged the public to continue wearing them to help slow the spread of coronavirus.
"What people often do, frankly, is to take their masks off when they go to the break room, or they take their masks off when they're just maybe meeting up with colleagues, and we have seen infections being transmitted in that context," Marrazzo said.
Alabama's spike in daily COVID-19 deaths Tuesday result of process delays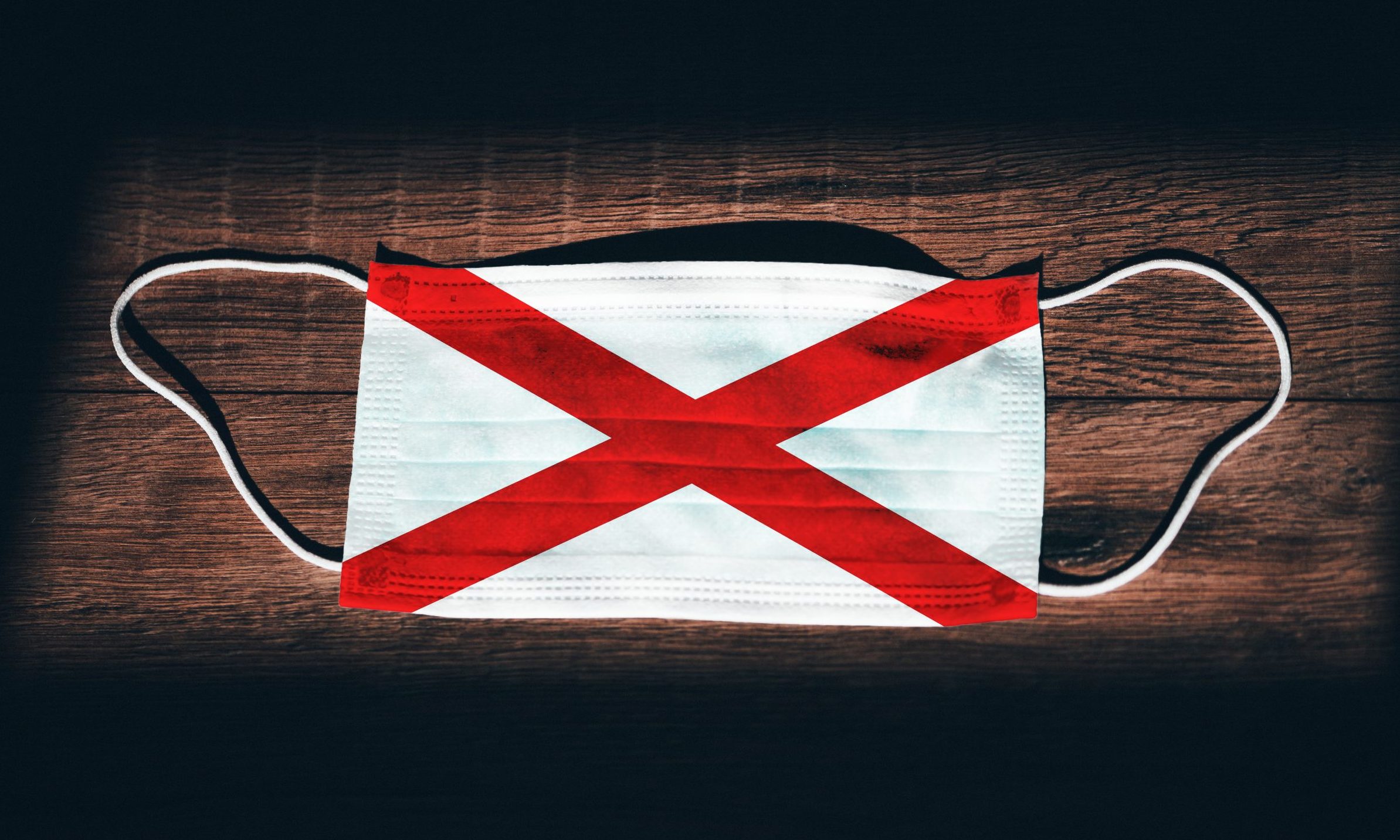 The Alabama Department of Public Health on Tuesday recorded 48 new COVID-19 deaths in the state, bringing the total number of coronavirus deaths over the last two weeks to 335, the third-highest two-week total since the start of the pandemic.
In June, at least 296 Alabamians died from coronavirus, the Alabama Department of Public Health reported, and in July there were 605 COVID-19 deaths, the most recorded in any month since the pandemic began. This summer, Alabama's death count from the disease skyrocketed after periods of relatively flat daily death counts.
But Tuesday's jump in single day reported deaths was the result of a delay in the process of collecting and reviewing necessary medical records, laboratory data and other information, and not a reflection of an overall increase in deaths, said Dr. Karen Landers with the Alabama Department of Public Health, in a message to APR on Tuesday.
The daily number of new confirmed COVID-19 cases, and the state's seven-and 14-day averages of news cases, have been on the decline since late July, but daily testing numbers have been all over the map from day to day. The state's seven-day average of new daily tests was at 8,611 on Tuesday, after five straight days in late July when the state was recording seven-day averages of new daily tests of more than 10,000.
ADPH on Monday announced that software vendor problems had thrown off some of the department's COVID-19 testing numbers, and that the problem had been fixed and some lab data was being inputted into the system.
Meanwhile, ADPH on July 31 said the state was experiencing a rash of problems surrounding COVID-19 testing that was resulting in an average of seven days to get results, which public health experts have said renders the results nearly worthless.
The department said the lengthier turnaround time for test results is due to supply chain problems with test reagents, more demand for coronavirus tests nationwide, "and in some cases, increased numbers of unnecessary tests."
ADPH spokesman Ryan Easterling, in a response to APR's questions about the fluctuating daily test numbers, on Tuesday wrote in a message that many factors affect both the reporting and result times for COVID-19 tests, and that multiple entities are conducting coronavirus testing in Alabama, including commercial laboratories, clinical laboratories and ADPH's one lab. Some doctor's offices, urgent cares, hospital emergency rooms and Long Term Care facilities are also conducting rapid COVID-19 tests, he said.
"Some new laboratories or entities who have previously not been accustomed to reporting notifiable disease results are having to report, which requires their understanding the requirements and methods of electronic reporting," Easterling said. "Ongoing supply chain issues, such as reagents and consumables necessary for testing, occur periodically and reduce turn around for testing."
COVID-19 hospitalizations statewide have remained high since the state hit a record 1,642 hospitalized coronavirus patients on July 30. On Tuesday, there were 1,506 hospitalized COVID-19 patients across Alabama, ADPH reported, and the state's seven-day average of hospitalizations was at 1,553 which was just slightly below the record high of 1,590 on Aug. 2.
The percent of COVID-19 tests that are positive – a sign that helps determine the current extent of the spread of the disease – began to dip slightly at the start of August, but it remains well above the five percent positivity rate that public health experts say it needs to be to ensure enough testing is being done and cases aren't going undetected.
Alabama's 14-day average of percent positivity on Tuesday was 16 percent, down from 18 percent a week before.
Gov. Kay Ivey issued a statewide mask order on July 15, and it can take weeks before seeing whether such a requirement is having an impact on the spread of the virus, public health officials have said.
There's concern, however, that as the state's K-12 schools and universities continue to reopen in the coming days, outbreaks could pop up across the state, sparking another wave of new COVID-19 cases, hospitalizations and deaths.