Gov. Kay Ivey's coronavirus task force has met sparsely during pandemic
Ivey's office says that throughout the COVID-19 pandemic, Ivey and her staff have stayed in regular contact with State Health Officer Dr. Scott Harris, Alabama Department of Public Health officials and other experts.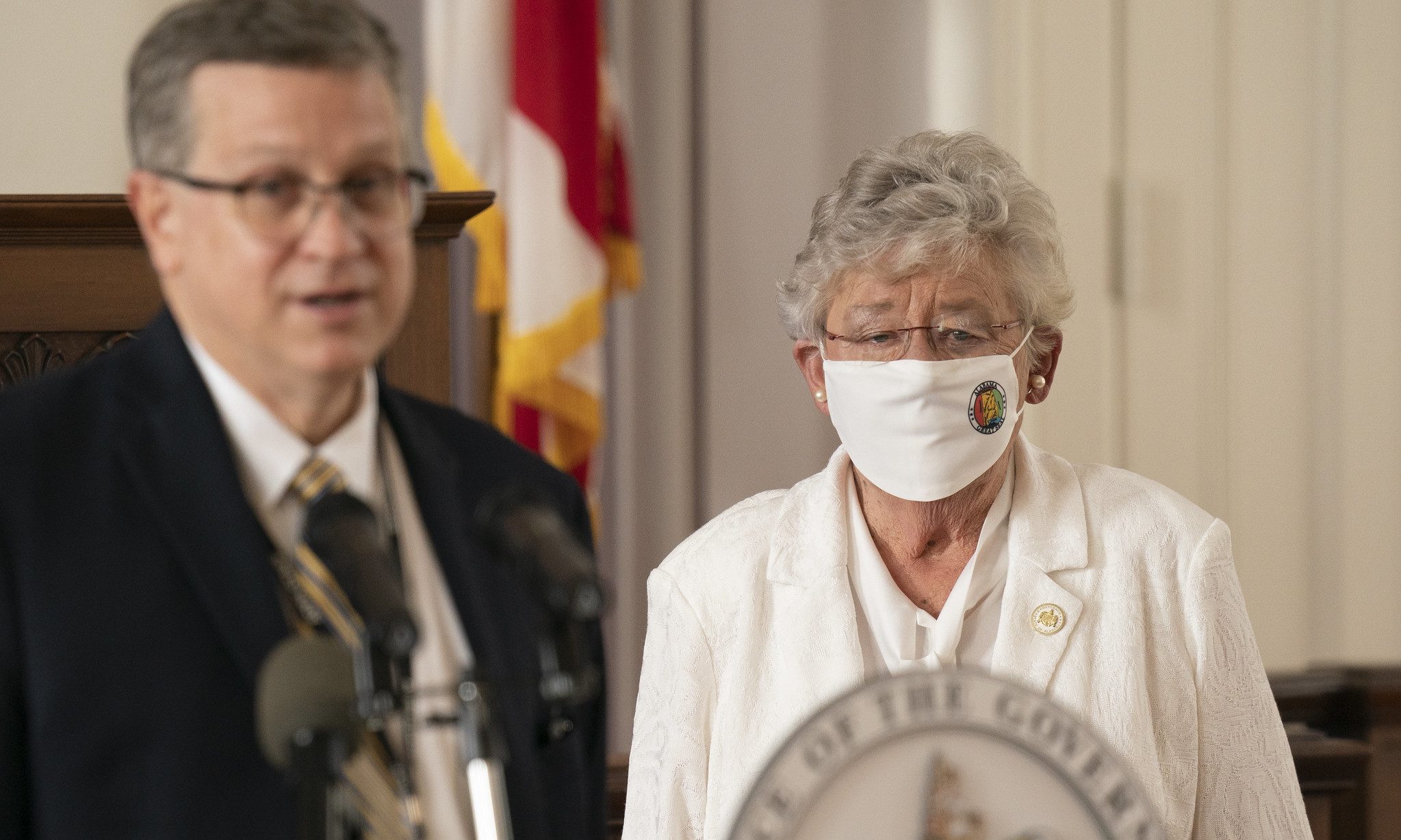 Over the last three months, Gov. Kay Ivey's coronavirus task force has met by phone twice, and in that time the state's confirmed COVID-19 cases grew by 72,590 and confirmed coronavirus deaths grew by more than 500 percent.
Ivey also formed a coronavirus task force executive committee, which has met just three times, and met last on May 4.
But Ivey's office says that throughout the COVID-19 pandemic, Ivey and her staff have stayed in regular contact with State Health Officer Dr. Scott Harris, Alabama Department of Public Health officials and other experts — and that the task force is just one of many avenues that Ivey and her staff use to discuss coronavirus and the state's response.
"As we have seen throughout this pandemic, the governor has taken a thoughtful and measured approach, and she is adamant on doing so with the best possible information, even as we see data continuously changing during what are uncertain times," said Gina Maiola, Ivey's press secretary in a message to APR.
Ivey announced the formation of the 18-member task force on March 6, seven days before she declared a state of emergency over the threat COVID-19 posed to the state. At the time, Alabama hadn't yet had its first confirmed case.
The task force held six teleconferences in March, four in April, one in May and one in June. It last met by phone on June 29, according to records of those meetings provided to APR by Ivey's office through a records request.
On April 14, the governor announced the creation of the six-member executive committee, composed of members of the task force, which was charged with mulling recommendations on reversing some of Ivey's restrictions meant to slow the spread of the virus.
The executive committee, chaired by the state's finance director, Kelly Butler, met first in person, while observing social-distancing guidelines, on April 21, then held follow-up conference calls on April 30 and May 4, according to an Alabama Department of Finance spokeswoman. The executive committee hasn't met by phone or otherwise since May 4.
"It's more so updates," said Rep. Anthony Daniels, D-Huntsville, House minority leader and a member of Ivey's coronavirus task force, speaking to APR on Tuesday about the teleconference meetings.
Daniels said members would hear updates from Harris, the state health officer, and Dr. Don Williamson, the president of the Alabama Hospital Association, and others. Ivey would also ask for any comments from other members, Daniels said.
He worries, however, that the state still isn't doing what it can to mitigate the spread of the virus, which as of Wednesday has killed 1,489 people in Alabama. At least 36 percent of the deaths have been reported in July. The state's COVID-19 daily hospitalizations hit another record on Monday, when Alabama's supply of intensive care beds was also at its lowest point during the pandemic, and more coronavirus patients than ever were in those ICU beds.
Daniels pointed to an op-ed he wrote in late March that called for a stronger response to COVID-19 and laid out steps state leaders could take, but he said Tuesday that "I don't know that we've focused on any of those things."
In the op-ed, Daniels suggested the state expand Medicaid to help provide medical care to uninsured and low-income people, prepare to reopen some of the state's 17 shuttered hospitals to care for COVID-19 patients and bolster the state's supply of personal protective equipment, testing capacity and other needed supplies.
"The Governor's Coronavirus Task Force that she established is one of the many avenues where she and our staff discuss the situation on hand, and it was particularly critical as we were in the beginning phases of this virus," Maiola said in a message to APR on Monday. "Even in addition to meetings, information is shared."
Maiola said after establishing the task force, and as Ivey and her office worked to "reopen the economy, she also established a select group of various individuals to serve on the Executive Committee."
"Governor Ivey and our team receive daily updates from Dr. Harris and the Department of Public Health. The governor is also continuously receiving information from the hospitals, members of various industries, the White House and several other expert individuals and groups," Maiola said.
Ivey also met in a closed-door meeting on July 15 with Dr. Deborah Birx, a key member of President Donald Trump's coronavirus task force, along with the state health officer. After that meeting, the three joined in a roundtable discussion with 19 other physicians, state politicians, faith leaders and state and federal officials to discuss the state of COVID-19 in Alabama.
Press wasn't allowed at the July 15 meeting or roundtable, and did not receive advance notice that Birx was coming to meet with Ivey and others, although Ivey's office did issue a press release afterward stating that Birx believed it was a critical time for the South to slow the spread of the virus, and that Ivey's decision to issue a statewide mask mandate was "brilliant."
Daniels said he didn't get an invitation to the meeting and was unaware Birx was coming to visit.
In subsequent visits to other states, Birx was made available for members of the press to ask questions.
In Tennessee on Monday, Birx held a press conference with Republican Gov. Bill Lee, in which she said that since that state was classified as being in the "red zone" in the White House Coronavrus Task Force's weekly report "the number one bullet is mandate masks, close your bars, enhance social distancing."
Birx made the same recommendation to close bars when she spoke in Virginia on July 28, telling reporters there that "it could really prevent Virginia from having the experience that our Southern states have had by starting mitigation efforts sooner rather than later."
Alabama was, at the time of Birx's meeting with Ivey, also classified in the White House Coronavirus Task Force's weekly report as being in the "red zone," according to The Center for Public Integrity, which published the document, which the White House had prepared but had not made public.
It was unclear Tuesday if Birx recommended that Alabama close its bars in the closed-door meeting with Ivey and Harris. A person who attended the roundtable discussion with Birx told APR they do not recall Birx making such a recommendation in that meeting, but that they're uncertain if she made it when meeting privately with Ivey and Harris.
Asked if Birx recommended Alabama close its bars during her meetings with Ivey on July 15, the governor's press secretary did not respond to the question in her reply to several questions.
The Alabama Department of Public Health, through a spokesman, declined to answer APR's question as to whether Birx recommended to Harris and Ivey that the state close its bars.
Ryan Easterling, director of health media and communications at the Alabama Department of Public Health, in a response to APR on Thursday wrote that Harris and Ivey had a very productive meeting with Dr. Birx.
"She was terrific in answering technical questions with our laboratory and epidemiology staff," Easterling said in his response, and then pointed the reporter to a two-paragraph press release on Birx's visit.
Mac Gipson, the administrator of the Alabama Alcoholic Beverage Control Board, told board members at the start of a special meeting on Monday that Ivey's office contacted the board last week — which would have been after her meeting with Birx — and said that one suggestion from Ivey's advisers was to close bars, but that the board was tasked with coming up with a different solution.
Gipson said the original plan was to cut off alcohol sales at 10 p.m. and require all alcohol sold to be consumed by 10:30 p.m., but numerous business owners said the 10 p.m. cutoff was too early.
"I contacted the State Health Officer and he thought it should be 9 p.m. instead of 10 p.m.," Gipson said. Instead, the board voted 3-0 on Monday to cut off alcohol sales at 11 p.m.
Ivey on Wednesday extended her "safer-at-home" order, which includes a statewide order to wear face masks. Included in the requirement are all school employees and students in grades 2 through college.
CDC confirmed expanded "close contact" definition to Alabama officials in August
It is unclear why the CDC waited until late October to update or clarify its public-facing guidance on its website.
New federal guidance on how a person is determined to have been in close contact with someone infected by COVID-19 won't impact how Alabama works to mitigate the disease, said the state's top health official. That's because the state was already aware of the expanded definition in August before the change was made public last week.
It is unclear why the CDC waited until late October to update or clarify its public-facing guidance on its website when it was giving more precise definitions to at least one state health department and receiving questions from public health officials about the definition.
The delay in announcing the change is raising questions about how state health officials nationwide have been determining the public's possible exposure to the deadly disease and if contact tracing and mitigation efforts will be made more time- and resource-intensive with the more inclusive definition in place.
The CDC on Wednesday expanded the definition of "close contact" to mean a person can be at risk of contracting COVID-19 if that person is within six feet of an infected person for a period of at least 15 minutes over a 24-hour period.
The previous definition stated a person should quarantine if they were within six feet of an infected person for at least 15 minutes. Alternately, in other areas of the CDC's website, the language stated "a total of 15 minutes" in the definition of close contact.
"What they changed their definition to is something they had verbally confirmed to us months ago, and we have always been using that definition," said Alabama State Health Officer Dr. Scott Harris, speaking to APR on Friday.
Harris said a support team from the CDC was in Alabama in July as the Alabama Department of Public Health was preparing plans to reopen schools. Harris said the question was asked of CDC staff because his department was getting questions on the definition of close contact from school officials.
APDH staff took the definition then of "a total of 15 minutes" to mean that there could be several exposures over a period of time equaling that 15 minute threshold, so they asked CDC to clarify that assertion.
"When those folks were here we asked the CDC people directly. Can you confirm for us what that means, and they said, it adds up to a total of 15 minutes in a 24-hour period," Harris said. "And we even got somebody to commit to that in an email somewhere."
Melissa Morrison, CDC's career epidemiology field officer working at the ADPH in Montgomery, in an Aug. 13 email to ADPH's director of the office of governmental affairs, quotes a statement Morrison attributes to her CDC colleague, CDC public health advisor Kelly Bishop. Harris shared the email with APR.
"Yes, I did get a response from the contact tracing team. The 15 minutes for a close contact is cumulative, and they said 'The time period for the cumulative exposure should start from 2 days before the cases' illness onset (or, for asymptomatic patients, 2 days prior to positive specimen collection date) until the time the patient is isolated," Morrison quotes Bishop in the email.
In the August email, Bishop goes on to say, as attributed by Morrison, that "as of now there is no established upper limit on the time period (i.e. 48, 72 hours etc)."
The CDC's expanded definition was reflected in an Aug. 20 statement from the Alabama Department of Public Health.
"The 15-minute time is a cumulative period of time. For example, a close contact might be within 6 feet of a COVID-19 positive person for 5 minutes each at 8 a.m., noon and 5 p.m. This is a standard based on guidance from the CDC," the statement reads.
In an email to APR on Friday, Harris said he'd discussed the matter with Morrison on Friday who "emphasized that the guidance this week from CDC was NOT a change but rather a clarification. They simply used the MMWR corrections story as a convenient time to make the point."
Harris was referring to a CDC's Morbidity and Mortality Weekly Report released Wednesday that detailed findings by Vermont health officials showing that a prison worker contracted COVID-19 during an eight-hour shift in which the worker had 22 close contacts with an infected inmate totaling 17 minutes.
The CDC in statements to numerous news outlets, and to APR, cite that Vermont study in connection to Wednesday's definition change.
"That's kind of why they said it out loud," Harris said of the study and the Wednesday announcement. "But I have to say, when I saw that updated guidance I thought, 'I can't believe anybody ever thought otherwise.'"
Different pages on the CDC's website on Saturday defined close contact as both being "a total of 15 minutes or more" and "a total of 15 minutes or more over a 24-hour period," confusing the matter further, and numerous other state health departments had not yet updated their websites Saturday to reflect the CDC's expanded definition.
A CDC spokesman in an email to APR on Wednesday noted the Vermont study on the prison worker and said "CDC clarified the amount of time it would take for someone to be considered a close contact exposed to a person with COVID-19."
"The CDC website now defines a close contact as someone who was within 6 feet of an infected person for a total of 15 minutes or more over a 24-hour period. Previous language defined a close contact as someone who spent at least 15 minutes within 6 feet of a confirmed case," CDC spokesman Scott Pauley told APR by email Wednesday.
Pauley didn't respond to APR's question on Friday asking why the CDC waited until Wednesday to update its guidance online, given that ADPH had confirmed the definition of close contact in August. He also didn't respond to a request to verify the statement Morrison attributed to her CDC colleague in the August email.
"To us, we thought if it says a total, that means you must be adding up smaller amounts to get to 15 minutes, or you wouldn't use the word total," Harris said. "When they changed it this week, I don't know the details of why that happened, but I think, obviously, everybody didn't have the same message everywhere."
Dr. Bertha Hidalgo, an epidemiologist and assistant professor at UAB's Department of Epidemiology, told APR on Friday that her understanding prior to Wednesday's expanded definition was that a contact was defined as someone who was exposed to the COVID-19 positive individual for at least 15 min or more at a time and explained that the updated guidance complicates how public health officials will engage in contact tracing.
"This means significant efforts for contact tracing moving forward, in effect needing to identify every person that person came into contact with during the possible exposure timeframe," she said.
It was unclear Monday how the definition change impacts Alabama's Guidesafe COVID-19 exposure notification app, which notifies a user if they come into close contact with an infected person. The app was developed by ADPH and University of Alabama at Birmingham, thanks to a partnership between Apple and Google's combined development of the technology, and alerts users to possible exposure while keeping all users' identities anonymous.
Sue Feldman, professor of health informatics, UAB School of Health Professions, in a message to APR on Friday said that due to the anonymity of the app, it would be difficult, but not impossible, to update the app to take into consideration the CDC's expanded guidance.
"We are taking this into consideration for our next update," Feldman said in the message.
Also unclear is how many other states that have similar exposure notification apps, also using Google and Apple's technology, aren't yet using the expanded definition of a "close contact." Colorado is to roll out that state's app on Sunday, and according to Colorado Public Radio News the app will notify a user that they've been exposed if they come "within six feet of the phone of someone who tested positive for at least ten minutes."
New York's exposure notification app also appears to use the old CDC guidance, and will alert users if they come "within 6 feet of your phone for longer than 10 minutes," according to the state's website.
The updated definition, which health departments refer to when conducting contact tracing, is likely to have a serious impact on schools, workplaces and other group settings where personal contact may stretch over longer periods of time including multiple interactions.
It greatly expands the pool of people considered at risk of transmission. "It's easy to accumulate 15 minutes in small increments when you spend all day together — a few minutes at the water cooler, a few minutes in the elevator, and so on," Johns Hopkins Center for Health Security epidemiologist Caitlin Rivers told The Washington Post. "I expect this will result in many more people being identified as close contacts."
The clarification comes as cases and hospitalizations are rising both in Alabama and nationwide. Alabama's 14-day average of cases has increased 41.2 percent over the past two weeks. The percentage of tests that are positive has increased from roughly 13 percent to more than 20 percent over the past 14 days. The U.S. average of new daily infections is now at its highest point of the pandemic, with 481,372 cases reported in a week, according to CNN and Johns Hopkins University.