Summer is peaking and so are utility bills. Historically the July-September months are always the most expensive electric bills of the year. You're most likely using more power in a time when so many are crunching their budget, due to Covid-19. Your utility has likely implemented measures for delayed payments and waivers for late fees, but at the end of the day, the meter keeps accruing usage.
Instead of waiting until the end of the month and being shocked by the total of the bill, I would like to make you aware of some quick tips that will put you in greater control of how you use electricity. These tools will better equip you to use power more efficiently and effectively to remain in line with your budget.
Because Alabama Power is the largest provider of electricity in the state, I decided to use their online website's tool as an example, but some of these tips translate to whoever your electric provider may be.
If you are an Alabama Power customer with an online profile and want to manage your bill better, start here. If you do not have an online account, the first thing you need to do is sign up for an online profile by clicking here. Have your account number handy (it can be found on the paper copy of your power bill) and you'll be signed up in under five minutes.
Once you're signed in to your online account you'll be able to track your "Recent Power Usage" and be able to compare your most recent power bills. That alone will better inform you of your month-to-month usage. But that's not the best part.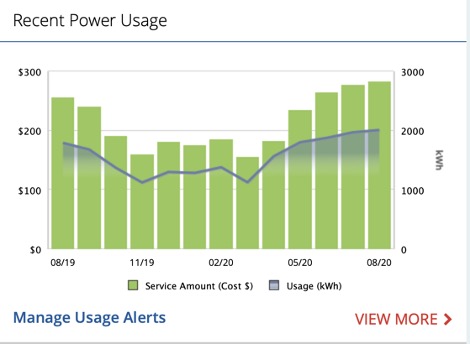 From the Menu" tab, click "Billing and Payments" and then "Usage Alerts". This will take you to a screen where you can enter your desired monthly usage or daily usage in dollar amounts, and each day you go over that limit, Alabama Power will email you a notification. This tool puts you in greater charge of controlling your monthly bill. If you know the maximum amount in your budget for your power bill each month, take that amount, divide by the days of the month, and you'll know the exact amount you need to set the alert for. Knowing this will allow you to make necessary changes as needed to how you use your appliances in your home.
The second important tool to take advantage of under "Menu" is "Energy Checkup". This is a real state-of-the-art tool that everyone should use. "Energy Checkup" offers tips on different kinds of appliances to upgrade to that would potentially save you money, but more than that, it offers an "Energy Use Breakdown" of how you're using electricity and fuel in your home. As you'll see from the chart below, everything you use in your home is accounted for.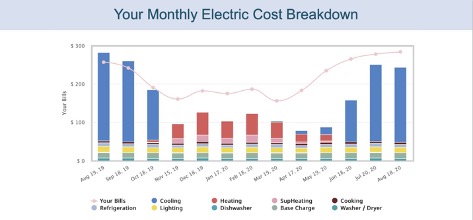 These tools are all about empowering you to know how you're using electricity in your home and will give you opportunities to manage your electric bill.
If you are not an Alabama Power customer, it is possible your power provider has online tools and alerts that will be of a similar benefit. If you cannot locate these services via your online account, call your local provider and ask them what is available for you to take advantage of. And if by some chance your provider isn't offering these resources, I encourage you to petition them to improve access to these tools.
Lastly, utilities have been working with us during the pandemic to waive disconnections and late fees, but many of those moratoriums are coming to an end. If you need further assistance, please reach out directly to your provider to find a solution that works best for you. Also, there are great opportunities via LIHEAP where you can petition for assistance. You can find info about their services here.
I hope that every one that is reading this has been safe and making the most of your summer during this unique and challenging time. One of my main goals right now, as Public Service Commission (PSC) Place One Commissioner, is to help provide you information to help better position your business and family to navigate this very difficult season. And for all of us dealing with the challenges of COVID-19, my prayers are with you.