Alabama has eighth most active coronavirus cases in U.S.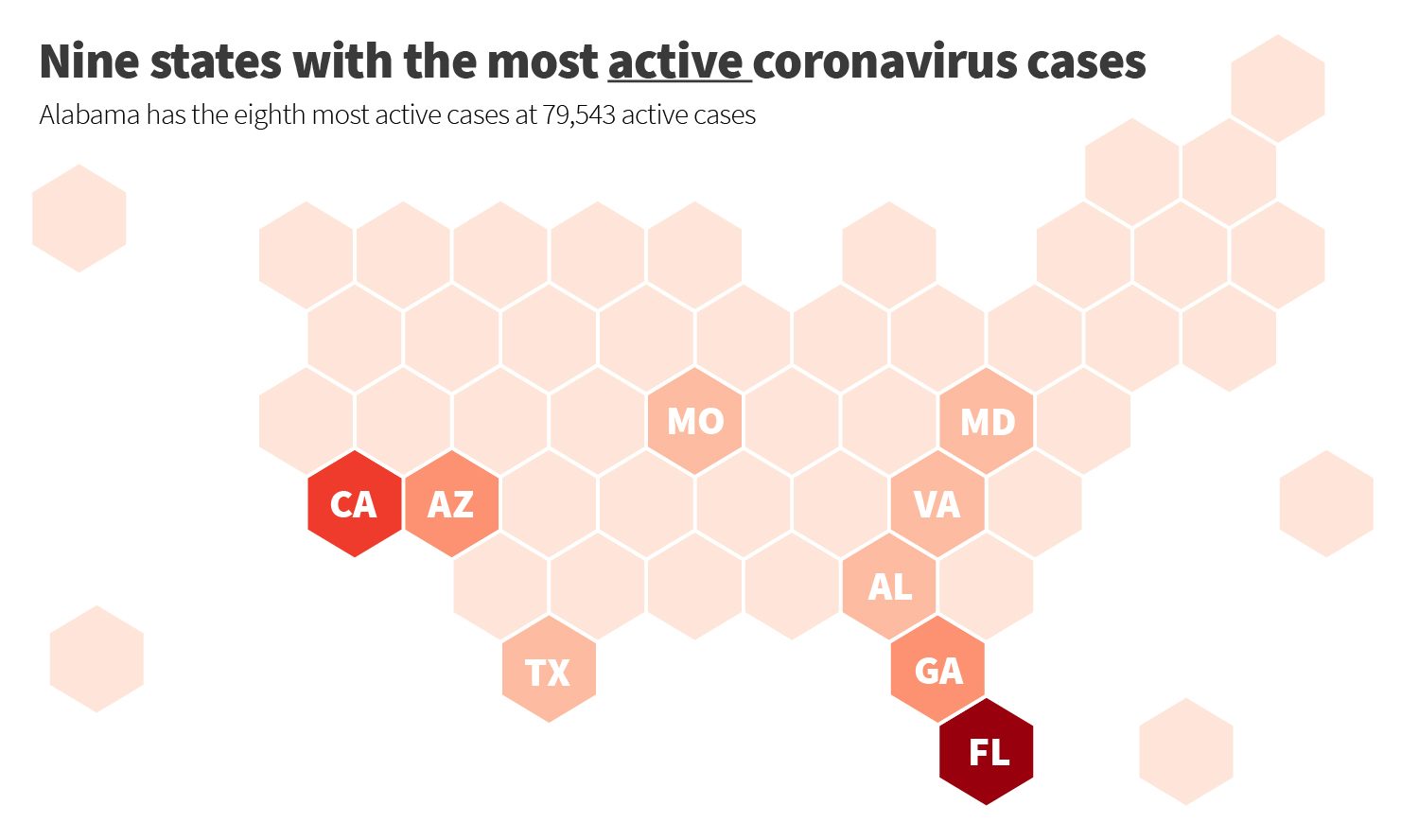 Alabama has more active coronavirus cases than 42 other states and Washington D.C. — including more than some states like New York, Michigan and Louisiana, which were some of the hardest-hit states early on the coronavirus pandemic.
On Monday, the Alabama Department of Public Health reported 659 more Alabamians tested positive for the coronavirus. That makes 6,915 cases in the last week, raising the total number of cases in the state to 132,973. *This total now includes both probable and confirmed cases.
At least 51,154 Alabamians have recovered from their illness but 78,884 Alabamians still have coronavirus cases considered to be active. This is the eighth highest number of active infections in the nation, according to the data tracking website Worldometer.
All of the states ahead of Alabama are more populous. Florida is far and away the state with the most out-of-control coronavirus infection situation currently with 534,887 active cases. California is second with 361,259 active cases and Georgia is third with 223,218. Only California, Georgia, Florida, Arizona, Virginia, Maryland and Texas have more active cases than Alabama.
Despite New York suffering the worst early on in the pandemic and having a much larger population, Alabama now has 17,546 more active coronavirus cases than New York.
Alabama is also fifth in the country in total cases per capita. Alabama's 132,973 cases represent 27,120 coronavirus cases per million people. Only Louisiana, Florida, Mississippi and Arizona have more cases per capita than Alabama.
At least 94 Alabamians have died in the last week from COVID-19.
Alabama is 20th in its COVID-19 death rate — at 464 deaths per million. This is below the national average of 584 deaths per million.
New Jersey, New York, Massachusetts, Connecticut and Louisiana have the highest death rates. But all five have fewer active cases of the virus today than Alabama currently has. The state with the lowest COVID-19 death rate is Alaska with just 57 deaths per million and 42 deaths in all.
The state's number of cases peaked in the second half of July at 1,921 cases per day on average. It dropped consistently through August all the way down to 855 new cases per day by Aug. 17. The seven-day average now sits at 988.
The state of Alabama remains under a statewide "safer-at-home" order through Oct. 3. The order includes a statewide mask mandate. Anytime anyone in the state is within six feet of people not living in their household, they are ordered to wear a mask or cloth face covering and can be fined for failure to do so.
State public health officials are urging everyone to stay at home whenever possible, avoid large gatherings, socially distance when forced to interact with other persons, wash hands frequently, use hand sanitizer and avoid touching your face.
To date, 893,474 people worldwide have died in the pandemic including 193,263 Americans.
Schools won't be required to report COVID-19 data for state's K-12 dashboard
Information presented on the dashboard won't be broken down by individual schools but will instead be displayed for whole systems. And districts won't be required to report.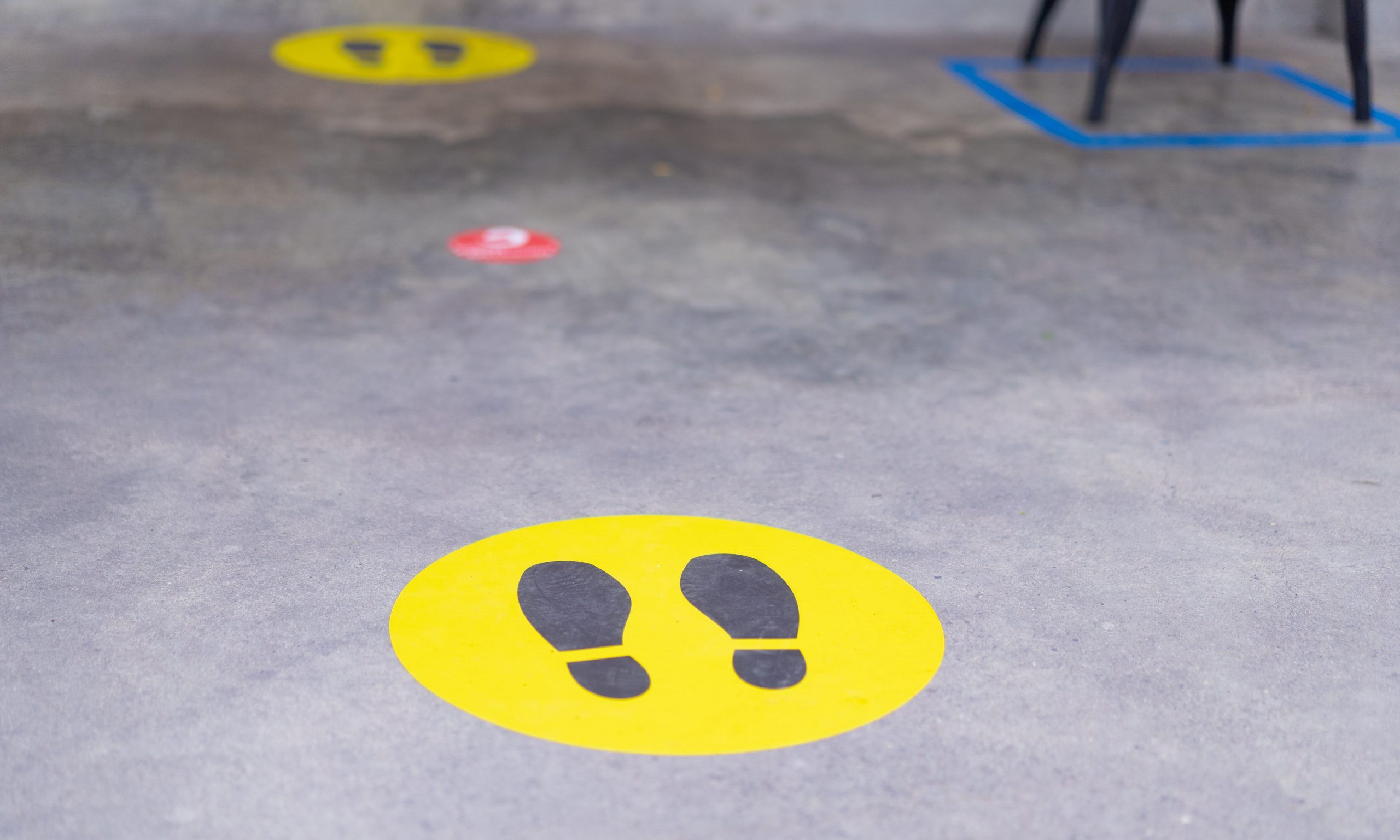 Some time later this month state officials hope to roll out a statewide COVID-19 dashboard for K-12 public schools, but some parents worry that because school districts won't be required to submit positive test results, the dashboard might not be that useful.
The Alabama Department of Education is working with the Alabama Department of Public Health in a joint effort to build the dashboard.
Alabama State Health Officer Dr. Scott Harris on Tuesday told APR the state hoped to have the dashboard online this week but technical difficulties pushed the expected roll out to later this month.
Harris said the two departments agreed not to make the positive test results that will be shown on the dashboard confirmed or verified by ADPH because doing so would slow down the process of updating the dashboard and wouldn't give parents a glimpse at what's happening at their schools at that moment.
"There's a certain amount of time it takes to investigate a case and confirm it before we get it to our own dashboard," Harris said.
Harris said the information presented on the dashboard won't be broken down by individual schools but will instead be displayed for whole school systems, and districts won't be required to report.
"We're going to ask schools to self-report it," Harris said. "They can choose not to, but I think most of them will do that."
Jacob Kohute and his wife have two children in Decatur City Schools. Kohute told APR on Tuesday that they are both fortunate to work from home, and decided to keep their children home for virtual learning, as his wife has an underlying medical condition that could cause complications if she were to contract the coronavirus.
"So we've been lucky that we're able to do that," Kohute said.
School systems statewide have varied approaches to sharing information about COVID-19 among students and staff.
The Decatur city school system has been sending parents a weekly report that shows the number of cases among students and faculty, and how many students are under quarantine, Kohute said.
"We've gone upwards of 300," Kohute said of the number of quarantined students. "It's been fluctuating a lot."
Kohute said in the last update from the schools there were seven new cases among students and a few among staff, which resulted in about 150 people being quarantined, showing that it takes very few cases to have a big impact on those who have come in contact with the infected person.
While Decatur City Schools regularly reports data to parents, many districts statewide do not, and instead only report a confirmed case to parents of children deemed to have been exposed to someone with COVID-19.
Kohute expressed concern that districts won't be required to report to the state's dashboard.
"It's almost useless then, depending upon the leanings of the administration," Kohute said of the state's K-12 dashboard.