Unemployment in Alabama's Black Belt outpaces rest of state both before and after COVID
Black Belt counties made up nine of the top 10 counties with the highest unemployment rate in July, and 16 of the top 20, according to data compiled by the university's Education Policy Center.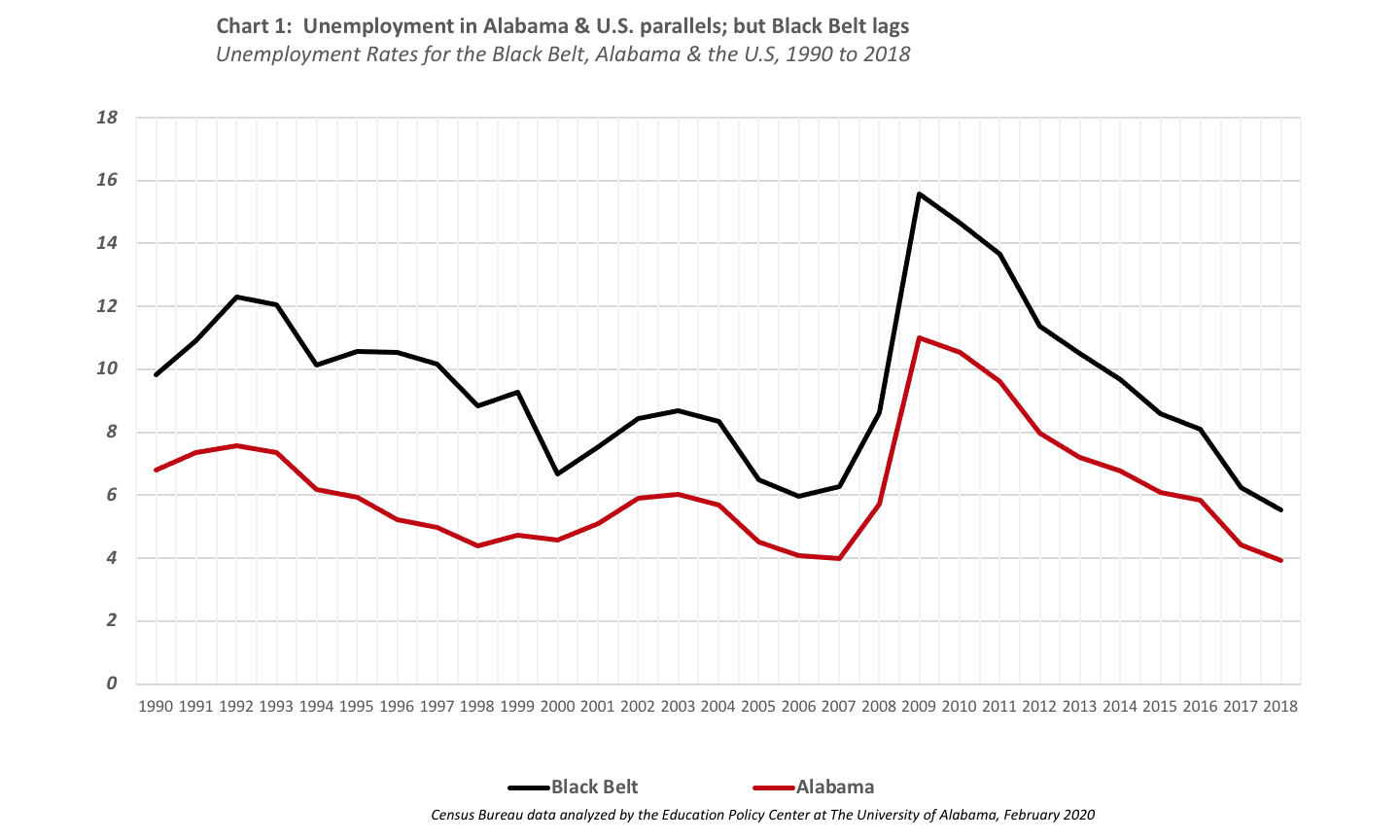 The unemployment rate in Alabama's Black Belt region has been several points higher than the rest of the state for decades, and that trend has continued amid the COVID-19 pandemic, according to a report by the University of Alabama's Education Policy Center. 
Black Belt counties made up nine of the top 10 counties with the highest unemployment rate in July, and 16 of the top 20, according to data compiled by the university's Education Policy Center. In November 2019, the 18 counties with the highest rates of unemployment were all in the Black Belt, according to the report, which also found that 17 of 24 Black Belt counties were above the state average of 8.2 percent unemployment. 
"These figures suggest a long recovery ahead for Alabama's Black Belt, a region that—despite significant growth—was behind the rest of the state going into the pandemic recession," researchers noted in the report. 
The report, titled "Persistent Unemployment in the Black Belt," is the latest in the center's eight-part series, "Black Belt 2020." 
Data from the Alabama Department of Public Health also shows that Black people living in the Black Belt region have been especially hard-hit by COVID-19, and statewide, Black people are also dying from the disease in greater numbers, a disproportionate impact seen in communities of color across the country. Black people in Alabama make up 25.7 percent of confirmed COVID-19 cases but account for nearly 40 percent of all coronavirus deaths in Alabama. 
Gov. Kay Ivey recently awarded more than $1 million in grants to the Black Belt area to promote job growth, and that's on top of $4 million in federal assistance to the area, said Stephen Katsinas, director of the university's Education Policy Center, speaking to reporters during a briefing on Tuesday.
"The Black Belt Community Foundation is distributing 100,000 masks as well as tips and resources to combat COVID, and the West Alabama Food Bank has distributed 1.4 million pounds of food since mid-March, so the region is struggling, but they're not taking it sitting down," Katsinas said. 
Katsinas also noted that recent data from August shows that areas of the country that have worse educational outcomes, where a larger portion of the population do not go on to attend college, are having more difficulty recovering and have higher job losses. 
Sam Addy, associate dean of economic development outreach and senior research economist at The University of Alabama Center for Business and Economic Research, said during the briefing that educational attainment strongly correlates with unemployment rates. 
"It also correlates with income, which is really important if we want to develop the Black Belt," Addy said. 
Thomasville Mayor Sheldon Day explained to reporters Tuesday that without access to broadband internet, communities in the Black Belt region are hamstrung on several fronts. 
"Lack of access to broadband is exacerbating problems that were already here for generations," Day said. "And it is causing the gap to get much wider." 
Without broadband, those communities can't offer the kinds of educational opportunities and telemedicine that are so desperately needed to lift the area up, Day explained. The COVID-19 crisis has put a spotlight on the need for broadband in rural areas of the state, and especially in the Black Belt, Day said, where many students must now park near school buses equipped with WiFi to complete their schoolwork. Broadband access can also mean jobs, he said. 
"Not one industry will go to a community in the Black Belt that doesn't have sufficient broadband access, and high-speed broadband access," Day said. 
Addy stressed, however, that it's important how broadband is framed and said it shouldn't be looked at as simply a private industry. 
"It's clear that we make one fundamental mistake with broadband. We treat it as a private good, which it is not. It is more like electricity," Addy said. 
Greg Cochran, executive director of the Alabama League of Municipalities, speaking to reporters explained that educational attainment, healthcare infrastructure, job training and job development all intersect and must be addressed simultaneously. It will take collaborations on the federal, state and local levels to address the Black Belt's needs, he explained. 
The Education Policy Center released two previous reports in the "Black Belt 2020" series, which can be found on the center's website and includes reports on declining school enrollment in the Black Belt and the area's population decline and its relation to why the state could lose a Congressional seat in the 2020 census.
Alabama has fourth highest rate of coronavirus cases
Alabama has the fourth-highest per capita rate of COVID-19 cases in the country, trailing only fellow Southern states Louisiana, Florida and Mississippi.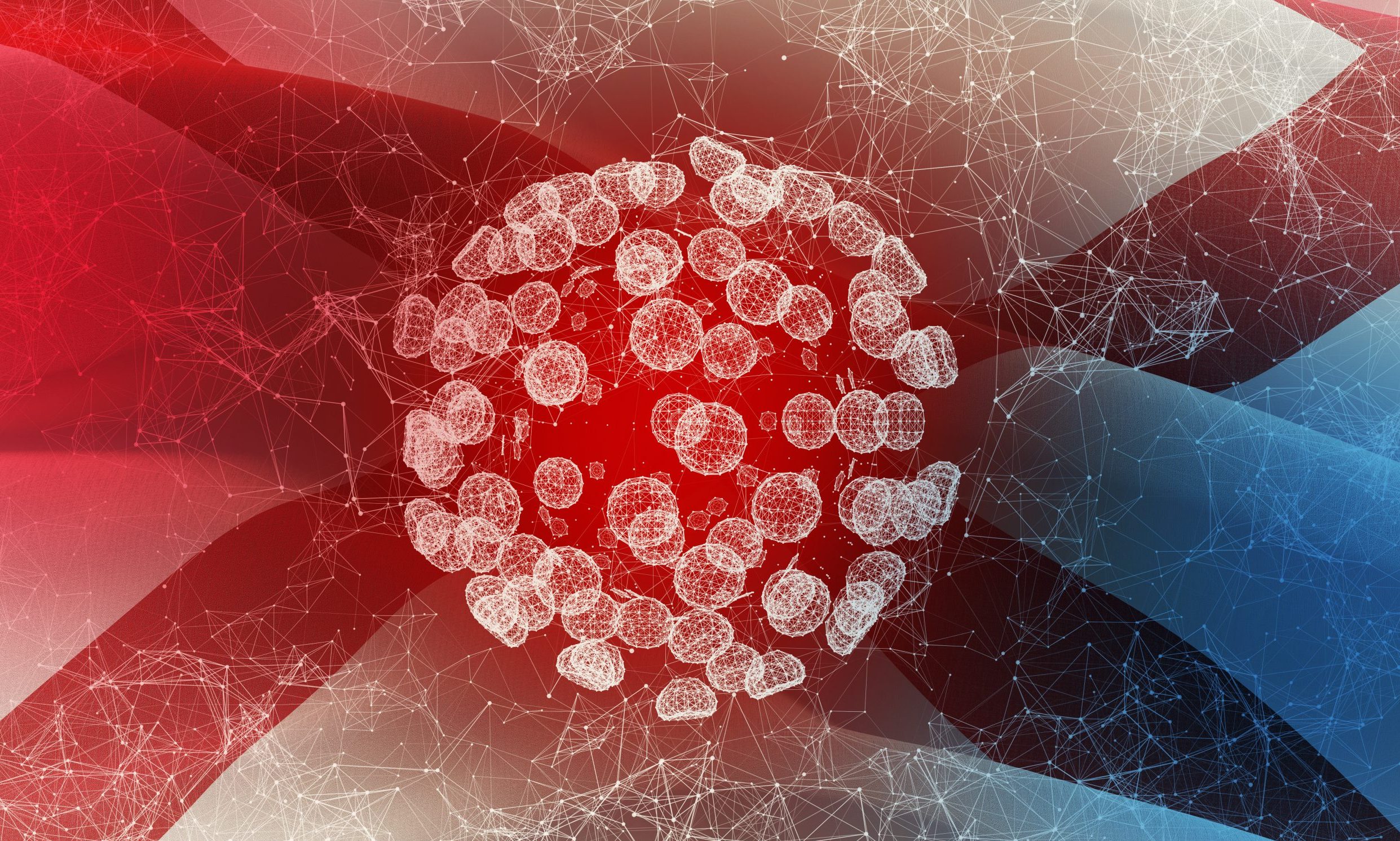 Alabama has the fourth-highest per capita rate of COVID-19 cases in the country, trailing only fellow Southern states Louisiana, Florida and Mississippi.
Alabama has so far recorded at least 29,896 cases per million people, which amounts to 2.9 percent, nearly 3 percent, of the people in Alabama.
The Alabama Department of Public Health on Monday reported that 818 more Alabamians have tested positive for the coronavirus. This takes our state up to 145,780 diagnosed cases. At least 61,232 Alabamians have recovered from the virus.
But 82,109 Alabamians have active coronavirus cases. This is the ninth-highest raw total in the nation, trailing only Florida, California, Georgia, Arizona, Virginia, Maryland, Missouri and Texas — all states with higher populations than Alabama.
Alabama's high rate of infection is not due to the state doing more testing. ADPH announced 5,500 more tests on Monday, taking the state up to 1,059,517 total tests.
Alabama is 40th in the nation in coronavirus testing.
Tests as a percentage of the state's population is just 22.8 percent. Louisiana on the other hand has 47 percent — the fifth highest rate of testing in the nation. Even Mississippi, at 26.4 percent, is testing at a higher rate than Alabama and are 29th in testing. Florida is 37th.
On Monday, ADPH reported two more Alabamians have died from COVID-19, taking the state death toll to 2,439. Alabama is 21st in death rate from COVID-19 at almost .05 percent.
New Jersey has had the highest COVID-19 death rate at .18 percent of the population. At least 257 Alabamians have died in September, though, to this point, September deaths are trailing both August and July deaths. At least 602 Alabamians died from COVID-19 in August.
Hospitalizations from COVID-19 are also down. 780 Alabamians were hospitalized with COVID-19 on Sunday, down to levels not seen since before the July 4 holiday. At least 1,613 Alabamians were in the hospital suffering from COVID-19 on Aug. 6.
Alabama Gov. Kay Ivey's July 15 mask order is being credited with decreasing the number of coronavirus cases in the state, which had soared to a seven-day average of 1,921 cases per day on July 19. The current seven-day average is 780 cases per day but is little changed in the last ten days.
The mask order expires next month, but most observers expect the mask order to be continued into November.
High school football and the Labor Day holiday weekend did not lead to a surge in cases; however, public health authorities remain concerned that colder weather and the return of flu season could lead to another surge in cases.
President Donald Trump has expressed optimism that a coronavirus vaccine could be commercially available this fall. A number of public health officials, including the CDC director, have expressed skepticism of that optimistic appraisal.
At least 969,611 people have died from COVID-19 globally, including 204,506 Americans.