Tuberville: Election is about Americanism against anti-Americanism
Republican Senate candidate Tommy Tuberville said Tuesday that this election is about what he views as Americanism versus anti-Americanism. Tuberville's comments were made to the influential St. Clair County Republican Party at their September meeting in Pell City.
"America is about capitalism, not socialism," Tuberville said. "I think we are going to decide which direction we are going to go in the next few years."
Tuberville claimed that schools have not been educating children but have instead become about indoctrination.
"Everybody needs an education," Tuberville said. "But not everybody needs a four-year degree. For some people, they need an associate's degree, trade school, an apprenticeship program, or other skilled training. Too many people think they can get a sociology degree and then a job that pays a $1 million a year without working. It doesn't work like that."
"We need to get back to working with our hands," Tuberville said. "We need to restore a work ethic in this country."
"I am not a Common Core guy. I believe in regular math," Tuberville said. "We need to get back to teaching history."
Tuberville is a former Auburn University head football coach.
"I was lucky to have a job that I loved," Tuberville said. "Every day I got up with a smile on my face even if we got beat on Saturday, because I enjoyed teaching young men."
Tuberville said that we need to get family back in this country. Half of the young men who are playing for Nick Saban and Gus Malzahn have one or no parents. It makes it harder to teach discipline, he said.
Tuberville said that 76 years ago, his father was 18 years old when he fought at D-Day and then drove a tank all over Europe in World War II.
Tuberville said that he supports President Donald Trump and has gotten quite close to the president in the morning, saying that the president has even called him at 2:34 in the morning. Tuberville asked if they had clocks in the White House. Trump responded, "Sleep is over rated." Tuberville praised the president's work ethic.
Tuberville said that he supports following the Constitution and appointing a replacement for Judge Ruth Bader Ginsburg who died Friday.
Tuberville said that we have experienced a loss of some of our liberties during the pandemic and that everybody was eager to see their lives return to normal.
Tuberville added that he visited Orange Beach and the Alabama Gulf Coast impacted by Hurricane Sally. Many have lost homes. Some people have lost everything. Farmers who have been working for six months to grow a crop have seen it all destroyed — a total loss.
Tuberville promised that, if elected, he would work every day to bring God, the Bible and Christianity back into schools.
Tuberville is challenging incumbent Democratic Sen. Doug Jones in the Nov. 3 general election.
Secretary of State John Merrill said that Alabamians who are concerned with the coronavirus can vote absentee. Merrill said that voting by mail would be too costly and would increase the risk of voter fraud.
Merrill said that 96 percent of Black Alabamians who are eligible to vote are registered, 91 percent of eligible white Alabamians are registered and 94 percent of Alabamians are registered.
Merrill said that the state has set records for voter participation under his tenure and predicted record participation in November.
St. Clair Republican Party chair Ren Wheeler thanked Tuberville and Merrill for speaking to the over 90 St. Clair Republicans gathered at the courthouse.
Wheeler said that the steering committee recommended the party transfer $500 to the St. Clair Young Republicans. The executive committee voted in favor of the motion.
St. Clair Young Republican Chairman Logan Glass thanked the executive committee for the support and invited everyone to an election night victory party at the Pell City Steakhouse on Nov. 3.
St. Clair County vice chair Deborah Howard said that the St. Clair GOP bass tournament will be next month and it is time for boat sponsors to pay their money. The party is also looking at adding a crappie tournament.
Judge Phil Seay announced that the party had lost two of its longtime members. St. Clair County Commissioner Jimmy Roberts died on June 24. Roberts had been in office since 1994.
Former St. Clair County Republican Party Chairman Mike Fricker passed away on Sunday after a long illness. Seay said that when Fricker took over the St. Clair GOP there was only one Republican officeholder, County Commissioner Bruce Etheredge, in the county. By 2010, every St. Clair County officeholder was a Republican.
Wheeler asked the party members to keep former St. Clair Republican Party Chairman Paul Thibado in their prayers as he is suffering from kidney disease.
Howard said that the next meeting of the St. Clair Republican Party executive committee would be on Oct. 15 at the courthouse in Pell City.
Trump Truck and boat parades this weekend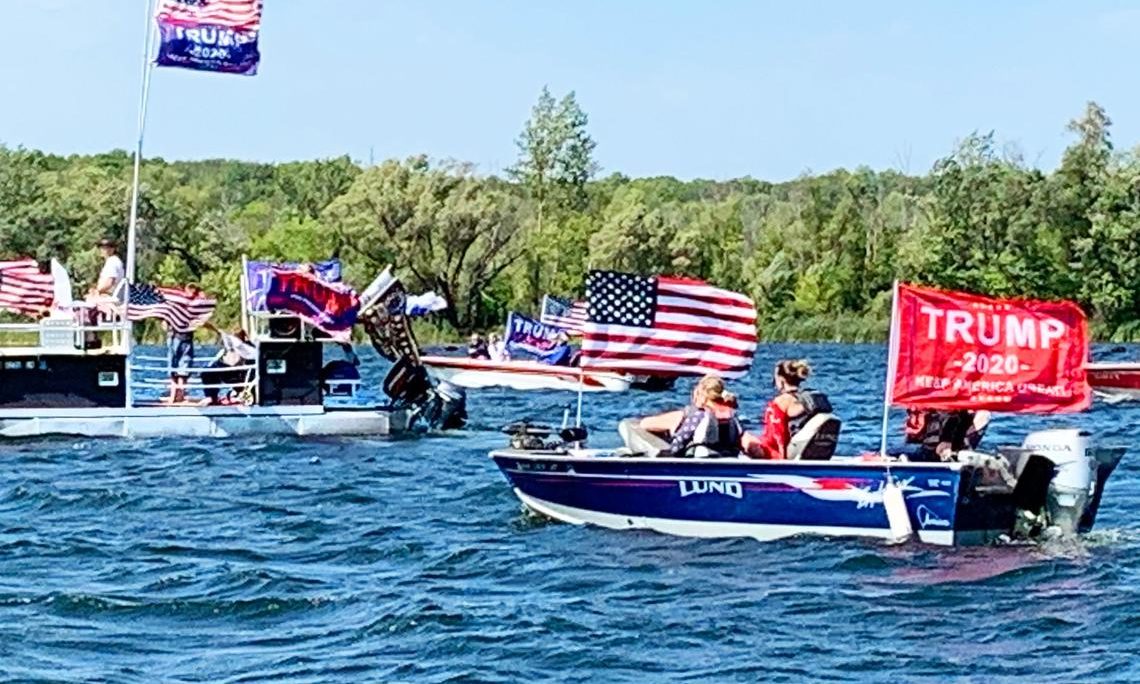 As Election Day draws near, Alabama Republicans are excited about promoting the re-election of Donald J. Trump as President and the election of Tommy Tuberville for U.S. Senate. This weekend two pro-President Trump events are happening in the state. There will be a truck parade from Ashland to Phenix City on Saturday sponsored by the Clay County Republican Party, while there will also be a boat parade on Wilson Lake in the Shoals sponsored by the Colbert County Republican Party on Sunday.
The pickup trucks will assemble at the Ashland Industrial Park in Clay County, 8240 Hwy 9, Ashland. There is a pre-departure rally at 10:00 a.m. central standard time. The trucks will depart at 11:00 a.m. and then proceed on a parade route that will take them into the bitterly contested swing state of Georgia. The Trump Pickup Parade will wind through east Alabama and West Georgia traveling through LaGrange and Columbus before concluding near the Alabama/Georgia line in Phenix City, 332 Woodland Drive, Phenix City at approximately 2:00 p.m. central time. Speakers will begin at 3:00. Trump flags will be on sale at the event.
The Phenix Motorsports Park will be hosting what sponsor hope could possibly the world's largest Pickup Tuck parade in U.S. history that is routing over 50 mile through Georgia in effort to "pickup" President Trump's numbers in GA.
A number dignitaries have been invited to address the Phenix City rally, including Coach Tuberville. Former State Sen. Shadrack McGill, Trump Victory Finance Committee member former State Rep. Perry O. Hooper Jr., and Paul Wellborn, the President and CEO of the largest Family owned Kitchen Cabinet manufacture in the USA are among the featured speakers who have committed to speak at the event.
Entertainment will be provided by: Charity Bowden, an up and coming country music singer who was the runner up on "The Voice". Charity will sing 'I am Proud to be an American' as well as songs from her Voice performances. The McGill Girls will also perform. The three beautiful and talented sisters will be singing patriotic songs in three part harmony. Geoff Carlisle, a professional DJ will be keeping the crowd pumped with music and entertainment.
Following the speakers and the entertainment there will Trump truck-vs- Joe Bidden truck races down the drag strip for the finale.
The Northwest Alabama boat parade will be on Sunday. The boats will gather at 2:00 p.m. near Turtle Point and then the flotilla will parade around the open waters of Wilson Lake til 3_00 p.m.. There will be a contest for best decorated Trump boats.
Trump supporters have held a number of large boat parades across the state to show their support for the re-election of Pres. Trump.
Boat parade sponsors say that this parade will be: pro-American, pro-law enforcement, pro-military.