Alabama COVID deaths drastically declined after governor's mask order, data shows
What the new data shows is that the state's highest single-day of deaths was July 31, when 29 people died.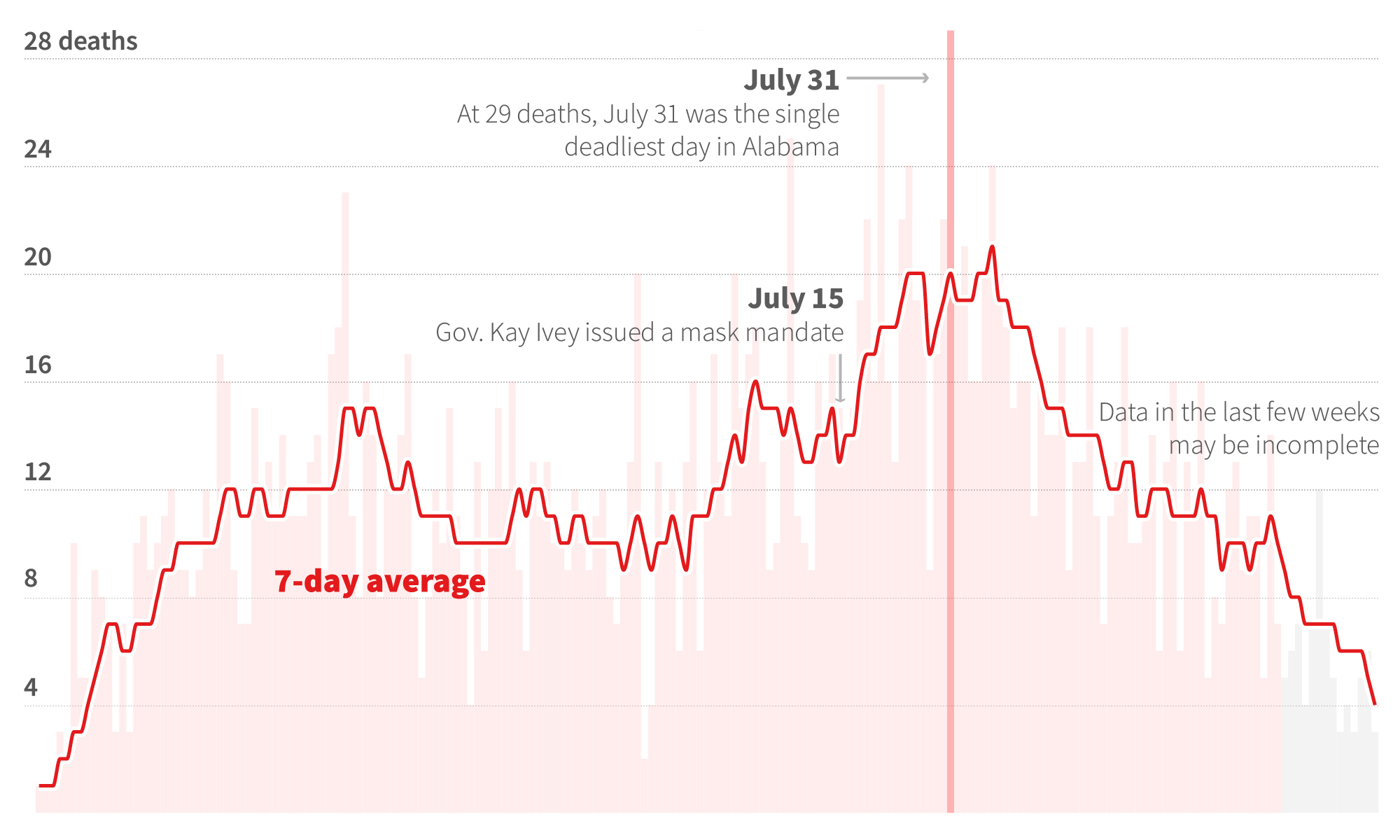 The Alabama Department of Public Health on Friday began releasing data that shows when a person in the state died from COVID-19, as opposed to the date the department confirmed the death, as had been the practice. 
What the new data shows is that the state's highest single-day of deaths was July 31, when 29 people died, which was almost two weeks to the day after Gov. Kay Ivey issued her initial statewide mask order.
Public health experts say it takes around two weeks after a change, such as a mask order, to begin noticing differences in new cases, hospitalizations and deaths. Deaths are an indicator that lags even further behind new cases and hospitalizations, however. 
It takes the Alabama Department of Health some time to confirm that a death is the result of COVID-19. Workers must look over medical records and talk with family and medical staff to ensure the death is from COVID-19.
The new data released Friday gives a better glimpse at what was happening with the disease at a closer approximation of real time.
After that peak of new daily deaths on July 31, which was nearly two weeks after Ivey's mask order, the number of Alabamians dying each day began dropping significantly.
At the time of the state's July 31 peak in deaths, Alabama had a 14-day daily death average of 20 deaths. Two weeks later, the 14-day average had dropped to 17, and four weeks out it was down to 13 deaths a day — a 35 percent drop from the peak in July. 
Two months after Ivey's statewide mask order went into effect, Alabama's 14-day average of daily coronavirus deaths was down to seven. On Friday, the average stood at six deaths; however, not all deaths that have occurred in the last two weeks may be included yet.

"On average, it usually takes a couple of weeks for deaths to appear in this chart," the department noted.
The decline in daily deaths is mirrored by drops in the number of new daily cases and hospitalizations since Ivey's mask order went into effect, although state health experts remain concerned that hospitalizations are still too high, as are the percent of COVID-19 tests that are positive.
While many other Southern states don't currently have statewide mask orders, including Georgia, Mississippi, Tennessee and South Carolina, Ivey and Alabama State Health Officer Dr. Scott Harris on Wednesday extended Alabama's statewide order through Nov. 8. 
"I'd hate to see us pull back too quickly and negate the progress that we've made in our daily positive numbers and our hospitalization rates by risking another spike due to a false sense of security, the upcoming winter months, the flu season and a host of other reasons," Ivey said during a press conference Wednesday. 
"This mask ordinance is working. It works, and we have evidence of that," Harris said Wednesday. 
Ivey's amended "safer-at-home" order Wednesday was the second time she decided to keep the statewide mask order in place. She did so on Aug. 27 as well. 
At least 248 COVID deaths reported in Alabama in October
The cumulative death toll in Alabama has risen by 248 to 2,788 in October and by 124 in the last week alone.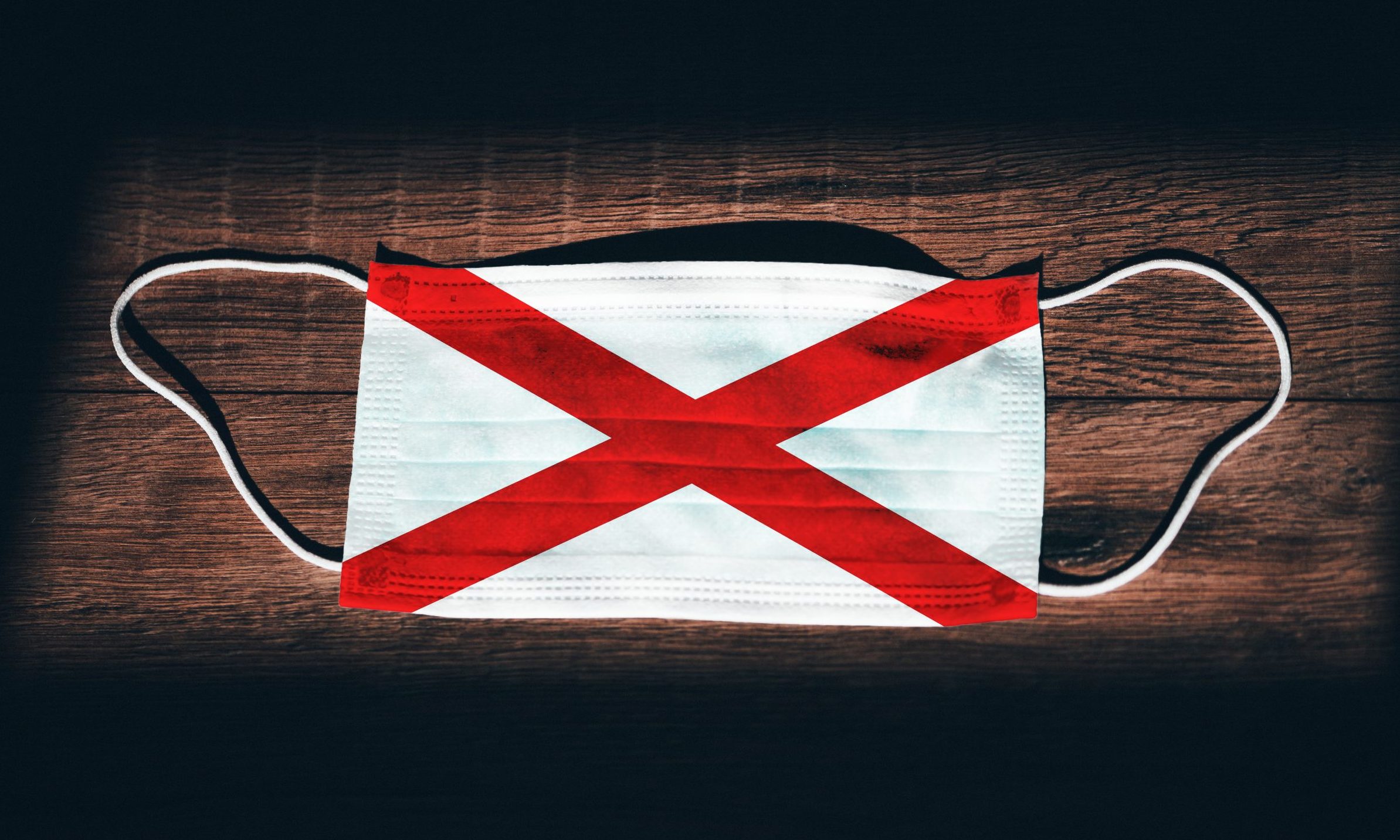 We're a little more than halfway through the month of October and the Alabama Department of Public Health has already reported at least 248 deaths from COVID-19.
The cumulative death toll in Alabama has risen by 248 to 2,788 in October and by 124 in the last week alone.
At least 378 deaths were reported in the month of September, a rate of 12.6 deaths per day over the month. In the first 17 days of October, the rate has been 14.6 deaths per day, a 15.9 percent increase from September.
Deaths were higher in July and August. The cumulative death toll increased by 582 in August and 630 in July, the worst month of the pandemic for the state.
On Saturday, ADPH reported that 1,288 more people in the state were confirmed positive with the coronavirus, and on Sunday the count increased by 964. The number of confirmed cases in Alabama has risen to 172,626.
There have been 17,925 new cases Alabama in October alone. The state is averaging almost 996 cases per day in October, which is up from September.
The state had 28,643 new coronavirus cases in September, 38,335 cases new cases in August, and 49,678 cases in July. Public health officials credit Alabama Governor Kay Ivey's statewide mask order on July 15 with slowing the spread of the virus in the state, but the virus has not gone away.
ADPH reported 823 hospitalizations for COVID-19 on October 17, the most recent day for which we have data. While hospitalizations for COVID-19 are down from the peaks in early August in Alabama have risen from Oct. 1 when 748 Alabamians were hospitalized, a 10 percent increase from the first of the month.
The state of Alabama is continuing to struggle to protect its most vulnerable citizens. At least 6,497 residents of long term care facilities in Alabama have been diagnosed with the coronavirus, 247 of them in October.
There have also been 3,362 cases among long term care workers in Alabama, including 197 in the month of October. Some 9,819 Alabama health care workers have also contracted the coronavirus.
Most people who test positive for the novel strain of the coronavirus, SARS-CoV-2, are asymptomatic or have only minor symptoms, but in about one out of five cases it can become much more severe.
For older people or people with underlying medical conditions like obesity, heart disease, asthma, cancer, diabetes or HIV, COVID-19 can turn deadly. COVID-19 is the abbreviated name for the medical condition caused by the SARS-CoV-2 virus.
Some 1,115,600 people worldwide have died from COVID-19 worldwide, including 224,284 Americans. There are 8,972,704 known active cases in the world today.
Public health officials warn citizens that coronavirus remains a present danger in our community. Social distancing is the best way to avoid spreading the virus. Avoid venues with large groups. Don't shake hands or hug persons not living in your household.
Avoid leaving your home as much as possible and wear a mask or cloth face covering when you do go out. Avoid touching your face and wash your hands with soap frequently. Hand sanitizer is recommended.
A coronavirus vaccine may be available in the coming months, but we don't yet know when or how effective it will be.