Georgia game going ahead despite Saban's COVID diagnosis
The 69-year-old Saban has tested positive for the coronavirus, but is asymptomatic at this time.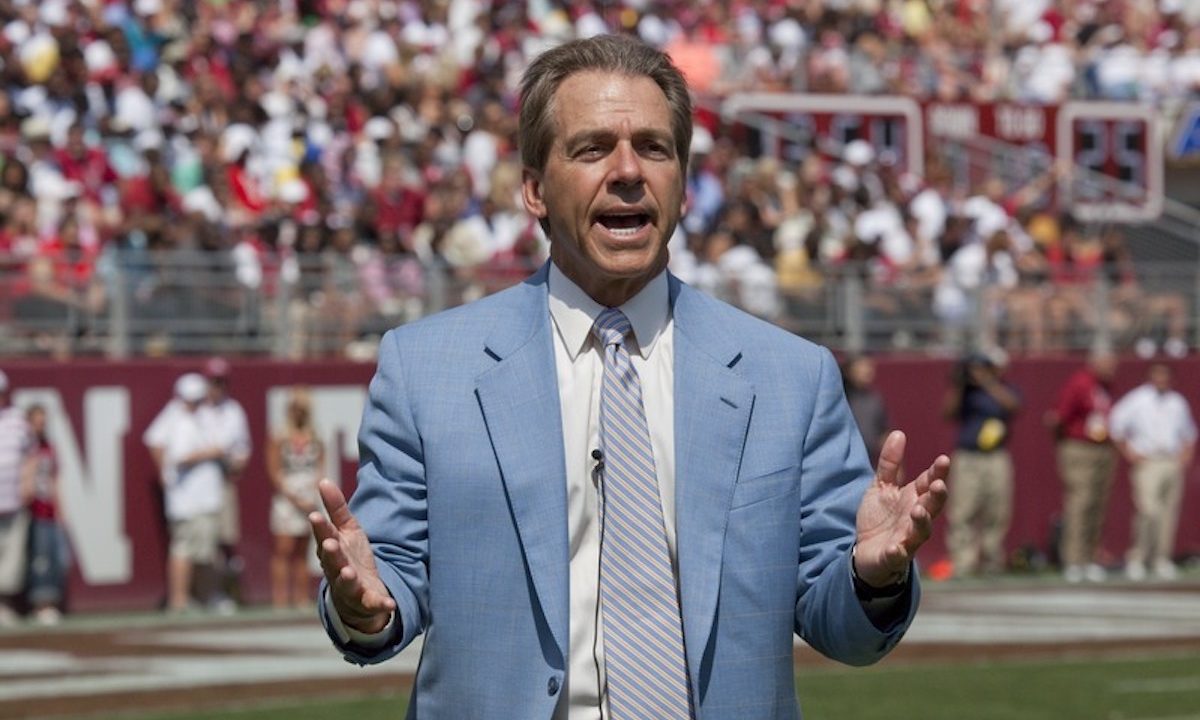 On Saturday, the University of Georgia football team will come to Tuscaloosa to play the University of Alabama. Legendary Tide college football coach Nick Saban will not be on the sidelines.
The 69-year-old Saban has tested positive for the coronavirus, but is asymptomatic at this time.
"I feel fine, so I'm not really concerned that much about my health, but you never know," Saban said in a news conference with reporters on Wednesday. "Look, I basically feel like when we're in our own personal bubble here, everybody is in a much safer place. I think as soon as you travel you get exposed to a lot more things and a lot more people."
Alabama was on the road last week for an away game.
Alabama athletic director Greg Byrne has also tested positive for the coronavirus.
Both Alabama and Georgia are 3-0 and this game, which originally was scheduled for September, was viewed as one of the games of the year since the schedule first came out.
The SEC announced on Wednesday that the Florida vs. LSU and Vanderbilt vs. Missouri games have both been postponed to Dec. 12 due to the coronavirus situations there, but at this point, the Georgia Alabama game is still a go even though Saban is having to work from home.
If Saban cannot coach remotely, offensive coordinator Steve Sarkisian will take over as interim head coach.
Sarkisian previously served as the head coach at Washington and USC. He has a 46-35 record. Sarkisian was first hired as Alabama's offensive coordinator in 2016. He left to accept a similar position with the Atlanta Falcons for two seasons before returning to Tuscaloosa last year.
"Obviously Sark has been a head coach before," Saban said. "I'm not sure exactly how this is gonna play out in terms of when the game comes whether I can have communication with people or not. We'll have to research and sort of figure that one out, but we did have a plan for each coach on the staff as to what might happen."
In all, 29 games at the Football Bowl Subdivision level have been postponed or canceled thus far since August, including the Troy vs. South Alabama game.
"We've been diligent about mask-wearing and social distancing from the start," Byrne said in a statement Wednesday, "and want to continue to encourage you all to take the necessary precautions to help stop the spread of this virus for yourself and those around you."
Saban has been urging Alabamians to wear masks to slow the spread of the coronavirus, and he repeated his call to action on Wednesday.
"I agree, Coach!" Alabama Gov. Kay Ivey said on Twitter in response. "We need to keep wearing masks, washing our hands and social distancing. Wishing you a speedy recovery!"
"I may bleed orange and blue, but this goes way beyond football," said former Montgomery Quarterback Club President former State Rep. Perry Hooper Jr. "I call on the Auburn Nation to join me in prayer for Coach Saban and AD Greg Byrne's health and speedy recovery."
More test results of Tide players and coaches will be available today. The NCAA recommends coronavirus testing of players and staff three times a week, but out of an abundance of caution the University of Alabama had been testing daily.
The state remains under a statewide mask order.
Alabama's Black Belt lacks quality internet access, report finds
Twenty-two of 24 Black Belt counties are below the statewide average of 86 percent of the population who have access to high-speed internet, and two Black Belt Counties — Perry and Chocktaw — have no access at all. 
During an online video briefing Monday on a report about a lack of internet access in Alabama's Black Belt, University of Alabama student Brad Glover warned reporters that he could get kicked off the briefing at any moment. 
That's because he was talking during the video briefing by way of audio only, using his cell phone, as he does not have access to high-speed internet access at his Linden, Alabama, home in the Black Belt's Marengo County. 
The COVID-19 pandemic that sent students home to study online left many in the Black Belt and other rural parts of Alabama in the lurch, without access to the high-speed internet enjoyed by so many other Americans, according to the latest report in the University of Alabama's Education Policy Center's Black Belt 2020 series. 
The latest report, titled "Internet Access Disparities in Alabama & the Black Belt," found that 22 of 24 Black Belt counties, as defined by the Education Policy Center, are below the statewide average of 86 percent of the population who have access to high-speed internet, and two Black Belt Counties — Perry and Chocktaw — have no access at all. 
"It is still a terrible struggle for me to connect to get the things done that are required," said Glover, who interned with the Education Policy Center. 
Stephen Katsinas, director of the Education Policy Center, said that in the 1930s, nine of ten rural homes lacked the electric service that urban American homes, by that point, had for 40 years. 
"The Rural Electrification Act was passed to address this abject market failure," Katsinas said. "Today, as the COVID pandemic has shown, access to high-speed internet is as essential to rural Alabama as the REA was in the 1930s. Alabama must directly address the market failures that exist today to bring high-speech internet to every rural Alabamian, so that our rural workforce can access the lifelong learning skills they need, and our rural businesses can compete globally." 
The COVID-19 pandemic has also spotlighted the need to expand the growing area of telemedicine. 
Dr. Eric Wallace, medical director of Telehealth at UAB, told reporters during the briefing Monday that patients are largely doing telehealth from their homes, and explained that disparities in access to high-speed internet present a problem for them. 
"Since the COVID-19 pandemic began, UAB has done approximately 230,000 telehealth visits, and 60 percent of those were done by video," Wallace said. 
"Forty percent are audio only, and why is audio only? It's because we do not have broadband," Wallace said. "So it's not just broadband. It's broadband. It's tech literacy. Socioeconomics, to have a device in your home. It's all of that."
Wallace said that the coronavirus crisis has made clear that telemedicine is a "100 percent necessity" and that patient satisfaction studies make clear it's not going anywhere. 
The reasons for disparities in access to high-speed internet are myriad, explained Noel Keeney, one of the authors of the report and a graduate research assistant at the Education Policy Center. 
Keeney noted a study by BroadbandNow that estimates there are 154 internet providers in Alabama, but there are 226,000 Alabamians living in counties without a single provider, and 632,000 in counties with just a single provider. 
Even for those with access to internet providers, Keeney said that just approximately 44.4 percent of Alabamians have internet access at a cost of $60 monthly or below. 
"If we really care about our rural areas, we need to make an investment, and it needs to cut off that cost at a very low rate," Wallace said. 
Katsnias said there's a growing consensus on the part of Alabama's political leaders that access to high-speed internet is an important issue, noting that Gov. Kay Ivey in March 2018, signed into law the Alabama Broadband Accessibility Act, which has given internet access to nearly 100,000 Alabama students. 
"In March, Gov. Ivey awarded $9.5 million in broadband expansion grants, with a significant amount going to Black Belt communities," the report reads. "This was followed by $5.1 million in additional grants in May." 
"The State of Alabama also allocated $100 million in federal CARES Act-related dollars for "equipment and service for broadband, wireless hot spots, satellite, fixed wireless, DSL, and cellular-on-wheels to increase access for K-12 students undergoing distance learning," the report continues. 
An additional $100 million in CARES Act funds were made available to facilitate virtual learning across Alabama's K-12 schools, researchers wrote in the report, and another $72 million in federal aid went to the state's colleges and universities. 
Katsinas said however those federal funds are spent, the state still needs a long term plan for how to address the disparities in access to high-speed internet. 
"We need a long term plan and we need to do what we can do immediately," Katsinas said
Read more of the Education Policy Center's reports in the "Black Belt 2020" series here.