Marshall "pleased" with Supreme Court curbside voting decision
The high court stayed a lower court ruling that allowed local election officials to implement curbside voting due to fears of the coronavirus.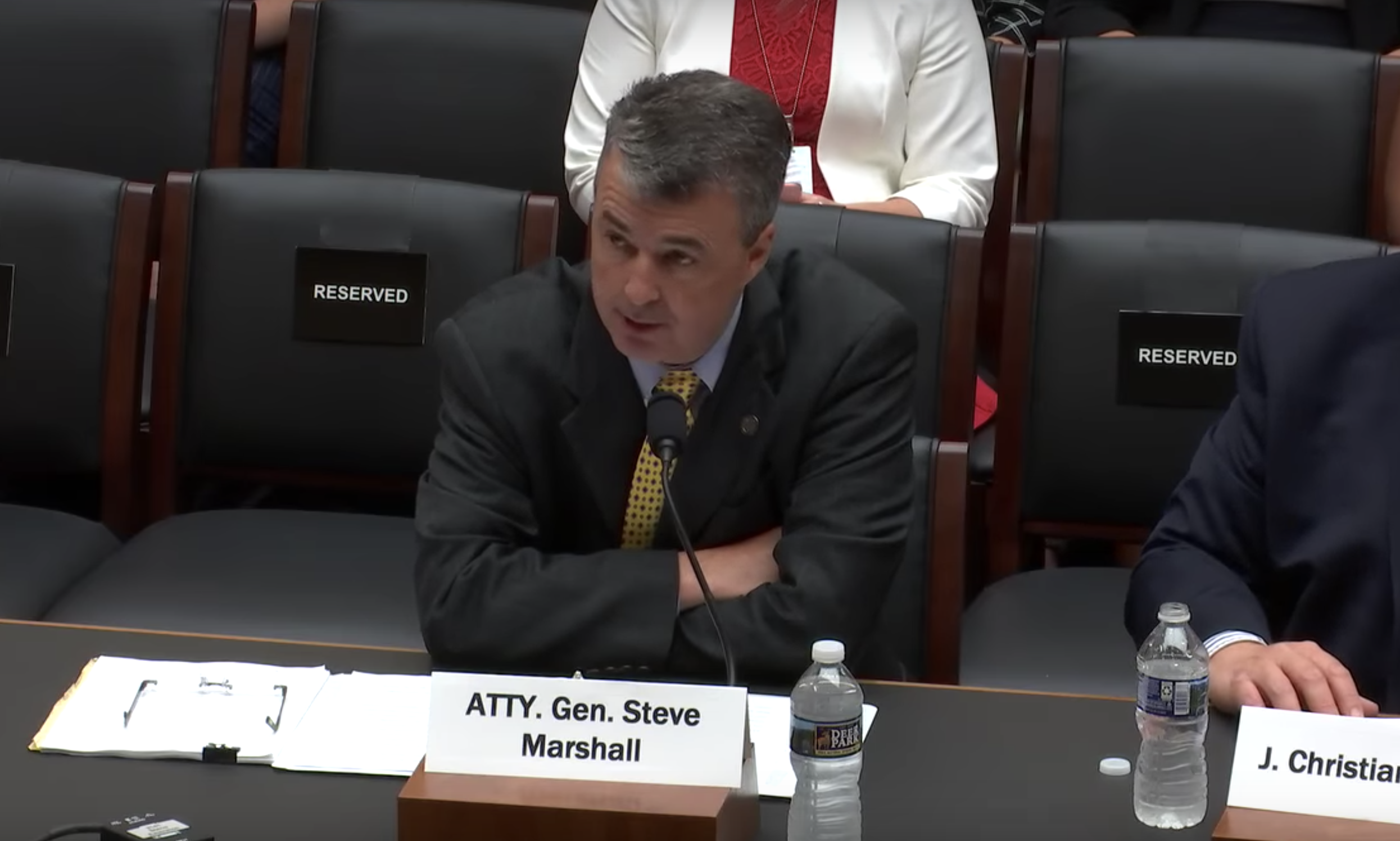 Alabama Attorney General Steve Marshall said Wednesday that he was "pleased" that the U.S. Supreme Court acted so quickly to grant the state's emergency stay request to block curbside voting in the Nov. 3 general election.
The high court stayed a lower court ruling that allowed local election officials to implement curbside voting due to fears of the coronavirus.
The Supreme Court granted Alabama's emergency request for stay brought by the defendants in the People First of Alabama v. John Merrill litigation, thereby preventing Alabama counties from setting up curbside voting for the general election.
Marshall said that the decision is the second in three months to protect the security of Alabama's elections.
"We are pleased that the Supreme Court has again acted quickly to grant the State's emergency stay request to clarify that Alabama's laws will govern Alabama's upcoming election," Marshall said. "While our election laws are easily complied with, even during this pandemic, they ensure that Alabama voters can have confidence that they are voting in a fair election. The Supreme Court's decision is a victory for Alabama's election integrity and thus for Alabama voters."
Alabama offers two methods of voting — in-person and absentee.
For this election, the state has made absentee voting available to all Alabama voters. But the Alabama Legislature has never authorized curbside voting. Thus, the secretary of state has taken the position that such voting is unlawful because it is not explicitly allowed.
Earlier this year, a federal district court entered a preliminary injunction that prohibited the secretary of state from halting curbside voting that otherwise complied with state law.
The state asked the Supreme Court to stay the injunction, and on July 2, the Supreme Court granted that request.
Then, following a trial this September, the district court again entered a nearly identical injunction. On Oct. 15, the state again sought relief from the Supreme Court, which the Supreme Court again granted.
"As we argued in our stay request to the Supreme Court, Alabama has taken extraordinary measures to ensure that all voters can vote safely, while also ensuring that this election is conducted fairly, efficiently, and free from fraud," Marshall said. "But Alabama law does not and has never provided for curbside voting. The district court's decision to create it for the State was contrary to state and federal law."
"Just as important, when States decide to authorize curbside voting, they typically do so through legislation and with months or years of careful planning," Marshall said. "They don't throw it together in a matter of weeks in the middle of a pandemic. That is a recipe for chaos that could end up making it harder, not easier, for people to vote. In addition to the specter of voters' cars backed up further than a Chick-fil-A drive-thru, there was the risk that would come from voters handing over open ballots to poll workers without being able to see whether a poll worker would actually deposit the ballot after taking it inside the polling place. Fortunately, with the Supreme Court's action tonight, those risks have been averted."
You can view the full order here. Nov. 3 is election day.
Finance director: Alabama expects to spend nearly all of $1.8 billion in CARES Act funds
"I think we'll be down to less than $10 million, and hopefully less than that," the state finance director said.
Alabama has until Dec. 30 to spend the $818 million that remains of $1.8 billion in federal CARES Act money allocated to the state, or the remaining funds revert back to the federal government, but the state's finance director believes that's possible, for the most part. 
"I think we'll be down to less than $10 million, and hopefully less than that," said Alabama State Finance Director Kelly Butler, speaking to reporters Wednesday. 
With new daily COVID-19 cases continuing to break records in Alabama and coronavirus hospitalizations reaching record levels this week, many have expressed concern that Alabama could leave millions on the table at a time when the money could do the most good. 
It's not clear if lawmakers in Washington D.C. will agree in time to extend the deadline for states to spend the cash, and Butler said Wednesday that state officials had hoped the extension would come to pass but aren't banking on it. 
"The reality is, if we're going to be able to get the money out the door, we can't wait on that any longer," Butler said. "So we've got to put the pedal to the metal and assume that December 30 is a hard cutoff, and that's the way we're operating." 
Butler explained that almost all of the CARES Act money to various state programs and entities are reimbursement programs, meaning those entities must show they spent the money on coronavirus-related expenses, as required by the federal government, then ask the state for reimbursement. 
"This is particularly true for local governments, state government agencies, hospitals," Butler said. 
Butler also explained that despite the many needs, the federal money comes with substantial limitations. 
"There is a perception out there that this money can solve everybody's problem, and can be used for everything that people want it to be used for," Butler said. "And the reality is that the Treasury guidance, particularly the audit guidance issued by the Treasury, it just does not allow us to do everything that everybody wants us to do, and the penalty, if we use the money outside the bounds outside the law and the regulations, is that the state has to repay the money." 
Gov. Kay Ivey on Nov. 23 allocated $3.6 million in CARES Act funds to food banks statewide, Butler noted, and another $2 million to a program that provides counseling for veterans with PTSD. 
"We have money out there for hospitals, nursing homes. We are in constant communication with them," Butler said. "We have done before this latest grant program, we've done one small business grant program, a faith-based organization grant program, a nonprofit organization grant program, a medical provider grant program, an agricultural producer grant program, so we haven't stopped since May." 
Asked whether any of the federal aid has gone to the Alabama Department of Public Health to help set up the administration of COVID-19 vaccines, Butler said the state has allocated more than $30 million to the Department of Public Health, but most of that was done before it was clear Alabama could get a vaccine this month. 
Butler said until recently it wasn't thought a vaccine would be available before the end of the year, and that "up until recently, it was not something that we were allowed to spend money on." 
"We have allocated a small amount to a company in Huntsville called Aclinnate Genetics for vaccine education, particularly in the African American community throughout the state," Butler said. 
There remains the possibility of reallocating unspent money to other programs, Butler said, as has been done twice before. That requires conversations between Butler, Gov. Kay Ivey and legislative leadership Butler said, adding that he anticipates at least one more reallocation before the deadline. 
"Our plans are to, as I've said daily, evaluate the programs and somewhere around the middle of this month, sort of do a final tally and go back to the Legislature and ask for reallocations so that we can allocate money to things that and programs that might need it," Butler said. 
One possibility would be to allocate additional money to the state's unemployment trust fund, Butler said. As much as $287 million could be reallocated to the fund, he said. 
"Health care, with the virus continuing, is also another definite possibility," Butler said. 
Asked about concerns some local governments and other groups have had that the entities don't have the money to spend, to then ask for reimbursement, Butler said that he has heard those concerns but that federal guidelines connected to the CARES Act funding are strict. 
"The reality is the Treasury guidance and the CARES act, we believe, prohibit us from sending the money out upfront," Butler said. "And it's just not something we believe we can do." 
Butler said the state has worked closely with local municipalities and groups, including the Black Belt Foundation, to help them apply for reimbursements and get the money returned quickly. 
A reporter asked about as-of-yet unpaid reimbursement requests of more than $850,000 from the Madison County Commission from August, and Butler said the state does have a backlog of requests, and that while the program was established on May 28, many local governments waited until August to submit applications.
Butler then said that he's been told the Madison County Commission's requests were being processed Wednesday and the commission should see that money soon. 
Butler said the state has received word from the U.S. Treasury that as long as those reimbursement requests are turned in before the Dec. 30 deadline "we will have a two to three month period to work out those prior bills as long as they were expenses incurred before December."