Alabama seeing "borderline out-of-control" community spread, UAB expert says
An infectious disease expert at UAB described the state's high positivity rate as a sign of uncontrolled community transmission.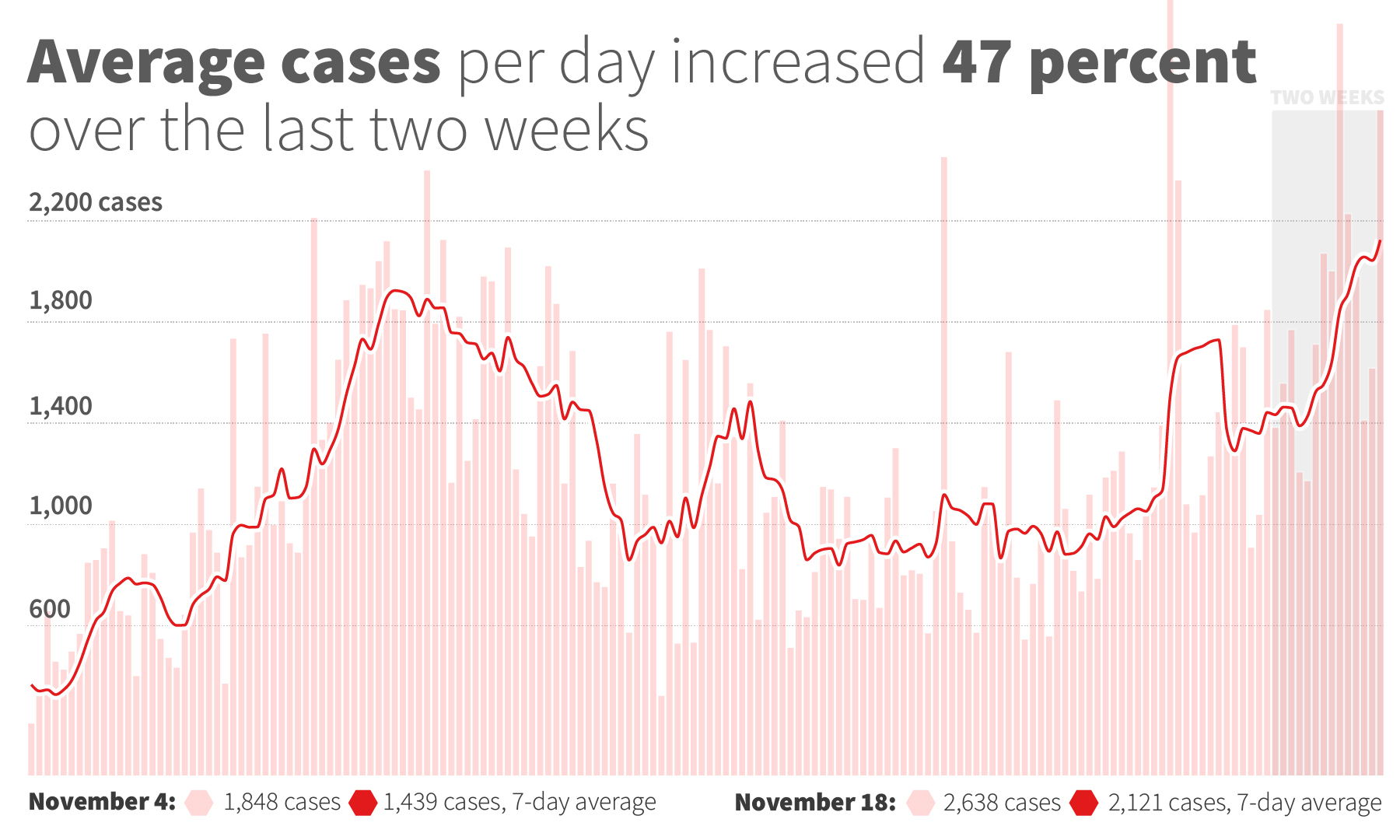 Alabama's seven-day average for new daily COVID-19 cases on Wednesday was as high as it's ever been, and an infectious disease expert at UAB described the state's high positivity rate as a sign of "borderline out-of-control community transmission."
Dr. Jeanne Marrazzo, director of infectious disease at UAB, told reporters during a briefing hosted by Sen. Doug Jones, D-Alabama, on Wednesday that the state is seeing the consequences of uncontrolled transmission in rising cases, hospitalizations and deaths.
Alabama on Wednesday added 2,638 cases, bringing the seven-day average of daily cases to a new record high of 2,121 cases. Wednesday's record-high number was the third such record in the last four days. Public health experts say the high level of community spread is a sign of a potentially deadly holiday season if families gather together as if things were back to normal.
Alabama's 14-day average positivity rate was 23 percent Wednesday, according to APR's calculations — nearly five times the ideal threshold public health experts say is needed lest cases are going undetected.
Asked about Alabama's high positivity rate, Marrazzo noted that the percentage began dropping in late spring in some areas in the state, which was a good sign, but that the numbers didn't remain low.
Testing is down statewide, she said, and some days the Alabama Department of Public Health includes backlogged test results in the daily data, which can skew the numbers, but the upward trend is still troubling.
"I think our numbers are high because we are simply continuing to experience really borderline out-of-control community transmission," Marrazzo said, adding that she's concerned as we approach Thanksgiving that the spread might worsen if people don't take precautions.
"Most of the transmission of this virus is coming from people who either haven't yet gotten their symptoms or are never going to develop symptoms," Marrazzo said, referring to pre-symptomatic and asymptomatic individuals who can still spread the virus.
Marrazzo said Thanksgiving presents a particular risk because of the mixing among different households. "That's when things start to fall apart," Marrazzo said.
Marrazzo discouraged people from treating COVID-19 test as an all-clear. Just because someone receives a negative test before heading home for the holidays does not mean they have no already been exposed and infected. A person can become infected yet not test positive for two days afterward, she said.
The better approach, Marrazzo said, is to make certain you're not infected "and then essentially keep yourself in some sort of bubble for about two weeks."
"And then go home to your family, or to who you know. People that you think are also going to be relatively safe," Marrazzo said.
Alabama hospitals on Wednesday were caring for 1,303 COVID-19 patients, a number not seen since Aug. 14. The state's seven-day average of daily hospitalizations was at 1,222 — a 45 percent increase from a month ago.
Marrazzo said hospitals are already discussing the possibility of barring some elective procedures due to the rising COVID-19 hospitalizations.
"We really don't want this to happen," Marrazzo said. "But it's inevitable that we are going to be faced with this if the trajectory of hospitalizations continues to climb."
The Alabama Department of Public Health (ADPH) on Wednesday reported 46 new COVID-19 deaths, and 56 on Tuesday. Over the last 14 days, 341 deaths have been reported, the largest 14-day total since Aug. 12, when the state's death toll was at its highest in the weeks following Alabama's summer peak.
Deaths are lagging indicators of the spread of coronavirus and can take weeks and even months to occur after infection, and it takes the Alabama Department of Public health time to collect and analyze data to confirm a COVID-19 death.
While large numbers of deaths were reported by ADPH on Tuesday and Wednesday, the date those people died stretches back to March, although at least 30 of those occurred since Nov. 3.
Data for the last two weeks is incomplete and is likely to rise.
Alabama sees record number of COVID-19 hospitalizations Monday
"What we can still control is Christmas," Dr. Don Williamson said. "We can still control what hospital beds are going to look like in January."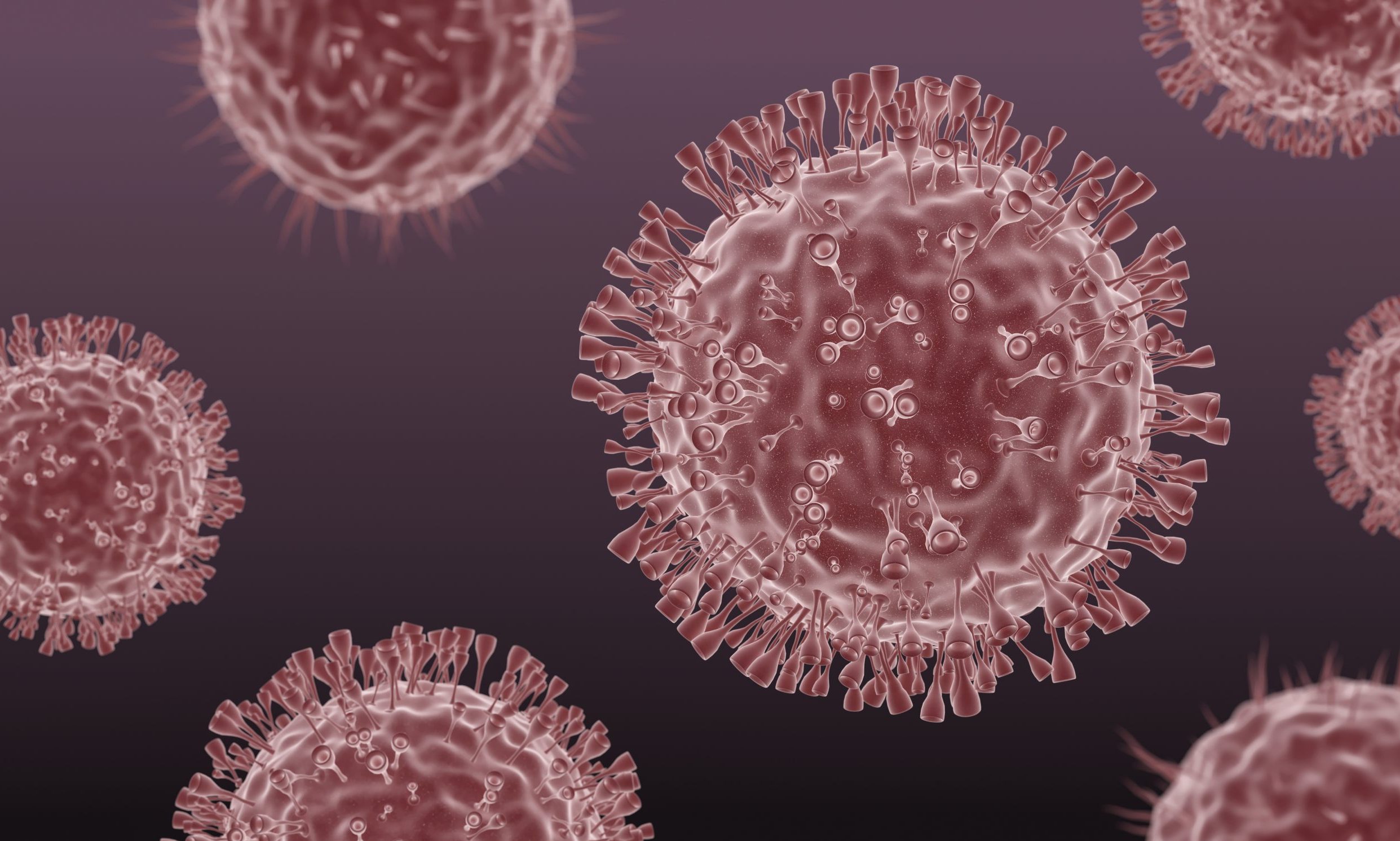 Alabama on Monday saw a new record with more people in hospitals with COVID-19 than ever before and a new record number of COVID-19 patients in intensive care units as public health experts worry about what is to come after Thanksgiving gatherings.
The Alabama Department of Public Health on Monday reported 1,717 hospitalizations statewide, breaking the previous record of 1,613 set on Aug. 6. The state's seven-day average of hospitalizations has increased each day for the last 41.
UAB Hospital on Monday had a record high 125 COVID-19 patients, breaking the previous record of 124 on Aug. 3. Huntsville Hospital had a record 264 COVID-19 patients Monday. Hospitals in Montgomery and Mobile are also seeing similar rising numbers but didn't break records Monday.
Approximately one in five adults in general medicine beds in Alabama hospitals Monday were COVID-19 patients, said Dr. Don Williamson, president of the Alabama Hospital Association and former Alabama state health officer.
The state had a record high 491 COVID-19 patients in intensive care units Monday, and 244 coronavirus patients were admitted to hospitals Sunday, which was the highest number in several months, he said.
Williamson said that 11 percent of the state's intensive care beds were available. It was the first time since Aug. 16 that fewer than 200 ICU beds were free, he said.
"It's not the ICU beds I'm worried about," Williamson said. "The overall trend is worse than I imagined it would be, with no impact [yet] from Thanksgiving."
Williamson noted that Alabama's seven-day average of hospitalizations increased by 217 from a week ago.
"That's what I'm worried about," Williamson said, adding that hospitals across the state Monday were either at their record highs in hospitalizations or very close to them. He also expressed concern over Alabama's continued rise in new cases, a sign of unabated community spread and a harbinger of even more hospitalizations and deaths to come.
The state added 2,295 new cases Monday and has averaged 2,206 new cases each day for the last week, which is a 67 percent increase from a month ago.
The increasing case counts aren't attributed to more testing. Alabama reported an increase of just 4,634 tests Monday, and the seven-day average of tests reported per day is up only 4 percent over the last month. This comes as the positivity rate over the last week was a record-high of 30 percent. Public health experts say that rate needs to be at or below 5 percent or there isn't enough testing and cases are going undetected.
Williamson said staffing problems continue to be a major concern at hospitals statewide. Medical staff are contracting COVID-19 largely from their own communities and not while at work, Williamson has said recently, which is reducing the number of available workers. Fatigue is also impacting staffing levels.
"We are beginning that conversation about what do things have to look like going forward on staffing with an increase of say another 20 percent in hospitalization. What is it you're doing now that you don't do? How do you free up additional staff?" Williamson said.
There will also be conversations about looking for help from the federal government, Williamson said, noting that the U.S. Department of Defense sent medical personnel to El Paso, Texas, to help with overburdened hospitals there.
But Alabama's growing COVID-19 crisis isn't just an Alabama problem, Williamson said. The problem is nationwide, and Alabama will have to wait in line along with other states in requesting federal resources.
There has been discussion of opening up medical facilities outside of hospitals, such as the tent hospitals that have popped up in places hard-hit by coronavirus, but the staffing problem is paramount, Williamson said. Without people to work them, more beds are useless, and hospitals can and have found ways to increase bed space for coronavirus patients, he said.
There's nothing that can be done to reverse whatever bad outcomes may result from Thanksgiving gatherings, Williamson said, and he expects that by the end of this week, the state's case count will begin increasing even more, and by mid-December, the state should begin to see the impact of Thanksgiving on hospitalizations.
"What we can still control is Christmas," Williamson said. "We can still control what hospital beds are going to look like in January."