Drug Testing Proposed for State Healthcare Recipients
By Bill Britt
Alabama Political Reporter
In what would be a major adjustment to state employee heathcare coverage; the Patient Accountability and Personal Responsibility Act is being proposed for legislation. The bill is sponsored by Senator Dick Brewbaker (R-Elmore, Montgomery). Under SB 26 the Department of Public Health would design and implement a substance abuse screening program for any adult receiving or seeking to receive healthcare benefits subsidized by the state.
"In the last session we dealt with the rising cost of healthcare, not only Medicaid but also publicly-funded health benefit plans received by state employees and others," said Brewbaker." It is important to look at lifestyle choices that run up the cost of health care."
Millions of dollars of taxpayer's money go to offering state-funded healthcare benefits to those who qualify for the program. "People who work for the state pay a much lower cost than those in the private sector for insurance," said Brewbaker. "Most of these cost are borne by the state with taxpayers money."
Brewbaker has put forward legislation that would require that those receiving state healthcare to submit to testing for illegal drugs.
Brewbaker said, "We want to provide state employees and their families with good benefits but we have to control cost. One way [to control cost] is to make sure people are not abusing illegal drugs."
Brewbaker points out that many private companies maintain that anyone receiving health insurance through the company are tested for illegal substances. "We want to bring the state program more in line with what is taking place in the private sector," said Brewbaker.
A study by the University of New Hampshire concluded that the health and safety risks of substance abuse can be expected to impact insurance costs. Employees with substance-abuse problems, and their families, are more likely to use medical insurance, and the employees are more likely to file workers' compensation claims. The study estimates the impact of substance abuse on health insurance premiums have been as high as $50 billion dollars.
With budget shortfalls and the rising cost of healthcare the state is looking to better implement state-funded healthcare benefits. "There is no reason for taxpayers to bear the healthcare burdens that arise from illegal drug use," said Brewbaker.
However, he concedes that there are many obstacles to passing and then implementing such a plan.
"I am not sure what the final bill will look like," said Brewbaker. "There is a lot of information to consider as to how this all works."
Brewbaker says that if a person on the state plan test positive for illegal substances that there will be a grace period in which the person may receive treatment to overcome their drug use.
He also says that there must be strict rules that protect a persons privacy. Brewbaker said, "This is one of the things I am sensitive to, 100 percent sensitive to."
This is one of the reasons he says that the bill will under go rewrites before it comes to the committee, expressing the need to understand all the information around the bill so it works as intended.
"One of my big concerns is protecting the privacy of the individual in the plan. Just because you work for the state does not mean you should have big-brother's eyes in every corner of your life," said Brewbaker.
However. he says that people who persist with drug abuse should lose state-funded health benefits.
"Like in the private sector if a person working for a company continues drug use they are going to lose their health coverage," said Brewbaker.
However, he says that it is important to understand that if a state healthcare recipients are to continue to receive benefits under the current plan that measures will need to be taken to cut cost to the program.
"We are under tremendous budgetary constraints, and frankly there is no will from either party to raise taxes significantly, so, we must cut cost," said Brewbaker.
He says that addressing the issue of illegal drug use by those on the program is a way to cut cost and preserve the plan.
He says there is a great deal of planning still needed and that the bill will most likely be postponed until next year. "We need to give more thought to how we do the testing. Are we going to do it for new hires? That is much simpler," said Brewbaker. Many in the private sector are tested upon hiring and then tested if there is a workman's comp. claim."
He also says that testing a large group the size of the state's employees or teachers would be very expensive.
Brewbaker said, "This bill also would carry a great deal of legal obligations so we have to make sure that anything we do to curtail cost does not actually put us at greater administrative expense.
He thinks there is more data needed and more work to be done but that it is important to start the process now so that the bill will be ready to be implemented in the future.
Trump Truck and boat parades this weekend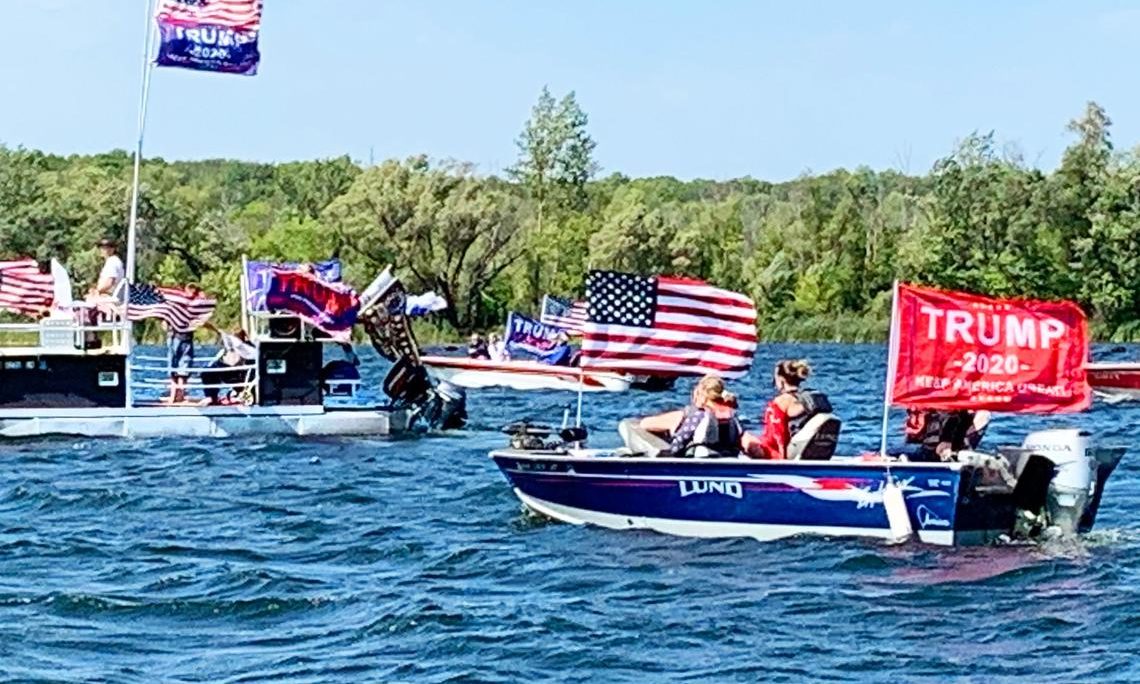 As Election Day draws near, Alabama Republicans are excited about promoting the re-election of Donald J. Trump as President and the election of Tommy Tuberville for U.S. Senate. This weekend two pro-President Trump events are happening in the state. There will be a truck parade from Ashland to Phenix City on Saturday sponsored by the Clay County Republican Party, while there will also be a boat parade on Wilson Lake in the Shoals sponsored by the Colbert County Republican Party on Sunday.
The pickup trucks will assemble at the Ashland Industrial Park in Clay County, 8240 Hwy 9, Ashland. There is a pre-departure rally at 10:00 a.m. central standard time. The trucks will depart at 11:00 a.m. and then proceed on a parade route that will take them into the bitterly contested swing state of Georgia. The Trump Pickup Parade will wind through east Alabama and West Georgia traveling through LaGrange and Columbus before concluding near the Alabama/Georgia line in Phenix City, 332 Woodland Drive, Phenix City at approximately 2:00 p.m. central time. Speakers will begin at 3:00. Trump flags will be on sale at the event.
The Phenix Motorsports Park will be hosting what sponsor hope could possibly the world's largest Pickup Tuck parade in U.S. history that is routing over 50 mile through Georgia in effort to "pickup" President Trump's numbers in GA.
A number dignitaries have been invited to address the Phenix City rally, including Coach Tuberville. Former State Sen. Shadrack McGill, Trump Victory Finance Committee member former State Rep. Perry O. Hooper Jr., and Paul Wellborn, the President and CEO of the largest Family owned Kitchen Cabinet manufacture in the USA are among the featured speakers who have committed to speak at the event.
Entertainment will be provided by: Charity Bowden, an up and coming country music singer who was the runner up on "The Voice". Charity will sing 'I am Proud to be an American' as well as songs from her Voice performances. The McGill Girls will also perform. The three beautiful and talented sisters will be singing patriotic songs in three part harmony. Geoff Carlisle, a professional DJ will be keeping the crowd pumped with music and entertainment.
Following the speakers and the entertainment there will Trump truck-vs- Joe Bidden truck races down the drag strip for the finale.
The Northwest Alabama boat parade will be on Sunday. The boats will gather at 2:00 p.m. near Turtle Point and then the flotilla will parade around the open waters of Wilson Lake til 3_00 p.m.. There will be a contest for best decorated Trump boats.
Trump supporters have held a number of large boat parades across the state to show their support for the re-election of Pres. Trump.
Boat parade sponsors say that this parade will be: pro-American, pro-law enforcement, pro-military.