Whooping Cranes Rerouted to Wheeler National Wildlife Refuge
By Brandon Moseley
Alabama Political Reporter 
The nine juvenile whooping cranes whose migration to Florida was halted in Franklin County, Al by a Federal Aviation Administration (FAA) investigation in December apparently liked Alabama so much that they have decided to stay and become Alabama residents.
Whooping cranes are a federally protected endangered species.  To help increase the likelihood that the rare birds will survive their first migration, for the past 11 years the young cranes have been following pilots wearing whooping crane costumes flying a ultra-light on their journey from Wisconsin to wintering grounds in Florida.  This year the young birds' migration was halted by order of the FAA, who were investigating whether or not the migration was in violation of an FAA regulation.
The ultra-lights are licensed as light sport aircraft under rules that took effect in 2008. Federal regulations prohibit craft licensed that way to be flown for hire or for business activities.  According to the FAA record an ultra-light can not be used for commercial aviation.  The FAA investigation here centered on whether or not that regulation was being violated by Operation Migration.  The nine young birds had been living in a pen in Franklin County since they and their ultra-light were grounded by the federal government. 
According to Lynn Lunsford, an FAA spokesman, "Sport pilots are flying for compensation, which is prohibited under the regulations. The pilots have voluntarily grounded themselves," Lunsford said. "The FAA has not suspended Operation Migration. The pilots themselves have decided to cease flying while the organization waits for an answer to its requested exemption from the regulations."
Eventually the FAA gave them a temporary waiver exempting Operation Migration from the regulation and allowing them to continue their trip to Florida.  After all this time the birds refused to follow the guy in the bird costume flying the ultra-light.  Since the birds will not voluntarily leave, the decision was made to net the birds, load the birds into travel containers and truck them 70 miles from Winston County to Wheeler National Wildlife Refuge.
"We are fortunate to be in a position to help by standing in for our sister refuges at Chassahowitzka and St. Marks in Florida," said Dwight Cooley, refuge manager for Wheeler National Wildlife Refuge, on the outskirts of Decatur, Alabama. "While we hope they will visit us again in coming winters, where they eventually winter is not nearly as important as their survival, and the hope they will complete many more migrations in years to come. Their continued safety is our highest concern. "
 "We also have fantastic observation facilities and viewing platforms that allow great views and don't disturb the wildlife," said Cooley.  "We've got great habitat and conditions, as evidenced by the number of cranes wintering on the refuge."
The refuge hosted more than 11,000 sandhill cranes this winter, as well as seven whooping cranes.
More on the whooping cranes
http://operationmigration.org/Field_Journal.html
Hash tags: whooping cranes ultra-lights Operation Migration Wheeler National Wildlife Refuge FAA
Governor declares state of emergency ahead of Tropical Storm Zeta
Zeta is currently a tropical storm over the Gulf of Mexico, but it is predicted to make landfall as a category one hurricane.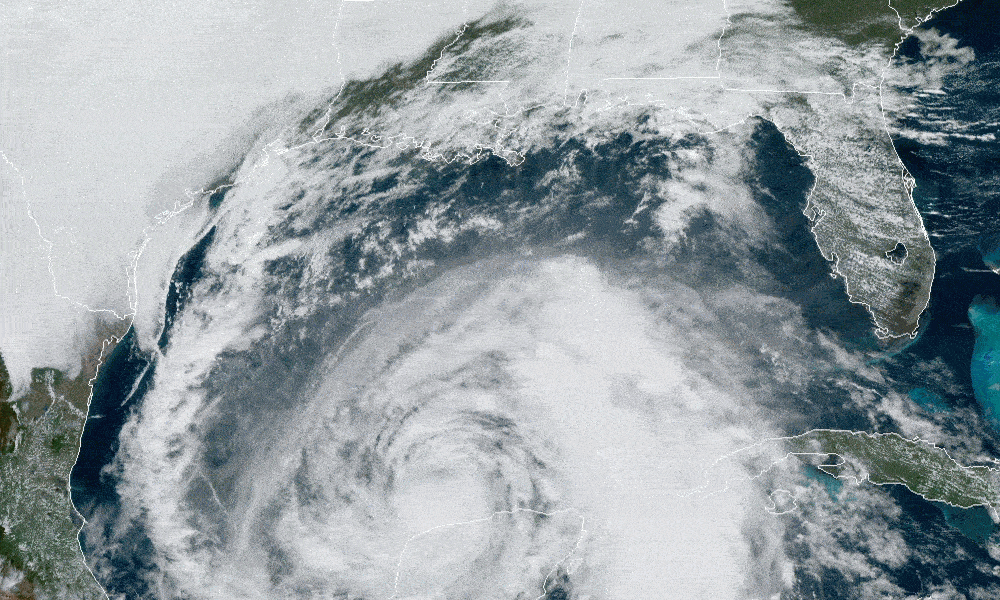 Alabama Gov. Kay Ivey on Tuesday issued a state of emergency as Tropical Storm Zeta approaches the Gulf Coast.
"Ahead of Tropical Storm Zeta's anticipated landfall Wednesday evening as a Category 1 hurricane, I am issuing a state of emergency effective today at 4:00 p.m.," Ivey said. "While this storm is not expected to have an impact as large as storms we've seen move through the Gulf earlier this year, we want to be in the best place possible to respond to anticipated rain, storm surge and mass power outage. I encourage everyone to remain weather aware and tuned in to their trusted news source as this storm could shift direction or change intensity. We continue to track the path of this storm and will stay in touch with the people of Alabama with any updates."
Zeta is currently a tropical storm over the Gulf of Mexico, but it is predicted to make landfall as a category one hurricane. The National Hurricane Center is predicting Zeta to make landfall in Mississippi on Wednesday and then proceed toward Alabama, but these storms can and do move.
A more easterly track could prove devastating to the Alabama Gulf Coast as was the case with Hurricane Sally, which shifted course in September, hitting Alabama, though Zeta is expected to be weaker than Sally at landfall.
The storm surge from the Mississippi-Alabama border to Dauphin Island is forecast to be 5 to 8 feet. Mobile Bay to the Alabama-Florida border is expected to have 3 to 5 feet of storm surge and from the border to Navarre, Florida, could experience 2 to 4 feet of storm surge.
Hurricane force winds are a possibility with this storm. Tropical force winds are expected to be an issue for Southern Mississippi and Alabama well inland. There is expected to be heavy rainfall across the state Wednesday night into Thursday morning.
The Baldwin County Emergency Management Agency announced that sandbags are available inside the county commission office at Robertsdale Central Annex (22251 Palmer Street) until 4:30 p.m. Tuesday and from 8 a.m. until 4:30 p.m. Wednesday or while they last.
Bring any help and shovels you will need. There is a limit of just 25 bags per person. Alabama's coastal counties are currently under a Tropical Storm Warning, a Storm Surge Warning for Mobile County and a High Rip Current and High Surf Warning.
Congressman Bradley Byrne said, "I just finished up briefings from Alabama EMA, FEMA, and the National Hurricane Center regarding #Zeta. We should not take this storm lightly and should start making preparations right away. After sundown Wednesday, I'd encourage everyone in Southwest Alabama to stay home and off the roads until sunrise Thursday. This storm will have impacts as far north as Montgomery, so those in Washington, Clarke, and Monroe counties will see tropical storm force winds and heavy rain. I'd encourage everyone to charge their phones and other necessary electronics. If you have an emergency during the storm, call 911 and do not try to drive."
Coastal Alabama is still in the process of recovering from Hurricane Sally which hit the state on Sept. 15.