House Democrats offer criticism and vision for legislative session
By Bill Britt
Alabama Political Reporter
House Democrats met on the steps of the State House on Wednesday to lay out their agenda and to offer some stern criticism for the Governor and House Republicans.
House Minority Leader Rep. Craig Ford (D-Gadsden) opened the meeting with some critical words for the Governor. "The governor has offered no solutions," said Ford, "only we will stand up for the working families of Alabama."
The Democrats, now the minority in state government, are looking to put forward their plan for the session. It was surprising that only eleven of their number attended the event announcing their Job Creation, Education Bills.
"We have a 25 percent shortfall in the General Fund budget, and the Governor said he isn't going to raise taxes or take money our of the reserve funds," said Ford.
"If we cut Medicaid by 25 people people will die."
Ford who has stated that he might be a candidate for governor sounded like a man already on the stump. Joe Hubbard (D-Montgomery) took the microphone after Ford."When you look at the jobs bills that Democrats and Republicans are sponsoring, there's a lot of common ground there," said Hubbard. "There shouldn't be any reason why we can't come together and work these bills out so that both Democrats and Republicans can support them."
Hubbard said he is sponsoring two economic development bills this session. The first will create a small business loan program that grants loans for startup cost to new businesses that create a minimum of 5 new jobs. Hubbard said his second bill requires state contracts go to companies that have a workforce where at least 50 citizens of the employees are Alabama citizens.
Rep. Merika Coleman (D-Birmingham), an assistant professor at Miles College, spoke about the need to protect the successes Alabama schools have made and to build on those accomplishments. "Our children are our most important resource," said Coleman. "We must give them every opportunity to achieve." She also said that the state needed to reward excellent teachers, keep its promises to them and fight hard for public education.
Ford said he planned to fight for a 4 percent pay increase for teachers and all state employes. Ford's solution to the state financial crisis was to raise taxes on corporations doing business in Alabama. This strategy echoes the Obama Administration and national democratic parties meme. Ford also resurrected a failed idea from the Don Siegelman days. "We need to start considering alternative ways to raise revenue, such as a state lottery," said Ford.
Former Alabama U. S. Congressman Artur Davis said in an interview with the 'Alabama Political Reporter,' that Democrats had to offer more than gambling to voters before they hope to return to a statewide party.
Much was made of Alabama's immigration law with repeated references to the cost and its unintended consciences. Ford and others even went so far as to say that the State's Attorney Luther Strange had called the law unconstitutional. There is no public reference to the AG ever saying that the law is unconstitutional.
Ford said that the people of Alabama need more from the governor than, "Sermons, cake and ice cream."
Out of power a small band of House Democrats gathered with some ideas and a lot of criticism.
Governor declares state of emergency ahead of Tropical Storm Zeta
Zeta is currently a tropical storm over the Gulf of Mexico, but it is predicted to make landfall as a category one hurricane.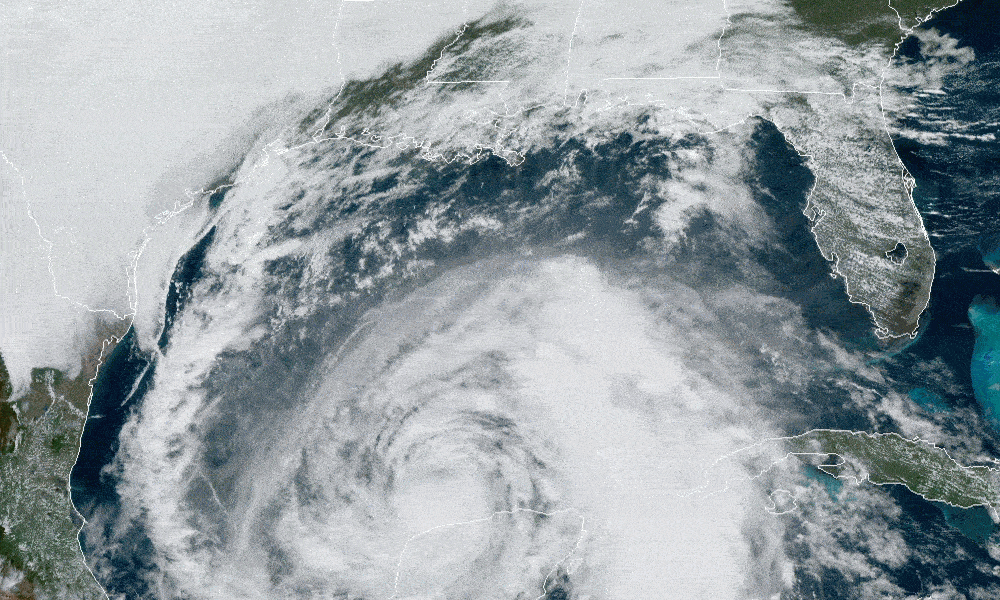 Alabama Gov. Kay Ivey on Tuesday issued a state of emergency as Tropical Storm Zeta approaches the Gulf Coast.
"Ahead of Tropical Storm Zeta's anticipated landfall Wednesday evening as a Category 1 hurricane, I am issuing a state of emergency effective today at 4:00 p.m.," Ivey said. "While this storm is not expected to have an impact as large as storms we've seen move through the Gulf earlier this year, we want to be in the best place possible to respond to anticipated rain, storm surge and mass power outage. I encourage everyone to remain weather aware and tuned in to their trusted news source as this storm could shift direction or change intensity. We continue to track the path of this storm and will stay in touch with the people of Alabama with any updates."
Zeta is currently a tropical storm over the Gulf of Mexico, but it is predicted to make landfall as a category one hurricane. The National Hurricane Center is predicting Zeta to make landfall in Mississippi on Wednesday and then proceed toward Alabama, but these storms can and do move.
A more easterly track could prove devastating to the Alabama Gulf Coast as was the case with Hurricane Sally, which shifted course in September, hitting Alabama, though Zeta is expected to be weaker than Sally at landfall.
The storm surge from the Mississippi-Alabama border to Dauphin Island is forecast to be 5 to 8 feet. Mobile Bay to the Alabama-Florida border is expected to have 3 to 5 feet of storm surge and from the border to Navarre, Florida, could experience 2 to 4 feet of storm surge.
Hurricane force winds are a possibility with this storm. Tropical force winds are expected to be an issue for Southern Mississippi and Alabama well inland. There is expected to be heavy rainfall across the state Wednesday night into Thursday morning.
The Baldwin County Emergency Management Agency announced that sandbags are available inside the county commission office at Robertsdale Central Annex (22251 Palmer Street) until 4:30 p.m. Tuesday and from 8 a.m. until 4:30 p.m. Wednesday or while they last.
Bring any help and shovels you will need. There is a limit of just 25 bags per person. Alabama's coastal counties are currently under a Tropical Storm Warning, a Storm Surge Warning for Mobile County and a High Rip Current and High Surf Warning.
Congressman Bradley Byrne said, "I just finished up briefings from Alabama EMA, FEMA, and the National Hurricane Center regarding #Zeta. We should not take this storm lightly and should start making preparations right away. After sundown Wednesday, I'd encourage everyone in Southwest Alabama to stay home and off the roads until sunrise Thursday. This storm will have impacts as far north as Montgomery, so those in Washington, Clarke, and Monroe counties will see tropical storm force winds and heavy rain. I'd encourage everyone to charge their phones and other necessary electronics. If you have an emergency during the storm, call 911 and do not try to drive."
Coastal Alabama is still in the process of recovering from Hurricane Sally which hit the state on Sept. 15.