Beason Campaign Releases full Transcript of John Rogers, Mary Moore, and Juandalynn Givan Letter
By Brandon Moseley
Alabama Political Reporter
Senator Scott Beason's campaign for the 6th Congressional District issued a press release that makes public the letter signed by Alabama House of Representatives member John Rogers and co-signed by his colleagues Rep. Mary Moore and Rep. Juandalynn Givan defending Sen. Beason against the charge that he was a racist.  The press release said, "since then these three Representatives have come under fire for their defense of Beason."
The press release said that they were now making the letter public because "the Birmingham News only printed ten words of the 345 word letter."  Editorial Note: The Beason campaign did not release the letter to the Alabama Political Reporter or we would have already made it public.
The following is the controversial letter in its entirety:
"February 9, 2012
Open letter to the people of Alabama:
We have seen a lot of media misinformation during our years of service in Alabama Politics, but we have always thought it was just part of the system. Misleading information usually blows over quickly because of its lack of credibility, but we are troubled by the treatment that Scott Beason has received this past year.
For months now, some media outlets have continually tried to make people believe that Scott Beason is a racist. We have known and served with Scott in the legislature for several years. While we usually disagree with his policy positions, and we are in different political parties, the hysterical accusations against Scott are patently false. We know the man and Scott is not a racist.
The part that bothers us more than the incessant attacks is the fact that we were not asked our opinion of him by the Birmingham News. We told the News that Scott is not a racist and that we did not take particular offense to the word aborigine. We actually told the reporter that we hear worse than that in the legislature. For some reason, our statement was not considered newsworthy. It apparently did not fit the template needed to attack Scott Beason. For the record, the term aborigine is not a racial term.
We understand that there are people who do not care about the truth if it gets in the way of an agenda, but we are the kind of people who believe people should know the truth. While we disagree a lot, Scott Beason is our friend and there is no excuse for how he has been treated by writers who do not even know him. Every one of us makes mistakes, but Scott's failure is small compared to the premeditated and ongoing effort by some to destroy a man personally over one comment. (A comment that according to the papers was played in court, but actually read off a transcript and never played.)
Sincerely,
John W. Rogers
Mary Moore
Juandalynn Givan"                                           "
Sen. Beason referred to Greentrack patrons as "aborigines" while talking to fellow state Senators.  Sen. Beason's comments were being recorded at the time in an attempt to help federal authorities gather evidence in an investigation of public corruption in Alabama.  Critics have claimed that that comment was racist and was responsible for the failure to get a guilty verdict from the jury in the first bingo trial.  Aborigines are the native people of Australia who were living a stone-age existence as hunter–gatherers when they were first met by European explorers in the 18th century.
Alabama State Senator Scott Beason (R) from Gardendale is running to represent Alabama's 6th Congressional District.  Sen. Beason is challenging ten term incumbent Congressman Spencer Bachus (R) from Vestavia.  Also running for the seat in the March 13th Republican Party Primary are Tea Party Activist Al Mickle from and Blount County Probate Judge David Standridge.  The winner of the Republican Primary will face AL. Democratic Party opposition on the November 6th General Election ballot from either retired U.S. Air Force Colonel Penny Huggins Bailey from Leeds or Birmingham attorney William "Bill" Barnes.  Leeds resident Terry Reagin is collecting petition signatures to be on the ballot as an independent.  The Sixth District includes all or parts of Blount, Jefferson, Shelby, Chilton, Coosa, and Bibb Counties.
To read Beason's full press release:
http://scottbeason.com/2012/02/19/open-letter-from-reps-rogers-moore-and-givan/
Hash tags:
Three mental health crisis centers coming to Mobile, Montgomery and Huntsville
"Today marks a culture change in Alabama for treatment of individuals with mental illness and substance use disorders," Mental Health Commissioner Lynn Beshear said.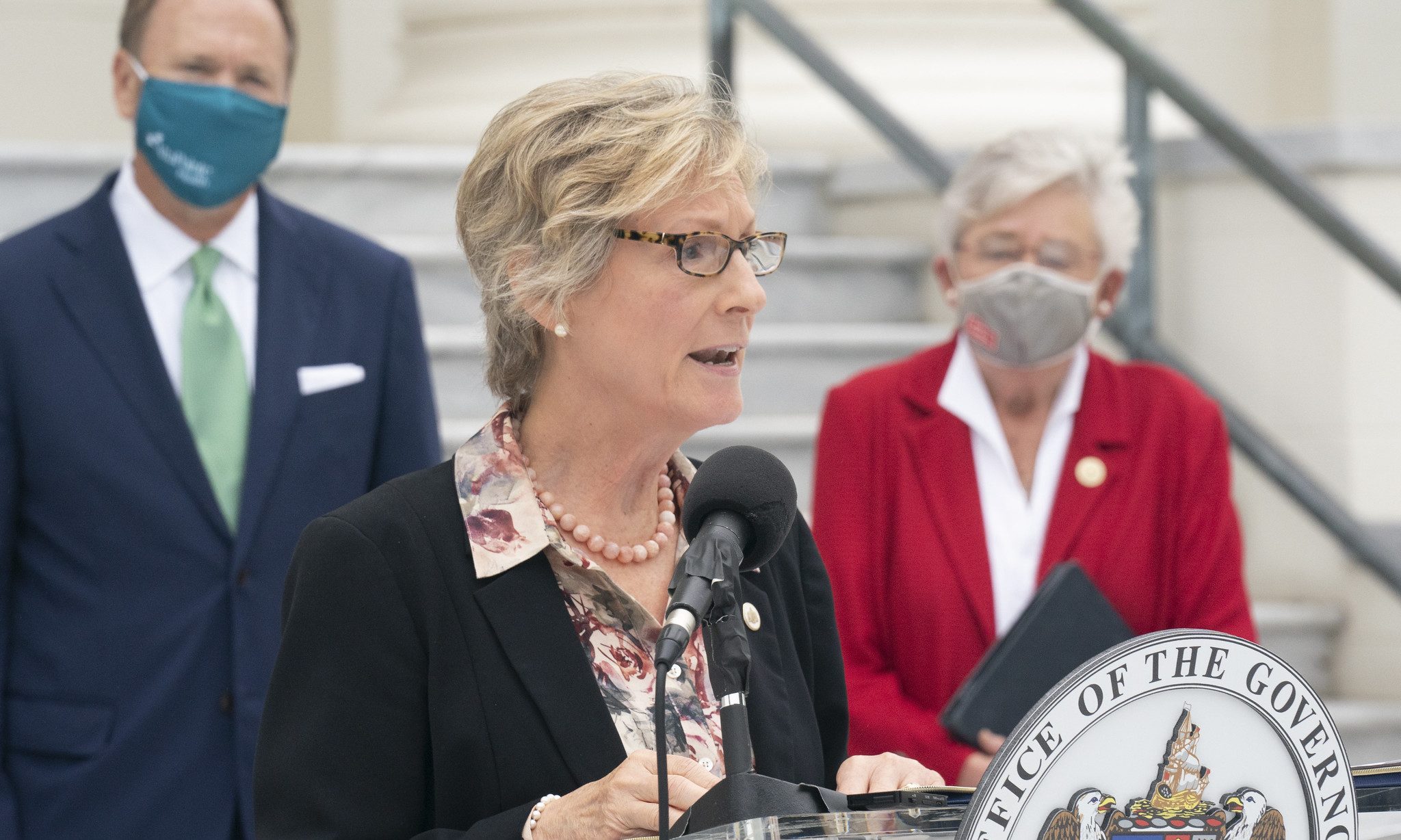 Gov. Kay Ivey on Wednesday announced an $18 million project to create three new mental health crisis centers to be located in Mobile, Montgomery and Huntsville. 
These centers, once in operation, will reduce the number of people suffering from mental health crises who are hospitalized or jailed, Ivey said during a press briefing in front of the Capitol Building in Montgomery. 
"When these facilities are open and fully staffed, these centers will become a safe haven for people facing mental health challenges," Ivey said. 
Lynn Beshear, commissioner of the Alabama Department of Mental Health, said during the briefing that the centers will provide "recovery based" care with "short term stays of a few hours, or up to a few days, to provide treatment, support, and connection to care in the community." 
"Today marks a culture change in Alabama for treatment of individuals with mental illness and substance use disorders," Beshear said. 
Beshear said AltaPointe Health in Mobile will operate one of the three facilities, and once built it is to serve Mobile, Baldwin, Clarke, Conecuh, Escambia, Monroe and Washington counties with 21 new beds, including 15 temporary observation beds. Altapointe will begin with a temporary space while constructing the new facilities, she said. 
Beshear said the Montgomery Area Mental Health Authority is partnering with the East Alabama Mental Health Authority and the Central Alabama Mental Health Authority to serve the 11 counties in Region 3 with 21 new beds, including 10 temporary observation and respite beds. 
"The regional crisis center will be located in Montgomery, and will be open to walk-ins and for drop off by law enforcement, first responders and referrals from emergency rooms," Beshear said. 
Wellstone Behavioral Health in Huntsville was selected to open the third center, and will do so at a temporary site while a new facility is being built, with the help of an additional $2.1 million from local governments, Beshear said. That facility will eventually have 39 beds, including 15 for temporary observation and 24 for extended observation.
"There's not a day that goes by that after-hours care is not an issue in our state," said Jeremy Blair, CEO of Wellstone Behavioral Health, speaking at the press conference. "And so I applaud the Department of Mental Health and the leaders for their efforts in recognizing that and taking it a step further and funding our efforts here." 
Asked by a reporter why a center wasn't located in Jefferson County, one of the most populous counties with a great need for such a center, Ivey said those residents will be served in one of the other regions. 
"Plans are underway to continue this effort. Today's beginning, with these three crisis centers, is just the beginning," Ivey said. 
Ivey added that request for proposals were sent out for these three centers and "it was a strong competition for the location of these three crisis centers." 
Alabama House Majority Leader Nathaniel Ledbetter, R-Rainsville, said during the briefing that more than a year ago, Ivey asked him what the state should be looking at, and that he replied "we're failing miserably in mental health."
Ledbetter said Ivey asked him to take on the challenge of correcting the state's response to mental health, and a team was created to do just that. 
"Working together, today's announcement will not only change Alabamians lives, but will help to save lives," Ledbetter said.