In New Documentary, Obama Confronts a Country on the Brink
Staff Report
Alabama Political Reporter
The Obama campaign on Thursday night released "The Road We've Traveled," a 17-minute video with a series of screenings at its campaign offices nationwide and a live stream on YouTube.
The video uses archival news footage, interviews with administration officials and a flurry of statistics to create a narrative arc for President Obama's first three years in office: He became president when the country was in miserable shape, fought against obstinate resistance to make bold reforms, like overhauling health care and ending the military's "don't ask, don't tell" policy, and put the country back on track.
The documentary has glossy Hollywood production values — it was directed by Davis Guggenheim, the Oscar-winning director of "An Inconvenient Truth," and is narrated by Tom Hanks — but relies on many of the traditional trappings of a campaign ad. There he is, laughing with cute children. Or embracing an old woman. Watch him as he fist-bumps a supporter.
The story narrated by Mr. Hanks starts with elation on election night in 2008 and quickly segues to despair with the beginning of the Great Recession.
David Axelrod, the president's senior campaign strategist, likens watching the president's first major economic briefing to a horror movie. "All I was thinking at that moment was: 'Can we get a recount?'" he says.
Adds Mr. Hanks, "Not since the days of Franklin Roosevelt had so much fallen on the shoulders of one president."
The film devotes a significant amount of time – nearly three minutes – to the president's backing of a financial rescue package for Detroit automakers. And it highlights Mitt Romney's New York Times Op-Ed from that period, when he argued that the car companies should not receive any government assistance. The headline, "Let Detroit Go Bankrupt," is framed in bright red for emphasis.
Governor declares state of emergency ahead of Tropical Storm Zeta
Zeta is currently a tropical storm over the Gulf of Mexico, but it is predicted to make landfall as a category one hurricane.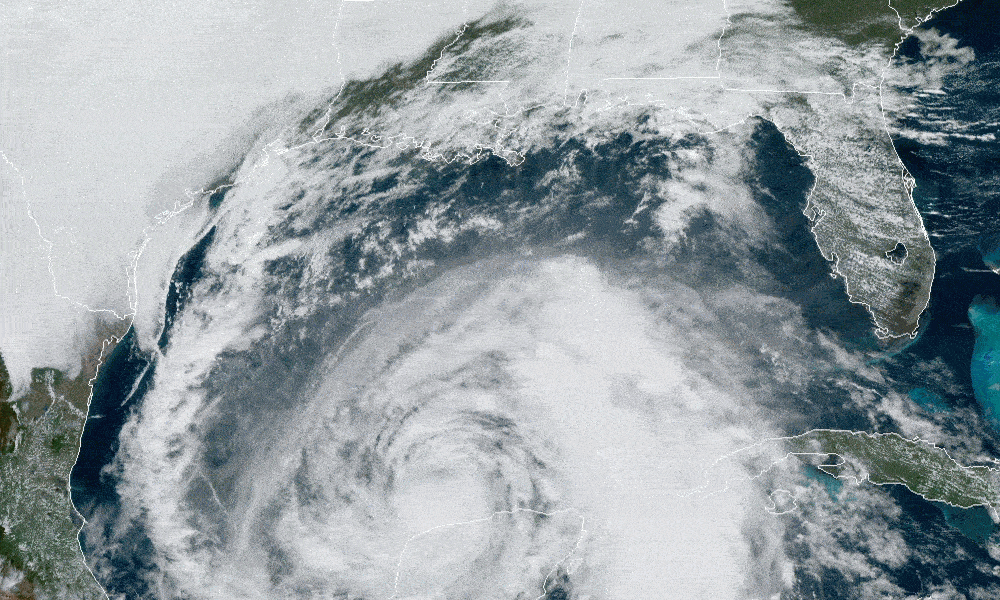 Alabama Gov. Kay Ivey on Tuesday issued a state of emergency as Tropical Storm Zeta approaches the Gulf Coast.
"Ahead of Tropical Storm Zeta's anticipated landfall Wednesday evening as a Category 1 hurricane, I am issuing a state of emergency effective today at 4:00 p.m.," Ivey said. "While this storm is not expected to have an impact as large as storms we've seen move through the Gulf earlier this year, we want to be in the best place possible to respond to anticipated rain, storm surge and mass power outage. I encourage everyone to remain weather aware and tuned in to their trusted news source as this storm could shift direction or change intensity. We continue to track the path of this storm and will stay in touch with the people of Alabama with any updates."
Zeta is currently a tropical storm over the Gulf of Mexico, but it is predicted to make landfall as a category one hurricane. The National Hurricane Center is predicting Zeta to make landfall in Mississippi on Wednesday and then proceed toward Alabama, but these storms can and do move.
A more easterly track could prove devastating to the Alabama Gulf Coast as was the case with Hurricane Sally, which shifted course in September, hitting Alabama, though Zeta is expected to be weaker than Sally at landfall.
The storm surge from the Mississippi-Alabama border to Dauphin Island is forecast to be 5 to 8 feet. Mobile Bay to the Alabama-Florida border is expected to have 3 to 5 feet of storm surge and from the border to Navarre, Florida, could experience 2 to 4 feet of storm surge.
Hurricane force winds are a possibility with this storm. Tropical force winds are expected to be an issue for Southern Mississippi and Alabama well inland. There is expected to be heavy rainfall across the state Wednesday night into Thursday morning.
The Baldwin County Emergency Management Agency announced that sandbags are available inside the county commission office at Robertsdale Central Annex (22251 Palmer Street) until 4:30 p.m. Tuesday and from 8 a.m. until 4:30 p.m. Wednesday or while they last.
Bring any help and shovels you will need. There is a limit of just 25 bags per person. Alabama's coastal counties are currently under a Tropical Storm Warning, a Storm Surge Warning for Mobile County and a High Rip Current and High Surf Warning.
Congressman Bradley Byrne said, "I just finished up briefings from Alabama EMA, FEMA, and the National Hurricane Center regarding #Zeta. We should not take this storm lightly and should start making preparations right away. After sundown Wednesday, I'd encourage everyone in Southwest Alabama to stay home and off the roads until sunrise Thursday. This storm will have impacts as far north as Montgomery, so those in Washington, Clarke, and Monroe counties will see tropical storm force winds and heavy rain. I'd encourage everyone to charge their phones and other necessary electronics. If you have an emergency during the storm, call 911 and do not try to drive."
Coastal Alabama is still in the process of recovering from Hurricane Sally which hit the state on Sept. 15.