Henry says state must opt out of abortion section of the Affordable Health Care Act
By Bill Britt
Alabama Political Reporter
The specter of PPACA also know as Obamacare hangs over states' and federal budgets like a growing shadow.
While many have taken a wait-and-see attitude toward PPACA as a whole, other sections of the Affordable Care Act are receiving Legislative attention.
On Wednesday, the House Health Committee held a public hearing on the abortion coverage section of PPACA.
Sponsored by Rep. Ed Henry (R-Decatur), HB112 would specifically provide that the State of Alabama would opt out of allowing abortion coverage by healthcare exchanges participating in the state's plan.
"I am convinced the majority of the citizen's of Alabama want to opt out of the portion of PPACA that provides abortions through the healthcare exchanges," said Henry.
While the bill would prohibit health insurance exchange coverage of elective abortions, there is a provision that lets an individual pay into an program that would covered abortion.
"Alabama Citizen's for Life, strongly supports this effort [by Henry], regardless of your opinion on abortion no one should be required to pay for someone else's abortion," said Alabama Citizen's for Life spokesperson, Cheryl Ciamarra.
Under PPACA states may choose to join together to run multi-state exchanges, or they may run their own. They also may opt out of running their own exchange, in which case the federal government will step in to create an exchange for their citizens.
Henry explains that each state must choose to opt out and make it legally binding and known to the federal government or they are presumptively enrolled in to the abortion part of the program.
The cost of implementing PPACA in Alabama has been estimated by the Governor's Commission to cost in the $50 million dollar range. The commission delivered its finding to the Governor's office in mid-December of 2010. No one has a final number but the commission estimates has many panicking behind the scene.
"In Alabama about 19,300 abortion performed last year with an average cost of $500 per abortion that is $5,150,000," said Ciamarra. "If the state is looking for ways to save money in the budget this is one."
Henry who expressed that his position like many in Alabama is born of his religious, moral underpinning.
Henry said, "An elective abortion is nothing short of murder, tax dollars should not be used to commit murder."
In fact, on the ground, most people of faith have a spiritual and moral objection to abortion believing that if their tax dollars are used to support abortion that this is an act of sin by commission, because they are by contributing money to fund abortion and by that action sanctioning the action itself.
"Let me make it clear this does not effect in anyway a woman's right to have an abortion it just says, who pays," said Ciamarra. "There would still be the provisions under Alabama's current Medicaid law that allow women under 133 percent of the poverty line to receive money for abortion and also in the case of rape or incest or for medical reasons."
The bill will now be heard in the House Health Committee.
"We are a government by the people, of the people and for the people and if we allow murder to be carried out in our name then we are guilty and will be held accountable," said Henry. "Even Obama said when he was addressing the US Congress he said no taxpayer dollars will be used to fund abortion. In this bill we are helping the President keep his promise."
Trump Truck and boat parades this weekend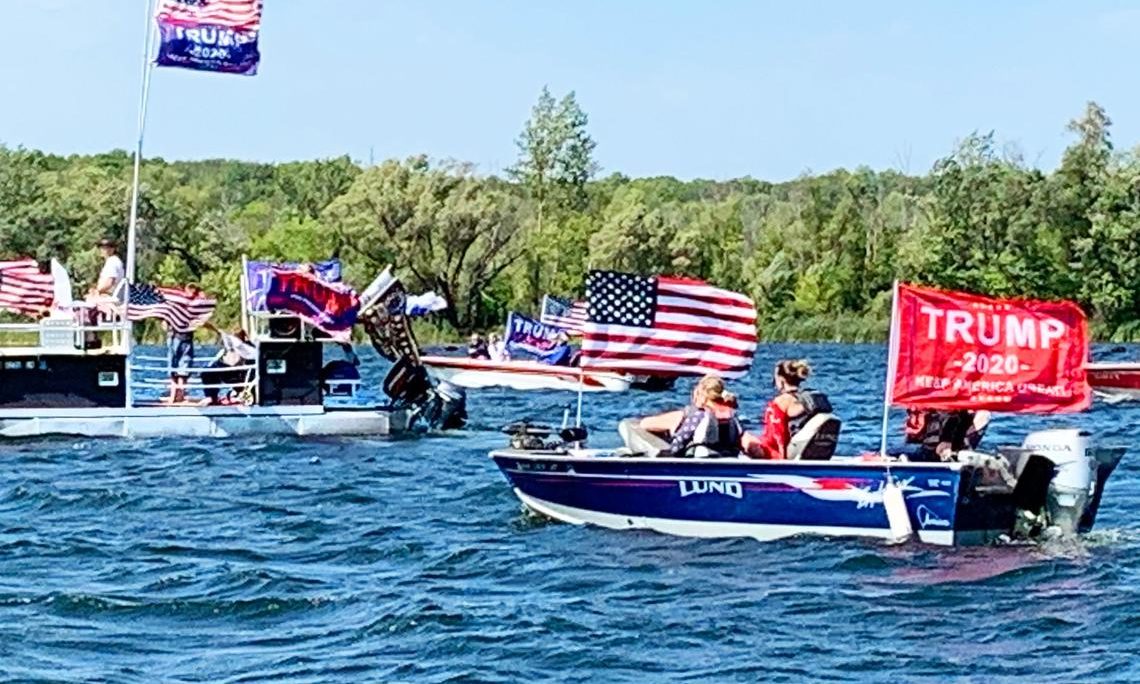 As Election Day draws near, Alabama Republicans are excited about promoting the re-election of Donald J. Trump as President and the election of Tommy Tuberville for U.S. Senate. This weekend two pro-President Trump events are happening in the state. There will be a truck parade from Ashland to Phenix City on Saturday sponsored by the Clay County Republican Party, while there will also be a boat parade on Wilson Lake in the Shoals sponsored by the Colbert County Republican Party on Sunday.
The pickup trucks will assemble at the Ashland Industrial Park in Clay County, 8240 Hwy 9, Ashland. There is a pre-departure rally at 10:00 a.m. central standard time. The trucks will depart at 11:00 a.m. and then proceed on a parade route that will take them into the bitterly contested swing state of Georgia. The Trump Pickup Parade will wind through east Alabama and West Georgia traveling through LaGrange and Columbus before concluding near the Alabama/Georgia line in Phenix City, 332 Woodland Drive, Phenix City at approximately 2:00 p.m. central time. Speakers will begin at 3:00. Trump flags will be on sale at the event.
The Phenix Motorsports Park will be hosting what sponsor hope could possibly the world's largest Pickup Tuck parade in U.S. history that is routing over 50 mile through Georgia in effort to "pickup" President Trump's numbers in GA.
A number dignitaries have been invited to address the Phenix City rally, including Coach Tuberville. Former State Sen. Shadrack McGill, Trump Victory Finance Committee member former State Rep. Perry O. Hooper Jr., and Paul Wellborn, the President and CEO of the largest Family owned Kitchen Cabinet manufacture in the USA are among the featured speakers who have committed to speak at the event.
Entertainment will be provided by: Charity Bowden, an up and coming country music singer who was the runner up on "The Voice". Charity will sing 'I am Proud to be an American' as well as songs from her Voice performances. The McGill Girls will also perform. The three beautiful and talented sisters will be singing patriotic songs in three part harmony. Geoff Carlisle, a professional DJ will be keeping the crowd pumped with music and entertainment.
Following the speakers and the entertainment there will Trump truck-vs- Joe Bidden truck races down the drag strip for the finale.
The Northwest Alabama boat parade will be on Sunday. The boats will gather at 2:00 p.m. near Turtle Point and then the flotilla will parade around the open waters of Wilson Lake til 3_00 p.m.. There will be a contest for best decorated Trump boats.
Trump supporters have held a number of large boat parades across the state to show their support for the re-election of Pres. Trump.
Boat parade sponsors say that this parade will be: pro-American, pro-law enforcement, pro-military.