Rep. Todd Raises More Concerns About Charter Schools
By Susan Britt
Alabama Political Reporter 
MONTGOMERY–Big business, buildings and applicants remain a concerns for some Democrats regarding the charter schools portion of the Education Options Act of 2012.
According to Rep. Patricia Todd (D-Birmingham) there is a possibility that "big business" will control these schools. "A nonprofit charter will partner with a for-profit corporation that will develop the curriculum and all of the structure of the charter school. They will pay that for-profit company to do that," said Todd.
The bill, HB650, specifically states that only applicants that are of non-profit, non-religious status will be considered. However, Todd says that there is "no nonprofit in Alabama that has the ability to set up a charter school." 
Many charter schools, nationwide, are managed by charter school management companies. They offer bookkeeping, human resources management and other support services for these schools. Since there is not one available inside the state of Alabama, a non-profit choosing to use a management company would have to look out-of-state.
"I don't like for-profit corporations coming in and taking money out of the Education Trust Fund," said Todd.
Charter schools will need buildings. The bill provides that the cost of these facilities will be borne by the charter school. Although, instead of building new classrooms, vacant school buildings could be a solution. The charter school will get first right of refusal and can purchase the buildings for under fair-market value. Whether the local school board will have the ability to refuse the sale of property is still undetermined.
This bill is targeted at low-performing school districts. Todd said, "I wanted the children that go to the low-performing school to get first stab at it but [the bill sponsors] won't do that." She said that application will be available to any child in the school district and not targeted at a specific school within that district.
There another area of concern about a provision in the bill giving first preference to staff, faculty and founders children. It states: 
"Students or potential students given enrollment preference shall be exempt from the random selection process. Enrollment preference may be provided only to the following: 
a. Students enrolled in the public charter school the previous year. 
b. Siblings of students already enrolled in the public charter school. 
c. Children of the founders, governing board members, and full-time employees of the public charter school, as long as the students given an enrollment preference pursuant to this paragraph, collectively, constitute no more than five percent of the total student population of the public charter school."
Referring to the remainder of the bill addressing more flexibility in custom curriculum in public school districts, Todd said, "If they would take the charter piece out of it I would support the bill."
A substitute was passed out of the Ways and Means Education Committee on Tuesday by a vote of 9-4. Chairman Jay Love said that he wanted to make sure that the bill was as clean as possible before it went to the House floor.
Jefferson County health officer, UAB head say COVID-19 numbers are improving but flu season is near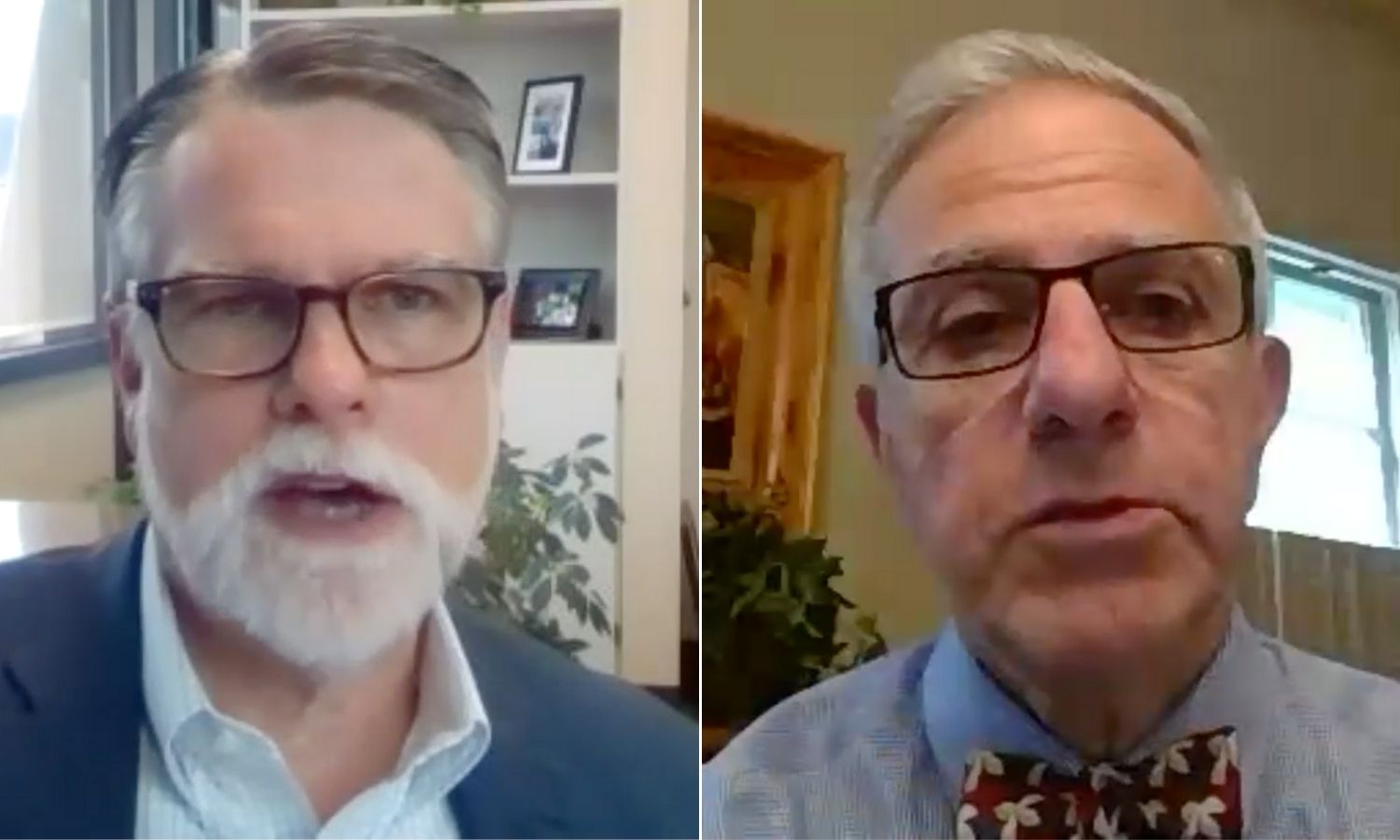 Jefferson County Health Officer Dr. Mark Wilson said Friday that the county's COVID-19 numbers are improving, but with schools reopening and flu season approaching, it's critical for the public to continue wearing face masks and practicing social distancing. 
Wilson and Will Ferniany, the CEO of the UAB Health System, held a press briefing on Friday to discuss the state of coronavirus and what's being done to mitigate the disease that has killed 1,825 people in Alabama and infected 102,196.
In the last few weeks, the number of new daily COVID-19 cases and the percent of tests that are positive in Jefferson County has begun to decline, Wilson told reporters, but he put that decline into perspective. 
"Keep in mind though that this is a slight improvement from being at a pretty bad place with really high numbers, so we still have a long way to go," Wilson said. 
There have been 13,682 confirmed coronavirus cases and 262 deaths in Jefferson County as of Friday, and 939 cases were added within the last week. The county's seven-day average of new daily cases fell from its peak of 295 on July 18 to 156 on Thursday.
Wilson said there is good evidence that the county's face covering order is making a difference in the spread of the disease, and that he thanks the public for making that difference, and asked that they keep doing so. 
"We have four levels of surge," Ferniany said, referring to UAB Hospital's process of temporarily adding hospital bed capacity for COVID-19 patients by removing beds from other areas. "We're on level two capacity." 
Ferniany said the hospital is running at 90 percent capacity, which he said is a "very full hospital" and that between March and around July 20, the hospital was caring for between 60 and 70 coronavirus patients daily, and reached a peak of 130 patients a little more than a week ago. 
"Today we're at 97 patients in-house, and roughly 40 percent are in the ICU," Ferniany said. 
Ferniany said the hospital's ability to care for COVID-19 patients is now limited by the numbers of nurses and other staff, and that UAB is "down several hundred nurses" and burnout from long periods of caring for coronavirus patients is common. 
Both Ferniany and Wilson said they're very concerned about the upcoming flu season and the impact it could have on hospital capacity, as physicians continue to care for COVID-19 patients. 
"The 2018-2019 flu season was the worst flu season we have seen in 40 years, and we actually asked the governor back then to declare a state of emergency because our hospitals were full then with influenza," Wilson said. 
Wilson urged the public to get their annual flu shots once available on Sept. 1 to help prevent additional strain on hospitals statewide. Public health officials worry that the combination of flu and COVID-19 could be difficult to handle — both on a system-wide level and the level of an individual person.
"We have no reason to think that somebody can't get the flu and COVID-19 at the same time, which could be a deadly combination," Wilson said. 
Wilson said while he isn't certain what Gov. Kay Ivey may decide about the statewide mask order, but "in Jefferson County, it's very likely I'm going to be pushing to continue face coverings through the flu season," Wilson said.
Wilson in July advised school superintendents in Jefferson County that middle and high school students should attend school virtually only for the first nine weeks, a stronger recommendation than most superintendents elsewhere have received. 
Wilson told reporters Friday that his recommendation for virtual-only classes to start was done to keep kids, teachers, staff and families safe. 
"We're probably going to have some cases. It's inevitable, but what we want to do is everything we can as kids go back to school to reduce the spread within school so that schools can stay open." 
There are also preliminary plans for a new testing site for children as schools reopen, Wilson said, but those plans continue to be developed. 
Ferniany said UAB Hospital on Thursday got initial approval from the hospital's board to expand COVID-19 testing capacity. 
"Our goal is to try to expand it significantly by the end of December. We probably can't get it up faster than that, but this pandemic is not going away by the end of December so I think we will have a significant increase in our ability to have rapid tests in place by the end of this year," Ferniany said.