Senate moves to cuts business red-tape with One Spot Act
By Bill Britt
Alabama Political Reporter
MONTGOMERY-One Spot, the acronym for Optional Network Election for Single Point Online Transactions was designed to facilitate a streamline statewide electronic filling and remittance system for sales, use, land and retail taxes in Alabama.
The electronic filling system was a part of the "President Pro Tem's Initiative to Streamline Government and House Speaker's Commission on Job Creation," recommendations.
The bill, was sponsored in the Senate by Senator Slade Blackwell (R- Birmingham).
"It is a cool bill," said Blackwell. He explains that in the State Senate there are very few instances when a bill is really innovative.
"What this bill does is brings us into the electronic age. Now a business can go on line and file their taxes electronically, said Blackwell.
Single Point Online Transactions, will be administered by the Alabama Department of Revenue and available for use by both taxpayers and Alabama municipalities and counties at no cost. The bill requires the system to be operational in time for returns and payments due in tax periods that begin after Sept. 30, 2013.
According to the bill's supporters the passage of the bill will end an administrative nightmare for companies around the state.
It has been shown that the state has retailers who file over one hundred filings a month writing up to 150 checks to 150 different agencies.
"This eliminates a lot of red tape and streamlines the entire process," said Blackwell,
"This is a real convenience for small businesses in Alabama."
The system is optional for taxpayers who may wish to continue filing their taxes using the old method. The bill seeks to provide a more efficient method for business that can lead to greater productivity with fewer government burdens.
Senator Marsh said this legislation is a giant step toward streamlining the way businesses interface with state and local government.
"It is a tremendous administrative burden on businesses to have to file what could be hundreds of separate tax returns with cities and counties across the state," Marsh said. "This common sense solution to alleviate that burden and is a perfect example of how we can streamline government operations to better serve Alabama taxpayers."
Working to eliminate government red tape will promote growth in Alabama's private sector economy, Speaker Hubbard said.
"When we travelled the state asking business owners what was hindering them from growing their businesses and hiring more workers, almost everyone pointed to bureaucratic red tape. The layered system businesses have to navigate for filing city and state taxes defines red tape, and it's about time we did something about it. I'm proud to work together with Senate President Pro Tem Marsh and the bill sponsors on a common sense reform that will boost job growth and make government more efficient all that the same time. We look forward to passing this legislation in the House."
Senator Blackwell said members of the business community have been calling for this reform for years and could be one of the most important pro-business bills passed this session.
"This bill could be one of the most important, pro-business items of legislation that the Legislature passes this year," Blackwell said. "Small businesses have been pushing for this reform for years and I'm proud to sponsor this bill that will make the filing process more efficient."
Jefferson County health officer, UAB head say COVID-19 numbers are improving but flu season is near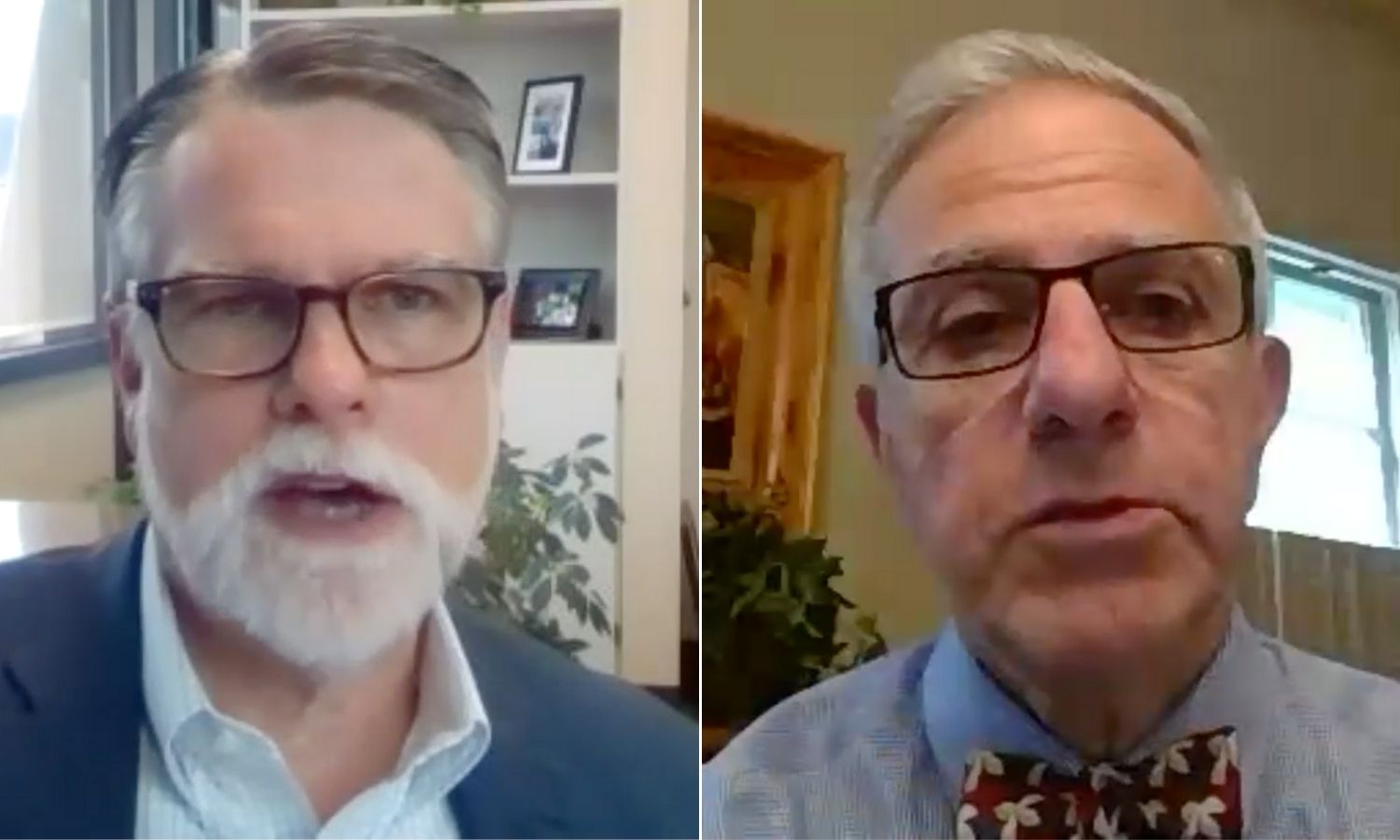 Jefferson County Health Officer Dr. Mark Wilson said Friday that the county's COVID-19 numbers are improving, but with schools reopening and flu season approaching, it's critical for the public to continue wearing face masks and practicing social distancing. 
Wilson and Will Ferniany, the CEO of the UAB Health System, held a press briefing on Friday to discuss the state of coronavirus and what's being done to mitigate the disease that has killed 1,825 people in Alabama and infected 102,196.
In the last few weeks, the number of new daily COVID-19 cases and the percent of tests that are positive in Jefferson County has begun to decline, Wilson told reporters, but he put that decline into perspective. 
"Keep in mind though that this is a slight improvement from being at a pretty bad place with really high numbers, so we still have a long way to go," Wilson said. 
There have been 13,682 confirmed coronavirus cases and 262 deaths in Jefferson County as of Friday, and 939 cases were added within the last week. The county's seven-day average of new daily cases fell from its peak of 295 on July 18 to 156 on Thursday.
Wilson said there is good evidence that the county's face covering order is making a difference in the spread of the disease, and that he thanks the public for making that difference, and asked that they keep doing so. 
"We have four levels of surge," Ferniany said, referring to UAB Hospital's process of temporarily adding hospital bed capacity for COVID-19 patients by removing beds from other areas. "We're on level two capacity." 
Ferniany said the hospital is running at 90 percent capacity, which he said is a "very full hospital" and that between March and around July 20, the hospital was caring for between 60 and 70 coronavirus patients daily, and reached a peak of 130 patients a little more than a week ago. 
"Today we're at 97 patients in-house, and roughly 40 percent are in the ICU," Ferniany said. 
Ferniany said the hospital's ability to care for COVID-19 patients is now limited by the numbers of nurses and other staff, and that UAB is "down several hundred nurses" and burnout from long periods of caring for coronavirus patients is common. 
Both Ferniany and Wilson said they're very concerned about the upcoming flu season and the impact it could have on hospital capacity, as physicians continue to care for COVID-19 patients. 
"The 2018-2019 flu season was the worst flu season we have seen in 40 years, and we actually asked the governor back then to declare a state of emergency because our hospitals were full then with influenza," Wilson said. 
Wilson urged the public to get their annual flu shots once available on Sept. 1 to help prevent additional strain on hospitals statewide. Public health officials worry that the combination of flu and COVID-19 could be difficult to handle — both on a system-wide level and the level of an individual person.
"We have no reason to think that somebody can't get the flu and COVID-19 at the same time, which could be a deadly combination," Wilson said. 
Wilson said while he isn't certain what Gov. Kay Ivey may decide about the statewide mask order, but "in Jefferson County, it's very likely I'm going to be pushing to continue face coverings through the flu season," Wilson said.
Wilson in July advised school superintendents in Jefferson County that middle and high school students should attend school virtually only for the first nine weeks, a stronger recommendation than most superintendents elsewhere have received. 
Wilson told reporters Friday that his recommendation for virtual-only classes to start was done to keep kids, teachers, staff and families safe. 
"We're probably going to have some cases. It's inevitable, but what we want to do is everything we can as kids go back to school to reduce the spread within school so that schools can stay open." 
There are also preliminary plans for a new testing site for children as schools reopen, Wilson said, but those plans continue to be developed. 
Ferniany said UAB Hospital on Thursday got initial approval from the hospital's board to expand COVID-19 testing capacity. 
"Our goal is to try to expand it significantly by the end of December. We probably can't get it up faster than that, but this pandemic is not going away by the end of December so I think we will have a significant increase in our ability to have rapid tests in place by the end of this year," Ferniany said.