Cutting and Capping Legislative Pay Becomes an Issue
By Bill Britt
Alabama Political Reporter
MONTGOMERY—Recent questions raised by talk radio and a editorial board has bill sponsors miffed.
The bill drawing fire started as HB 269 a bill designed to limit legislative pay sponsored by Representative Mike Ball (R-Huntsville), and carried in the Senate by Senator Phil Williams (R-Rainbow City).
At the time of the bill's introduction at the Statehouse Rep. Ball said that he had worked with colleagues in the House and Senate with the goal of putting "servant," back into the idea of public service. He went on to further stress, "In an era when the nation's political class suffers it lowest popularity in a generation, it is time for us to do the right thing by putting our pay back into the hands of the voters."
For the bill to become law it must be approved by a vote of the people at the November elections.
Concerning those who were challenging the bill's intention, Williams recently wrote,  "The most important point that was completely overlooked (or simply ignored) by the editorialist is that the Act specifically ensures that the legislature will never have an opportunity to vote on its own pay again…..ever. That's a salient point and was specifically included to prevent any future repeat of the self-serving pay increase that the previous majority rammed through in 2007."
In 2007, the democrat controlled legislature voted itself a 61 percent pay raise with annual cost of living increases.
Critics of the legislation have also questioned having the personnel board oversee legislative pay suggesting that there would be a cozy relationship between lawmakers and the board. Again Williams takes aim at those criticisms. "The next point that must be taken into consideration is that the new Act specifically places the legislature under the control of the State Personnel Board. The new majority recognizes that a restoration of the public trust must also include doing away with any ivory tower mentalities that may have infected the halls of the Statehouse in the past. We are State employees, and should not be so bold as to consider ourselves any differently," he said.
According to the bill's sponsors, the intention is to tie legislative pay to median household income and to bring legislative expense approval under the same guidelines set for state employees virtually making legislators employees of the state. It sets specific procedures in place regarding any future pay raises to be out of the legislations hands.
"I think we did exactly what we were sent here for and we have created something that is not only fair to the body but restores the public trust as well. I am anxious to see this thing go to the polls and be voted on by the people," said Sen. Williams.
Representative Blaine Galliher, (R-Gadsden) said after the bill passed the house and senate that to him the most important part of the bill is that it takes it [Legislative pay raises], out of the hands of the legislature in the future.
After the joint committee meeting that was charged with making sure any changes made would fall within guidelines used for state employees. Galither said, "The people will have the final say on it.  This way there is a very transparent process that again the people will have the say on whether they would like this to change the process. I think that they would like to change the process and take it out of the legislature's hands forever."
Williams concluded his recent editorial by saying,"In good faith, and in an effort to restore the public trust, the Republican majority fought hard  and won a repeal of the 2007 pay raise and removed the ability for any future legislative body to ever give itself a raise again. We have done what we can, and all we ask now is that the citizens of this State join our efforts by approving the measure at the polls."
Governor declares state of emergency ahead of Tropical Storm Zeta
Zeta is currently a tropical storm over the Gulf of Mexico, but it is predicted to make landfall as a category one hurricane.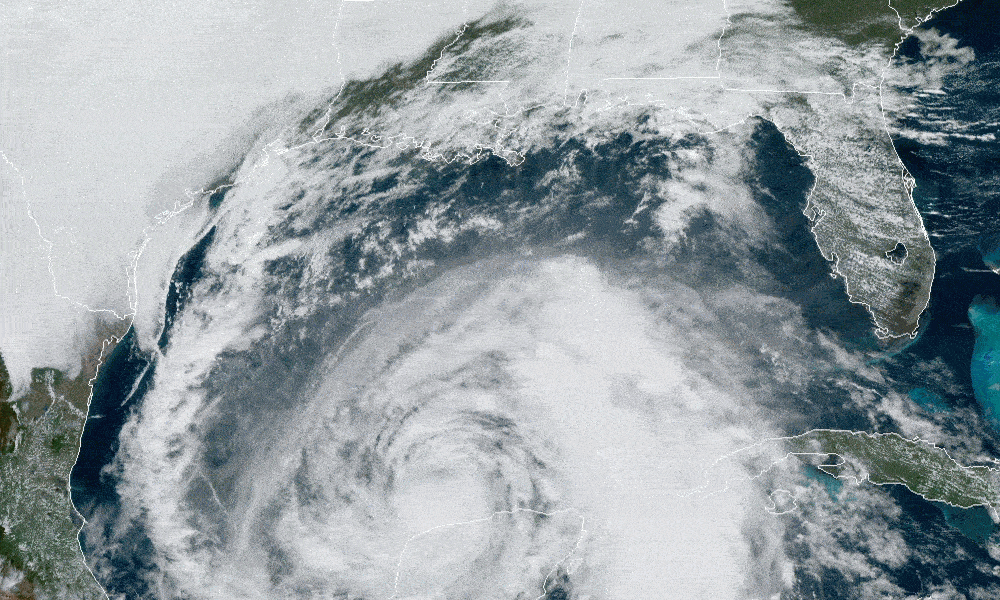 Alabama Gov. Kay Ivey on Tuesday issued a state of emergency as Tropical Storm Zeta approaches the Gulf Coast.
"Ahead of Tropical Storm Zeta's anticipated landfall Wednesday evening as a Category 1 hurricane, I am issuing a state of emergency effective today at 4:00 p.m.," Ivey said. "While this storm is not expected to have an impact as large as storms we've seen move through the Gulf earlier this year, we want to be in the best place possible to respond to anticipated rain, storm surge and mass power outage. I encourage everyone to remain weather aware and tuned in to their trusted news source as this storm could shift direction or change intensity. We continue to track the path of this storm and will stay in touch with the people of Alabama with any updates."
Zeta is currently a tropical storm over the Gulf of Mexico, but it is predicted to make landfall as a category one hurricane. The National Hurricane Center is predicting Zeta to make landfall in Mississippi on Wednesday and then proceed toward Alabama, but these storms can and do move.
A more easterly track could prove devastating to the Alabama Gulf Coast as was the case with Hurricane Sally, which shifted course in September, hitting Alabama, though Zeta is expected to be weaker than Sally at landfall.
The storm surge from the Mississippi-Alabama border to Dauphin Island is forecast to be 5 to 8 feet. Mobile Bay to the Alabama-Florida border is expected to have 3 to 5 feet of storm surge and from the border to Navarre, Florida, could experience 2 to 4 feet of storm surge.
Hurricane force winds are a possibility with this storm. Tropical force winds are expected to be an issue for Southern Mississippi and Alabama well inland. There is expected to be heavy rainfall across the state Wednesday night into Thursday morning.
The Baldwin County Emergency Management Agency announced that sandbags are available inside the county commission office at Robertsdale Central Annex (22251 Palmer Street) until 4:30 p.m. Tuesday and from 8 a.m. until 4:30 p.m. Wednesday or while they last.
Bring any help and shovels you will need. There is a limit of just 25 bags per person. Alabama's coastal counties are currently under a Tropical Storm Warning, a Storm Surge Warning for Mobile County and a High Rip Current and High Surf Warning.
Congressman Bradley Byrne said, "I just finished up briefings from Alabama EMA, FEMA, and the National Hurricane Center regarding #Zeta. We should not take this storm lightly and should start making preparations right away. After sundown Wednesday, I'd encourage everyone in Southwest Alabama to stay home and off the roads until sunrise Thursday. This storm will have impacts as far north as Montgomery, so those in Washington, Clarke, and Monroe counties will see tropical storm force winds and heavy rain. I'd encourage everyone to charge their phones and other necessary electronics. If you have an emergency during the storm, call 911 and do not try to drive."
Coastal Alabama is still in the process of recovering from Hurricane Sally which hit the state on Sept. 15.