Making the right decisions on healthcare are paramount in senator's mind
By Bill Britt
Alabama Political Reporter
MONTGOMERY—"The more I look at this, the more I realized that the decisions we make on healthcare in Alabama are going to have a dramatic effect on our economy, on our tax revenues, and the use thereof. These decisions will affect every area of our lives, from the smallest communities to the future on our nation," so is the assessment of State Senator Greg Reed (R-Jasper).
Reed who serves as the Chairman of the Senate Health Committee has deeply immersed himself in the challenges and opportunities that lay ahead concerning health and healthcare in Alabama.
From the Affordable Care Act to the deficiencies in the Medicaid budget and its reorganization under the new Permanent Committee on Medicaid, Reed, is looking for solutions to make the best decisions on behalf of the state's 4 million plus citizens.
Reed says he believes the health of our citizens and the healthcare that is available is "an issues with great importances and we all must look for ways to make a positive impact."
Reed relates a resent conversation that he had with some local Alabama businessmen, "We were discussing the coming Constitutional Amendment and the funding of Medicaid and they said, 'Medicaid is an entitlement program and if it's short we should just cut the bottom out of it and let it be what it is.'"
"That may sound good," said Reed, "but the problem is, if you cut $200 million out of Medicaid and fund the rest of the general, that's not the whole story."
Reed went on to explain that when $200 million is cut from Medicaid it is really like cutting what is approaching $600 million because of the matching funds.
"Then look at the ancillary gross domestic product associated with that $600 million then you are looking at a economic benefit of twice that amount," Reed said. "In reality you are looking at losing a billion or more dollars related to that one decision to cut $200 million out of Medicaid."
Reed said he wanted the men present to think about what it would mean to Alabama's financial health to suddenly take a billion dollars out of the economy.
"This is a bigger decision than a pure market economy where we make cuts," said Reed. "If you take that billion dollars out of Medicaid you are going to have hospitals and clinics especially in rural Alabama not make it."
Reed says he believes the decisions made concerning Medicaid, the Healthcare Exchange and whether to expand Medicaid, are not only going to impact "healthcare but the state fiscal future not only immediately but for decades to come."
He also advises caution as the state moves forward, "Some of the choices may change with a Romney Presidency and a new congress but the Affordable Care Act and these issues are realities we face."
Reed points to the fact that the baby-boomer generation continues to age and require more healthcare making the "challenges today are growing greater every year."
"There is a great deal of research being complied and options for how Alabama faces these choices," said Reed. "I would like for us to not make a rush to judgement or rush to action concerning some of the federal issues without fully understanding what decisions have to be made."
Reed says he will continue to work with the Governor and his fellow legislators to find the right path for Alabama.
Trump Truck and boat parades this weekend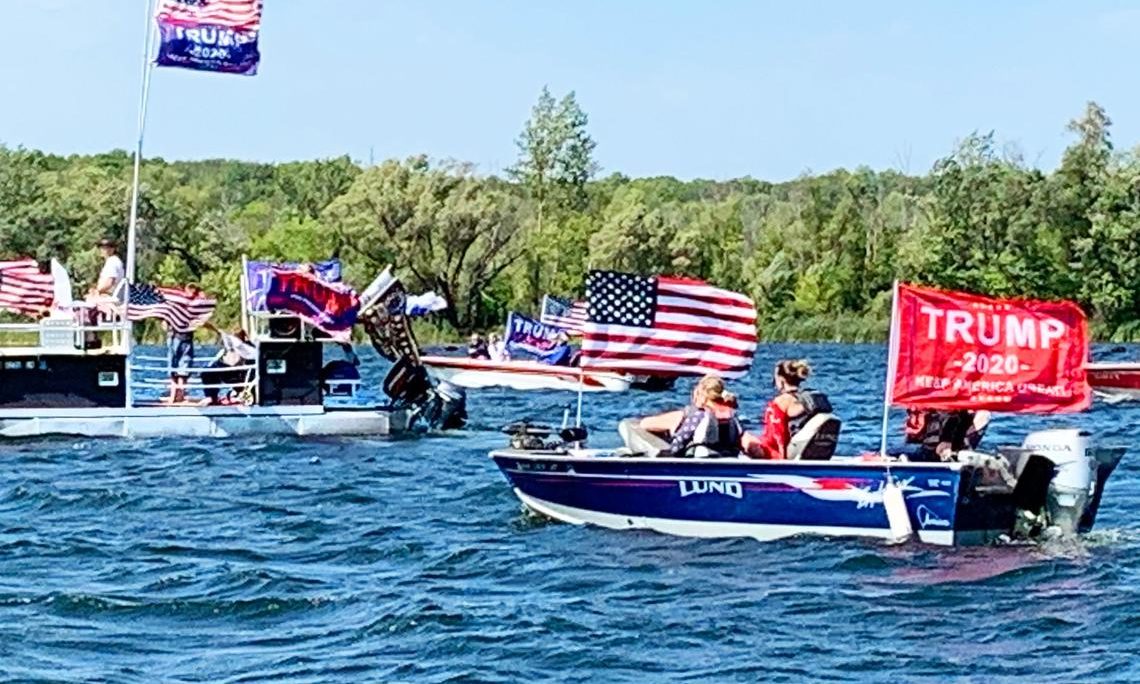 As Election Day draws near, Alabama Republicans are excited about promoting the re-election of Donald J. Trump as President and the election of Tommy Tuberville for U.S. Senate. This weekend two pro-President Trump events are happening in the state. There will be a truck parade from Ashland to Phenix City on Saturday sponsored by the Clay County Republican Party, while there will also be a boat parade on Wilson Lake in the Shoals sponsored by the Colbert County Republican Party on Sunday.
The pickup trucks will assemble at the Ashland Industrial Park in Clay County, 8240 Hwy 9, Ashland. There is a pre-departure rally at 10:00 a.m. central standard time. The trucks will depart at 11:00 a.m. and then proceed on a parade route that will take them into the bitterly contested swing state of Georgia. The Trump Pickup Parade will wind through east Alabama and West Georgia traveling through LaGrange and Columbus before concluding near the Alabama/Georgia line in Phenix City, 332 Woodland Drive, Phenix City at approximately 2:00 p.m. central time. Speakers will begin at 3:00. Trump flags will be on sale at the event.
The Phenix Motorsports Park will be hosting what sponsor hope could possibly the world's largest Pickup Tuck parade in U.S. history that is routing over 50 mile through Georgia in effort to "pickup" President Trump's numbers in GA.
A number dignitaries have been invited to address the Phenix City rally, including Coach Tuberville. Former State Sen. Shadrack McGill, Trump Victory Finance Committee member former State Rep. Perry O. Hooper Jr., and Paul Wellborn, the President and CEO of the largest Family owned Kitchen Cabinet manufacture in the USA are among the featured speakers who have committed to speak at the event.
Entertainment will be provided by: Charity Bowden, an up and coming country music singer who was the runner up on "The Voice". Charity will sing 'I am Proud to be an American' as well as songs from her Voice performances. The McGill Girls will also perform. The three beautiful and talented sisters will be singing patriotic songs in three part harmony. Geoff Carlisle, a professional DJ will be keeping the crowd pumped with music and entertainment.
Following the speakers and the entertainment there will Trump truck-vs- Joe Bidden truck races down the drag strip for the finale.
The Northwest Alabama boat parade will be on Sunday. The boats will gather at 2:00 p.m. near Turtle Point and then the flotilla will parade around the open waters of Wilson Lake til 3_00 p.m.. There will be a contest for best decorated Trump boats.
Trump supporters have held a number of large boat parades across the state to show their support for the re-election of Pres. Trump.
Boat parade sponsors say that this parade will be: pro-American, pro-law enforcement, pro-military.