Providing the best value of Medicaid, from the sense of dollars spent
By Bill Britt
Alabama Political Reporter
MONTGOMERY— "People need to understand and accept that we have the most value-oriented, cost-effective, minimal entitlement program in the country." These are the words of Stanley K. Hammack, chief executive officer of University of South Alabama Health Systems referring to Alabama's Medicaid program.
"We've got the most stringent eligibility requirements of any state in the nation when it comes to Medicaid," Hammack a veteran administrator recently said. "There is not this vast number of people out there receiving Medicaid benefits. It is those vulnerable groups: children, expectant mothers, the aged, blind and disabled. And basically, the aged, blind and disabled are two-thirds of the expenditures."
Everyday in the media people are bombarded with the idea that government spending is out of control and that a vast number of Americans are leaching on systems like Medicaid.
According to Hammack, this is not the case in Alabama, "In Alabama we have the least number of people enrolled and we spend the least on them. So, we are basically doing the minimum standards of what is required by Medicaid."
This message has been spoken by Governor Bentley, Public Health Officer Dr. Don Williamson and countless others, yet, Medicaid in Alabama is still painted by some as this gross entitlement program.
"The providers [of Medicaid] are not overpaid in fact they are underpaid," says Hammack. "Several of the providers, specifically hospitals, are covering their own way or at least a big portion of it."
He also points out that Alabama is the only state that provides zero funding for hospitals as a part of Medicaid.
Like UAB in the middle of the state USA provide medical education in the state's Southern region.
"UAB and USA are both designed to be academic health centers and educational entities. Any negative impact [on the healthcare delivery system] starts impacting the training of manpower and healthcare workforce development, specifically physicians, allied health professionals and nursing," Hammack said.
Like other medical institutions "when you start losing money and you start having to cut programs you start losing some of these programs that are unique to UAB and USA and maybe a couple of hospitals in the state. If they are compromised to the point where funding-wise you can't have them, then you have to start sending patients outside the state."
The workforce component also has the potential of being compromised as funding is cut or eliminated.
"It starts being a cascade event that as the smaller hospitals drop out of providing for certain groups of patients or giving certain care that delivery starts going back to a larger hospital and then all the way back to where it is at USA and UAB," said Hammack. "There is already a struggle to keep the higher cost programs as funds deplete, it begins creating a catastrophe–one built on the other."
But Hammack says that the questions about Medicaid is Alabama are not discussed in the proper light.
"Alabama has probably got the best value of Medicaid, from the sense of dollars spent and what you get out of it, and the least expansion of entitlement in the country," says Hammack. "The best way to frame where we are, we are already at the floor of where everybody wants to be."
Hammack says that states around the country are looking for ways to rein in spending on Medicaid and that Alabama has already done what other states want to accomplish.
"Alabama has not expanded Medicaid and other states have. So, what you get into is that now all of the other states are trying to get to where Alabama is," said Hammack. "We are actually the target where everybody else is trying to get to."
Hammack says he believes Alabama is doing "the minimum that can be done and have any kind of program where you are attending to aged, blind, disabled and children population."
He says he thinks we are "delivering value and we are not overdoing it on the Medicaid entitlement."
Governor declares state of emergency ahead of Tropical Storm Zeta
Zeta is currently a tropical storm over the Gulf of Mexico, but it is predicted to make landfall as a category one hurricane.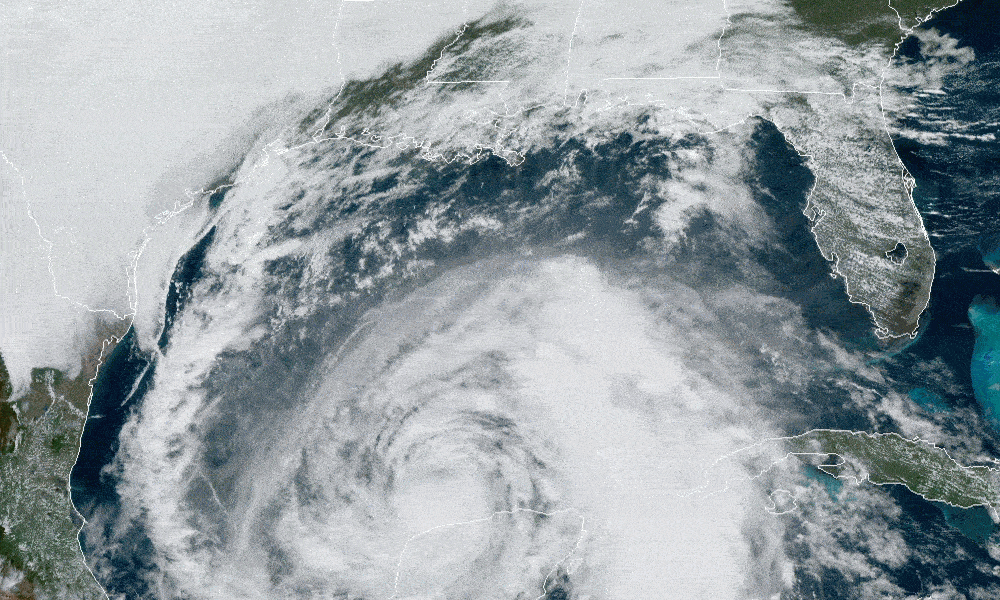 Alabama Gov. Kay Ivey on Tuesday issued a state of emergency as Tropical Storm Zeta approaches the Gulf Coast.
"Ahead of Tropical Storm Zeta's anticipated landfall Wednesday evening as a Category 1 hurricane, I am issuing a state of emergency effective today at 4:00 p.m.," Ivey said. "While this storm is not expected to have an impact as large as storms we've seen move through the Gulf earlier this year, we want to be in the best place possible to respond to anticipated rain, storm surge and mass power outage. I encourage everyone to remain weather aware and tuned in to their trusted news source as this storm could shift direction or change intensity. We continue to track the path of this storm and will stay in touch with the people of Alabama with any updates."
Zeta is currently a tropical storm over the Gulf of Mexico, but it is predicted to make landfall as a category one hurricane. The National Hurricane Center is predicting Zeta to make landfall in Mississippi on Wednesday and then proceed toward Alabama, but these storms can and do move.
A more easterly track could prove devastating to the Alabama Gulf Coast as was the case with Hurricane Sally, which shifted course in September, hitting Alabama, though Zeta is expected to be weaker than Sally at landfall.
The storm surge from the Mississippi-Alabama border to Dauphin Island is forecast to be 5 to 8 feet. Mobile Bay to the Alabama-Florida border is expected to have 3 to 5 feet of storm surge and from the border to Navarre, Florida, could experience 2 to 4 feet of storm surge.
Hurricane force winds are a possibility with this storm. Tropical force winds are expected to be an issue for Southern Mississippi and Alabama well inland. There is expected to be heavy rainfall across the state Wednesday night into Thursday morning.
The Baldwin County Emergency Management Agency announced that sandbags are available inside the county commission office at Robertsdale Central Annex (22251 Palmer Street) until 4:30 p.m. Tuesday and from 8 a.m. until 4:30 p.m. Wednesday or while they last.
Bring any help and shovels you will need. There is a limit of just 25 bags per person. Alabama's coastal counties are currently under a Tropical Storm Warning, a Storm Surge Warning for Mobile County and a High Rip Current and High Surf Warning.
Congressman Bradley Byrne said, "I just finished up briefings from Alabama EMA, FEMA, and the National Hurricane Center regarding #Zeta. We should not take this storm lightly and should start making preparations right away. After sundown Wednesday, I'd encourage everyone in Southwest Alabama to stay home and off the roads until sunrise Thursday. This storm will have impacts as far north as Montgomery, so those in Washington, Clarke, and Monroe counties will see tropical storm force winds and heavy rain. I'd encourage everyone to charge their phones and other necessary electronics. If you have an emergency during the storm, call 911 and do not try to drive."
Coastal Alabama is still in the process of recovering from Hurricane Sally which hit the state on Sept. 15.