Democrats Pledge to Repeal School "Accountability Act"
By Brandon Moseley
Alabama Political Reporter
Montgomery, AL – Democrats in the Alabama legislature today said that Republicans had violated their 2010 campaign promises to make government open and honest last week when they used bait-and-switch tactics to push the school "Accountability Act" through the legislature. Democrats also pledged that if the people elect a Democratic majority to the legislature in 2014, their first order of business would be to repeal the "Accountability Act."
"It's not the Democrats in the Alabama legislature who are getting hurt. We're not the ones they are running over; we're not the victims here. It's the people of Alabama, and specifically our children who are paying the price," said House Minority Leader Craig Ford, D-Gadsden.
Continued Rep. Ford, "We are here today to pledge to the people of Alabama that if you elect a Democratic majority to the legislature in 2014, our first priority will be to repeal this bill."
"It's not just that they wrote this bill in secret and then abused their power to get it passed," added Rep. Merika Coleman-Evans, D-Birmingham. "This bill is nothing less than an abomination. It will kill some schools, and be a detriment to all of them."
Democrats said the so-called "Accountability Act" would divert hundreds of millions of dollars away from public schools and open the door to private schools to recruit athletes and high-performing students with scholarships.
"I asked a person back home who is big in local private schools what he thought about the bill and he told me they love," said Rep. Johnny Mack Morrow, D-Red Bay.
"He said that this bill will let the private schools recruit the best athletes and the best students. It's not the kids in the rural areas who will get these scholarships. It's gonna be the kids who can play football, basketball, and baseball getting these scholarships, and maybe some of the kids with high SAT scores, but not the kids who are struggling in school or the students making B's, C's, D's, or F's."
Democrats said the school Accountability Act would divert as much as $347 million away from Alabama's schools and redirect that money to private schools, while many families with children in failing schools would not be able to afford a private school even with the tax credit and scholarship program.
"This tax credit gives families around $3,500. But the average cost per year of sending your son or daughter to private school in Alabama is around $10,000. So how are these families supposed to afford that?" asked Rep. Rod Scott, D-Fairfield.
Democrats said that all schools, including school systems that are performing at or above academic standards, will lose funding under this bill due to the costs of the tax credits and scholarship program which will divert funding from public schools to private schools.
"Everybody will lose money on this one," said Rep. Marcel Black, D-Tuscumbia. "The schools in Mountain Brook will lose money just like the schools in Montgomery will."
Democrats also noted that school funding is tied to the number of students enrolled in a school. If a school losses students, it will lose even more funding beyond what it will lose from cuts to the Education Trust Fund to pay for the tax credit and scholarship program.
"It's simple," said Rep. Coleman-Evans. "The fewer students there are in a school the less money that school gets. And that means laying-off teachers and support personnel, it means cutting funding for or entirely eliminating extracurricular activities like athletics, and it means no money for things like computers, textbooks, field trips, and other classroom resources and learning tools."
Democrats also slammed Republicans for violating campaign promises to make government more ethical and transparent.
"The Republicans campaigned in 2010 on a platform of cleaning up Montgomery. But in less than three years, they have fully embraced a culture of corruption that includes back-room deals, abusing power, and drafting bills in secret," said Rep. Joe Hubbard, D-Montgomery.
Added Rep. Thomas Jackson, "There may not be any real accountability in this so-called school 'Accountability Act,' but you can rest assured that Democrats are going to hold Republicans accountable. And I believe the voters will, too!"
Alabama women to Ivey: Support fair processes
Last week, Ivey co-authored a letter of support for Barrett and released it to media outlets.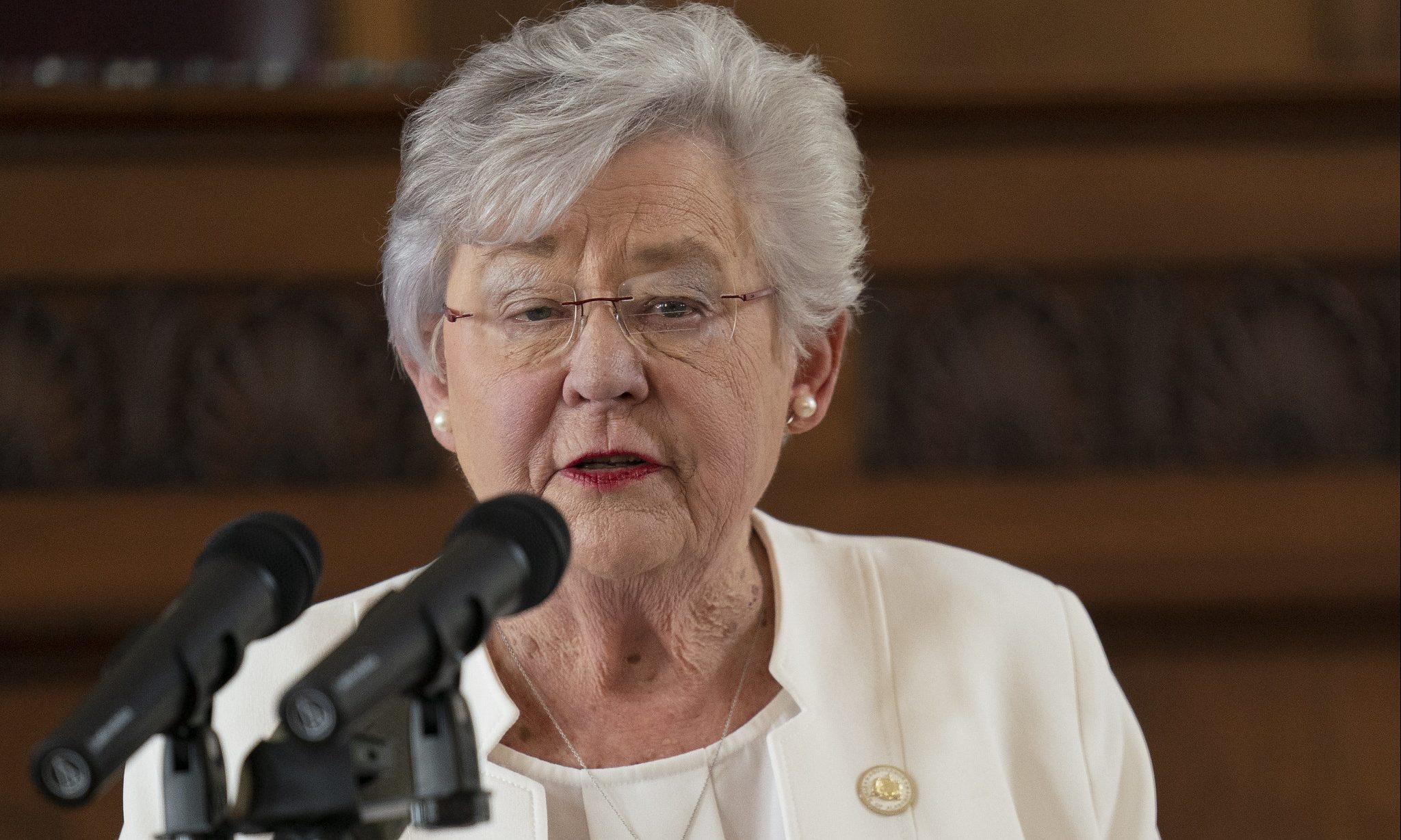 A letter signed by a bipartisan group of about a thousand Alabama women takes issue with Gov. Kay Ivey's recent support of Republican Supreme Court nominee Amy Coney Barrett, and it encourages Ivey and other state officials to instead support fair processes.
Last week, Ivey co-authored a letter of support for Barrett and released it to media outlets. In response, the letter from Alabama women calls the process to nominate Barrett, which is occurring after more than 50 million votes have been cast and in a Senate that is predicted to change from Republican to Democratic control, unfair and "anti-democratic."
The letter, which doesn't criticize Ivey or request that she rescind her endorsement of Barrett, asks instead that Ivey and other state leaders honor women by implementing and following fair processes that provide women with equal opportunities.
The full letter is below:
Dear Governor Ivey,
We are a group of women. We are current and future mothers, grandmothers, caregivers, leaders and champions of all citizens of our great state. We are moderates, progressives and conservatives. When we agree with our leaders, we say so, as we have in your support for education, workforce development, and sensible mask policies.  
We also speak up when we do not agree. Thus, we want to respond to your letter in support of Amy Coney Barrett because it does not represent our views. 
Like you and Judge Barrett's father, we want to tell all young girls that they can do anything their male counterparts can do and they can be anything and everything they want to be. We want it to be a truth, not just a signal "that the most qualified individual will get the job".  In addition to those things, we want them to know and believe that the process will be fair, because no matter the job, the process should be fair. And our children and young people (boys or girls) should be able to trust that democracy works and can be counted on. How can we assure them when this process has been so rushed and undemocratic?
We are women who oppose Judge Barrett's confirmation, because confirming her at this time, when 50 million Americans have already cast their votes, is anti-democratic. Regardless of what ways she does or does not think or talk like us, what matters is that a confirmation should not take place after the election is underway. 
We do not expect you to rescind your support of Judge Barrett. However, we urge you and the other women leaders who have advanced to top positions in our government to stand with us in asking for a fair process that takes place after the election. A process that helps us to believe that our voices and our votes matter because the American people should have the right to choose who nominates the next Supreme Court Justice.
Respectfully, 
Emily Hess Levine
Lindsey Chitwood
Megan Cheek
Kira Fonteneau
Ronne M. Hess
Cindi Cassis Branham
Anna Brantley Fry
Joellyn M. Beckham
Kristen Berthiaume
Alexandra Ruthann Bullock McElroy
The letter is signed by more than 800 women. The full list of signatures was sent to APR with the letter. We have chosen to list only the first 10 for the sake of brevity.